There is nothing better than having a wonderful meal with family and friends and ending it with this rich, luscious Crema di Limoncello di Vittoria. Cheers!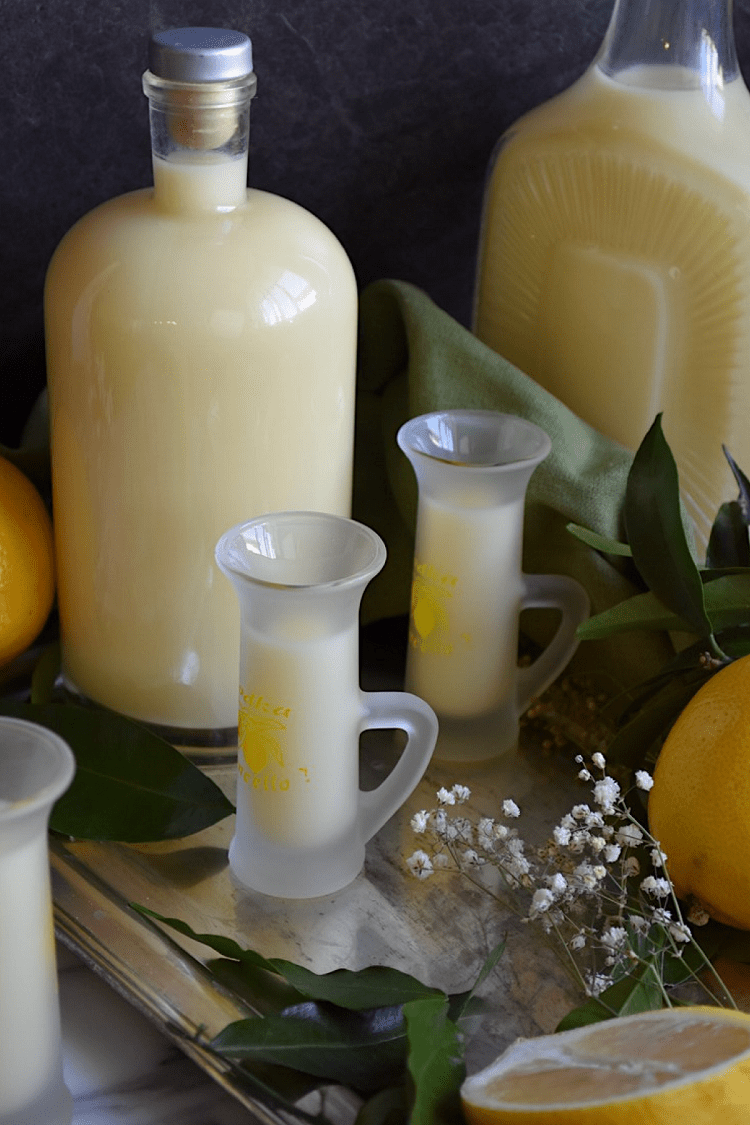 Crema di Limoncello
This post was originally published on December 20, 2014 and republished on November 16, 2017 with updated content and pictures.
A few years ago, my family and I were visiting beautiful Sorrento, located in the Campania region in Southern Italy. As we were wandering through the busy streets, we stumbled – literally stumbled – upon a lemon and orange grove smack in the city center (we also "stumbled" upon Pierce Brosnan, but that's another story).
As we began our short stroll on this path, the sounds of the hustle and bustle of the streets of Sorrento, scooters and all, faded into a distant hum. Unexpectedly and instantly, the environment became peaceful and relaxing. We walked into a garden whose existence came into being over 200 years ago. This garden is called "I Giardini di Cataldo".
At the end of this short journey, there was a stand, where one could purchase and sample homemade marmalade, ice creams, and different flavored liqueurs such as fennel, licorice, basil and of course, limoncello.
It has often been said that when life gives you lemons, make lemonade – except in the region of Sorrento where they make Limoncello. If you are not Italian, or have never visited Sorrento, you might not be familiar with this Italian liqueur.
What is Limoncello?
it is an Italian liquor, flavored with lemons;
usually served as a digestif (after dinner drink);
stored in the freezer;
is served ice cold in chilled shot glasses;
relatively simple to make at home;
a wonderful ingredient to use in Italian desserts.
If interested, you can read about the history of limoncello by following this link.
Are you ready to make this Italian Limoncello?
How to Make Crema di Limoncello:
Lemon peels, alcohol and a glass jar
This simple process begins by infusing a grain alcohol with lemon peel.
Thoroughly wash, scrub and dry your lemons (preferably unblemished and unwaxed) before stripping them of their peel. Unfortunately, I do not have lemons growing in my backyard so I use organic lemons. Make sure you remove the pith (the white part) of the lemon, lest your limoncello be bitter.
Next, the lemon peels need to steep in alcohol. Use a high grain alcohol and a glass jar with a tight-fitting lid. Mason jars are great as the tight seal provided by the screw tops will prevent evaporation of the alcohol. The infusion time can last anywhere from 6 to 40 days (or even longer) in a cool, dark place. A longer steeping period will result in a better tasting and better looking limoncello.
Swirl contents of jar twice a day. You will notice that this process will strip the lemon peels of their color. When ready to proceed to the next step, strain the liquid with a cheesecloth in a clean bottle.
The simple syrup
Sugar is required to make the simple syrup which is in turn added to the infused alcohol. When you make the simple syrup with milk, you will obtain a creamy limoncello. The addition of a vanilla bean will enhance the final taste of this liquor.
Warm the simple syrup (the sugar, milk and vanilla bean) over medium low heat and whisk together. Once the sugar has dissolved, strain the mixture with a cheesecloth in a large clean bottle. You might have to strain the solution a few times to get all the vanilla seeds.
The creamiest limoncello
It is very important to allow the sugar solution to cool down to room temperature before adding it to the lemon infused alcohol. We do not want the limoncello to curdle.
The final step in this process is combining the lemon infused alcohol with the creamy syrup.
The Limoncello can be refrigerated for up to 1 month or frozen for up to 6 months. If freezing, allow sufficient head space of a few inches for the Limoncello to expand.
Other limoncello recipes
used as a base for cocktails;
drizzled over fresh fruit, ice cream or even cake;
wonderful ingredient in baking or cooking.
I will use the lemon juice (from the leftover lemons) to make my Lemon Loaf (link below), and then drizzle it with some Limoncello.
Lemon desserts we love

Recipe origins
When a friend of mine, Vittoria, learned of my new found appreciation of this lemon liqueur, she shared her recipe with me. Vittoria is originally from Petrella, in the province of Campobasso, in the Italian region of Molise and had been making limoncello all her adult life.
I compared different "recipes" for creamy limoncello and I came to the conclusion that once again, the best one is simply a question of taste and how sweet you want your limoncello to be. I have been making and serving this recipe for Crema di Limoncello di Vittoria for a few years and it is always appreciated by family and friends.
The only modification I made was to replace 2 tablespoons of clear vanilla extract with a vanilla bean.
This wonderfully refreshing creamy lemon liqueur can be enjoyed year-round. I like to make a batch just in time for gift giving for Christmas. You can easily make a batch of Crema di Limoncello di Vittoria this week-end and it will be ready for you to bring in the New Year!
THANKS SO MUCH for following and being part of the She Loves Biscotti community where you will find Simple & Tasty Family-Friendly Recipes with an Italian Twist.
Ciao for now,
Maria 🙂
★★★★★ If you have made this Crema di Limoncello recipe, I would love to hear about it in the comments below and be sure to rate the recipe!
Crema di Limoncello
There is nothing better than having a wonderful meal with family and friends and ending it with this rich, luscious Crema di Limoncello di Vittoria. Cheers!
Print
Pin
Rate
Ingredients
4

lemons

peel only

500

mL

pure grain alcohol

94% or higher

1

Liter

milk

(Grand Pré 2% UHT milk)

600

grams

granulated sugar

scant 3 cups

1

vanilla bean
Instructions
Thoroughly wash the lemons (preferably organic).

With the use of a vegetable or potato peeler, remove lemon peel (avoid the white pith as this will make your limoncello bitter).

Place lemon peel in a mason jar (or other container with a tight-fitting lid).

Add alcohol, close tightly, and let steep for at least 6 days or up to 40 days in a cool dark place. Swirl contents of jar twice a day.

Remove lemon zest (should be a pale color- the alcohol on the other hand should be a bright yellow).

Strain with a cheesecloth in a clean bottle.

In a large saucepan, over medium- low heat, warm the milk, sugar and vanilla bean.

Whisk frequently until the sugar is dissolved.

Remove from heat and allow to cool to room temperature before adding to alcohol.

Strain (with the help of a cheesecloth) in decanter with alcohol.

Refrigerate or freeze until ready to use.
Scroll UP for the STEP by STEP Photos
Don't miss the process shots and videos included in most posts. Simply scroll up the post to find them. Those were created especially for you so that you can make the recipe perfectly every single time you try it.
Notes
The longer the period of infusion, the better the final product will be. Minimally, infusion should be at least 6 days. 
I like to use UHT 2% milk.
Can be refrigerated for up to 1 month or frozen for up to 6 months. Allow sufficient head space of a few inches for the Limoncello to expand.
Please keep in mind that the nutritional information provided below is just a rough estimate and variations can occur depending on the specific ingredients used. 
Nutrition
Serving:
30
mL
|
Calories:
65
kcal
|
Carbohydrates:
10
g
|
Cholesterol:
1
mg
|
Sodium:
6
mg
|
Potassium:
30
mg
|
Sugar:
10
g
|
Vitamin A:
25
IU
|
Vitamin C:
3.5
mg
|
Calcium:
19
mg
|
Iron:
0.1
mg