There's nothing like this Ice Cold Brewed Espresso Coffee Recipe on hot summer days to perk you up. I'm here to tell you that making your own couldn't be easier or cheaper. No fancy cold brew equipment, no French press (although if you already have one, great!), no Starbucks… just a jar, some sort of filter and a couple of good beans. Just add some milk (or water) and a sweetener to this concentrate and you're good to go!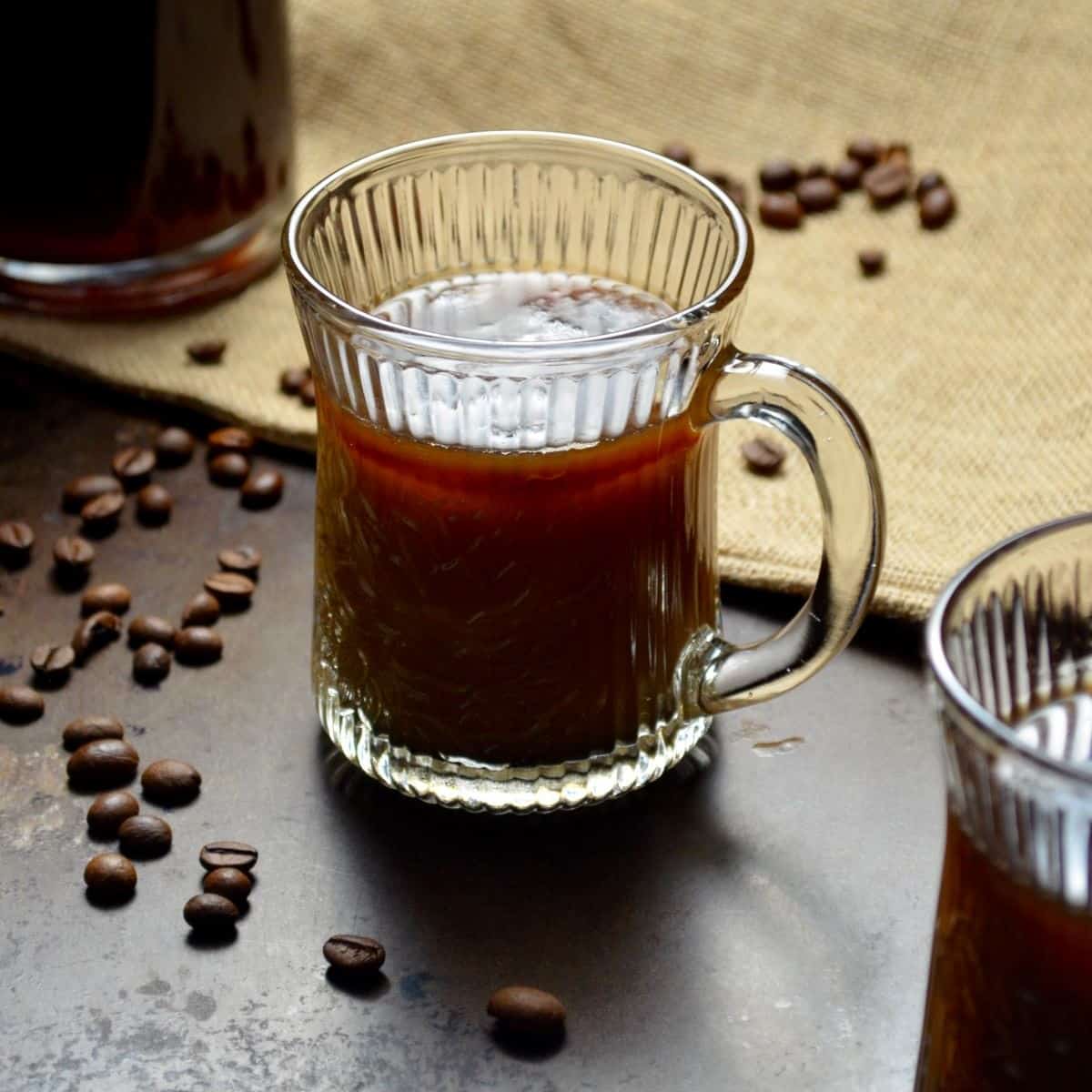 I used to think that making a cold coffee was as simple as brewing an espresso, sweetening it and then adding a couple of ice cubes to make it cold. Now I know better – following this, admittedly simple, the method will give you a cold coffee that is diluted and bitter. Why diluted? Well, adding ice-cold water (a.k.a. an ice cube) to a hot beverage will do that!
So I refined my method a little bit. I thought about making the espresso stronger. Then I even got the genius idea of freezing my leftover regular morning coffee into ice cubes to add instead of normal ice. My new-and-improved method for cold espresso coffee was indeed no longer diluted. Still, I personally wasn't comfortable with how much sweetener I needed to add to remove the bitter taste. When I think of all the family and friends that I offered this drink to… I truly apologize!
I have my holy grail method now, and I'm happy to say. The bitterness issue is taken care of, actually, by cold brewing the beans. To "cold brew," by the way, is simply to leave your ground-up coffee beans to soak in cold water for an extended period of time, usually overnight. From what I read, when coffee beans are subjected to intense heat, the chemical structure of the bean changes, and when you try to make this into a cold coffee, there is a bitterness that is created. By allowing the beans to sit in cold water, the end product will be less acidic and, as a result, less bitter. Hello, cold coffee mug of silkiness and smoothness 🙂
So, how is this achieved without any fancy equipment?
1- Grind your coffee beans to medium-coarse. I have found that a light espresso roast gives a less bitter flavor than dark roasts. Feel free to experiment and see what works for you. Using a medium-coarse ground will help to achieve a clear liquid. Finely ground coffee beans will result in a cloudy liquid. To maximize the taste, combine the freshly ground beans with the water ASAP.
2- Add cold filtered water to the freshly ground beans (regular cold tap water is fine).
3- Stir. Stir. Stir. Every freshly ground coffee bean needs to be completely submerged by the water.
4- Cover your jar (or whatever container you are using).
5- Refrigerate and wait for at least 12 hours
6- Filter the cold brew coffee concentrate. I will use my regular coffee filter for this. If you don't have one, you can line a sieve with some cheesecloth…but that can get expensive if you are going to be making a lot of this Ice Cold Brewed Espresso Coffee Recipe.
7- Adjust your coffee concentrate with milk or water and a sweetener.
Recipe inspiration
A couple of years ago, I found this article in my local paper, the Montreal Gazette and this article from the New York Times Food section. Once I tried this recipe, I immediately tasted the difference "cold brewing" made and was hooked. I've adjusted the ratio to suit my personal tastes. Needless to say, I've been making it ever since. Feel free to adjust the number of coffee beans to the amount of water to suit your own personal taste.
Oh, I almost forgot… if you've ever wondered what to do with coffee grounds, here's an article that you might find interesting.
So there you have it, my dear coffee aficionados! An Ice Cold Brewed Espresso Coffee Recipe to help you beat the summer heat. How do you plan on staying cool this summer?
Recipe
Ice Cold Brewed Espresso Coffee Recipe
On hot summer days, there's nothing like this Ice Cold Brewed Espresso Coffee Recipe to perk you up -making your own couldn't be easier or cheaper.
Print
Save Recipe
Saved!
Pin
Rate
Ingredients
1

cup

medium ground coffee

freshly ground

3

cups

cold water

2

cups

milk
Instructions
In a mason jar, stir together the ground coffee and the water. Make sure the coffee grounds have been well mixed in the water.

Cover and refrigerate for at least 12 hours.

Strain with a coffee filter, cheese cloth or nut milk bag.

When ready to serve, add equal parts of milk (or water) and coffee concentrate. Can also be sweetened and flavored with different kinds of milk.

Don't forget the ice!
Scroll UP for the STEP by STEP Photos
Don't miss the process shots and videos included in most posts. Simply scroll up the post to find them. Those were created especially for you so that you can make the recipe perfectly every single time you try it.
Notes
You can use a French Press if you have one.
If making a large batch coffee concentrate can be stored in the refrigerator for up to a week.
Recipe will yield about 2 cups of concentrate.
Please keep in mind that the nutritional information provided below is just a rough estimate and variations can occur depending on the specific ingredients used. 
*recipe adapted from the Montreal Gazette
Nutrition
Serving:
1
serving
|
Calories:
74
kcal
|
Carbohydrates:
5
g
|
Protein:
3
g
|
Fat:
3
g
|
Saturated Fat:
2
g
|
Cholesterol:
12
mg
|
Sodium:
61
mg
|
Potassium:
161
mg
|
Sugar:
6
g
|
Vitamin A:
200
IU
|
Calcium:
143
mg
Thanks for dropping by.
Ciao for now,
Maria 🙂