This post on Lentil Stew has been sponsored by Lentils.org as part of the #LoveLentils #GetPrepped campaign. I received monetary compensation and product in exchange for creating this post. Although this post is sponsored, all opinions are my own. I only work with brands I love and use in my own kitchen.
This Meal Prep Slow Cooker Lentil Stew Recipe is not only healthy and tasty, but easy and convenient as well. Come and take a look at how this lentil stew recipe can be your one-stop solution to breakfast, lunch and supper.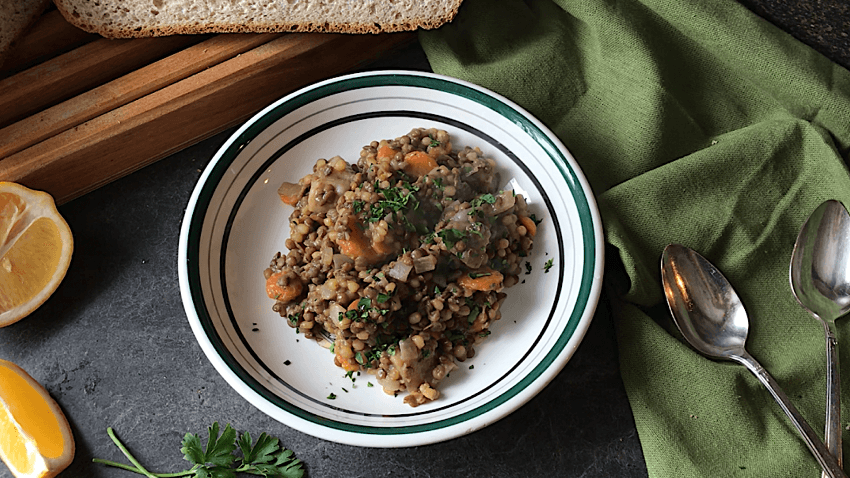 Lentils are one of my very favorite foods, so when I was offered the possibility of creating and sharing a lentil recipe by Lentils.org, I got very excited. I couldn't wait to share this lentil stew recipe with you and all the meal prep ideas associated with it.
Lentils are steeped deeply in Italian tradition and mean a lot to me culturally, but also are one of the healthiest foods around.
Lentils are a great source of protein and fiber. Did you know that just half a cup of cooked whole green lentils will provide you with 12 grams of protein and about 9 grams of fiber? Not to mention the fact that lentils are also an excellent source of folate as well as iron. Studies have also shown that they are a good source of selenium and zinc. Lentils sure know how to do nutrition right!
As a result, it makes a lot of sense to incorporate lentils when meal planning for yourself and your family. This lentil stew recipe is one of my solutions to keeping a healthy lifestyle while living a busy "mom" life. I want to show you how one simple recipe can make an appearance in a variety of very different meals.
But first, let's continue to take a closer look at this super food!
Did you know that lentils don't require any soaking?
In fact, preparing lentils is as easy as 1-2-3:
Rinse your lentils with running fresh water in order to remove any impurities.
Simmer one cup of whole lentils in three cups of water for about 15-20 minutes and 5-7 minutes for split lentils.
Serve lentils with any meal. That's it!
Simply prepared, lentils are great as a side dish and are great for anyone trying to decrease meat intake or simply trying to eat healthier.
If interested, videos and cooking tutorials are available on the Lentils.org website. Be sure to check this website out out as it is such a great reference for anyone that wants to learn more about lentils!
What can lentils be used for? Lentils are great when cooked in soups, stews or curries, but can also be enjoyed in salads, or as a dip or spread. They are even great in smoothies and desserts! Since lentils are so versatile, there really is no limit as to how you can use them.
Today, I will be sharing a simple recipe for a slow cooker lentil stew that I love for its ease and convenience – and taste! With a little bit of meal prep magic, you can spin this recipe multiple ways for different meals in the week.
What makes a stew a stew? Stews are sort of like soups in that they contain several solid ingredients cooked in a liquid. Unlike soups, the ingredients in a stew should retain their texture and form, and the liquid they are cooked in thickens significantly. Stews are usually served in the thick liquid they are prepared in.
What kind of ingredients do you use in a stew? Pretty much anything goes, from vegetables to potatoes to meats of all kinds! In this lentil stew recipe, I used carrots, onions, celery, potatoes and garlic, along with a slew of herbs and spices, soft wheat kernels and lentils (of course).
What kind of lentils should you use in a lentil stew? Different types of lentils can be used in different recipes to different effects. Red lentils, for instance, are very easy to cook! My recipe for Quick Pasta Risotto, for example, which uses split red lentils, can be prepped and served in under 30 minutes.
Green (or brown) lentils, on the other hand, are better at keeping their shape, even when exposed to heat. Because of this property of theirs, they are great in this slow cooker lentil stew recipe.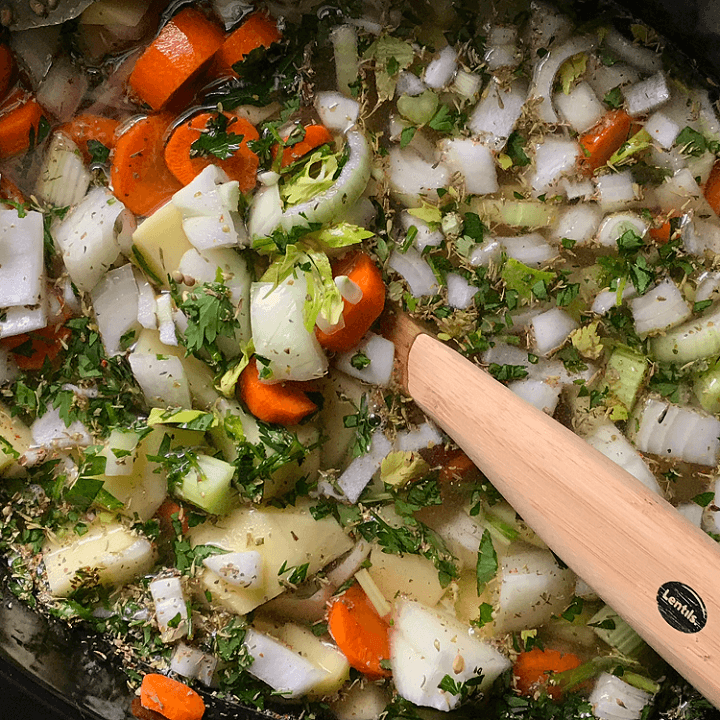 What sort of vegetables are good in stews? Literally anything! That's another reason to love this Meal Prep Slow Cooker Lentil Stew recipe– you can use it as an excuse to clear your fridge out of veggies before losing them to the compost box. I will specify the vegetables I like to use in the recipe, but feel free to vary and substitute based on personal preferences and what you have on hand. It's like a new recipe every time you make it!
For example, have you ever used spinach in a stew? Try it sometime! It adds a great taste and texture, and I feel like Pop-Eye every time I do, which is always a plus. ☺ Just add it at the end of the cooking time.
This lentil stew recipe uses lots of cut up vegetables. A tip: keep the vegetable scraps and use them to make a vegetable stock. You get to reduce your waste, AND you'll have a great stock that you can use at a later date. Multitasking.
Wheat grains are also used in this lentil stew recipe. They add a sweet, nutty flavor, as well as a chewy texture, to the recipe. Usually, wheat grains need to be soaked overnight, but no need to do so here – the slow cooker does all the work for us.
This lentil stew recipe is especially useful for everyone leading busy lives. Why? Well… I call this my "Meal Prep Slow Cooker Lentil Stew" for a reason, of course – as its name implies, it's made in a slow cooker. ☺
This lentil stew recipe, and all slow cooker recipes, are great, because the process for making them goes something like this: combine all of the ingredients in a slow cooker, then walk away. Can't think of anything more perfect for all of us busy folks!
Let me switch tracks for a second and talk about something else. If your busy lifestyle prevents you from cooking every night, but you still would like a home-cooked, healthy meal instead of takeout, then meal prep might be for you!
I am all about meal prep. What exactly is meal prep? It is exactly what it sounds like – prepping meals in large batches once or twice a week and freezing or refrigerating pre-set amounts to be enjoyed later, throughout the week.
As an added benefit, meal prep is not just good for your health – it's good for your wallet, too. It reduces the amount that people tend to spend on takeout, and also helps them reduce the amount of food that they have going to waste.
When you meal prep, it's important to try to make the meal you are prepping as healthy as possible, since you will be eating variations of it a few times in a single week. That's why this lentil stew recipe is just perfect. It's a great source of fiber, protein, and minerals, and when you serve it with a squeeze of lemon juice at each serving, it comes with a good amount of vitamin C as well!
So now that we know some of the advantages of meal prepping, let's see what we can do with about four liters (that's about 16 cups for my friends south of the border) of lentil stew.
Breakfast ideas: Breakfast is the most important meal of the day. Here are two very simple breakfast ideas that you can try with this lentil stew.
In the time that it takes for you to take your shower in the morning, portion about one cup of lentil stew in a heat proof bowl, crack and egg over the top and broil for about seven minutes. Once done, just drizzle about a tablespoon of olive oil over the top and enjoy.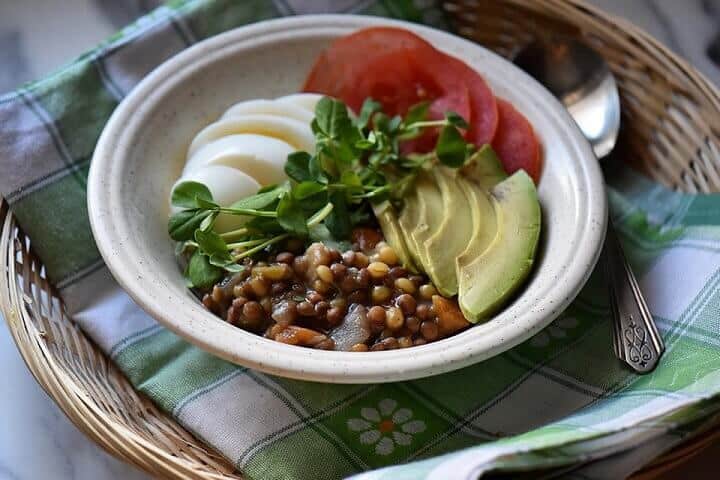 If you prefer to have something cold for breakfast, try a breakfast bowl. Here it is shown with a boiled egg, sliced avocado, a few slices of tomato and some micro greens. Once again, the convenience of having the lentil stew in the fridge cannot be underestimated.
I guarantee that both of these meal prep breakfasts will provide you with all the nutrition you need to get you to lunch.
Lunch ideas: It goes without saying that this lentil stew can be consumed as is! It can be eaten hot or cold.
If you prefer salads as your packed lunches, portion about one cup and sprinkle your lentil stew over your favorite greens.
Supper ideas: Once again, there are infinite possibilities with this slow cooker lentil stew. If you are a pasta lover (like me) this lentil stew is right at home served atop a plate of tagliatelle.
Or perhaps you prefer to make sloppy joes with this lentil stew, either as a total or partial replacement of the minced meat. Served with a side of roasted broccoli, nothing could be easier or healthier.
Make this lentil stew once and use it throughout the week, for breakfast, lunch or supper as part of your meal prep strategy.
Other ideas: This lentil stew can be pureed and frozen in small portions. Whenever making hearty soups, this transformed lentil stew can provide just the right consistency to revamp a simple soup into a meal.
This lentil stew recipe is your solution to healthy eating on busy nights. Make it in big batches ahead of time. Make it your own by not letting any of your veggies go to waste. Let the slow cooker do all the prepping work for you so that you can get some other errands done. Like I said – the perfect meal for the busiest go-getter.
Slow Cooker Meals we Love: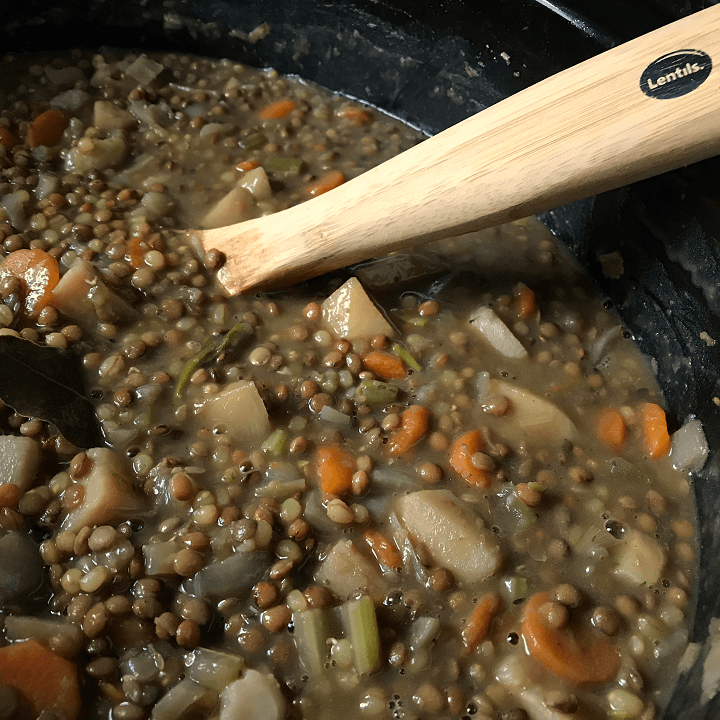 Origins of Meal Prep Slow Cooker Lentil Stew Recipe:
As was previously mentioned, lentils have always played a very important part in Italian culture and Italian cuisine.
We have a tradition in my family: every New Year's Eve, we eat lentils. The lentils represent the prosperity we hope to have in the new year. But of course, we don't only eat them once a year! Lentils are enjoyed at any meal and throughout the year.
This lentil stew recipe is a variation of a recipe that I grew up with. I modified it so that it would be appropriate for meal prep, and for slow cooker preparation.
Having a healthy, easy lentil stew recipe like this available to you when you most need it cannot be overstated. Enjoy the convenience of this recipe for your meals and your meal prep needs, so that you can better spend time enjoying the other things in your life.
Would love to hear how you will use this lentil stew recipe for your meal prep planning.
THANKS SO MUCH for following and being part of the She Loves Biscotti community where you will find Simple & Tasty Family-Friendly Recipes with an Italian Twist.
Ciao for now,
Maria
★★★★★ If you have made this Lentil Stew recipe, I would love to hear about it in the comments below and be sure to rate the recipe!
Meal Prep Slow Cooker Lentil Stew Recipe #LoveLentils #getPrepped
This Meal Prep Slow Cooker Lentil Stew recipe is not only healthy and tasty, but easy and convenient as well. Come and take a look at how this lentil stew recipe can be your one-stop solution to breakfast, lunch and supper.
Print
Pin
Rate
Total Time:
4
hours
20
minutes
Ingredients
3

onions

chopped

4

celery stalks

sliced, leaves included

6

carrots

peeled and cut into large pieces

4

potatoes

Russet. peeled and cut into chunks

4

garlic

cloves, minced or grated

2

cups

green lentils

sorted and rinsed

1

cup

soft wheat kernals

also known as wheat berries

1/3

cup

parsley

Italian flat leaf, fresh, chopped

3

bay leaf

1

teaspoon

salt

1/2

teaspoon

pepper

or more to taste

1

teaspoon

oregano

dried

1

teaspoon

thyme

dried

1/2

teaspoon

paprika

1/2

teaspoon

chili flakes

optional

8

cups

vegetable broth

homemade or low sodium

1/2

cup

olive oil

parsley

for garnishing, chopped

lemon juice

freshly squeezed, for garnishing
Instructions
Place all the ingredients in the slow cooker (except except parsley and lemon juice for garnishing).

Cover and cook on high for about 4-5 hours or 6-7 hours on low. Please note that times may vary depending on your slow cooker.

Gently stir a few times during the cooking process.

If serving immediately, garnish with parsley and add a few squirts of freshly squeezed lemon juice.

Can be stored in the refrigerator for up to one week or for up to three months frozen in individual containers.
Scroll UP for the STEP by STEP Photos
Don't miss the process shots and videos included in most posts. Simply scroll up the post to find them. Those were created especially for you so that you can make the recipe perfectly every single time you try it.
Notes
Always sort your lentils to ensure there are no impurities.
This Lentil Stew can also be made on the stove top.
1 serving = 1 cup 
Please keep in mind that the nutritional information provided below is just a rough estimate and variations can occur depending on the specific ingredients used. 
Nutrition
Serving:
1
serving
|
Calories:
185
kcal
|
Carbohydrates:
35
g
|
Protein:
9
g
|
Fat:
1
g
|
Sodium:
714
mg
|
Potassium:
574
mg
|
Fiber:
11
g
|
Sugar:
3
g
|
Vitamin A:
4305
IU
|
Vitamin C:
12.4
mg
|
Calcium:
58
mg
|
Iron:
4.1
mg
This post has been sponsored by Lentils.org as part of the #LoveLentils #GetPrepped campaign. I received monetary compensation and product in exchange for creating this post.
Although this post is sponsored, all opinions are my own. I only work with brands I love and use in my own kitchen.