Rice and ricotta -an Italian dynamic duo in the shape of an Italian Easter pie! The arborio rice is simmered in milk, along with a vanilla bean and lemon zest, before being combined with ricotta and baked to perfection. The aroma is intoxicating! Come take a look at this family recipe for Rice Ricotta Easter Pie.
This rice pie was originally published on March 29, 2015. Updated on February 22, 2018.
All cultures have traditions which celebrate certain holidays with food.
Italian culture exemplifies this love affair with food, so much so that I sometimes get the impression that as a culture we are either preparing food, eating food or talking about what food we are going to make…continuously.
But can I tell you a secret?
I love it!
Take for example, Easter. There are so many foods traditionally made during this period, like this Italian rice pie or Torta di Riso.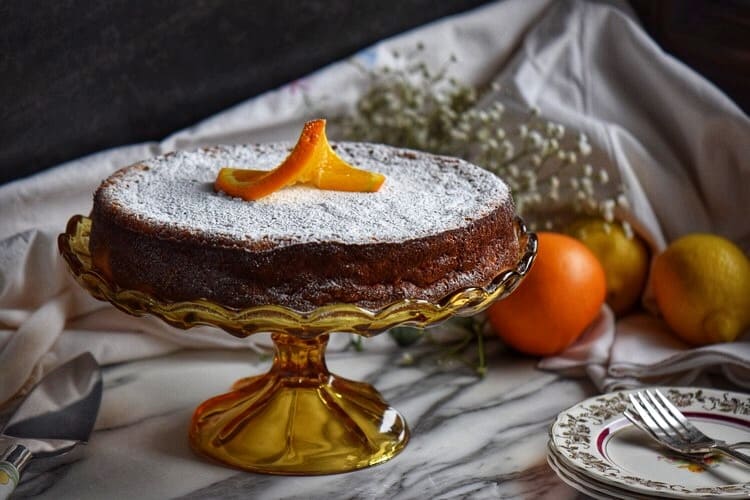 Do not be discouraged that this recipe has three parts to it. Ingredients are easy to assemble and can be started simultaneously, once you organize yourself.
Are you ready?
HOW TO MAKE RICE RICOTTA EASTER PIE:
Part 1:THE RICE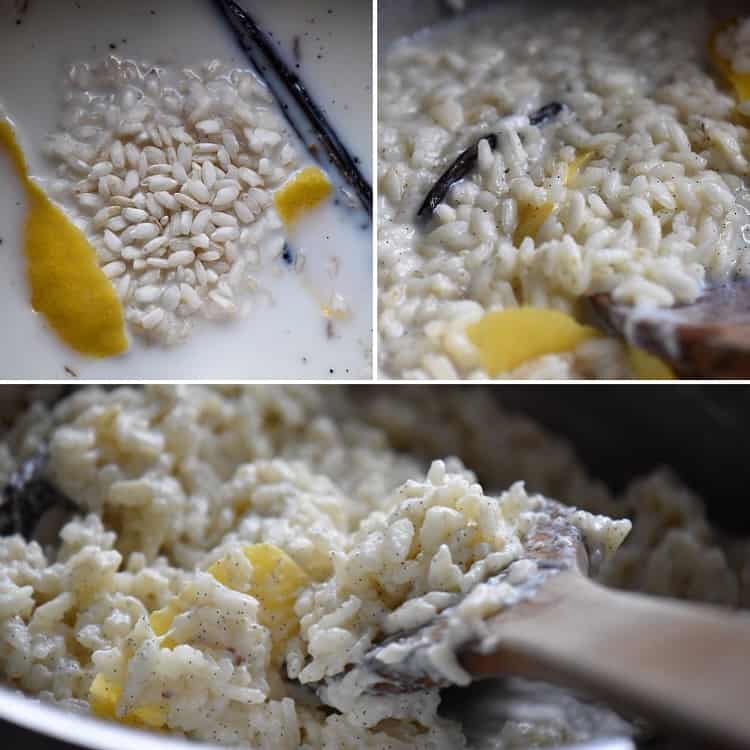 You have to anticipate that anything that has arborio rice in it has just got to be good (just like this recipe for creamy rice pudding).
The rice is simmered (on low heat) in milk and flavored with lemon peel and a vanilla bean. If more convenient, you can replace the vanilla bean with two teaspoons of vanilla extract.
The milk gets absorbed by the rice in about 15 minutes. Make sure to stir constantly towards the end of the simmering process, otherwise you will get one sticky mess. It's okay if the rice is still a little chewy as it still needs to be baked in the oven.
Set the rice mixture aside to cool down as we prepare the crust and the rest of the ingredients for the filling.
PRO TIP: Never rinse arborio rice before using -we don't want to lose the starch that contributes to the creaminess of the final product.
Part 2: THE CRUST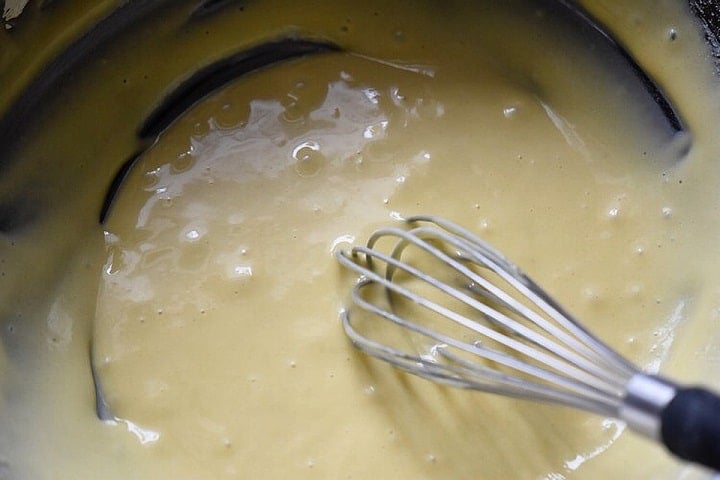 I have to admit, the first time I attempted this recipe, I was dumbfounded by this crust. But much to my surprise, this mixture works and forms a wonderful crust for this ricotta pie when it gets baked with the filling.
Usually pies will call for a short pastry dough, aka pasta frolla which needs to be rolled out.
For this rice ricotta pie, there is no need to roll out any dough. Let me explain.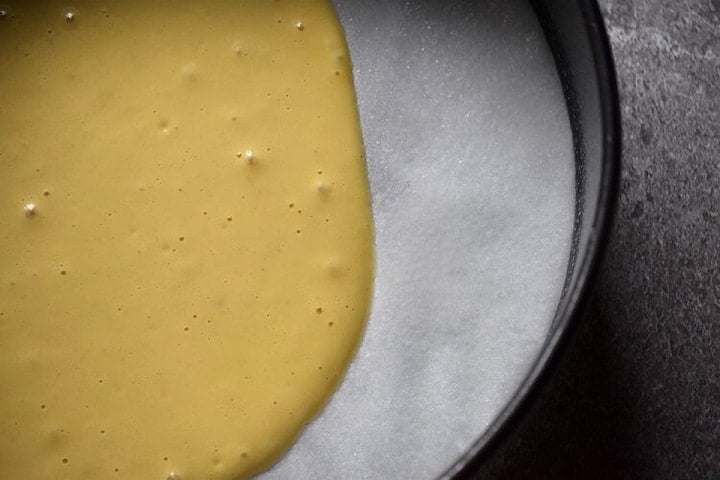 Simply whisk the ingredients together in a medium sized bowl and pour it into your spring form pan or pie plate. Spread the batter to cover the entire surface of the bottom.
That's it!
Set it aside while we prepare the filling.
Part 3: THE RICE PIE FILLING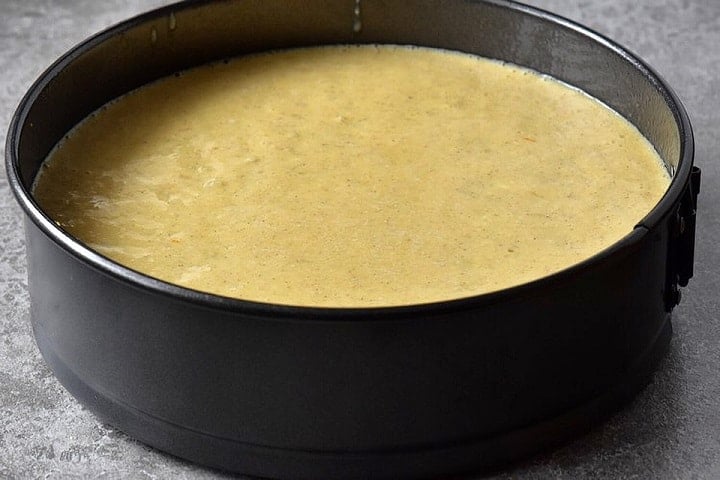 At this point, the crust part of this pie is at the bottom of our pan (unbaked); the rice is cooling off; and we are ready to start whisking some eggs.
This part of the recipe is very straightforward. Feel free to use your stand mixer, a hand held mixer or even a whisk.
In a large mixing bowl, whisk the remaining ingredients together -one by one. Finally, incorporate the rice with a wooden spoon, making sure to break up any clumped rice. The mixture will be a little on the liquid side.
Simply pour this batter over the (uncooked) crust in your pan.
The only thing left to do is to bake your rice pie..
Depending on your oven and the type of pan you use to bake your pie, this can take 50-60 minutes. Usually, it is done when the center is set.

Once your rice pie has baked and cooled down, it only needs a nice sprinkle of icing sugar and you're done.
The pie can be eaten warm or cold. My personal preference is cold – the delicate flavors really come through.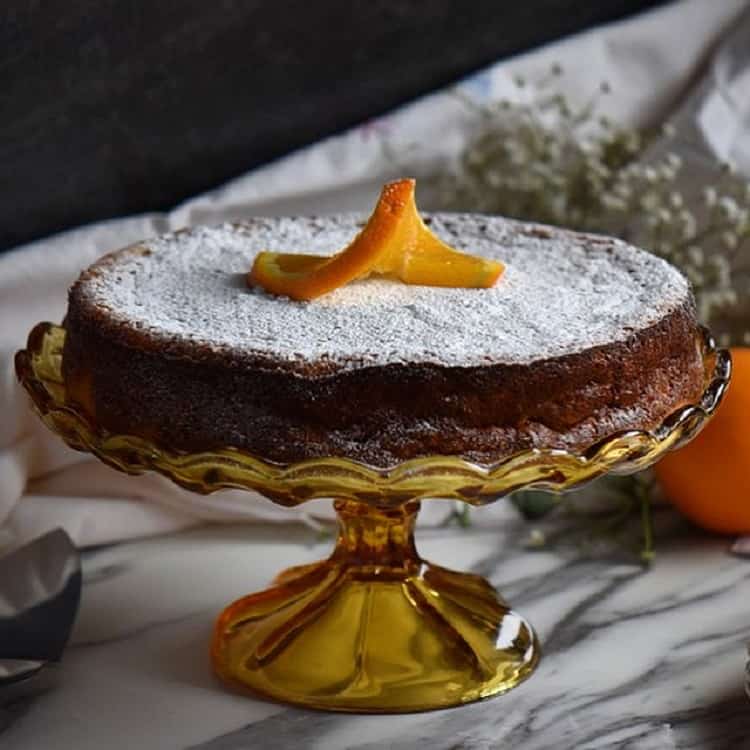 Origins of the Recipe for Rice Ricotta Easter Pie:
It's back to my Mom's Italian background for this recipe. Originating from Benevento, in the Campania region of Italy, this variation of a Rice Ricotta Easter Pie would often be part of the endless food line-up for the big traditional Easter meal.
As you know, Italian cooking is extremely regional and as a result, there are endless variations of recipes . Of course, it is only natural that one's personal preference will almost always gravitate toward childhood flavors. At least that's been my reality.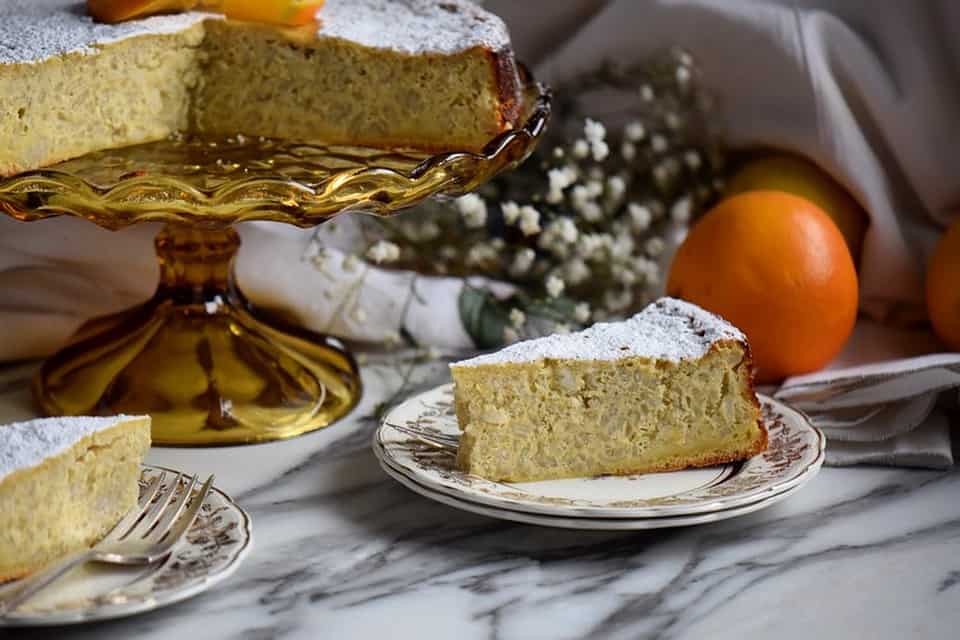 This Italian Rice Pie was one of those recipes that was extremely appreciated by both family and friends. So much so that my mom would get requests to make it throughout the year. Whenever I make this pie, so many wonderful memories of my mom come alive and that's the greatest gift of all.
My mom would bake this ricotta pie in a 9 x 13 large rectangular baking dish. I will usually bake this pie in a deep 10″ ceramic plate.
Based on a few comments that I have received over the years, I tried baking it in a spring form pan and was very pleased with the results. I am very grateful to all that commented and shared their experience making this Easter pie.
If you are looking for other traditional Easter recipes be sure to scroll to the bottom of this post.
I have a few Easter recipes that I am presently working on and hopefully able to share with all of you in the weeks to come.
Stay tuned!
It's going to be a busy one!!!
p.s. I've been asked numerous times about the cake stand and the plates… yes, they belonged to my mom ♥♥♥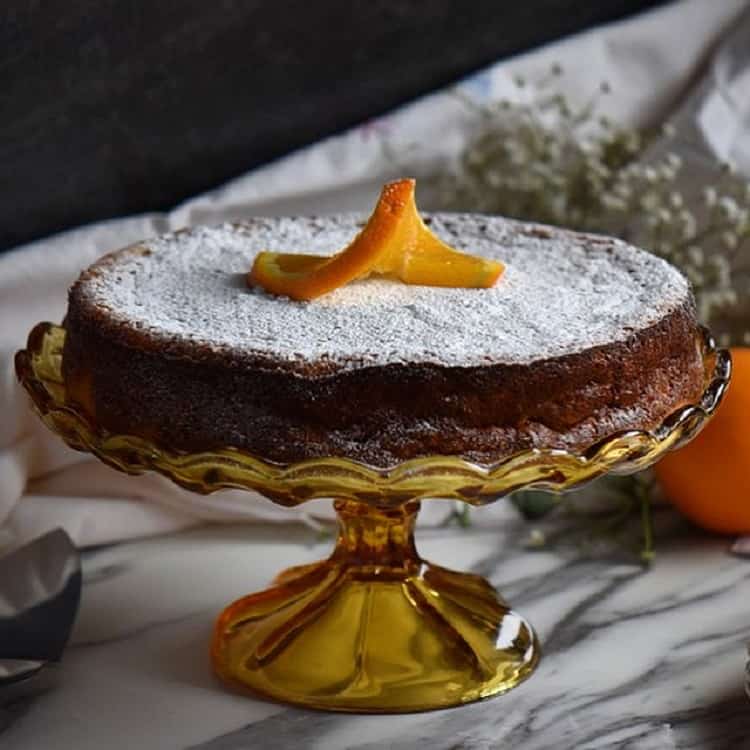 Rice Ricotta Easter Pie
Rice and ricotta -an Italian dynamic duo in the shape of an Italian Easter pie! The arborio rice is simmered in milk, along with a vanilla bean and lemon zest, before being combined with ricotta and baked to perfection. The aroma is intoxicating! Come take a look at this family recipe for Rice Ricotta Easter Pie.
Total Time
1
hour
20
minutes
Ingredients
Rice:
2

cups

milk

1

cup

arborio rice

scant cup

pinch

salt

1

vanilla bean

split/seeds scraped

2-3

strips of lemon peel

organic
Bottom Layer Crust
2

eggs

room temperature

1/2

teaspoon

sugar

2

tablespoon

vegetable oil

1

teaspoon

grated lemon zest

1/2

cup

all purpose flour

1

teaspoon

baking powder
Filling
6

eggs

room temperature

3/4

cup

sugar

1

pound

ricotta

drained, 16 ounces or 450 grams container ricotta

2

teaspoons

lemon zest

2

teaspoons

orange zest

1/2

teaspoon

cinnamon

2 -2½

cups

cooked arborio rice

Confectioners' sugar for dusting
Instructions
To cook the rice:
Combine milk and rice in a large saucepan over medium-high heat. Add salt, vanilla bean and lemon peel. Stir.

Once the milk begins to simmer, reduce heat to low and stir occasionally until the milk is absorbed; about 15 minutes, uncovered. Stir constantly toward the end of this time to prevent the milk from scorching.

The rice should be cooked but still firm as it will continue to cook in the oven.

Remove lemon peel and vanilla bean.

Set aside to cool.

Preheat the oven to 350℉/175℃. Position rack to middle.

Spray a 9½-inch spring form pan with non-stick spray (can also use parchment paper to line the bottom of the pan. Set aside.
To make the crust:
Beat eggs with hand held beater or whisk.

Add sugar, oil, lemon zest and whisk until frothy and light.

Sift flour and baking powder together and add to egg mixture.

Whisk together.

Spread mixture at the bottom of pan.

Set aside.
To make the filling:
In a large mixing bowl (of stand mixer), with whisk attachment, beat the eggs until light and frothy. Can also use a hand held blender or whisk.

Gradually whisk in the sugar. Beat for 1-2 minutes.

Add ricotta, zests and cinnamon. Whisk until incorporated (about 1 minute).

With a mixing spoon, gently combine the rice mixture, breaking up any clumps of rice.

Pour into pie plate (over unbaked crust).

Bake for about 50-60 minutes or until golden and top bounces back when lightly touched.

Allow to cool completely.

Can be served warm or cold.

Dust with icing sugar before serving.
Recipe Notes
Take out the ricotta and eggs from the refrigerator about 30 minutes before starting your recipe.
If you do not have a spring form pan, you can use a deep 10 inch pie plate or a 9 x 13 large rectangular baking dish. 
Please keep in mind that the nutritional information provided below is just a rough estimate and variations can occur depending on the specific ingredients used. 
Nutrition Facts
Rice Ricotta Easter Pie
Amount Per Serving (1 serving)
Calories 292
Calories from Fat 99
% Daily Value*
Total Fat 11g 17%
Cholesterol 132mg 44%
Sodium 91mg 4%
Potassium 185mg 5%
Total Carbohydrates 36g 12%
Protein 11g 22%
* Percent Daily Values are based on a 2000 calorie diet.
Thanks for dropping by.
Ciao for now!
Maria 🙂
DO YOU LOVE THIS RICE RICOTTA EASTER PIE RECIPE?
PIN IT TO YOUR DESSERT BOARD!
Follow She Loves Biscotti for more simple and family friendly recipes!
NEVER MISS A POST FROM SHE LOVES BISCOTTI!
JOIN US ON: