There is nothing like tradition, especially during the holidays. Today, I would like to share one of my fondest food memories I have of growing up Italian in Montreal. It takes the shape of these Traditional Molisani Christmas Eve Fritters.

I said time and again that I try to avoid fried foods whenever possible; usually I will try to replace frying with baking. But there are exceptions to every rule! And these Traditional Molisani Christmas Eve Fritters are one such exception.
Growing up Italian meant so many things to me, and one of the best things about my Italian family was all the get-togethers during the holidays. In preparation for Christmas, my mom and nonna would make these delicious screppelle. They are great when they are fresh, but don't keep especially well, so there was always a mad-rush on Christmas Eve morning, trying to get everything done.
I cannot even begin to describe how delicious these fritters are right when they cool down. The first bite you take has them being still warm and all rolled around in granulated sugar… yum!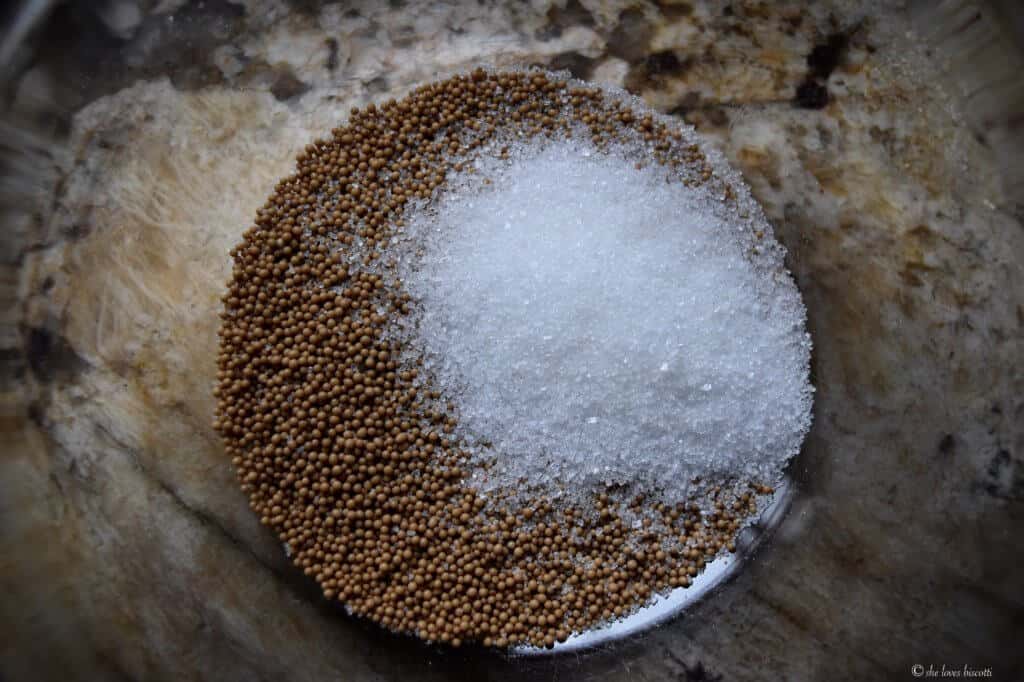 The whole process begins with some magical yeast. Proof the yeast according to the packet directions.
Then, mix all the ingredients together: the yeast, flour, salt, and – wait for it! – the boiled/mashed potatoes. Yes, potatoes! It may seem weird, but trust me on this one. 🙂 You'll need some warm water for this recipe, too – I provide an amount in the recipe below, but really, you only need as much water as "is needed", cryptic as that sounds. My mom and grandma never actually measured out ingredients, but instead gained so much experience in making certain recipes over and over again that they would add ingredients "by eye"… they knew what consistency they wanted the dough to be, in the end, and added ingredients until it reached that consistency. Even I don't have enough experience to make these without measurements though – it takes years of practice!
Anyway, the resultant dough should be smooth, elastic and sticky. Don't even try to shape it into a ball. Just cover and let it rise for a couple of hours or until double in size.
Once the dough is ready, it will soon need to be deep-fried, so start heating up your oil. Nowadays, most Italians (that I know) will use all-purpose vegetable oil for this recipe, but some say that that leaves a bit of an aftertaste. You can use canola oil, or peanut oil, if you'd like to avoid that. You should also prepare a large plate, lined with paper towels – you'll need it later.
Now, the fun part! Rub some vegetable oil on your hands, and then pick up some dough in your fingers, about the size of a golf-ball. It will be sticky and gloopy – a throwback to those papier maché projects of yore. 😉 Stretch the dough out in your hands, and drop it carefully in the oil. Be careful not to splash! Do this for 3 or so pieces of dough. The dough should float in the oil.
Then, with two forks, one in each hand, turn the fritters over and over again while they are in the oil, so that they fry evenly. When they achieve a light golden colour, remove them from the oil, and place on the plate lined with paper towels. Repeat until there is no dough left, but don't forget to thoroughly coat the fritters in granulated sugar while they are still somewhat warm! My mom used to toss them with sugar, but I prefer sprinkling them with sugar.
Time is of the essence with this recipe, so I find it most efficient to do this with two people. One person scoops out and shapes the fritters, and drops them into the oil; the other person turns the fritters constantly, and sprinkled them with sugar. I used to help my mom when she would make them, but ever since she passed away, the torch has been passed on to my daughter and I.
Origins of the recipe for Traditional Molisani Christmas Eve Fritters:
Ever since I can remember, these Traditional Molisani Christmas Eve Fritters would be made on the morning of Christmas Eve Day. In the dialect of my paternal grandmother, we would refer to them as scr'pell -which would be spelled as screppelle. Needless to say, this is an old family recipe with its origins from Ripabottoni, in the province of Campobasso, in the Italian region of Molise.
The dough would be made in the early morning hours and fried in batches just in time for lunch, which consisted of this Saint Joseph's Day Spaghetti Recipe (made twice in the year; once for Christmas Eve lunch and once on March 19th) and baccala (salt cod) with potatoes. These screppele would be part of the Christmas dessert line-up, along with an endless assortment of cakes and cookies.
I can still envision my paternal grandmother and my mom making this yearly treat. My grandmother would be the one meticulously shaping and dropping the dough in the hot oil; my mom was responsible for making sure they were fried to a golden perfection. You will probably find all shapes and sizes when it comes to these fritters; and today there are all kinds of variations. The recipe I am sharing with you today is the one that I grew up with – a simple potato yeast fritter, shaped into a 4-5 inch log-like shape.
After my grandmother passed away, the lead was taken by my mom. When I was not working, I would be the official helper, otherwise, this role was assumed (somewhat clumsily) by my Dad. The tradition continues; now I take charge with this recipe, helped by my daughter.
It never ceases to amaze me how certain foods have the power to bring us back in time and elicit so many wonderful memories.
For my dear family, friends and all of you that are celebrating Christmas, I would like to wish you and your loved ones a very Merry Christmas. And for those not celebrating Christmas, I hope the weekend is full of love, happiness and some wonderful moments!
Buon Natale a tutti ♥

Traditional Molisani Christmas Eve Fritters
Author:
my grandmother Maria
Prep time:
Cook time:
Total time:
Keeping some wonderful childhood memories alive with this recipe for scr'pell ... Traditional Molisani Christmas Eve Fritters.
Ingredients
1 package (8 grams) active dry yeast (approximately 2¼ teaspoons)
1 teaspoon sugar
¼ cup lukewarm water
4 cups (480 grams) all purpose flour
1 teaspoon salt
2 medium potatoes, boiled and riced (about 225 grams or 1 cup)
1½ lukewarm water
for frying:
for garnish:
Instructions
In a small bowl, combine yeast, sugar and water.
Stir and let stand for 10 minutes (will get foamy).
Meanwhile, in the bowl of a stand mixer, combine the flour, salt, mashed potato, and water with the dough hook.
Add the yeast mixture and knead for about 10 minutes. Please note that the dough will be extremely soft.
Cover and allow to double in size. This will take about 2 hours.
When the dough is ready, heat up the oil for deep frying.
Stretch a piece of dough about the size of a golf ball and drop it in the oil.
When they achieve a light brown colour, remove them from the oil, and place on the plate lined with paper towels.
Repeat until there is no dough left.
Sprinkle them with granulated sugar.
These fritters are best the day they are fried.
Thanks for dropping by,
Ciao for now!
Maria 🙂