Imagine this! A plate of spaghetti which has been coated with a mixture of olive oil, toasted breadcrumbs, walnuts, garlic, golden raisins and parsley. Saint Josephs Day Spaghetti recipe, aka Spaghetti di San Giuseppe, is a pasta dish traditionally served on March 19th and Christmas Eve.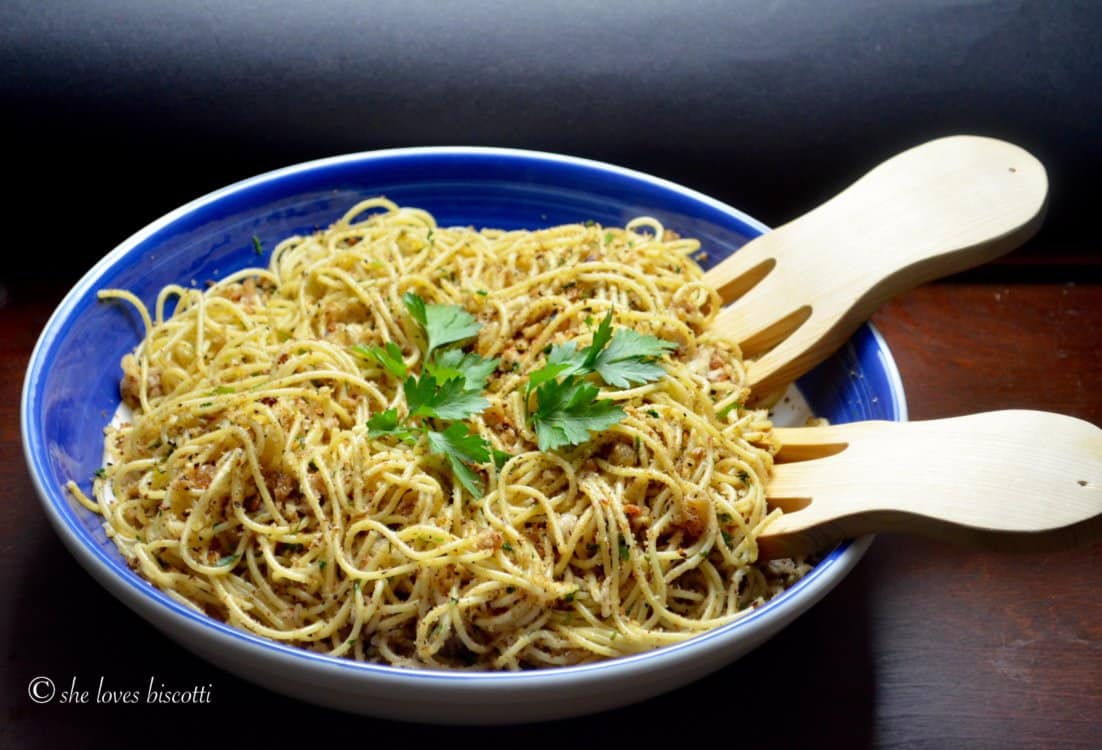 Think about this for a minute: a plate of carbs (pasta), served with more carbs (toasted breadcrumbs). The breadcrumbs in this recipe are very symbolic – they are meant to represent sawdust (since Saint Joseph was a carpenter), and cheese, as well (since this was a poor man's dish).
Perhaps this meatless meal doesn't sound very appetizing, but there's something about this recipe that works for me. I guess it's the combination of sweetness with the mild nutty flavor.
Based on my personal experience, this is one of those dishes that you either love or hate. As you can probably guess, I belong to the group that loves this recipe.

Origin of the recipe for Saint Josephs Day Spaghetti Recipe:
As you can well imagine, this is another recipe which was part of my Italian heritage.
In my upbringing, Saint Joseph's Day Spaghetti recipe was only served twice a year: Christmas Eve and on March 19th in honor of Saint Joseph. As you are probably aware, there is another more popular food tradition celebrated on this day: Zeppole di San Giuseppe (just follow the link for the recipe).
I still have vivid images of my paternal grandmother standing on a chair, armed with a large wooden paddle (which my dad had made) stirring the freshly ground bread crumbs in a pool of olive oil in an industrial sized stock pot.
How could I forget the sweet aroma and the sound of the garlic sizzling in the olive oil? And then the moment when my grandmother decided that it was time to add the bread crumbs, well everyone had to stand back for fear of getting splattered with oil. It really was such a dramatic event… I can't help but smile when I think of those moments.
As a child, I was so impressed with the authority, confidence and pride my grandmother had when she made this dish. This dish represented her roots, in the rural town of Ripabottoni, in the province of Campobasso, in the Italian region of Molise.
On March 19th and on Christmas Eve, family and friends are always welcomed to drop by and try Saint Joseph's Day Spaghetti Recipe!
THANKS SO MUCH for following and being part of the She Loves Biscotti community where you will find Simple & Tasty Family-Friendly Recipes with an Italian Twist.
Ciao for now,
Maria 🙂
★★★★★ If you have made this recipe for St. Joseph's Spaghetti, I would love to hear about it in the comments below and be sure to rate the recipe!
St. Josephs Day Spaghetti Recipe
Spaghetti which has been coated with a mixture of olive oil, breadcrumbs, walnuts, garlic, golden raisins and parsley. Saint Josephs Day Spaghetti recipe.
Ingredients
8

tablespoons

olive oil

divided

6

garlic cloves

minced

2

cups

unseasoned coarse breadcrumbs

2

cups

finely chopped walnuts

about 200 grams

4

tablespoons

fresh parsley

chopped

3/4

cup

of golden raisins

plumped (about 100 grams)

350

grams

spaghetti

1 package

salt

to taste

pepper and crushed red pepper flakes

to taste
Instructions
In a large skillet, over medium heat, heat about 2 tablespoons of olive oil.

Sauté the garlic until fragrant, 1-2 minutes (do not brown).

Reduce heat to medium low and add the breadcrumbs.

Add 2 more tablespoons of olive oil and combine. Stir together for about 2 minutes (breadcrumbs will get slightly toasted and should absorb the oil).

Add the chopped walnuts and stir fry for another 2 minutes.

Add raisins and parsley. Combine. Set aside. Add up to 1 cup of cooking water (from the pasta) if mixture appears to dry.

Meanwhile bring a large pot of salted water to a rolling boil.

Add the spaghetti and cook until al dente.

Drain the pasta and reserve about 1 cup of the cooking water. Drizzle 2 more tablespoons of olive oil.

In a large serving dish, alternate layers of pasta and bread mixture (top with bread mixture).

Garnish with parsley and drizzle remainer oilve oil.
Recipe Notes
Feel free to adjust the amount of garlic, walnuts and raisins based on personal preference.
Nutrition Facts
St. Josephs Day Spaghetti Recipe
Amount Per Serving (1 serving)
Calories 1258
Calories from Fat 630
% Daily Value*
Total Fat 70g 108%
Sodium 408mg 17%
Potassium 801mg 23%
Total Carbohydrates 135g 45%
Protein 28g 56%
* Percent Daily Values are based on a 2000 calorie diet.