Have you ever wondered how to cook broccoli rabe? This Italian-Style Garlicky Broccoli Rabe recipe is the best way to make it less bitter. The combination of olive oil, garlic, cheese and crushed red pepper will provide you with the best rapini recipe aka sauteed broccoli rabe.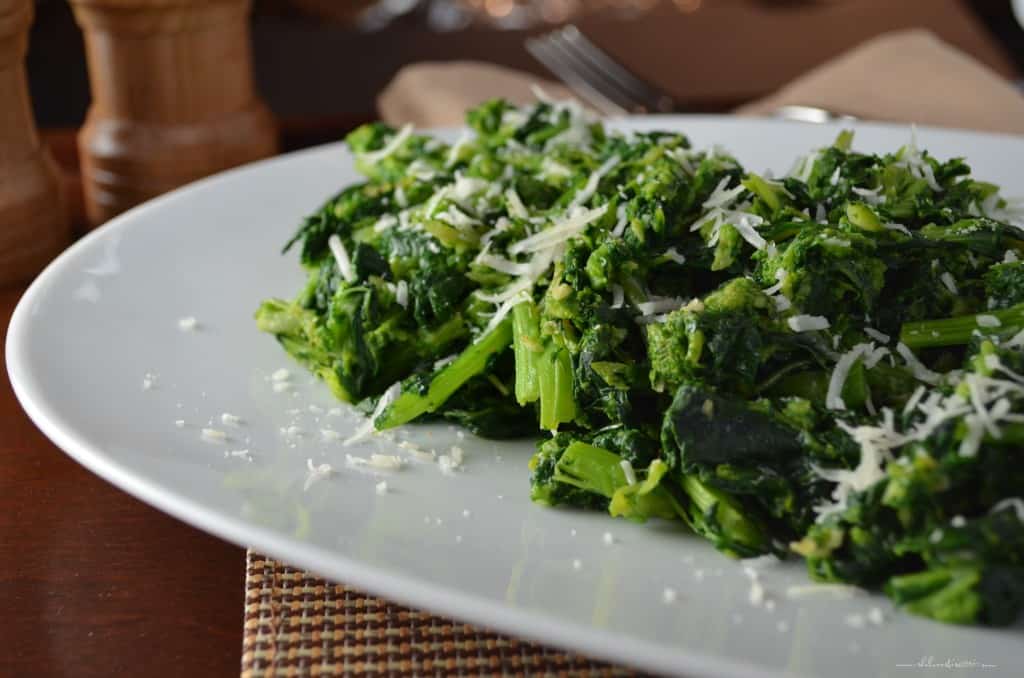 Farmer's Markets are just great in the summer, aren't they?
The abundance of produce with vibrant colors provides the perfect motivation to try all kinds of recipes. In an attempt to get inspired, I visited a local "market" this week-end.
As soon as I laid my eyes on the rapini, I knew I had to purchase it. During the car ride home, I couldn't decide which of these two rapini recipes I was going to make. Was I going to prepare Broccoli Rabe Cavatelli Pasta or another favorite of mine, Italian Broccoli Rabe Orecchiette Pasta?
I'm guessing right now that there are some of you who love this stuff, some who hate it and some who have no idea what I'm talking about.
So let's start with identifying broccoli rabe.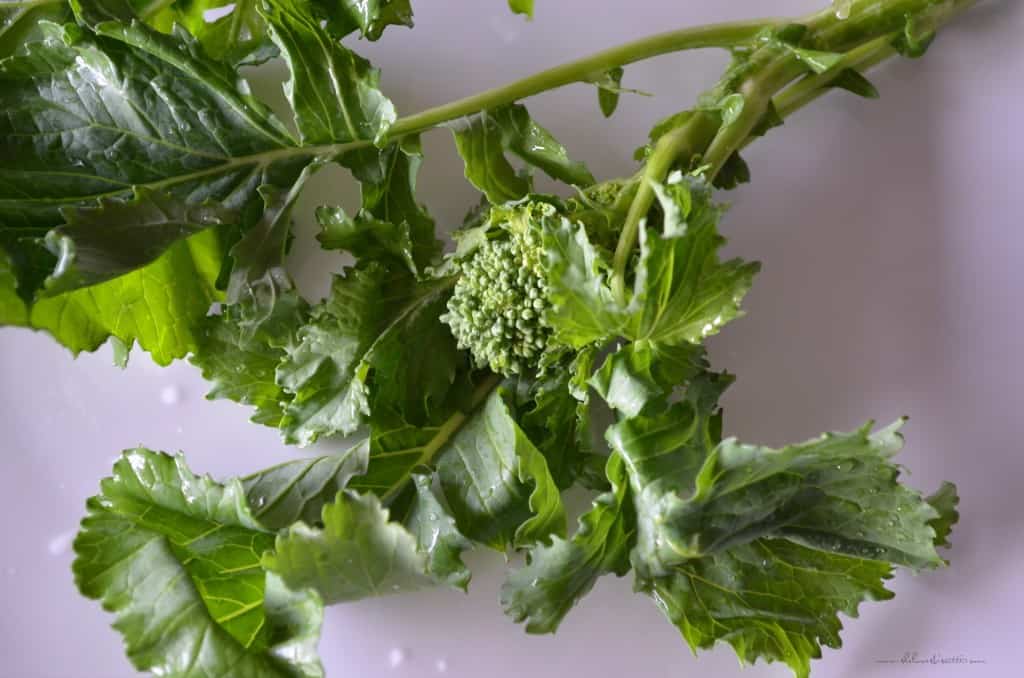 What is Broccoli Rabe aka Rapini?
Broccoli rabe, also known as rapini (in Italian) is a member of the cabbage family. It has a 6 to 9 inch stalk and a few broccoli-like clusters. This green vegetable distinguishes itself from the rest because of its bitter taste — perhaps an acquired taste. Chances are that if you are a fan of arugula, you will like broccoli rabe.
What to look for when buying Broccoli Rabe:
florets and stems should have a dark green color;
stems should be firm;
florets should be tightly closed.
So now that we know what broccoli rabe is, what do we do with it?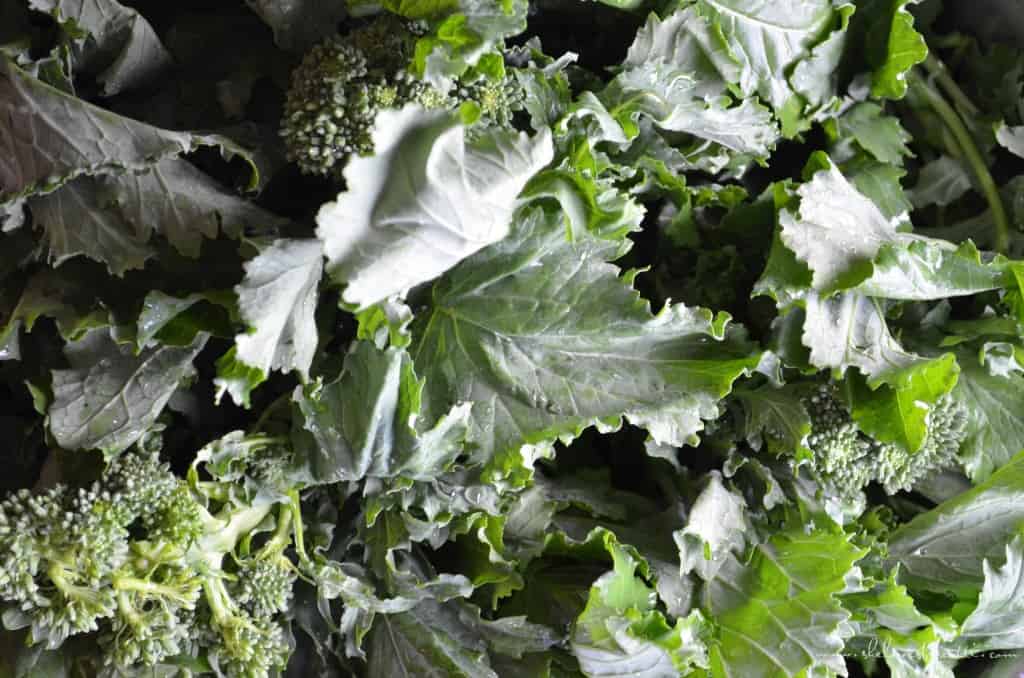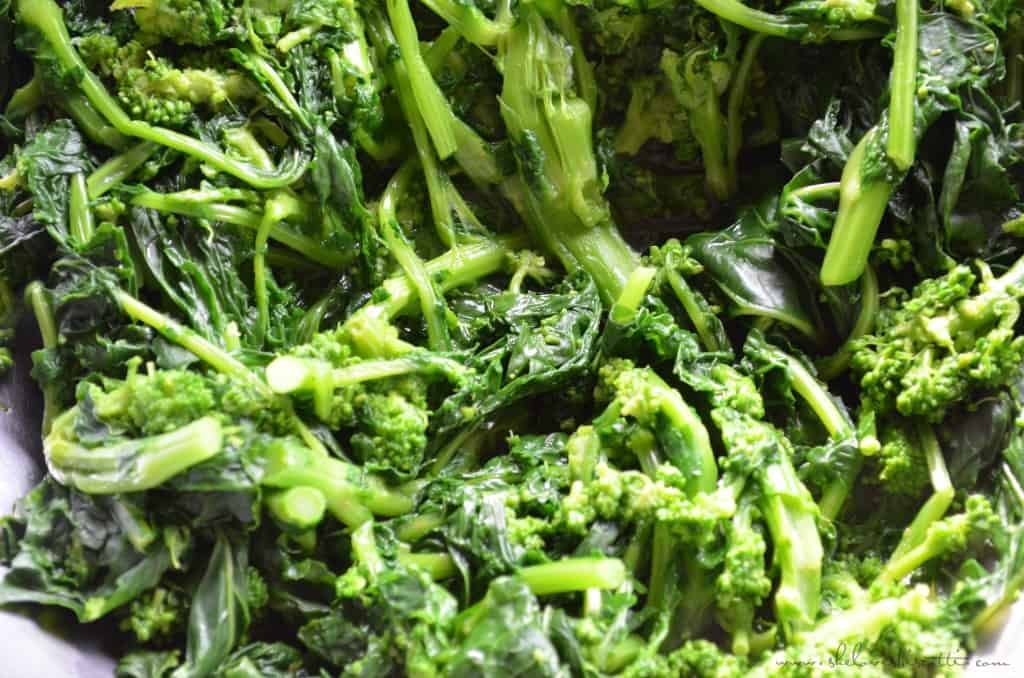 How to cook rapini:
The first thing you need to do is trim the stems, taking off anywhere from 1-2 inches, the goal being to remove as much of the tough stalk as possible.
Then, just like any other vegetable, it needs to be washed.
Once that's done, you need to cook it in a large pot of boiling, salted water until tender. Remove the broccoli rabe from the water and drain.
Try to squeeze out (with your hands) as much water as possible.
According to some, this process removes some of the bitterness.
How to make Sauteed Broccoli Rabe:
Over medium heat, drizzle a few tablespoons of olive oil in a large skillet.
Saute 2-3 cloves of minced garlic along with some red chili flakes (if using) for 1-2 minutes.
Add the cooked broccoli rabe and sautee for a few minutes.
Finally. season with salt and pepper to taste. If desired, sprinkle with Parmesan cheese and serve.
That's it! Once plated drizzle with olive oil and more cheese, if desired.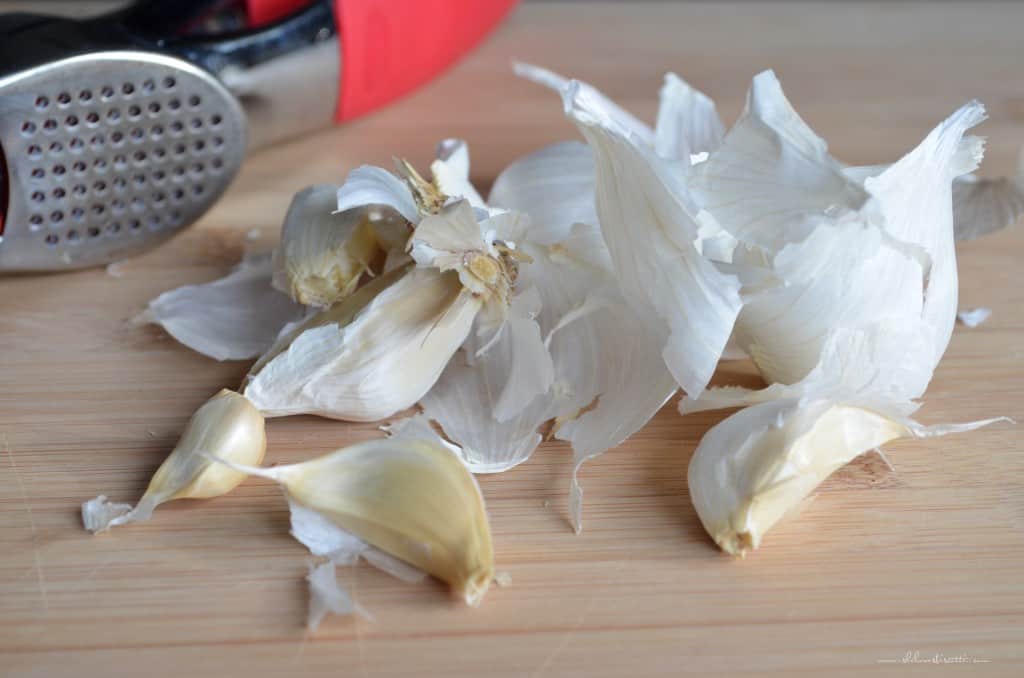 Broccoli Rabe Recipes:
Here are some ideas you can use the sauteed broccoli rabe with garlic. No recipe required to incorporate this bold tasting vegetable…
with pasta;
in soups;
as a topping for pizza;
with polenta or
in a sandwich.
Dark Green Vegetables we love:

ORIGINS OF THE RECIPE FOR Italian-Style Garlicky Broccoli Rabe:
Growing up Italian meant we would have broccoli rabe at least once a week. Just like this recipe for Swiss chard it would be served as a simple side or combined with other foods.
As was previously mentioned, more often than not, my mom would combine it with different pastas. My favorite was (and still is today) with Homemade Cavatelli!
I would encourage you to try out this Italian-style garlicky broccoli rabe recipe– this stuff really does grow on you. Let me know if you love it or hate it, but at least you can't say you're confused by it anymore!
THANKS SO MUCH for following and being part of the She Loves Biscotti community where you will find Simple & Tasty Family-Friendly Recipes with an Italian Twist.
Ciao for now,
Maria
★★★★★ If you have made this Broccoli Rabe recipe, I would love to hear about it in the comments below and be sure to rate the recipe!
Recipe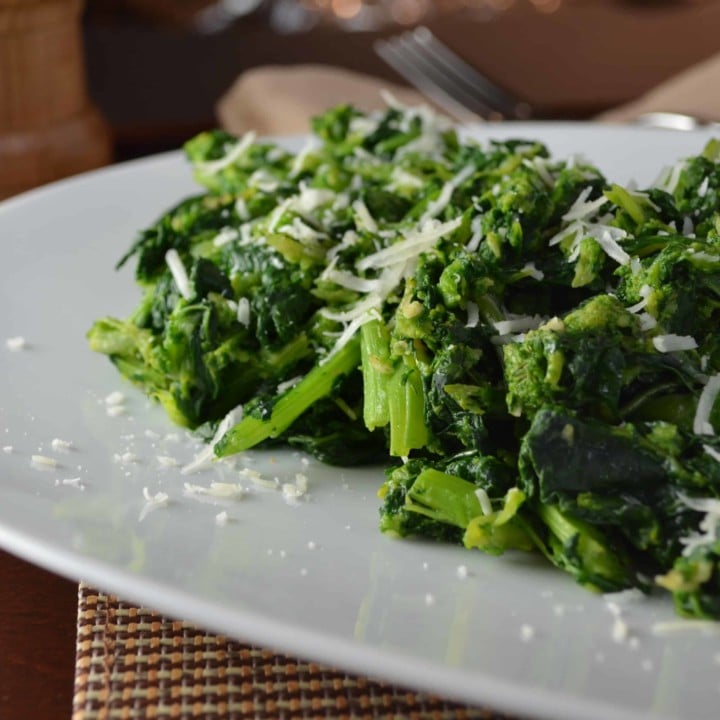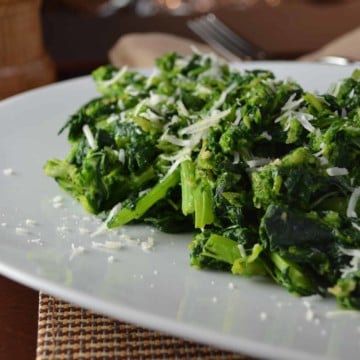 Italian-Style Garlicky Broccoli Rabe
Some would say that broccoli rabe is an acquired taste because of its' bitterness. Try this recipe for Italian-style garlicky broccoli rabe to be converted.
Print
Save Recipe
Saved!
Pin
Rate
Ingredients
1

bunch

broccoli rabe

3

tablespoons

olive oil

3

garlic cloves

minced

1

tablespoon

grated Parmesan cheese

pinch

red chili flakes

optional

salt and pepper to taste

parmesan cheese

optional

olive oil for drizzling
Instructions
Trim the stems, anywhere from 1-2 inches.

Wash broccoli rabe properly.

Cook broccoli rabe in a large pot of salted boiling water until tender for approximately 5-7 minutes.

Drain and squeeze in order to remove as much of the liquid as possible.

Over medium heat, drizzle olive oil in a large skillet.

Sauté minced garlic and chili flakes for 1 to 2 minutes.

Stir in the broccoli rabe and saute for 3-5 minutes or until tender.

Season.

Sprinkle with parmesan cheese.

Place on serving dish and drizzle with olive oil.
Scroll UP for the STEP by STEP Photos
Don't miss the process shots and videos included in most posts. Simply scroll up the post to find them. Those were created especially for you so that you can make the recipe perfectly every single time you try it.
Notes
I prefer to chop up my broccoli rabe before stir-frying it with the garlic.
Please keep in mind that the nutritional information provided below is just a rough estimate and variations can occur depending on the specific ingredients used. 
Nutrition
Serving:
1
serving
|
Calories:
113
kcal
|
Carbohydrates:
2
g
|
Protein:
2
g
|
Fat:
11
g
|
Saturated Fat:
1
g
|
Cholesterol:
1
mg
|
Sodium:
38
mg
|
Potassium:
119
mg
|
Fiber:
1
g
|
Vitamin A:
1480
IU
|
Vitamin C:
12.1
mg
|
Calcium:
79
mg
|
Iron:
1.3
mg