Farmer's Markets are just great in the summer, aren't they? The abundance of produce with vibrant colours provides the perfect motivation to cook up a storm.  In an attempt to get inspired, I visited a  local "market" this week-end. As soon as I laid my eyes on the rapini, I knew I had to make Italian-Style Garlicky Broccoli Rabe.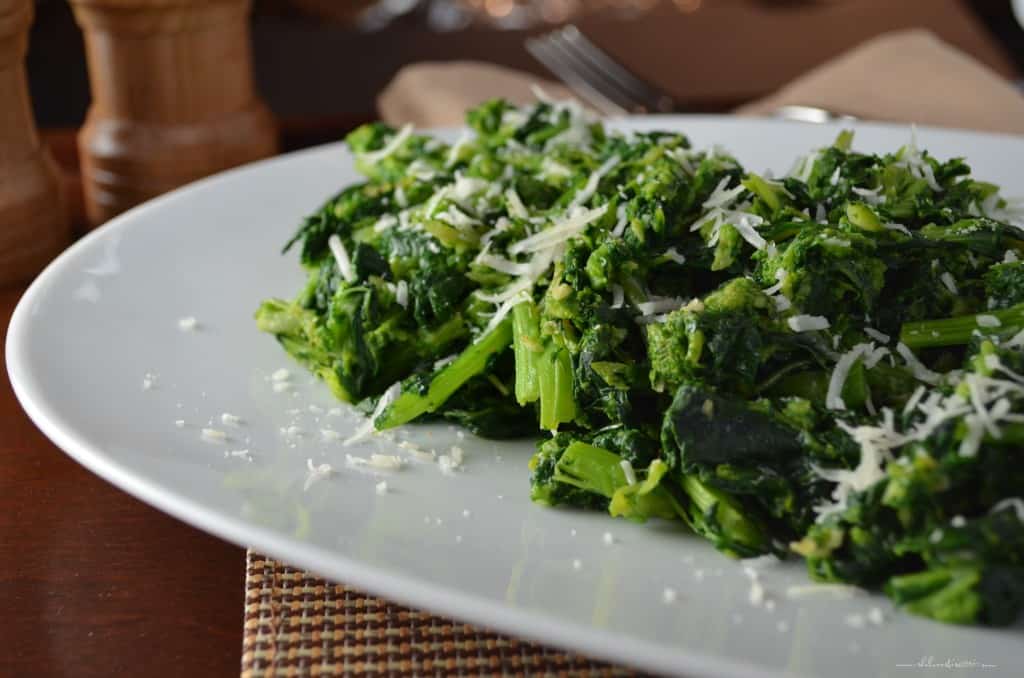 I'm guessing right now that there are some of you who love this stuff, some who hate it and some who have no idea what I'm talking about. So let's start with identifying this vegetable.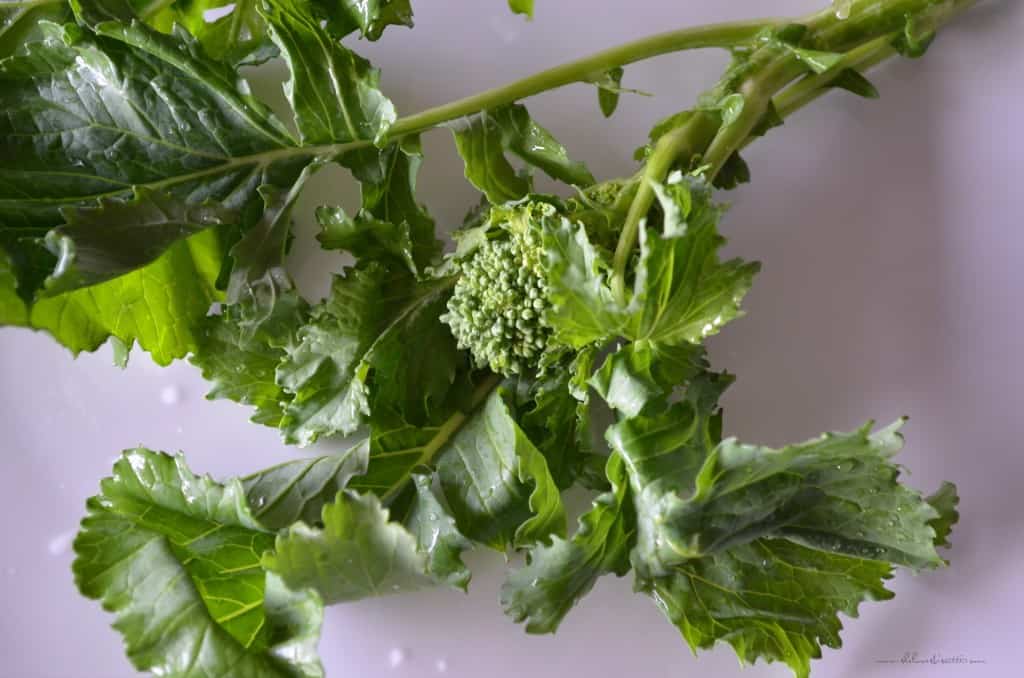 Broccoli rabe, also known as rapini (in Italian) is a member of the cabbage family. It has a 6 to 9 inch stalk and a few broccoli-like clusters. This green vegetable distinguishes itself from the rest because of its bitter taste — perhaps an acquired taste. Chances are that if you are a fan of arugula, you will like broccoli rabe.
So now that we know what broccoli rabe is, what do we do with it?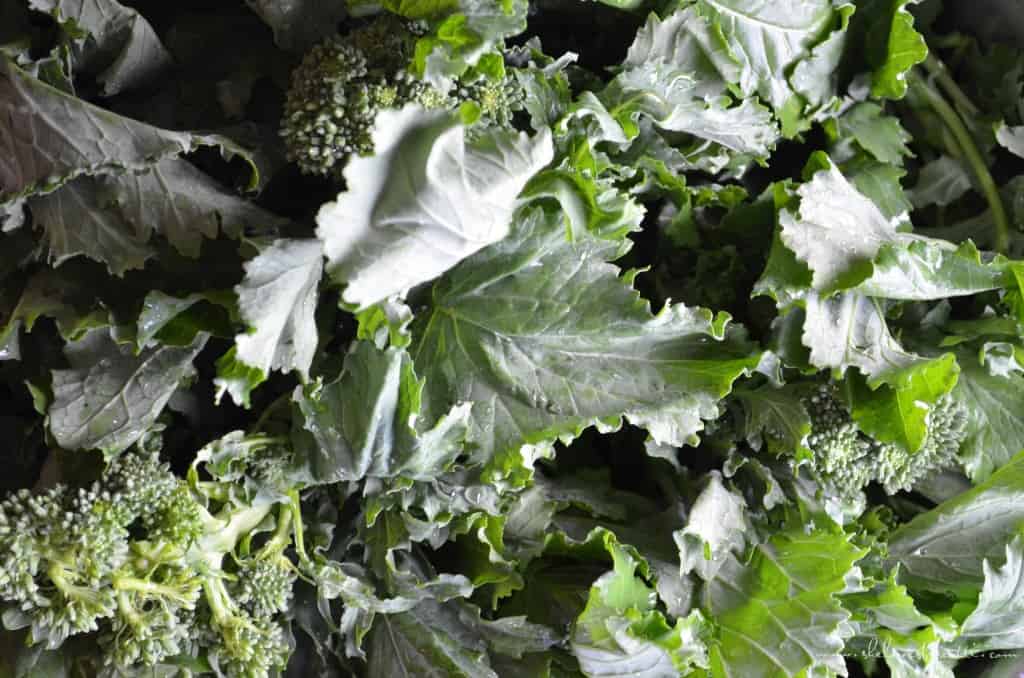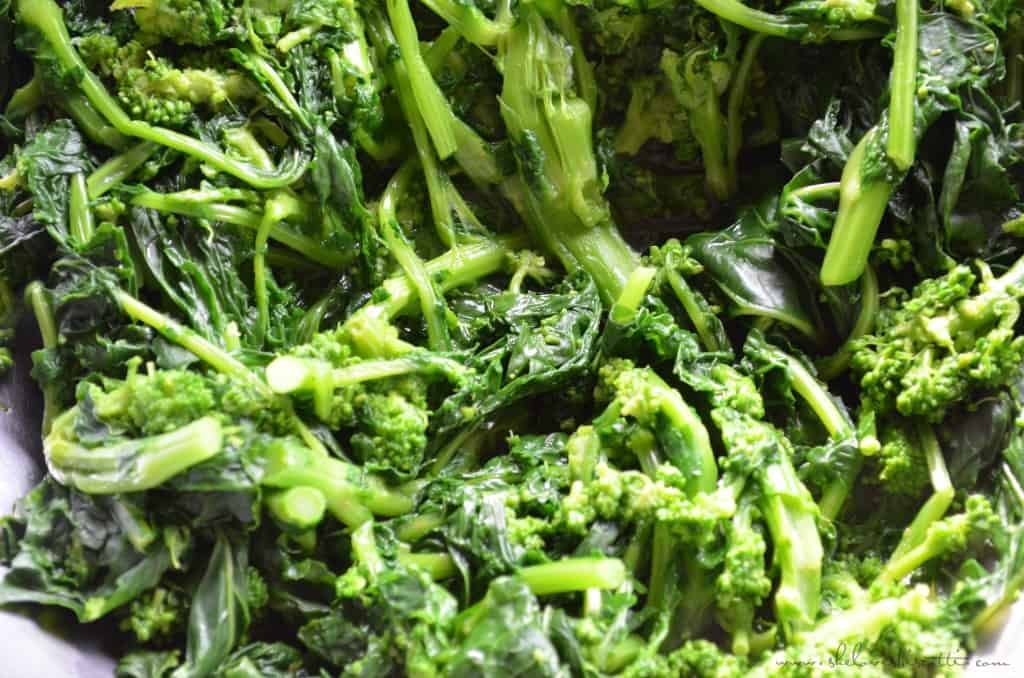 Well, this is how I was taught to prepare rapini. The first thing you need to do is trim the stems, taking off anywhere from 1-2 inches, the goal being to remove as much of the tough stalk as possible. Then, just like any other vegetable, it needs to be washed. Once that's done, you need to cook it in a large pot of boiling, salted water until tender. Remove the broccoli rabe from the water and drain. Try to squeeze out (with your hands) as much water as possible. Apparently, this process removes some of the bitterness.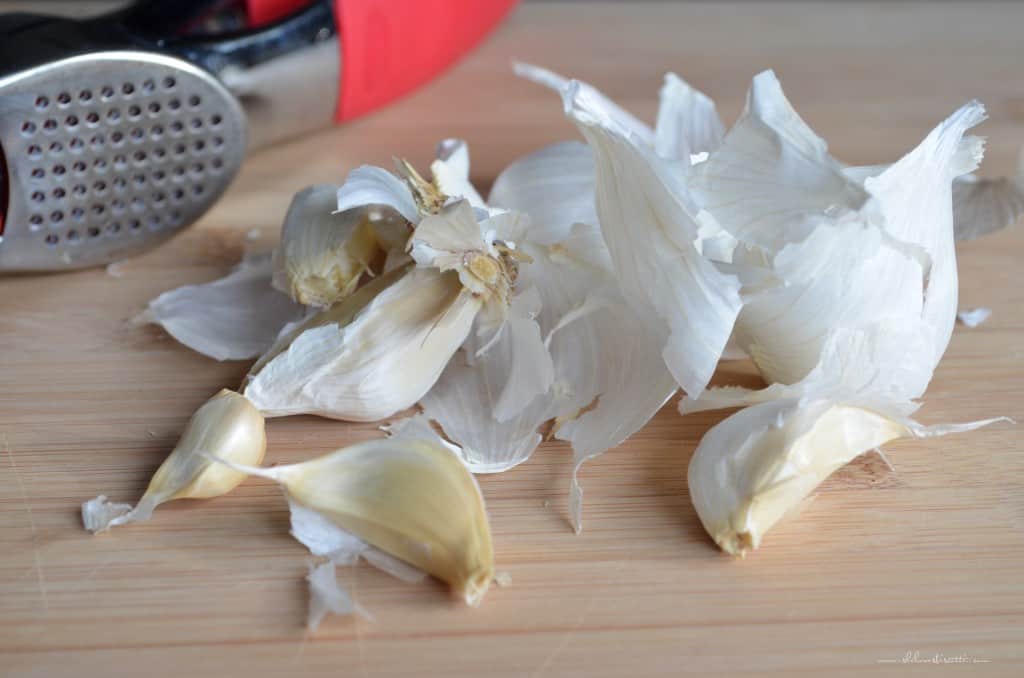 This bold tasting vegetable can be served with pasta for a quick meal (if interested, take a look at this Puglian Italian Broccoli Rabe Orecchiette Pasta Recipe or another favorite of mine -this family recipe for Homemade Italian Broccoli Rabe Cavatelli Pasta); it can be used in a soup; as a topping for pizza; in a sandwich and my personal favorite: stir fried with lots of garlic.

ORIGINS OF THE RECIPE FOR Italian-Style Garlicky Broccoli Rabe:
Broccoli rabe would make an appearance on the supper table at least once a week when I was a teenager, just like Swiss chard. I would encourage you to try out this Italian-style garlicky broccoli rabe — this stuff really does grow on you. Let me know if you love it or hate it, but at least you can't say you're confused by it anymore!
Italian-Style Garlicky Broccoli Rabe
Prep time:
Cook time:
Total time:
Some would say that broccoli rabe is an acquired taste because of its' bitterness. Try this recipe for Italian-style garlicky broccoli rabe to be converted.
Ingredients
1 bunch broccoli rabe
3 tablespoons olive oil
2-3 garlic cloves, minced
1 tablespoon grated Parmesan cheese
pinch red chili flakes (optional)
salt and pepper to taste
parmesan cheese (optional)
olive oil for drizzling
Instructions
Trim the stems, anywhere from 1-2 inches.
Wash broccoli rabe properly.
Cook broccoli rabe in a large pot of salted boiling water until tender for approximately 5-7 minutes.
Drain and squeeze in order to remove as much of the liquid as possible.
Over medium heat, drizzle olive oil in a large skillet.
Sauté minced garlic and chili flakes for 1 to 2 minutes.
Stir in the broccoli rabe and saute for 3-5 minutes or until tender.
Season.
Sprinkle with parmesan cheese.
Place on serving dish and drizzle with olive oil.
Notes
I prefer to chop up my broccoli rabe before stir-frying it with the garlic.
Thanks for dropping by,
Ciao for now!
Maria 🙂
LOVE THIS RECIPE? PIN IT TO YOUR SIDE DISH AND VEGETABLES BOARD!
Follow She Loves Biscotti for more simple and healthy recipes 🙂