This Irish Soda Bread comes together in the time it takes for your oven to preheat. You will fall in love with this thick crusted yeast free bread.
Irish Soda Bread
This post was originally published on March 6, 2015 and republished on March 1, 2018 with updated content and pictures.
You might be wondering why a Canadian-born, Italian-raised girl from Montreal is making an Irish bread recipe. Well, March 17th is St.Patrick's Day and like these Montrealers (Bowser and Blue) sing, "Everybody's Irish on St. Patrick's Day!"
Truth be told, I love to serve this Irish bread with my Veal Stew. The caraway seeds found in this are also a great compliment to my White Bean Soup.
In fact, I've always been intrigued by soda bread recipes, especially soda bread with buttermilk. What I've learned is that there are two versions to this type of bread:
Traditional Irish soda bread has only four ingredients:
flour
salt
buttermilk and
baking soda
…hence the name Irish soda bread.
Apparently, that's the way the Irish made it back in the 1800's (in Ireland). Over the years, this soda bread became a base for all sorts of add-ins like raisins, cranberries, herbs, and so on.
In its transition, it became a sweet quick bread as sugar and eggs were also added-hence the reference to a Non Traditional Irish Soda Bread.
Just like this recipe for quick whole wheat honey bread, the ingredients come together very easily.
There is no yeast, no kneading – heck there isn't even a mixer required to make this bread.
All you need are two bowls, a whisk, a stirring spoon and a knife (to ward off the evil spirits-more on that later 🙂 )
You won't believe how quickly this best soda bread recipe comes together…
Are you ready?
How to make this Irish Soda Bread Recipe:
In a large mixing bowl, sift together all of the dry ingredients. These include flour, sugar, baking soda/powder, salt and caraway seeds. Set it aside for a minute, while we whisk the wet ingredients together.
In another bowl we are going to whisk a couple of eggs with sour cream and buttermilk.
Add the wet ingredients to the dry ingredients and combine with a wooden spoon. You will quickly notice that this is a very sticky and thick dough.
Do not be tempted to over mix this batter. Just like making muffins, over mixing will toughen the texture of this Irish bread.
Transfer to a 9-inch spring form pan which has been coated with a non-stick spray. With lightly floured fingertips, I will gently spread out the batter to the edges of the pan.
Whether you are making the traditional or non-traditional version, you should always score a deep "X" on the top of your bread before baking it. Not only does it help the baking process (allowing better heat penetration) but it protects your household by warding off the evil spirits. How's that for efficiency!
The only thing left to do is to bake your Irish soda bread!

Origins of the recipe for Irish Soda Bread:
There is no lack of recipes whether you are looking for a traditional or non traditional Irish soda bread.
I've adapted this recipe from a recipe I found on this site. Over the years, I have made a couple of changes to the recipe.
I decreased the amount of sugar and salt found in the original recipe; I replaced 1 cup of sour cream with ¾ cup + 1 tablespoon of buttermilk. Also, I excluded the raisins which are not very popular in my household. Feel free to throw in a handful if you like them in your bread.
Overall, this quick bread has a very light texture and is really easy to put together. I definitely plan on making this Non Traditional Irish Soda Bread throughout the year…aiming for the luck of the Irish on this one 😉
I would like to share with you one of my favorite Irish blessings:
For each petal on the shamrock
This brings a wish your way.
Good health, good luck, and happiness
For today and every day.
Happy St. Patrick's Day!
THANKS SO MUCH for following and being part of the She Loves Biscotti community where you will find Simple & Tasty Family-Friendly Recipes with an Italian Twist.
Ciao for now,
Maria
★★★★★ If you have made this Irish Soda Bread recipe, I would love to hear about it in the comments below and be sure to rate the recipe!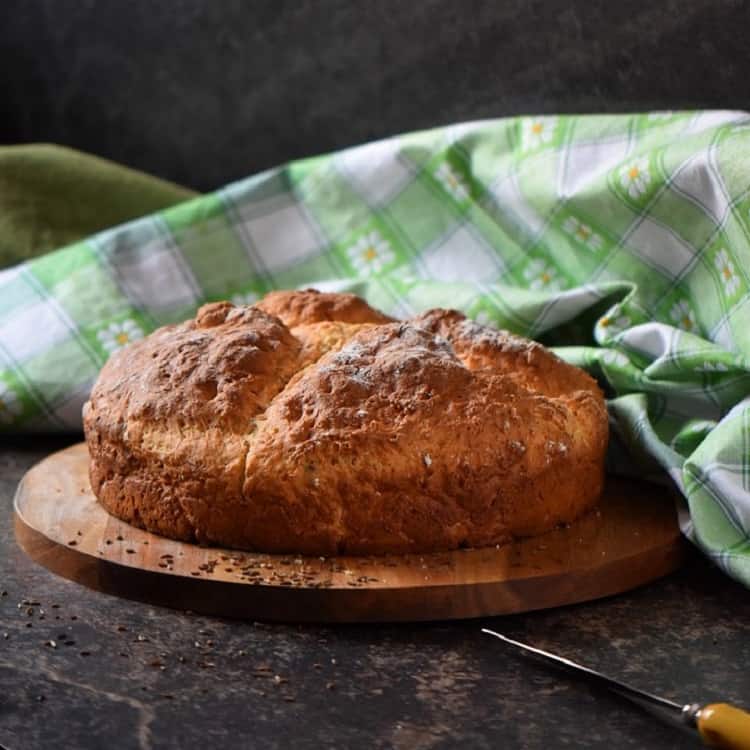 Irish Soda Bread
This Irish Soda Bread comes together in the time it takes for your oven to preheat. You will fall in love with this thick crusted yeast free bread.
Ingredients
3 1/2

cups

flour

all-purpose

1/3

cup

sugar

granulated

1

teaspoon

baking soda

2

teaspoons

baking powder

3/4

teaspoon

salt

1

tablespoon

caraway seeds

heaping

2

eggs

1

cup

sour cream

light

3/4

cup

buttermilk

plus 1 tablespoon

non-stick spray
Instructions
Preheat oven to 350℉.

In a very large mixing bowl, sift together the dry ingredients. Add in caraway seeds and set aside.

In another medium bowl, whisk eggs.

Whisk in sour cream and buttermilk.

Combine this mixture to the dry ingredients and mix only until combined with wooden spoon.

Spray 9-inch spring-form pan with non-stick spray.

Place batter in a pan. With floured fingertips, press gently to extend the dough to the edges.

Score an "X" with knife.

Bake for approximately 50 -60 minutes.
Recipe Notes
Original recipe call for 3/4 cup of raisins.
This recipe freezes well.
Please keep in mind that the nutritional information provided below is just a rough estimate and variations can occur depending on the specific ingredients used. 
*recipe lightly adapted from Food.com
Nutrition Facts
Irish Soda Bread
Amount Per Serving (1 serving)
Calories 159
Calories from Fat 36
% Daily Value*
Total Fat 4g 6%
Cholesterol 29mg 10%
Sodium 209mg 9%
Potassium 127mg 4%
Total Carbohydrates 26g 9%
Protein 4g 8%
* Percent Daily Values are based on a 2000 calorie diet.