Wondering what to do with an overabundance of cherry tomatoes? Make this easy recipe for Sun Dried Cherry Tomatoes and you'll be enjoying them throughout the year.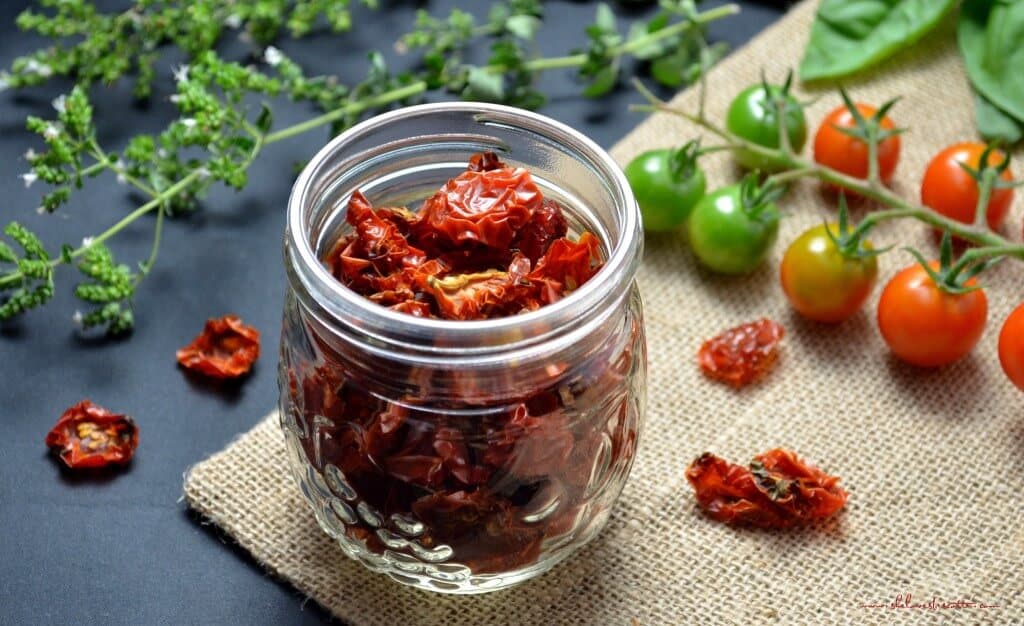 This post was originally published on September 28, 2014 and republished on August 16, 2018 with updated content and photos.
It's that time of the year!
The time of year when everyone that has a vegetable garden will tell you, there are too many tomatoes!
Well, if that's you, you've come to the right place because today, we are going to make sun dried cherry tomatoes. In actual fact, they will be oven dried.
This year, I also had an abundance of both this tiny tomato variety and my Roma tomatoes. I like to raw pack the whole Roma tomatoes and use them in hearty winter stews and soups.
The cherry tomatoes are a great addition in any salad. Two of my favorite summer salads are this Arugula Cherry Tomato Salad and this Italian Potato Salad (made without any mayonnaise).
Naturally, there is always the alternative of just popping them in your mouth and eating them raw. With every single bite, you quickly realize how addictive they are and how hard it is to resist nature's sweetness in the shape of these bright cherry tomatoes.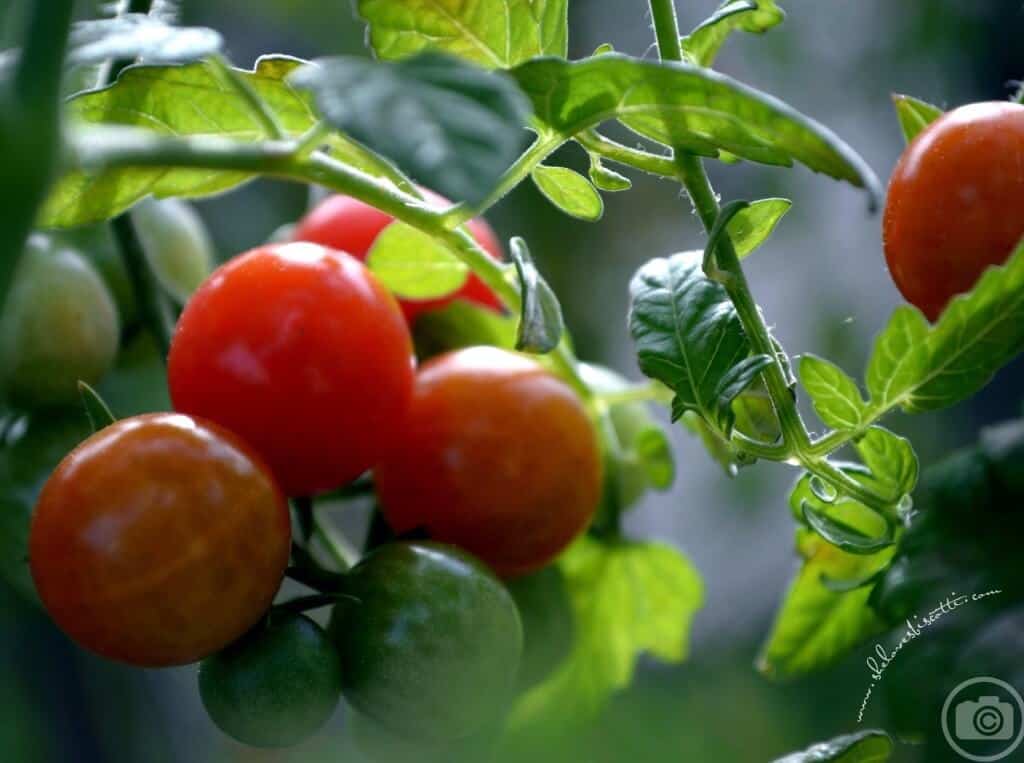 These round and bite sized tomatoes are usually available from June to September. They can be found in different colors including red, orange, yellow and even black.
Nutrition Note: As a dietitian, I can tell you that they are an excellent source of vitamins A and C and a very good source of potassium. They are also great sources of antioxidants like lycopene. They are also considered a great food to snack on as 7 cherry tomatoes will provide only 15 calories.
As we are fast approaching fall, I thought of preserving this incredible fruit by making dried cherry tomatoes (sorry guys, in the "is the tomato a fruit or a vegetable" debate, I choose fruit). You might be surprised to learn that dehydrating cherry tomatoes is a simple process when using the oven.
Let me show you how it's done…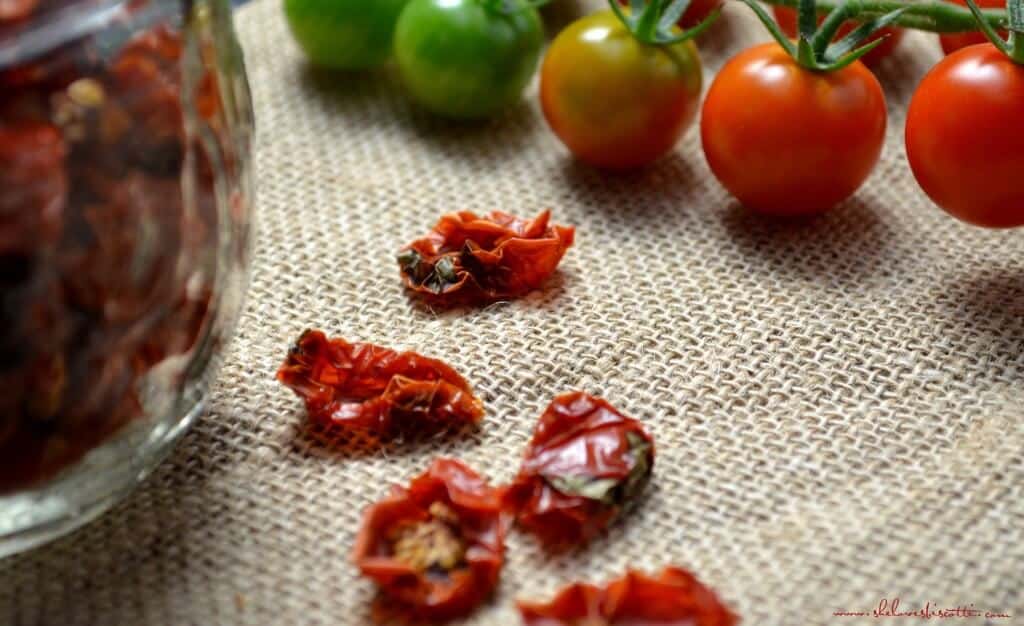 Instructions
Although this procedure is specific to cherry tomatoes, the truth is that you can oven dry any tomato.
Expect the times to be different as the larger tomatoes will require more time to dehydrate. Nevertheless, the technique is very easy as the oven does all the work.
Let me explain.
The whole process begins by heating the oven to 200° F. Depending on how many cherry tomatoes you are planning to dry, position your oven rack to the upper-middle and lower-middle positions. For this recipe, we will only be using 2 pints, which is about 4 cups, so I will place my oven rack in the center.
You also need to place a sheet of parchment paper on a large cookie sheet and set it aside.
Now we need to rinse and dry the cherry tomatoes with a tea towel. The next step is to cut them in half and place them in a bowl where they will be seasoned with dried herbs, salt and pepper.
Place them in a single layer, cut side up, on the parchment-lined baking sheet. Make sure they are not touching each other because they will definitely stick together as they begin to dry out.
You might be surprised to see that drying cherry tomatoes in the oven will shrink them to half their size. But what they lack in size, they more than makeup for in taste.
At the 2-hour mark, check to see how the cherry tomatoes are coming along. Depending on your oven and the original moisture of your cherry tomatoes, the total amount of time they spend in the oven may vary.
Keep checking them every ten minutes or so until the moisture has completely evaporated. The texture should be rubbery and not crisp. The taste should be chewy and the color should turn a deep, vibrant red.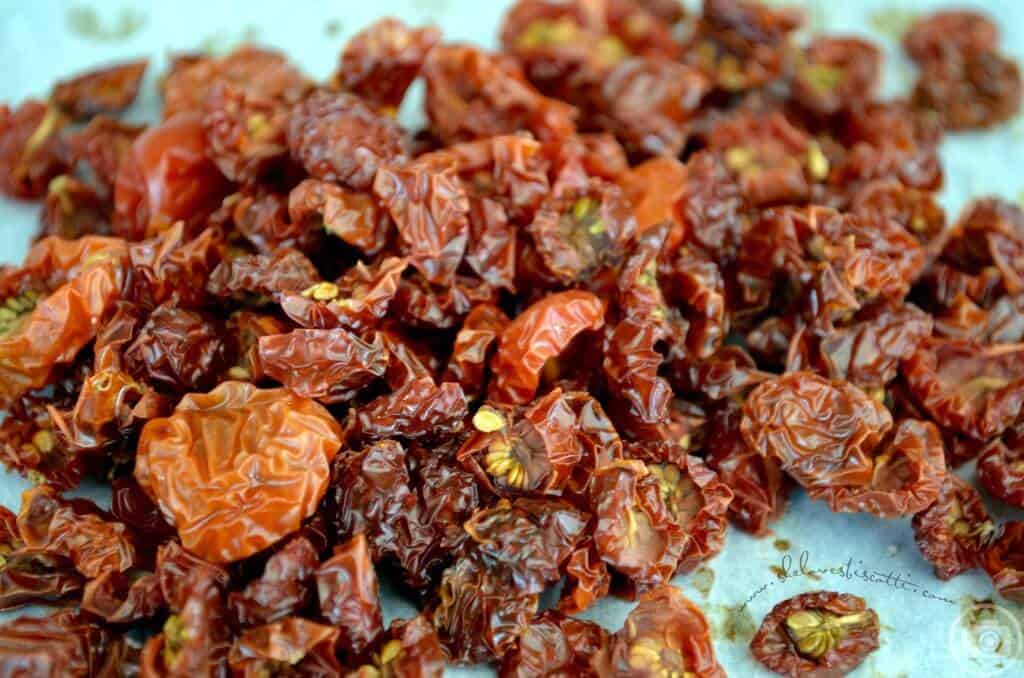 Once they are done, allow them to completely cool down.
If not using right away, here is how you can store them:
Place the dehydrated cherry tomatoes on a baking sheet that fits in your freezer. Since we don't want clumps of dried tomatoes sticking together, make sure they do not touch each other when placing them on the parchment paper. Individually frozen dehydrated cherry tomatoes will allow you the flexibility to thaw them out individually based on your specific needs;
Place the baking sheet in your freezer for about 2-3 hours;
Transfer to a plastic bag and use a sealer to remove the air or use the straw method.
Can be kept in the freezer for up to one year.
If using right away or thawed from the freezer, here is how you can use them:
Soak the dried cherry tomatoes in a dish with wine, broth, or water;
Allow one hour for the tomatoes to soften;
Remove the tomatoes, and use them in your favorite recipes;
Reserve the broth to add the soups and stir-fries.
Who would have guessed that this little round ball, when bitten into would produce such a refreshing burst of sweetness. It's almost impossible to believe but once sun-dried, the sweetness is intensified.
The sun-dried tomato will enhance the flavors in any recipe. Here are some examples:
… and so much more!

Recipe origins
Well, I guess you would have to go back in time for this one. I mean really back in time, when Italians living in the south of Italy would use their rooftops to dry out the tomatoes.
And as for the recipe, well, it is more of a procedure than it is a recipe. I have my mom to thank for this one. They were a weekly occurrence during my childhood.
As cooler temperatures are quickly approaching, capture some of nature's sweetness by making sun-dried cherry tomatoes. Easy, economical and convenient.
THANKS SO MUCH for following and being part of the She Loves Biscotti community where you will find Simple & Tasty Family-Friendly Recipes with an Italian Twist.
Ciao for now,
Maria
★★★★★ If you have made this recipe for oven dried cherry tomatoes, I would love to hear about it in the comments below and be sure to rate the recipe!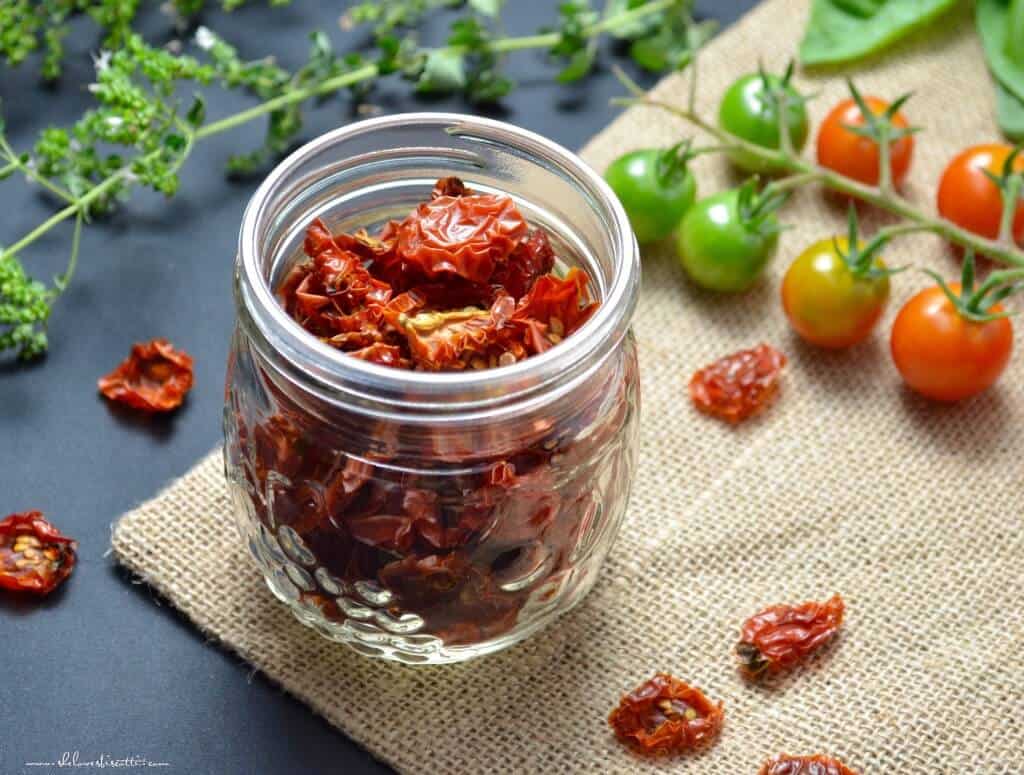 Recipe
Sun dried cherry tomatoes
As cooler temperatures are quickly approaching, capture some of nature's sweetness by making sun dried cherry tomatoes. Easy, economical and convenient.
Print
Save Recipe
Saved!
Pin
Rate
Ingredients
4

cups

cherry tomatoes

or as many as you like

½-¾

teaspoon

thyme

dried

½-¾

teaspoon

oregano

dried

salt and pepper to taste
Instructions
Preheat to 200° F (90°C ). Position rack in the center of oven.

Line baking sheet with parchment paper.

Rinse and dry tomatoes.

Cut in half and place in mixing bowl.

Season the tomatoes with herbs, salt and pepper.

Place cut side up, not touching each other, on the baking sheet.

Bake for 3 - 4 hours. See note(1).

Remove from oven and cool to room temperature.

Once cooled place in freezer.

Once frozen, can be placed in a plastic bag and kept in freezer until ready to use. See note (2).
Scroll UP for the STEP by STEP Photos
Don't miss the process shots and videos included in most posts. Simply scroll up the post to find them. Those were created especially for you so that you can make the recipe perfectly every single time you try it.
Notes
(1) Amount of time needed to dry the tomatoes depends on the water content of the tomatoes. Tomatoes are done when they obtain a deep red colour and feel rubbery.
(2) When ready to use, soak tomatoes in water or wine in order to rehydrate. Be sure to drain before adding them to salads, omelettes, frittatas, etc...Alternately, you can soak in olive oil, garlic and herbs. Keep refrigerated for up to 4 days. Great with pasta or in a sandwich.
Calories for serving size is calculated for the entire yield of 2 cups.
Please keep in mind that the nutritional information provided below is just a rough estimate and variations can occur depending on the specific ingredients used. 
Nutrition
Serving:
1
serving
|
Calories:
197
kcal
|
Carbohydrates:
44
g
|
Protein:
10
g
|
Fat:
1
g
|
Sodium:
106
mg
|
Potassium:
2189
mg
|
Fiber:
10
g
|
Sugar:
23
g
|
Vitamin A:
5010
IU
|
Vitamin C:
215.7
mg
|
Calcium:
264
mg
|
Iron:
10.1
mg