She loves biscotti you say…more specifically Almond Biscotti.
My whole biscotti obsession started with this family recipe for Italian Almond Biscotti. Simple and great tasting -it will quickly become one of your favorites.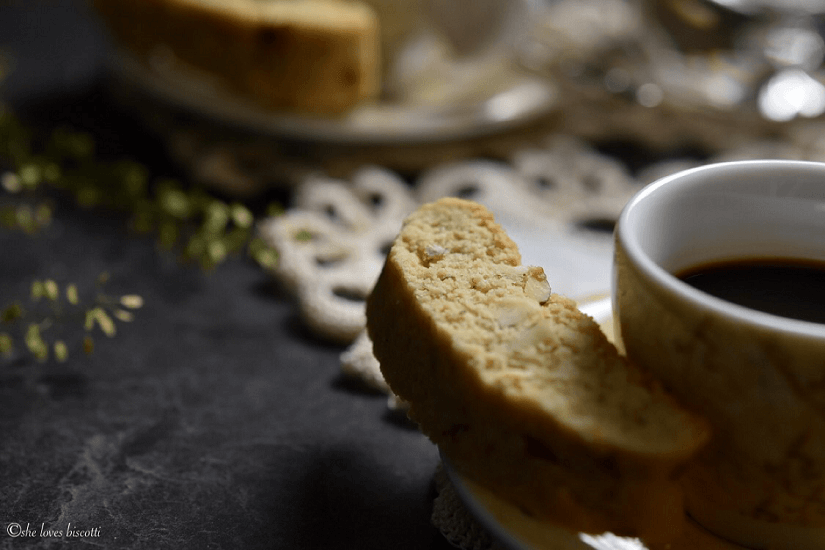 This recipe was originally published on September 28, 2014 and re-published on October 12, 2017 with updated content and photos.
Born to Italian immigrants, growing up in Montreal, my definition of biscotti refers to a variety of cookies, which include the twice baked cookie.
As a kid I thought this cookie was too hard and looked boring. Whenever I opened the pantry door, there they were again, almond biscotti. I remember thinking why can't we be like the other kids and have store bought cookies. It was only as an adult that I came to appreciate this simple cookie which was absolutely created to be dunked.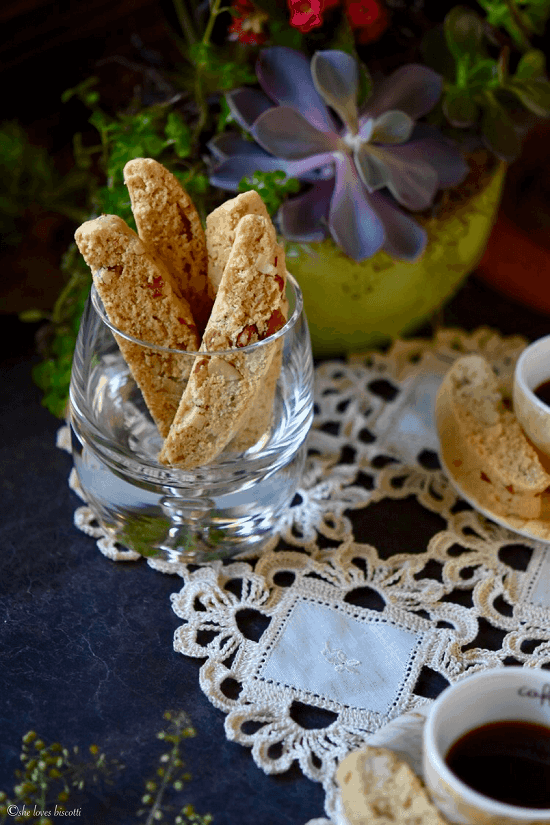 If you have never ventured into the world of biscotti…you should. They are truly simple to make, do not require any special cooking equipment (that means manual labor i.e. mixing by hand) and you can easily control the amount of sugar and the flavors (for example, the anise flavor found in this anise biscotti recipe can easily be replaced with vanilla flavoring).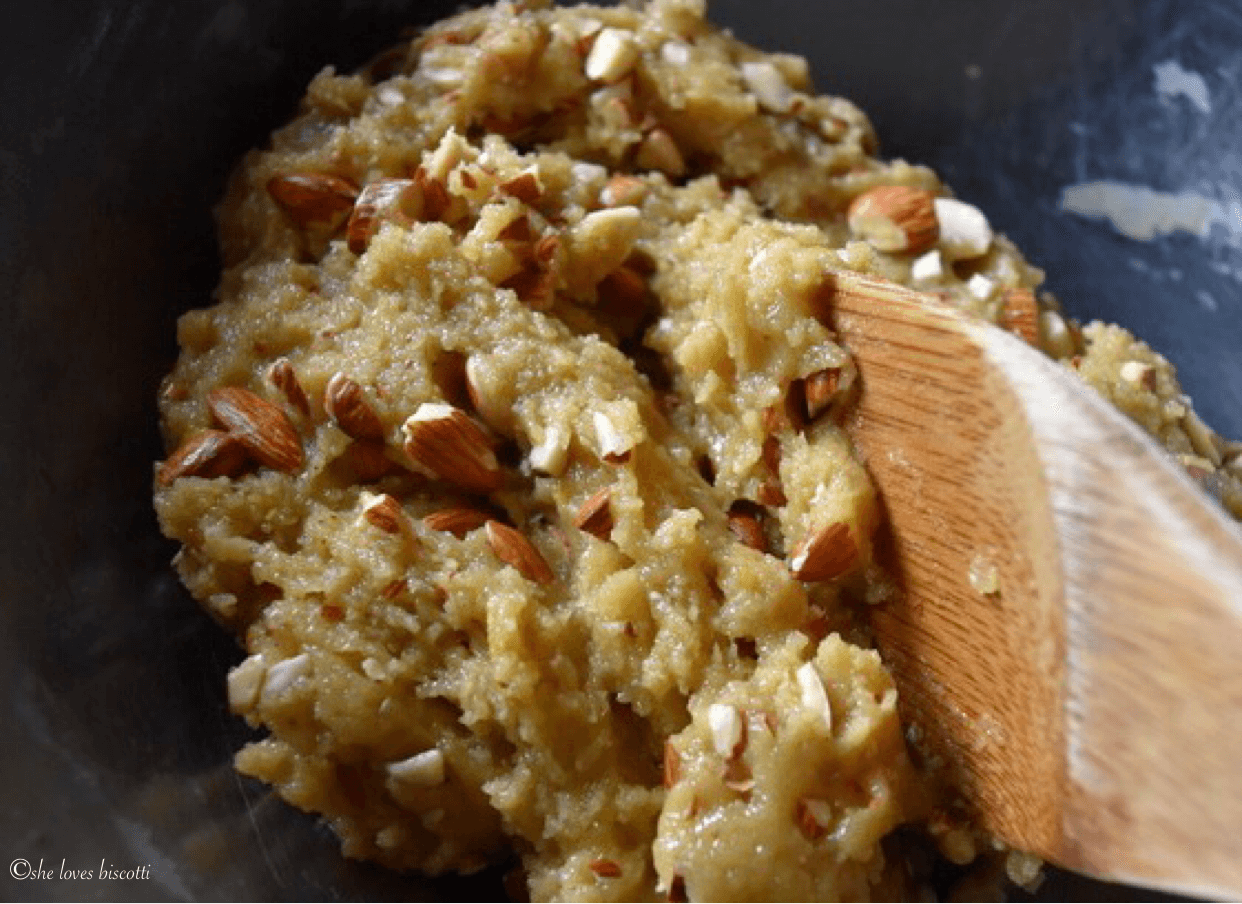 Once you have combined the ingredients, it's time to shape this mixture into logs. My method is definitely unconventional, but it works for me. I will use a large serving spoon to scoop out the dough and place it on the parchment lined cookie sheet. I will then add another scoop adjacent to the batter on the cookie sheet and keep going until I have formed my two logs.
As far as the size of the log is concerned, you can make them as wide or as narrow as you want. I will usually make 3-3½ inch wide logs. Once I have placed the batter on the cookie sheets, I will gently "press" and shape the dough mixture into logs with my damp fingers.  Like I mentioned, unconventional and amateurish…but hey, it works!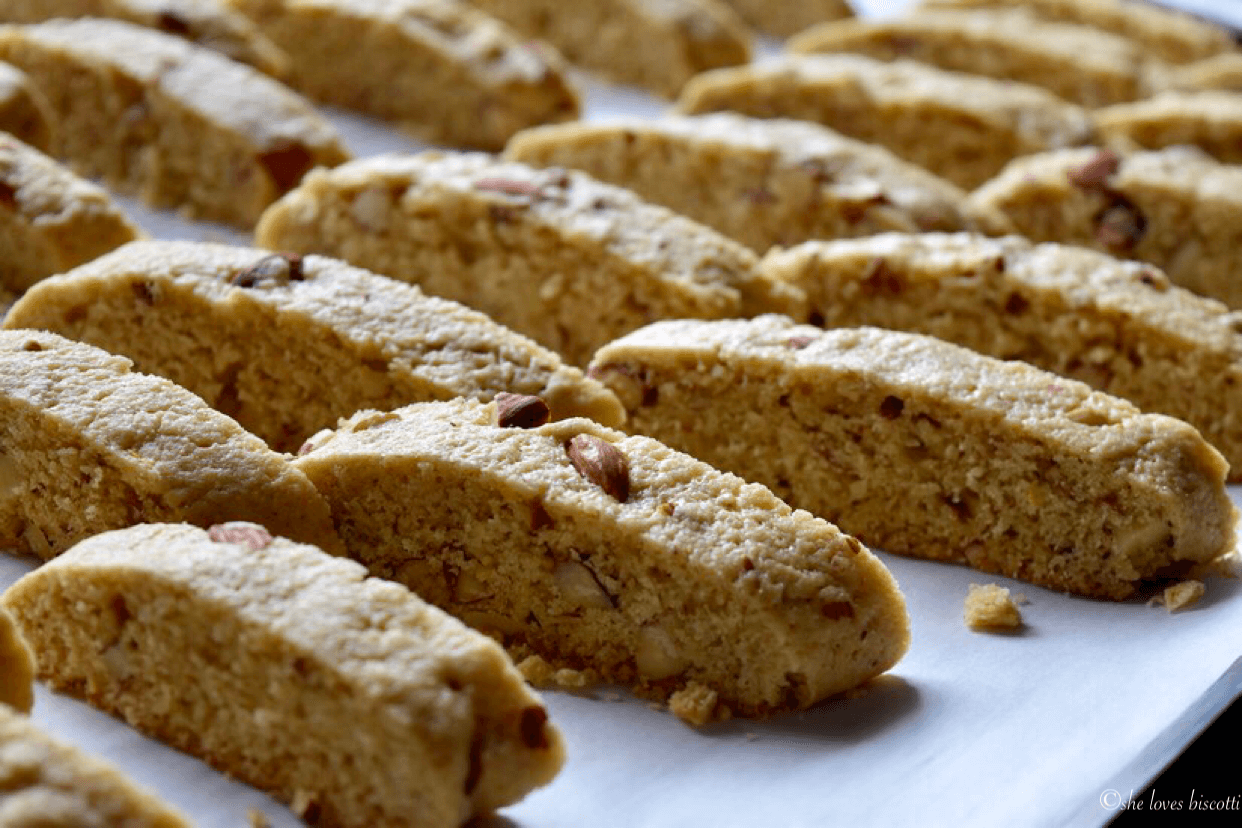 Once baked, allow them to cool off before attempting to slice them.
Biscotti, as you may know, is Italian for "twice-cooked" – so if you like a bit of a crunch, put those biscotti back in the oven again for a second round of baking. The longer these Italian biscotti stay in the oven, the crispier they will get. Although it is a well known practice to bake these biscotti cookies twice, personnel preference should dictate for how long, if at all. These Almond Biscotti are fantastic even without the second baking.
Another well known fact is that biscotti will last forever! Well, maybe not forever… but you get my point. Because they are baked twice, there is little moisture in the dough. Since biscotti are a low moisture cookie, this will allow you to store them at room temperature, where they will keep for a few weeks. It is best to keep them in an air tight container.

Origins of the recipe for Almond Biscotti:
As you can well imagine, every Italian family has "their" biscotti recipe and I have collected quite a few over the years. This is one of my personal favorites. In fact, my whole biscotti obsession started with this Almond Biscotti recipe. As you may have guessed, this was one of my mom's recipes.
A simple and great tasting biscotti -I am sure they will quickly become one of your favorites!
I hope you enjoy these Almond Biscotti with some Vin Santo, coffee, tea or even milk!
Don't forget to dunk 🙂
Thanks for dropping by,
Ciao for now!
Maria 🙂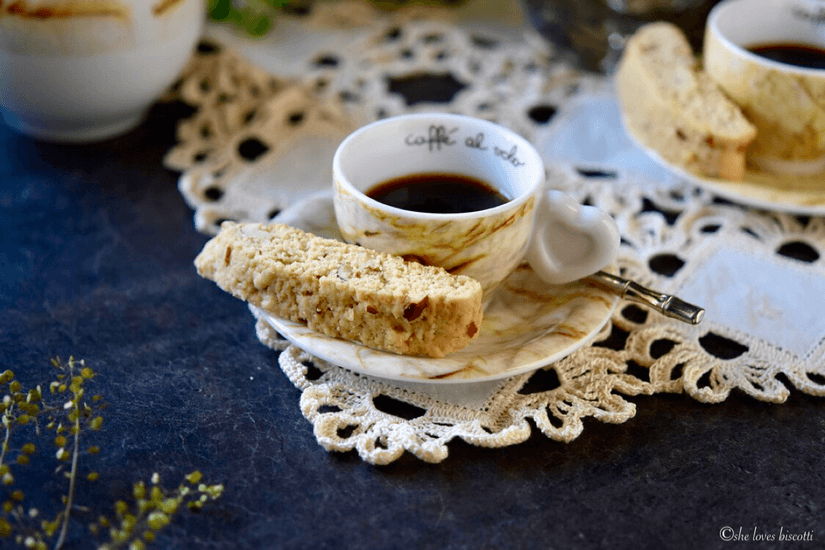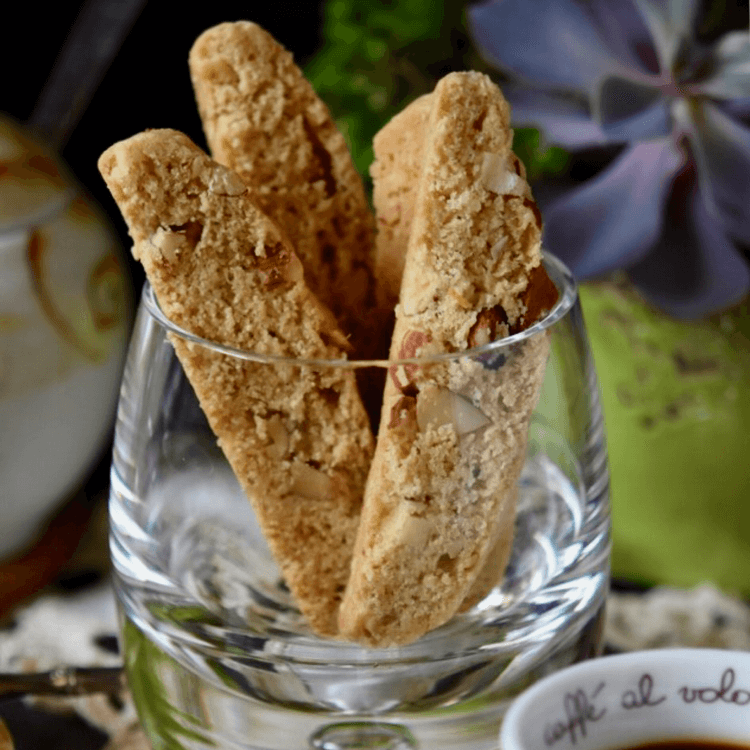 Almond Biscotti
My whole biscotti obsession started with this family recipe for Italian Almond Biscotti. Simple and great tasting -it will quickly become one of your favorites.
Cook Time
1
hour
30
minutes
Total Time
1
hour
50
minutes
Ingredients
1

cup

whole almonds

2 1/4

cups

all purpose flour

1 1/2

teaspoon

baking powder

1/2

teaspoon

salt

1/2

cup

granulated sugar

3/4

cup

brown sugar

3

large eggs (room temperature)

1/2

cup

olive oil

1

tablespoon

pure almond extract

1/2

teaspoon

pure vanilla extract

1

teaspoon

lemon zest
Instructions
Preheat oven to 325° F. Position rack in the center.

Spread almonds on a baking sheet and toast in oven for about 12-15 minutes.

Meanwhile, in a medium bowl, whisk together the dry ingredients (flour, baking powder, salt and sugars).

In a large bowl, whisk eggs. Add olive oil, extracts, and zest. Whisk lightly together.

When almonds are toasted, remove from oven and coarsely chop.

Line baking sheet with parchment paper.

Add flour mixture to egg mixture; stir with wooden spoon until just incorporated.

Fold in chopped almonds (make sure they have cooled off before incorporating in the batter).

Divide dough into half. Place each half on a large cookie sheet. With damp fingers, shape into a log shape.

Bake for approximately 30 minutes or until golden brown in colour and firm. Let cool slightly.

Remove from baking sheet and transfer to cutting board.

Using a serrated knife, slice cookies at an angle about 1/2 - 3/4 inch thick.

Place slices (standing up) back on the baking sheets, and return them to the oven for about another 15 - 20 minutes (the longer they stay in the oven, the crispier they get).

Place on a wire rack to cool.
Recipe Notes
Note: Store in an airtight container at room temperature for 3 days or freeze for up to 3 months.
Please keep in mind that the nutritional information provided below is just a rough estimate and variations can occur depending on the specific ingredients used. 
Nutrition Facts
Almond Biscotti
Amount Per Serving (1 unit)
Calories 112
Calories from Fat 45
% Daily Value*
Total Fat 5g 8%
Cholesterol 13mg 4%
Sodium 39mg 2%
Potassium 64mg 2%
Total Carbohydrates 14g 5%
Protein 2g 4%
* Percent Daily Values are based on a 2000 calorie diet.
DO YOU LOVE THIS ALMOND BISCOTTI RECIPE?
Follow She Loves Biscotti for more simple and family friendly recipes : )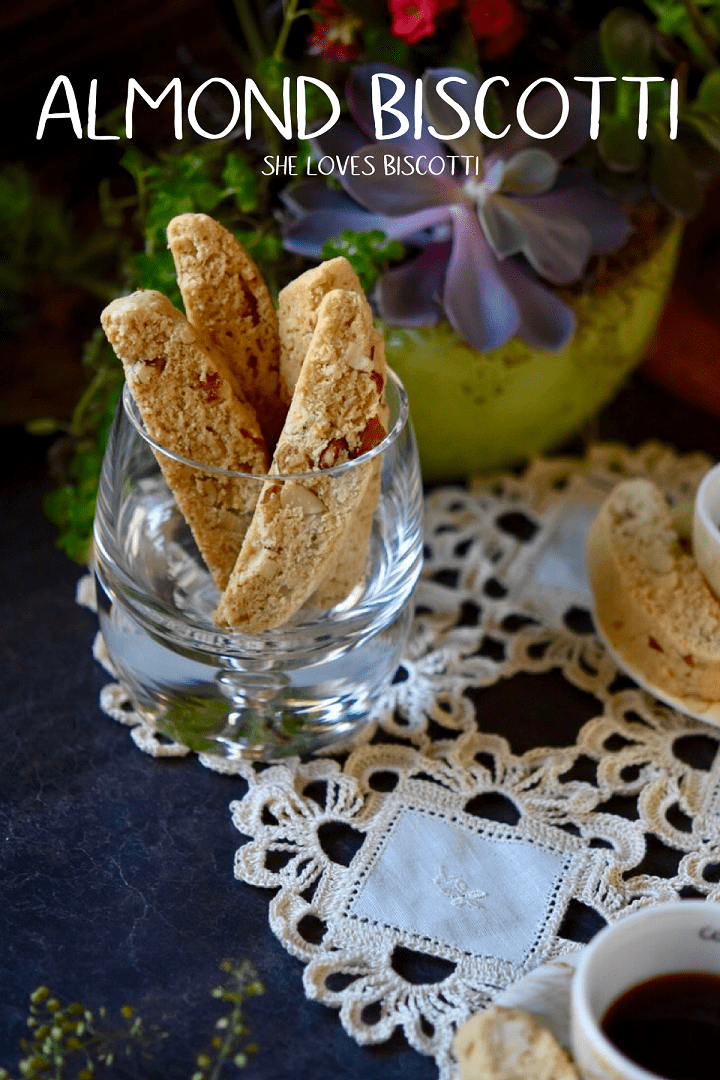 IF YOU LIKE THIS ALMOND BISCOTTI RECIPE, YOU MAY ALSO LIKE…