I am calling all biscotti lovers! I can't wait to share this Holiday Biscotti Recipe with all of you. Lots of dried fruit and brazil nuts in every bite!
The holiday period is fast approaching; and if you're like me, it always starts like a marathon: conversations with families and friends usually during the last summer barbecues, asking which family member will host, coordinating between both sides of the family, specifications, and themes for the gift exchanges, etc.
Then, before you know it, it's the middle of winter and it becomes the sprint of a lifetime… and you swear that it's the last year that you are running this crazy race!
The good news is that it does get easier with a bit of planning and prioritizing. It is a matter of identifying, fine-tuning, and simplifying what is essential to you, and then everything becomes a little more manageable.
Take, for example, the whole issue of gift-giving and baking during the holiday season.
When I realized, years ago, that biscotti make fantastic hostess gifts, I started making them with a fierce purpose.
Biscotti are easy to make; there are so many different varieties that can be made, and they freeze super well! If you also have a thing for biscotti, you've come to the right place!
I've created a comprehensive guide on How to Make Biscotti. Be sure to consult it for more tips and tricks.
How to make this Holiday Biscotti Recipe
When I describe these festive-looking biscotti as being fruity, that's because it has dried figs, apricots, pineapple, cranberries, and mixed peel in them.
This wonderful dried fruit will get coarsely chopped and then combined with Brazil nuts and ½ cup of the dry ingredients. Try to separate the fruits as much as possible so that there are no clumps.
Remember to leave the Brazil nuts whole, as they will provide an outstanding visual once your biscotti are sliced.
Once you have beaten your eggs, add the dry ingredients. And then gently fold in the nuts and fruit.
You will notice that you cannot roll this batter into a log.
What I do is drop large serving spoons of batter on a parchment-lined cookie sheet to achieve the shape of two logs. (I also use this technique for these honey biscotti).
The biscotti will be rustic looking, but they taste great!
Then it is just a matter of slicing them.
Biscotti, as you may know, is Italian for "twice-cooked" – so if you like a bit of a crunch, put those biscotti back in the oven again for the second round of baking 🙂
Recipe source
I was first introduced to these festive-looking biscotti recipe when I was a teenager.
Just like the recipe for the honey almond biscotti, the origin of this recipe can be traced to my Zia Maria.
These Christmas biscotti were one of my mom's favorite and her sister would often drop them off just because that's what older sisters would do! I, for one, was always super happy to see my aunt popping in for a surprise visit – it almost always meant some biscotti and baked goods were coming our way!
This is a very versatile recipe and as long as you keep the proportions equal, you can easily vary your ingredients.
My aunt's original recipe had maraschino red cherries, which I replaced with cranberries. I also decreased the brown sugar by half.
These fruity biscotti are not only a family favorite, but they are also so easy to make. As a result, they are usually one of the first biscotti recipes that I make in preparation for the holiday season.
If you are looking for more biscotti flavors, be sure to check out all of my biscotti recipes.
Have you started your holiday baking yet?
Enjoy!
THANKS SO MUCH for following and being part of the She Loves Biscotti community where you will find Simple & Tasty Family-Friendly Recipes with an Italian Twist.
And if you are new here, welcome! You may want to sign up for my weekly e-mail newsletter. You can unsubscribe any time you want.
Ciao for now,
Maria
★★★★★ If you have made these fruit biscotti, I would love to hear about it in the comments below and be sure to rate the recipe!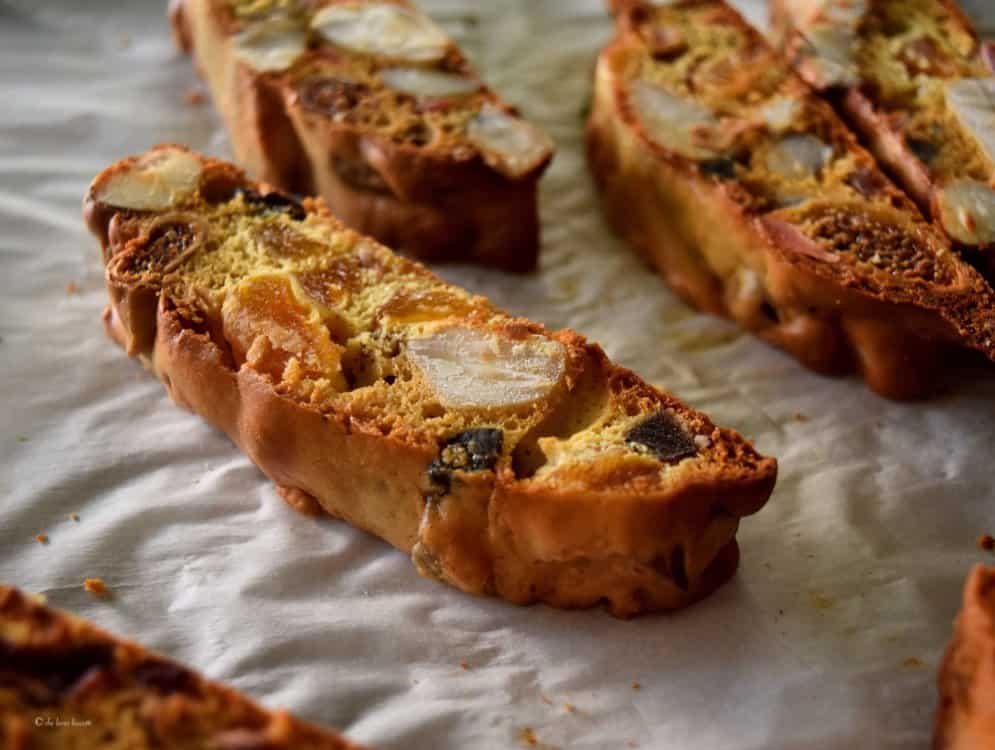 Recipe
Holiday Biscotti Recipe
Calling all biscotti lovers! I can't wait to share this Holiday Biscotti Recipe with all of you. Lots of dried fruit and brazil nuts in every bite! 
Print
Save Recipe
Saved!
Pin
Rate
Ingredients
1½

cups

all purpose flour

2

teaspoons

baking powder

pinch

salt

1½

cups

dried figs

coarsely chopped (180 grams)

1½

cups

dried apricots

coarsely chopped (180 grams)

½

cup

citrus peel

or mixed peel, glazed

¼

cup

dried pineapple chunks

coarsely chopped (40 grams)

¼

cup

dried cranberries

40 grams

2

cups

whole brazil nuts

300 grams

4

eggs

½

cup

brown sugar

1

teaspoon

vanilla extract
Instructions
Preheat oven to 325° F. Position rack in the center.

Line baking sheet with parchment paper.

In a large mixing bowl, sift dry ingredients together, set aside.

In a medium mixing bowl, combine the cut up fruits and the brazil nuts with ½ cup of dry ingredients, set aside.

In a mixing bowl, or bowl of electric mixer fitted with whisk attachment, whisk the eggs on medium high speed for about 2 minutes.

Add brown sugar and vanilla extract and whisk for another 2 minutes.

Add the remainder 1 cup of dry ingredients and whisk until just incorporated (do not over mix).

Fold in chopped fruit and brazil nuts.

With a large mixing spoon, place mixture and parchment lined baking sheet. Form into 2 logs (refer to explanation in text of article).

Bake for approximately 25-30 minutes or until firm to the touch.

Remove from oven and allow to cool down.

Transfer to cutting board.

Using a serrated knife, slice cookies about ½ inch thick.

Optional: Place sliced biscotti on the baking sheets, and bake for about another 5-10 minutes (the longer they stay in the oven, the crispier they get).

Can be stored at room temperature for a few weeks...if they last that long. Can also be frozen.
Scroll UP for the STEP by STEP Photos
Don't miss the process shots and videos included in most posts. Simply scroll up the post to find them. Those were created especially for you so that you can make the recipe perfectly every single time you try it.
Nutrition
Serving:
1
biscotti
|
Calories:
147
kcal
|
Carbohydrates:
20
g
|
Protein:
3
g
|
Fat:
6
g
|
Saturated Fat:
1
g
|
Cholesterol:
21
mg
|
Sodium:
11
mg
|
Potassium:
219
mg
|
Fiber:
1
g
|
Sugar:
12
g
|
Vitamin A:
265
IU
|
Vitamin C:
0.3
mg
|
Calcium:
48
mg
|
Iron:
1
mg