Your holiday cookie platter will be complete with these Thin Cranberry Pistachio Biscotti. Festive looking, great tasting & so easy to make!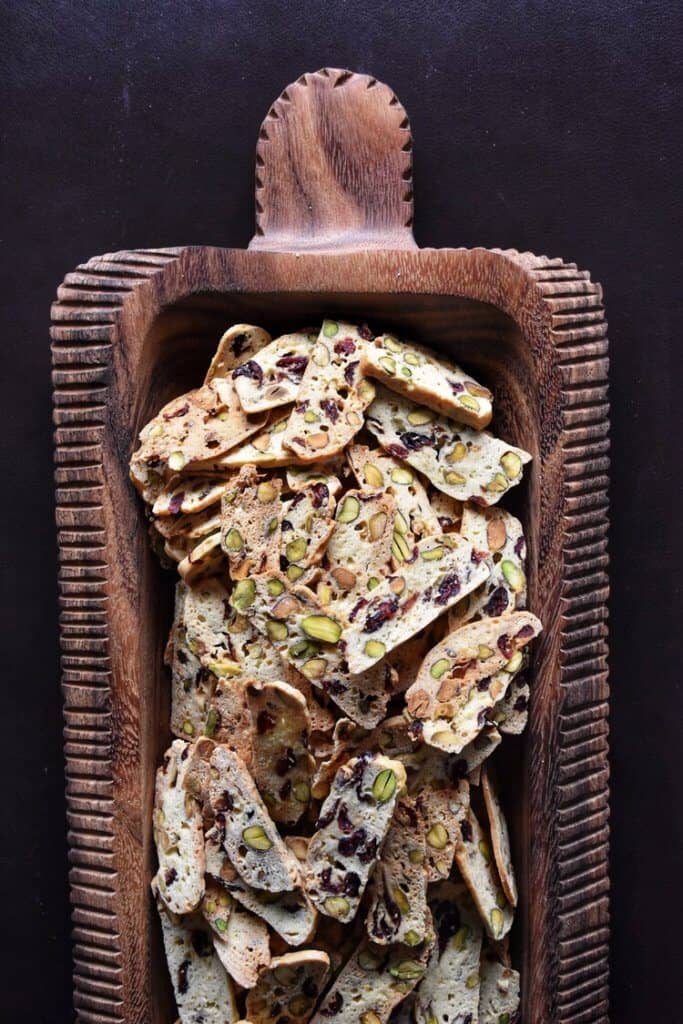 Thin Cranberry Pistachio Biscotti
Nothing says the holidays like cranberries and pistachios. Since holiday baking is just around the corner, I thought I would share one of my go-to holiday biscotti recipes with all of you.
Biscotti are wonderful, aren't they?
I'm not just saying that because I love biscotti, because, well, I do love biscotti.
But, homemade biscotti are wonderful because:
they are great for dunking;
they can be made into any flavor, sweet or savory;
they have a long shelf life since they are twice baked;
they freeze well;
they make great hostess gifts and
they are easy to make.
I love them so much I created a comprehensive guide on How to Make Biscotti so that everyone can see how truly easy they are to make!
These are also some of the reasons why I always start my holiday baking by making biscotti.
Spoiler alert: These cranberry cookies will quickly become one of your favorite Italian Christmas Cookies that you will make not only for the holidays but throughout the year.
I will not deny that these particular biscotti are a little labor intensive. There are well over 200 super thin biscotti that need to be sliced and baked. But you will be rewarded with a great tasting biscotti.
Are you ready?
How to make Thin Cranberry Pistachio Biscotti:
We begin by making the dough. This easy biscotti recipe includes orange zest, plumped cranberries and pistachios.
You will quickly notice that this mixture cannot be "rolled" into the traditional log shape. Instead, what we are going to do, is transfer large "spoonfuls" of the dough on the parchment lined cookie sheet, trying to create a shape that resembles a log.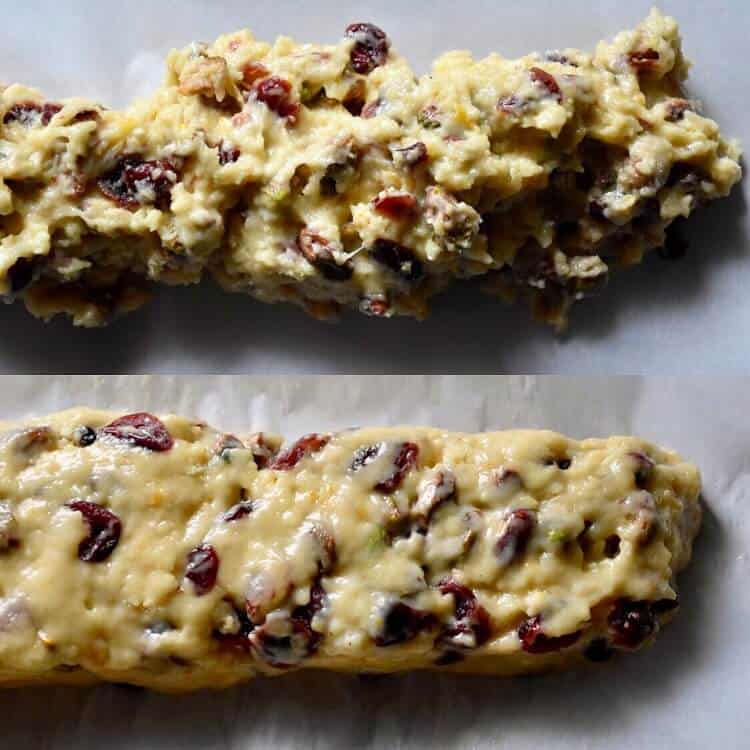 Then, with slightly dampened fingers, press and shape the dough into a log and bake. You will notice there is no baking powder in this recipe. As a result, we can get away with placing three logs on a very large baking sheet since expansion is limited.
If you prefer, you can also use parchment lined loaf pans. In the oven they go for about 15-20 minutes, until they are firm to the touch.
Once baked, you will inevitably notice that these loaves are extremely pale looking. Not to worry. Remember, they are going in for a second bake, but first they must be sliced.
A very sharp knife is crucial in order to get very thin slices. I was anxious to try out my new Chicago Cutlery Sandwich Hero Knife (not sponsored).
I have to admit, the knife was perfect to slice the biscotti with. Not sure if you can tell, but the front part of the knife is serrated, and the middle part is just a sharp blade (intended to cut cheese, from what I understand).
Well, I used the front part to anchor into the biscotti and then, like a guillotine, I just pressed into the loaf to slice the biscotti.
Perfect, wafer thin slices. Worked like a charm! Thanks Chicago Cutlery!
Your Super Thin Cranberry Pistachio Italian Biscotti are ready for the second baking.
And just like that, you are done!
Biscotti recipes we love:
Origin of the recipe for Thin Cranberry Pistachio Biscotti:
The inspiration for this recipe came from one of my mom's dearest friend, Nunzia. If you recall, I have already shared her recipe for Thin Crispy Almond Biscotti. That was almost three years ago! My, oh my, where does the time fly!
Since the holidays are right around the corner, I thought it would be festive to replace the almonds with cranberries and pistachios. I also added some orange zest and I decreased the total amount of flour.
These thin biscotti chips will still provide you with that crispy texture you all know and love. But when you bite into these biscotti, you will be pleasantly surprised by the perfect amount of chewiness provided by the cranberries.
As they say, betcha can't have just one.
Enjoy 🙂
THANKS SO MUCH for following and being part of the She Loves Biscotti community where you will find Simple & Tasty Family-Friendly Recipes with an Italian Twist.
Ciao for now,
Maria
★★★★★ If you have made this Thin Cranberry Pistachio Biscotti recipe, I would love to hear about it in the comments below and be sure to rate the recipe!
Super Thin Cranberry Pistachio Italian Biscotti
Your holiday cookie platter will be complete with these Super Thin Cranberry Pistachio Italian Biscotti. Festive looking, great tasting & so easy to make!
Print
Pin
Rate
Ingredients
1

cup

dried cranberries

2 3/4

cups

flour

pinch

salt

zest of 1 orange

5

eggs

separated

1

cup

sugar

granulated

1.5

teaspoons

vanilla extract

pure

1.5

cups

pistachio nuts
Instructions
Soak the cranberries for about 10 minutes. Drain and pat dry with paper towels. Set aside.

Preheat oven to 350° F. Position rack in the center.

Line baking sheet or loaf pans with parchment paper.


In a medium bowl, sift flour. Add the pinch of salt and the orange zest. Combine together and then set aside.

In a large mixing bowl, or bowl of electric mixer fitted with whisk attachment beat the yolks.

Gradually add the sugar. Whisk together. Make sure to scrape down the sides of the bowl.

Switch to paddle attachment. Add flour to egg mixture and incorporate. Mixture will look like bread crumbs. Once again, make sure to scrape down the sides of the bowl.

With wooden spoon, incorporate the pistachios and cranberries. Set aside.

In a large mixing bowl, or bowl of electric mixer fitted with whisk attachment beat the egg whites until they reach the stiff peak stage.

Fold the egg whites in the flour and nut mixture.

Divide dough into thirds. Place each third on the cookie sheet; with damp hands, shape into a log. Alternatively, divide dough in half and place in loaf pans. (9.25x5.25x2.75)

Bake for approximately 15 - 20 minutes or until firm to the touch (will take a little longer in the loaf pans).

Remove from oven, wrap in clean dish towels and allow to cool down.

Once cool, transfer loaves to cutting board.

Using a very sharp or serrated knife, slice cookies about 1/8 inch thick (or thinner).

Place slices flat on the baking sheets, and bake for about another 10-15 minutes (the longer they stay in the oven, the crispier they get). Flip the biscotti over halfway through the bake time.

Can be stored in an air tight container at room temperature for a few weeks.
Scroll UP for the STEP by STEP Photos
Don't miss the process shots and videos included in most posts. Simply scroll up the post to find them. Those were created especially for you so that you can make the recipe perfectly every single time you try it.
Notes
Please keep in mind that the nutritional information provided below is just a rough estimate and variations can occur depending on the specific ingredients used. 
Nutrition
Serving:
1
serving
|
Calories:
18
kcal
|
Carbohydrates:
3
g
|
Cholesterol:
4
mg
|
Sodium:
1
mg
|
Potassium:
13
mg
|
Sugar:
1
g
|
Vitamin A:
10
IU
|
Vitamin C:
0.1
mg
|
Calcium:
2
mg
|
Iron:
0.1
mg