I think it's time for another Italian biscotti recipe! This family recipe will provide you with a texture that is slightly spongy on the inside and crispy on the outside. It really doesn't get any easier than this Authentic Italian Anise Biscotti.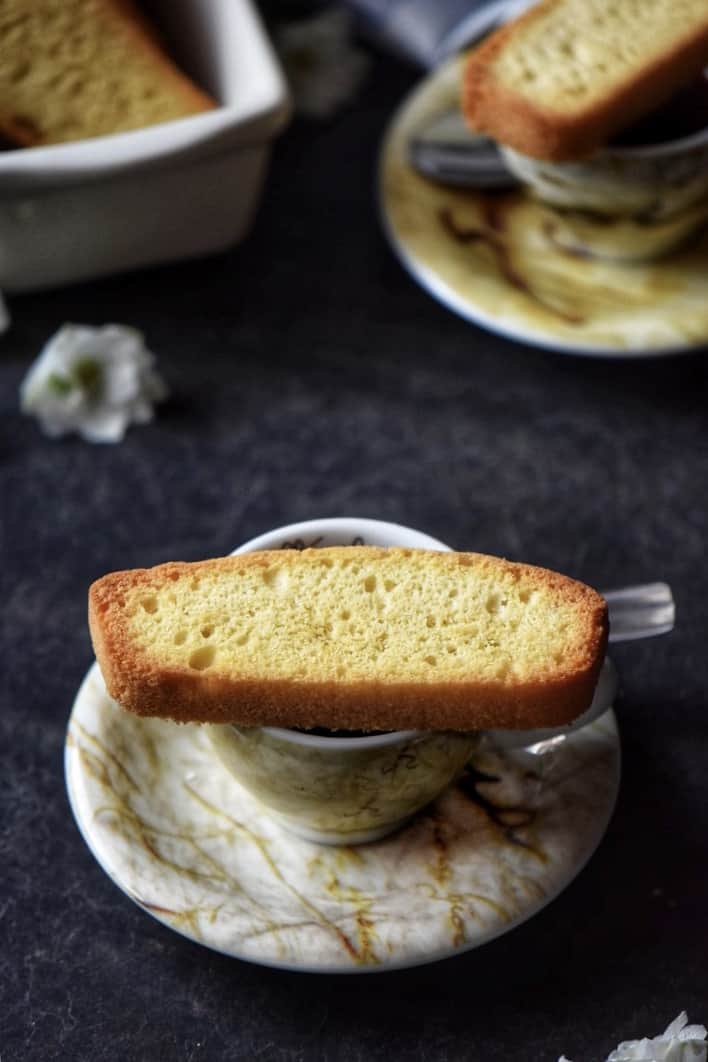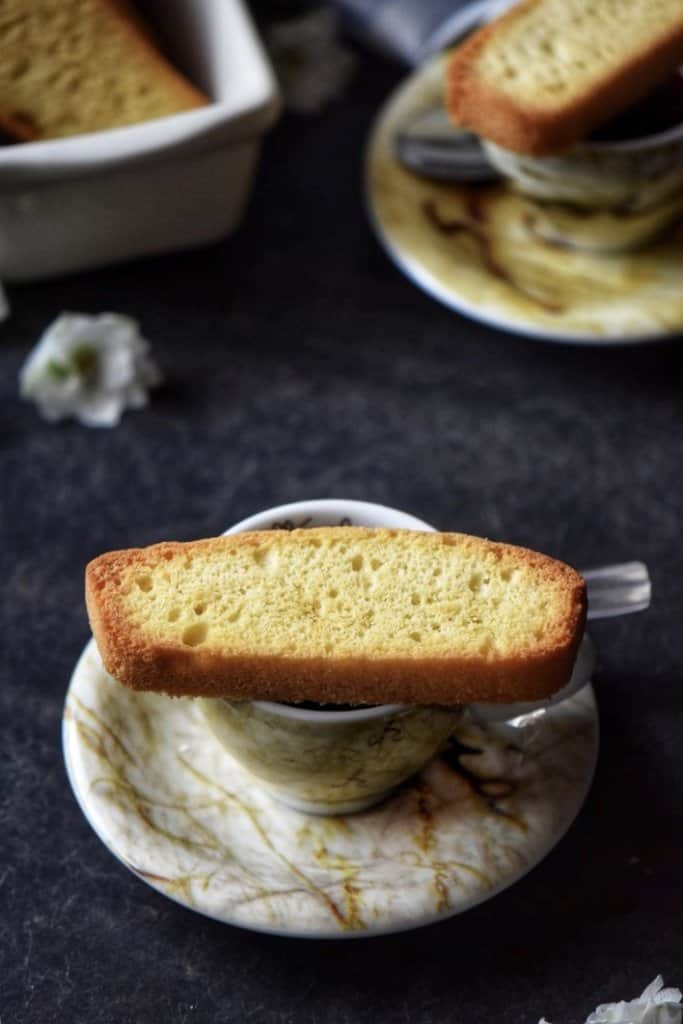 A recent conversation with a colleague of mine reminded me that I have a basic Italian biscotti recipe with no nuts. That's right, no nuts! The perfect recipe for anyone with nut allergies …if you do prefer nuts, may I suggest my mom's Almond Biscotti that are just amazing!
I would also like to suggest this guide on How To Make Biscotti. It will provide you with tips and tricks to make the best biscotti, every single time.
So, as I was saying, this type of Italian biscotti can sometimes be referred to as "anise toast". If the name sounds familiar, you might be thinking of the commercial brand made by Stella D'oro.
The next logical question you might have would probably be if a homemade recipe for anise biscotti is any good, right?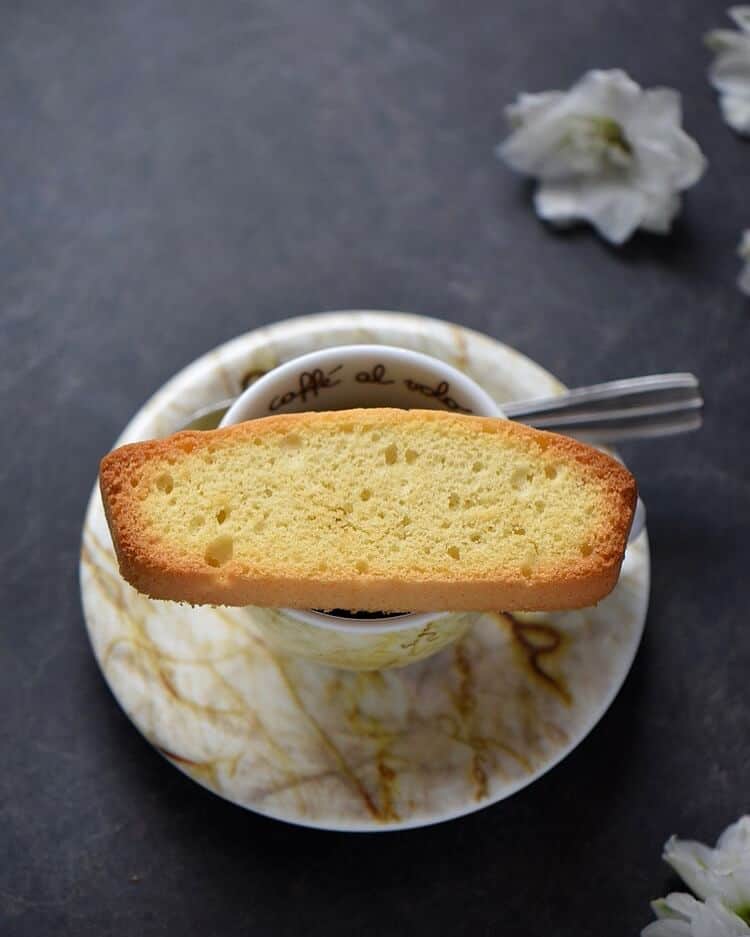 Well, these Italian biscotti are not too sweet, easy to make, slightly crunchy and crumbly. If you add more anise than recommended, the biscotti will even get a sort of licorice-type taste to it. It truly is one of my all-time favorites and I can't believe I didn't think of sharing it with you before today.
Are they good?
Yeah, they're amazing!
If you like Italian cookies with anise, this simple biscotti recipe is for you.
There are several ways to incorporate the licorice flavor in this Italian biscotti recipe. You can use Sambuca or Anisette liqueur; you can use the anise seed or extract; or you can use anise oil. If using anise seeds, one way to intensify the flavor is by soaking them in 1-2 teaspoons of rum for 10 minutes. I usually use the Anisette liqueur. I always have a bottle or two reserved…for baking, of course. 🙂

When I make this biscotti recipe, I will usually divide the batter among three loaf pans. You might be wondering, why loaf pans?
Well, once you make this recipe, you will quickly realize that this is not your typical Italian biscotti batter that needs to be rolled and shaped in a log.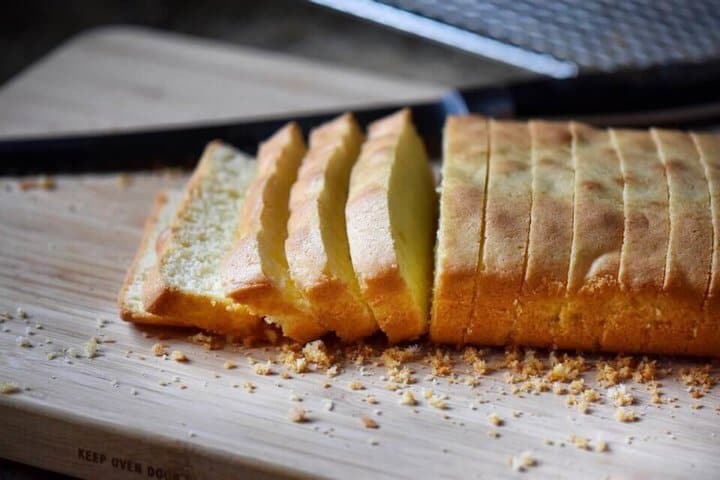 In fact, I would describe it more like a cake batter that can easily be poured into your pans. You can place this really soft batter directly on your parchment lined baking sheet, but be warned, they will expand to three times their size. Using loaf pans will give the biscotti a little height, which ensures less breakage.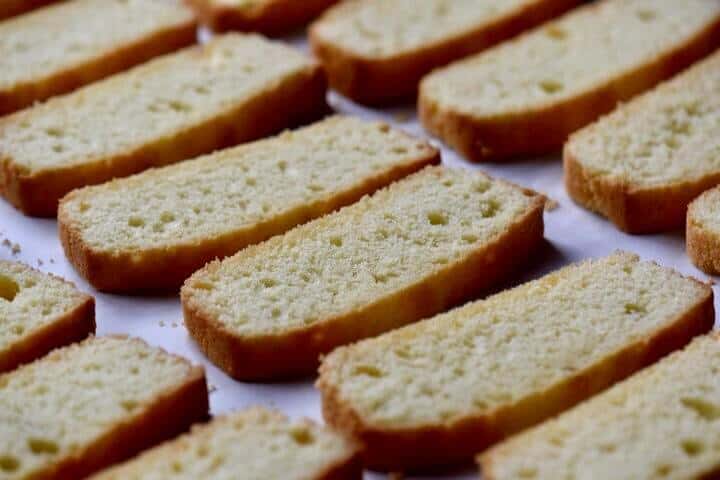 These anise biscotti are great even without the second baking. Once you remove the loaves from the oven, allow to cool slightly before slicing. Once you do slice them, you will immediately realize that they have a wonderful spongy texture.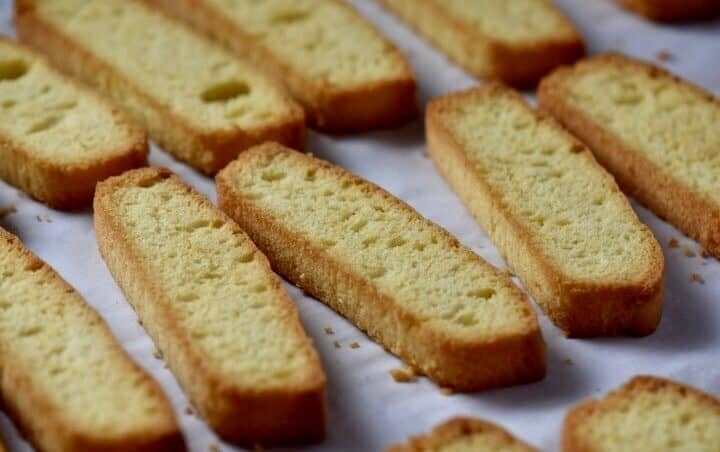 As with most biscotti recipes, if you prefer your anise biscotti to have a slightly crispy exterior, they need to be twice baked. You will immediately notice that with the second baking, they become a little golden in color which will result in a little bit of crispiness. Please note that the longer they stay in the oven the crispier they get.
With a quick look at the ingredients, you will realize that, once again, there is no butter in this biscotti recipe (sorry to disappoint all the butter fans out there). Whenever possible, I will always choose an oil based recipe (preferably olive oil but sometimes vegetable) over butter. This is just a personal preference…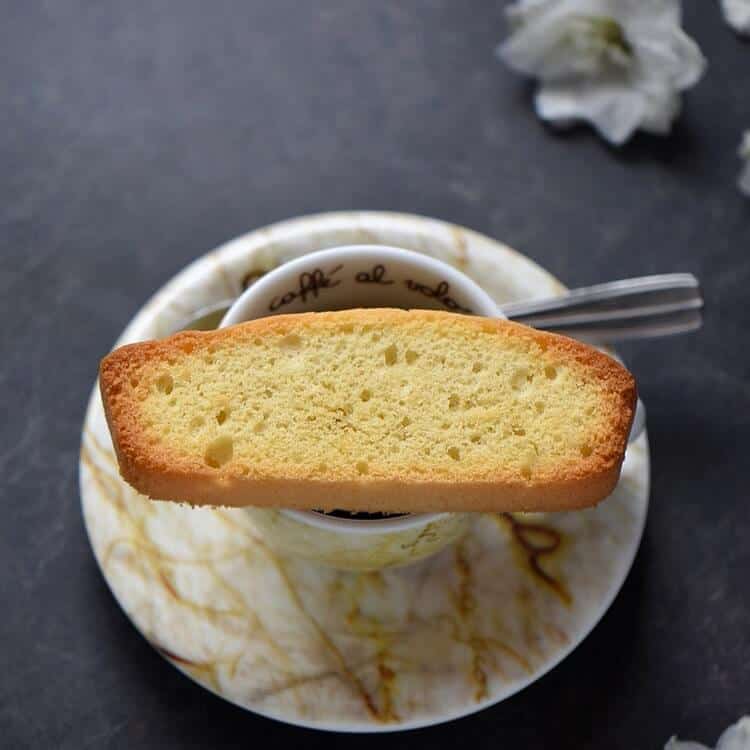 Italian biscotti recipes we love
Recipe origins
Back to my Italian roots for this one! I have memories of my mom pulling these cookies out of the oven as we came home from school.
Back then, I would have these Italian Anise Biscotti with a tall glass of milk before my brother and sister and I were strongly encouraged to do our homework. And if anyone complained, we got the lecture… You know, "Do you realize how lucky you are to be able to go to school, when I was your age, I was already working 15 hour days on the family farm," …
And so, fueled with some homemade Italian biscotti and our parents' good intentions, off we went to our rooms to study.
No wonder it took me so long to share this recipe… who wouldn't want to forget memories of homework!
My Mom's original recipe had 1 cup of sugar and ¾ cup of vegetable oil. As you'll see, I have reduced both with great results. Sometimes, I'll throw in some lemon zest in the batter. It's really up to you.
Authentic Italian Anise Biscotti from my home to yours…enjoy them with tea, coffee, espresso or a tall glass of milk.
Thanks for dropping by,
Ciao for now!
Maria
THANKS SO MUCH for following and being part of the She Loves Biscotti community where you will find Simple & Tasty Family-Friendly Recipes with an Italian Twist.
Ciao for now,
Maria
★★★★★ If you have made these Italian Anise Biscotti, I would love to hear about it in the comments below and be sure to rate the recipe!
Recipe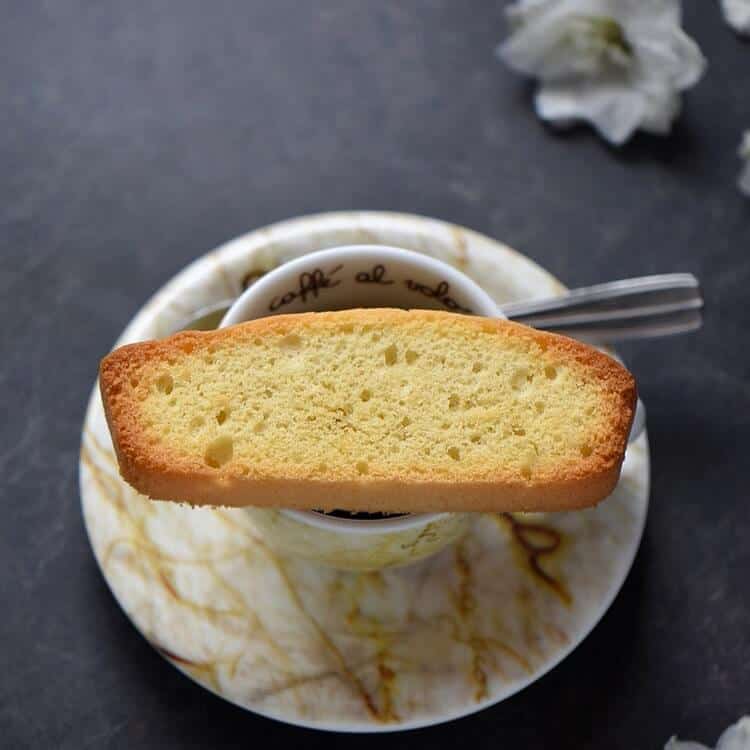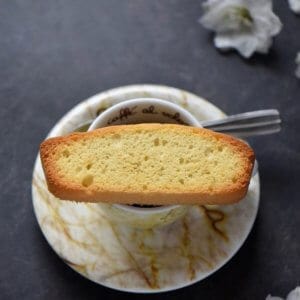 Authentic Italian Anise Biscotti
I think it's time for another Italian biscotti recipe! This family recipe will provide you with a texture that is slightly spongy on the inside and crispy on the outside. It really doesn't get any easier than this Authentic Italian Anise Biscotti.
Print
Save Recipe
Saved!
Pin
Rate
Servings:
36
(½") cookies
Ingredients
2

cups

all purpose flour

2

teaspoons

baking powder

pinch

salt

4

eggs

¾

cup

granulated sugar

½

cup

vegetable oil

1

teaspoon

vanilla extract

1½

teaspoon

anise extract

OR 2 teaspoons anise seed OR 2 teaspoons Anisette liqueur
Instructions
Preheat oven to 350° F (180° C). Position rack in the center.

Grease and flour (or use non-stick spray) three 8.5 x 4.5 inch loaf pans.

In a medium bowl, sift together flour, baking powder and salt. Set aside.

In a large mixing bowl, or bowl of electric mixer fitted with whisk attachment beat the eggs on medium speed until light and frothy (about 2-3 minutes).

Add the sugar gradually and whisk for another minute or so.

Add the oil and extracts. Whisk for another minute.

Incorporate the flour mixture. Mix until combined.

Pour mixture in the 3 prepared loaf pans.

Bake for 20-25 minutes or until firm to the touch

Remove from loaf pans and let cool for a few minutes.

Transfer to cutting board.

Using a serrated knife, slice cookies about ¼ inch thick (or thicker).

Place slices flat down on parchment lined baking sheets, and bake for about another 5-8 minutes or longer, depending on your personnel preference and your oven (the longer they stay in the oven, the crispier they get). Make sure to turn the slices over to ensure even toasting.

Can be stored at room temperature for a few weeks...if they last that long.
Scroll UP for the STEP by STEP Photos
Don't miss the process shots and videos included in most posts. Simply scroll up the post to find them. Those were created especially for you so that you can make the recipe perfectly every single time you try it.
Notes
Please note that I will usually "fluff" my flour and then scoop. 
This is not your typical biscotti batter that you can roll into a "log" shape. The loaf pans help keep the batter confined. If using sheet pans, expect the batter to expand and the final shape of your biscotti will be longer and thinner, but just as tasty 🙂 Enjoy!!!
Please keep in mind that the nutritional information provided below is just a rough estimate and variations can occur depending on the specific ingredients used. 
Nutrition
Serving:
1
cookie
|
Calories:
75
kcal
|
Carbohydrates:
9
g
|
Protein:
1
g
|
Fat:
3
g
|
Saturated Fat:
2
g
|
Cholesterol:
18
mg
|
Sodium:
7
mg
|
Potassium:
36
mg
|
Sugar:
4
g
|
Vitamin A:
25
IU
|
Calcium:
13
mg
|
Iron:
0.4
mg
This post was originally published on May 2, 2015 and republished on February 17, 2018 with updated content, photos and more recently with a video. Thanks for watching and sharing!