If you are a lemon lover like me, I'm sure you'll appreciate this recipe for an Extra Moist Lemony Lemon Loaf. This recipe is a keeper, my friends.
Everyone has recipes which use some part or another of the lemon. Whether it's the pulp, juice, zest, or the peel (as in this recipe for Creamy Limoncello).
The culinary possibilities with lemons are truly endless!
It is common knowledge that you can use the juice of a lemon for either sweet or savory dishes. It is also a key ingredient in many alcoholic and non-alcoholic drinks (lemonade).
How to get the most juice out of a lemon:
In order to maximize the amount of juice we can get from one lemon, we need to break down the membranes located inside the lemon. Here's how:
start with room temperature lemons. In a pinch, you can always microwave a lemon for 30 seconds; allow to cool down and proceed;
place the lemon in a bowl of warm water;
vigorously roll the lemon on the counter top for a few seconds;
cutting the lemon lengthwise allows you to get a better grip and therefore more juice;
use a lemon reamer or other gadget to extract more juice.
Pro Tip: Sometimes recipes will indicate juice from one lemon. An average lemon will provide you with about 3 tablespoons of lemon juice.
We need a little over half a cup of lemon juice to make this Extra Moist Lemony Lemon Loaf.
So, if you've ever wondered what you can make with lemons, let's begin and start rolling those lemons 🙂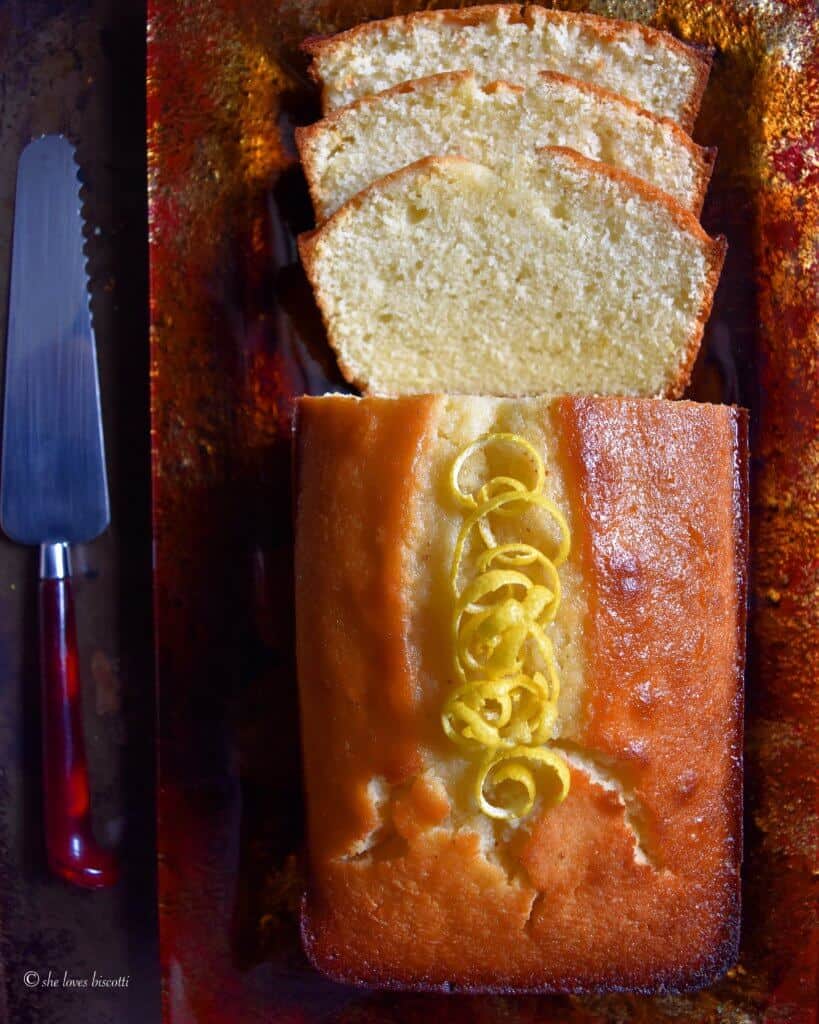 Lemon zest is also used in this recipe. This is the bright yellow outer layer of the lemon peel. I usually use a micro-plane or a box grater for grating. Make sure you only grate the yellow part as the white pith is extremely bitter.
If ever you have a recipe which does not require the lemon zest, grate it anyway – it freezes really well. You can use it when making salads or soups. It will provide that nice acidic flavor that is sooo refreshing… Remember, first you grate your lemon, then you squeeze it…that way, you're not wasting anything.
Origins of the Recipe For Lemon Loaf:
This recipe has been in my possession well over 30 years. It's a handwritten recipe, and I truly have no idea as to the origin of it. The only thing I know for sure is that you'll get a little bit of sweetness, a whole lot of tanginess and a melt in your mouth texture, all courtesy of this Extra Moist Lemony Lemon Loaf.
Enjoy!
THANKS SO MUCH for following and being part of the She Loves Biscotti community where you will find Simple & Tasty Family-Friendly Recipes with an Italian Twist.
Ciao for now,
Maria 🙂
★★★★★ If you have made this lemon loaf recipe, I would love to hear about it in the comments below and be sure to rate the recipe!
Extra Moist Lemony Lemon Loaf
A little bit of sweetness, a whole lot of tanginess and a melt in your mouth texture... all courtesy of this Extra Moist Lemony Lemon Loaf.
Total Time
1
hour
15
minutes
Ingredients
2

cups

all-purpose flour

1

teaspoon

baking powder

1/2

teaspoon

baking soda

1/4

teaspoon

salt

1

tablespoon

lemon zest

1/2

cup

unsalted butter

room temperature

1 1/4

cup

granulated sugar

3

eggs

room temperature

1/2

cup

lemon juice

1/2

cup

milk

room temperature
Lemon Glaze (optional):
1/2

cup

icing sugar

sifted

1/4

cup

lemon juice
Instructions
Preheat the oven to 350℉ (175°C) .

Grease and flour (or use non-stick spray) a 9 x 5 inch loaf pan.

Sift together flour, baking powder, soda, and salt. Stir in lemon zest. Set aside.

In a large mixing bowl (of stand mixer) beat butter on medium speed for 2-3 minutes.

Gradually add the sugar and continue beating for another 2-3 minutes.

Add eggs, one at a time. Make sure you scrape the bottom of your bowl.

Add lemon juice (the batter will curdle).

Alternate addition of flour and milk (in 2 additions). Mix on low speed until combined. Do not over mix.

If using add-ins, combine gently at this point.

Bake in preheated oven for 60-75 minutes until golden and cake tester comes out clean.

Transfer pan to a rack where it can cool down for about 15 minutes.
Lemon Glaze: Whisk together icing sugar and lemon juice. With a cake tester, poke some holes in the loaf. Brush glaze over warm loaf.
Recipe Notes
Here are some suggestions for add-ins: 2/3 cup slivered almonds; 2 tablespoons poppy seeds
Nutrition Facts
Extra Moist Lemony Lemon Loaf
Amount Per Serving (1 serving)
Calories 202
Calories from Fat 54
% Daily Value*
Total Fat 6g 9%
Cholesterol 46mg 15%
Sodium 87mg 4%
Potassium 75mg 2%
Total Carbohydrates 32g 11%
Protein 2g 4%
* Percent Daily Values are based on a 2000 calorie diet.
NEVER MISS A POST FROM SHE LOVES BISCOTTI!
JOIN US ON:
FACEBOOK | PINTEREST | FLIPBOARD | INSTAGRAM | TWITTER
IF YOU ENJOYED THIS LEMON LOAF POST, SAVE IT FOR LATER.
PIN IT TO YOUR DESSERT BOARD!
Follow She Loves Biscotti for more simple and family friendly recipes!