This cocoa biscotti recipe I am sharing with you today combines the warmth of honey, the richness of cocoa, and the nutty crunch of toasted almonds for a delightful treat. With an initially soft and chewy texture, these biscotti transform into a delightful crispiness through the second baking.
I realized it has been a while since I shared a biscotti recipe with all of you. Quite surprising, isn't it?
So today, I'm excited to share one of my favorites.
No shocker, biscotti holds a top spot among my preferred cookies. With the blog's name and my nearly half-century journey in baking these Italian cookies, I hope no one's too taken aback!
For those unacquainted with Italian biscotti, they're twice-baked, oblong-shaped cookies intentionally dry and crunchy—perfect for coffee or tea.
Whether you prefer a light and zesty lemon biscotti or the warm spices of pumpkin biscotti, the possibilities are endless with these delightful twice-baked treats. And if you're a chocolate enthusiast, this homemade chocolate biscotti recipe is bound to surpass the ones you find at your local coffee shops.
What's unique about today's recipe is that it is a variation of my mom's recipe for mostaccioli cookies in a biscotti form. The best part is that you won't need a stand mixer. Everything effortlessly combines in one bowl.
Today's biscotti recipe is infused with the warmth of honey, the decadence of cocoa, and the delightful crunch of toasted almond—a true delight with the added convenience of a one-bowl wonder. Let's get started!
Jump to:
Ingredients
Toasted almonds (warm): Bring a delightful crunch and nutty flavor to the biscotti, enhancing the overall texture.
All-Purpose Flour: The primary dry ingredient, providing the structure and foundation for the biscotti.
Cocoa Powder: Adds a rich chocolate flavor to the biscotti, complementing the sweetness of the honey.
Baking Powder and Baking Soda: Leavening agents that contribute to the rise and texture of the biscotti.
Salt: Enhances the flavor profile by balancing the sweetness.
Cinnamon: Adds a subtle warmth and complements the honey and cocoa.
Eggs (room temperature): Provide structure and moisture to the biscotti.
Zest of Lemon (optional): Infuses a light, citrusy flavor into the biscotti. You can also use orange zest.
Vanilla Extract (Optional): Add 1 teaspoon of vanilla extract to enhance the overall flavor profile
Honey (warm): This natural sweetener imparts sweetness and moisture to the biscotti.
How to make
Let's begin by toasting the nuts. Place 1½ cups of almonds on a rimmed baking sheet in the oven set at 325°F (160°C). This takes about 10 minutes.
While the nuts are getting nice and toasty, let's whisk (or sift) all the dry ingredients in a large bowl. For this biscotti recipe, you'll need 3½ cups of all-purpose flour, 2 tablespoons of cocoa powder, 1 teaspoon of baking powder, ½ teaspoon of baking soda, ¼ teaspoon of salt, and ¼ teaspoon of cinnamon. Make a well.
Whisk 2 room-temperature eggs in a small bowl with 1 teaspoon of pure vanilla extract and lemon zest (of one lemon). Set it aside for now.
The aroma of the roasted nuts will indicate that it is probably time to pull them out of the oven. Allow them to cool off for about 5 minutes.
Add them to the sifted dry ingredients, followed by 1½ cups of warm honey (I usually zap it in the microwave for about 15 seconds).
With a large wooden spoon, quickly fold the ingredients together. Finally, add the egg mixture. Work quickly; this mixture will get stiff as the honey cools off.
Shaping, baking and cooling
Preheat your oven to 325°F (160 °C). Line a baking sheet with parchment paper or a silicone baking mat.
Let's shape this mixture into logs using my slightly unconventional but effective method.
Grab a large serving spoon and deposit scoops of the dough onto the parchment-lined cookie sheet. Keep adding scoops next to each other until you've formed two logs.
You have the creative freedom to choose the width of your logs; I typically go for 3-3½ inches wide.
With the dough on the cookie sheets, use your damp fingers to press the mixture together gently.
It might seem unconventional and amateurish, but trust me, it does the trick! You can watch the video on the recipe card to see how I do this.
Pop these biscotti logs into the preheated oven and let them bake for 30-35 minutes. To check if they're done, lightly press your index finger on the dough – if it springs back, they're ready for the next step.
Once baked, let the logs cool down on the baking sheet for a few minutes, then carefully transfer them to a wire rack to cool for another 5-10 minutes.
After they've cooled, use a serrated knife and a sawing motion to slice the logs into oblong-shaped cookies, about ½-inch slices (or as thick as you like).
Place the sliced biscotti back onto the baking sheet and bake them for 5-10 minutes. The longer they stay in the oven, the crunchier they get. If you prefer a softer texture, you can skip this step. I prefer to have these biscotti without the second baking. Once again, you can decide based on your personal preferences.
FAQ
How to roast almonds?
Preheat the oven to 325°F(160°C). Place the whole almonds on a rimmed baking sheet in an even layer, and roast for 9-15 minutes or until fragrant. 
Serving suggestion
Enjoy cocoa biscotti with coffee, hot chocolate, or warm milk. Their crunchy texture makes them perfect for dunking! These biscotti are always a delightful addition, whether an espresso for a morning pick-me-up or a hot chocolate for a cozy evening.
Gifting Biscotti
Because of their elegant appearance, cocoa biscotti (or any biscotti) make lovely gifts, especially during the holidays. I often wrap them individually in cellophane wrappers or include them as part of my holiday cookie boxes and share them with friends and family.
Biscotti recipes
Cranberry Pistachio Biscotti
If you're partial to thin Italian biscotti, these cranberry pistachio biscotti are for you. Perfect for your holiday cookie platter.
Anise Biscotti: This classic Italian treat is known for its distinct licorice-like flavor.
Date Biscotti: Sweet and chewy, this delightful variation incorporates chopped dates and almonds.
Recipe origins
Growing up, my mom's older sister, Zia Maria, regularly dropped off batches of homemade cookies and cakes at our place.
Among the various treats she shared, her honey cocoa biscotti with almonds were the undisputed favorites, loved by everyone. Back then, I did not question her recipes' origins. I guess that they were recipes shared among her friends.
Looking back on my childhood, I can attribute my fondness for biscotti to a handful of recipes, and Zia Maria's version is a strong contender. I will forever be grateful to my aunt's generous sharing of cookies and for contributing to my biscotti obsession.
My daughter-in-law recently tried these biscotti and mentioned that her mom has a similar recipe. As you may recall, the sesame candy recipe I shared with all of you was from her. It seems like this cookie has its roots in Calabria.
I hope you enjoy making this cocoa biscotti recipe. Their easy preparation is only matched by their deliciousness.
Just for you! A printable baking checklist to help you keep track of all your baking needs.
If you love to bake, this is for you! Simply subscribe to my weekly newsletter and receive this FREE BAKING CHECKLIST PRINTABLE!
This way, you won't miss any of my new recipes, and it's FREE!
THANKS SO MUCH for following and being part of the She Loves Biscotti community, where you will find Simple & Tasty Family-Friendly Recipes with an Italian Twist.
Ciao for now,
Maria
Honey recipes
★★★★★ If you have made this chocolate almond biscotti recipe, I would love to hear about it in the comments below and be sure to rate the recipe!
Recipe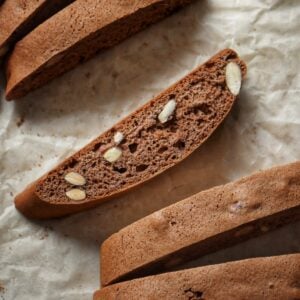 Honey Cocoa Biscotti with Almonds
This cocoa biscotti recipe I am sharing with you today combines the warmth of honey, the richness of cocoa, and the nutty crunch of toasted almonds for a delightful treat. 
Print
Save Recipe
Saved!
Pin
Rate
Ingredients
3½

cups

all-purpose flour

500 grams

2

tablespoons

cocoa powder

1

teaspoon

baking powder

½

teaspoon

baking soda

¼

teaspoon

salt

¼

teaspoon

cinnamon

2

eggs

room temperature

1

teaspoon

vanilla extract

pure

Zest of one lemon

1½

cup

almonds

toasted, still warm, 195 grams

1½

cups

honey

warm, 500 grams
Instructions
Preheat oven to 325°F(160°C). Position rack in the center. Line a baking sheet with parchment paper.

In a large mixing bowl, sift or whisk the dry ingredients together.

Make a well in the center of the dry ingredients. Set aside.

In a medium-sized bowl, whisk the eggs with the vanilla extract and lemon zest. Set aside.

Add the almonds (warm but not hot) in the well of the dry ingredients.

With a large mixing spoon, quickly fold the ingredients together.

Finally, add the egg mixture and mix (work quickly as the mixture will get stiff as the honey cools off).

Shape mixture into 2 logs (refer to explanation in text of article).

Bake for approximately 30-35 minutes or until firm to the touch.

Remove from oven and allow to cool down.

Transfer to cutting board.

Using a serrated knife, slice cookies about ½ inch thick (or whatever you prefer).

Optional: Place slices on the baking sheets, and bake for about another 5-10 minutes (the longer they stay in the oven, the crispier they get).
Scroll UP for the STEP by STEP Photos
Don't miss the process shots and videos included in most posts. Simply scroll up the post to find them. Those were created especially for you so that you can make the recipe perfectly every single time you try it.
Notes
Please keep in mind that the nutritional information provided below is just a rough estimate and variations can occur depending on the specific ingredients used. 
Nutrition
Serving:
1
serving
|
Calories:
75
kcal
|
Carbohydrates:
13
g
|
Protein:
1
g
|
Fat:
2
g
|
Cholesterol:
5
mg
|
Sodium:
21
mg
|
Potassium:
48
mg
|
Sugar:
7
g
|
Vitamin A:
10
IU
|
Vitamin C:
0.1
mg
|
Calcium:
15
mg
|
Iron:
0.6
mg
I originally published this post on Aug 21, 2016 and republished it on November 24, 2023 with updated content, photos and a video.