Have you ever had Grilled Fennel? It is guaranteed to become one of your favorite recipes for side dishes especially when you are cooking on the grill.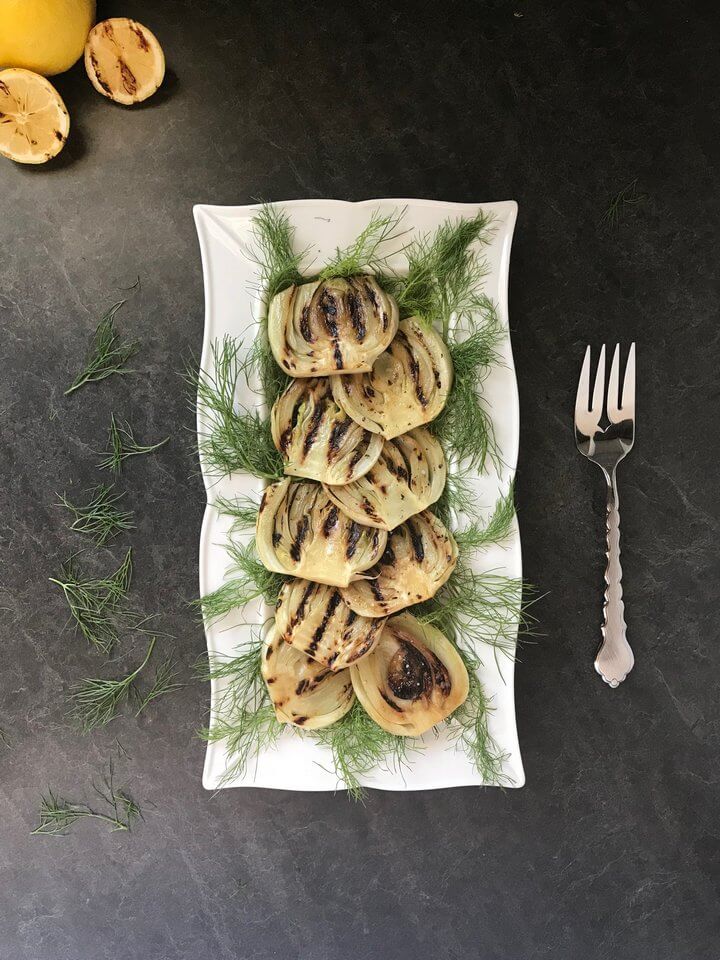 Are you looking for a unique grilling idea that will pique the curiosity of family and friends the next time you are hosting a barbecue?
I would like to suggest this recipe for grilled fennel.
It is the perfect vegetable to include as part of your grilled vegetable platter. But before you realize how ridiculously easy and delicious this recipe is, let's take a closer look at this vegetable.

What is it?
Fennel, more specifically Florence fennel, also referred to as finocchio, is a bulbous vegetable that belongs to the carrot family. Originally cultivated in the Mediterranean region, this shoot vegetable is very common in Italian and Greek dishes.
What does it look like?
Fennel has two distinct parts -a large white bulb with many layers and long hollow stalks with feathery green fronds.
What does it taste like?
Raw fennel has a mild, refreshing, faint anise flavor;
Grilled or roasted fennel has a mild sweet taste;
Smaller bulbs are milder in flavor and are great in salads or simply eaten raw;
Larger bulbs have a more pronounced flavor and are great for grilling, braising and roasting;
How to choose and store
Look for white bulbs that are compact and firm, blemish-free and without any cracks. The stalks should be crisp with fronds that show no sign of wilting or flowering;
Store unwashed fennel in a plastic bag, in the refrigerator for 3 to 4 days.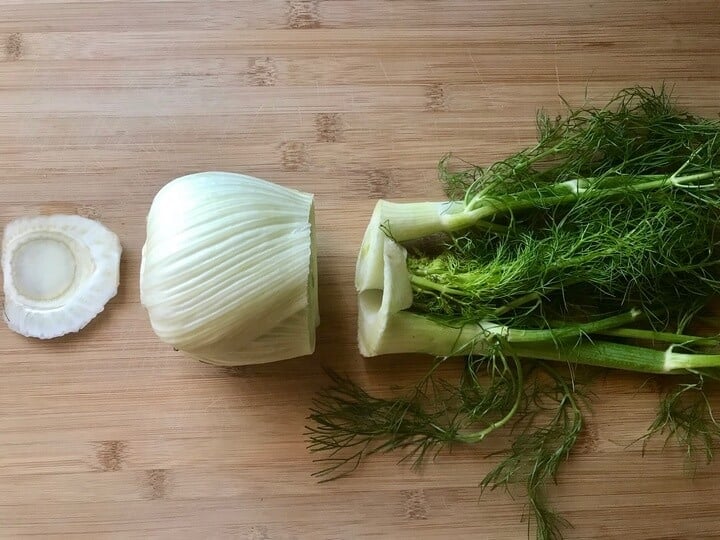 How to prepare
Rinse your bulb under cold running water;
Cut off the stalks and the feathery fronds from the bulb;
Trim off a very thin slice from the base of the bulb and remove any of the outer tough layers if they appear to be blemished. You can use a peeler to remove any spots;
Place the bulb upright and simply slice it lengthwise. When grilling, it is important to leave the inner core in place as this will prevent the fennel bulb from falling apart.
Nutrition note: Fennel is a great source of vitamins A and C, fiber and potassium. One cup of chopped fennel will provide you with approximately 30 calories.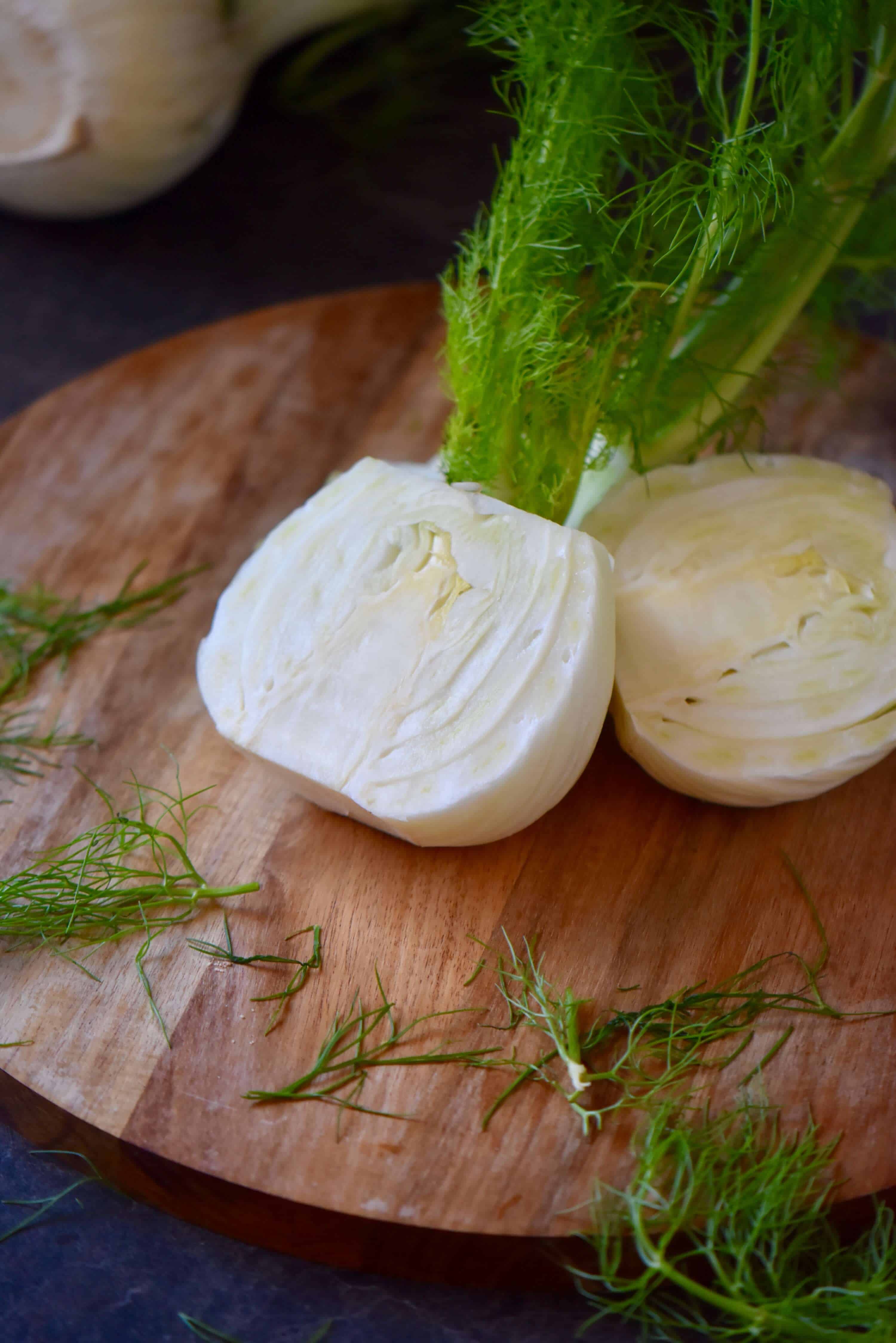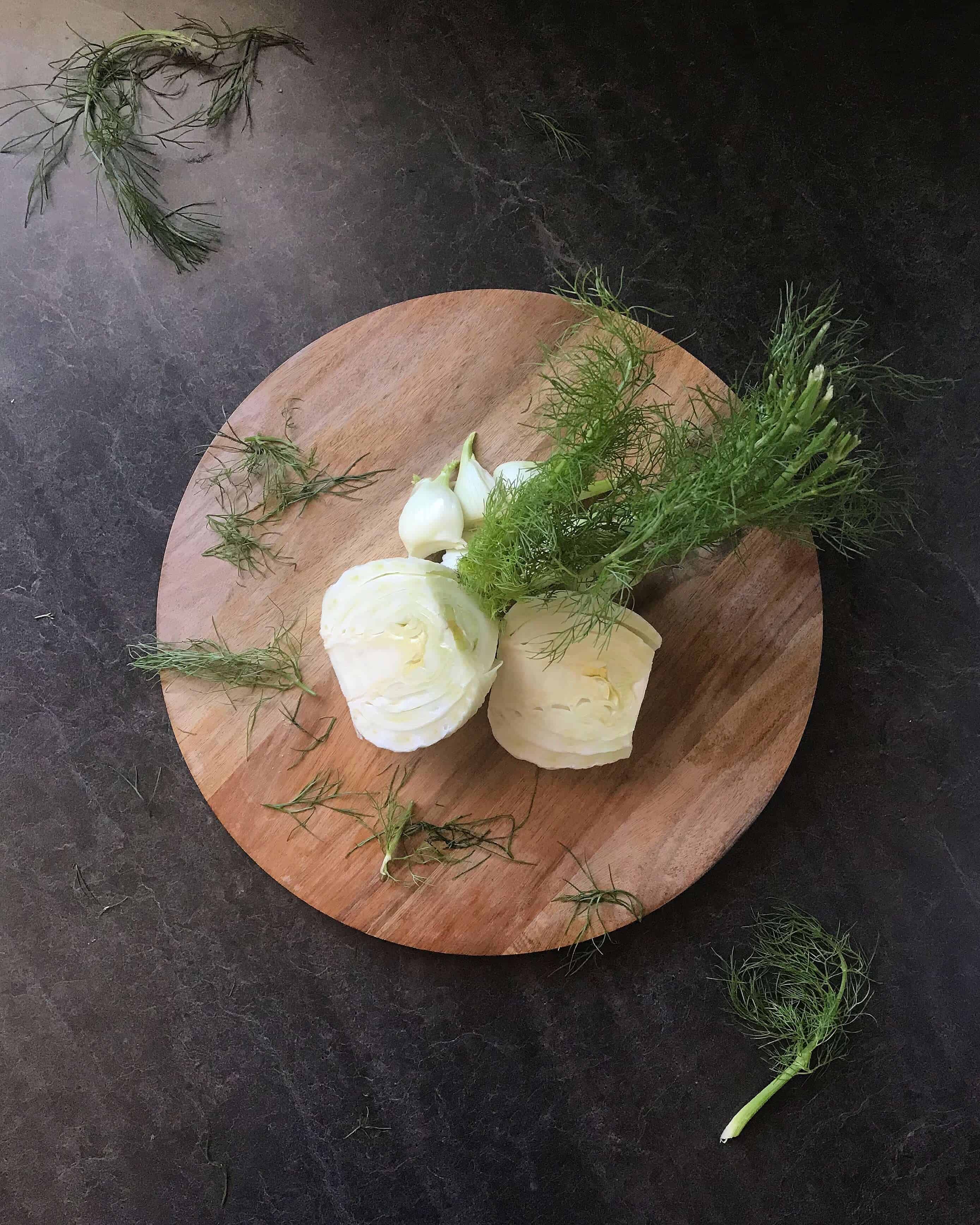 How to use fresh fennel:
As was mentioned, all parts of the fennel are edible in different ways to maximize taste.
The fronds: Can be used just like any fresh herbs as a garnish and in soups, stews and salads;
The stalks: Great to include when making soup stocks, stir-fries and/or as a base when roasting fish or chicken in the oven.
The bulb: Can be eaten raw or thinly sliced in salads. It can also be roasted (or grilled) with other vegetables to make the perfect side dish.
In fact, you won't believe how easy it is to make grilled fennel. What is more unbelievable is the taste transformation from a light anise flavor to an unexpected sweetness, achieved with just a few ingredients.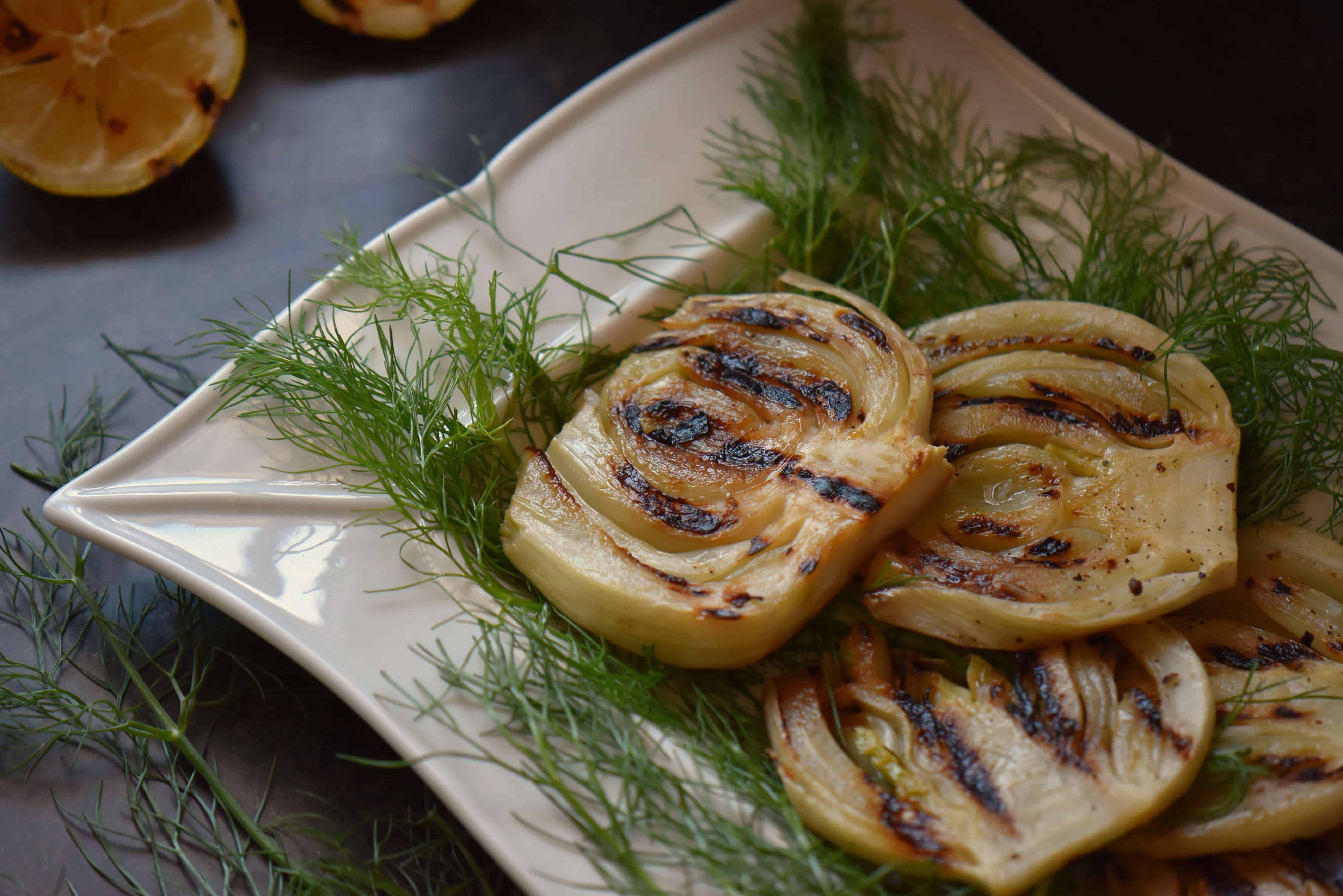 Instructions
Once you have washed and trimmed your fennel, slice it into ½ inch slices lengthwise.
Brush lightly with olive oil and place directly onto the grill. Both an indoor or outdoor grill works great with this recipe.
Grill for about 3-5 minutes of each side or until lightly charred. The fennel cooking time will vary as it depends on the size of your fennel bulb. The end result should be a soft and tender bulb.
Remove from the grill and squirt with the lemon juice of ½ a lemon.
Season with sea salt and a grinding of pepper to taste. A sprinkle of Italian parsley and you are done!
Be prepared to listen to all the oohs and the ahhs as your family and friends devour this grilled fennel.
Just in case you are looking for another fennel side dish, you must try this recipe for Roasted Fennel.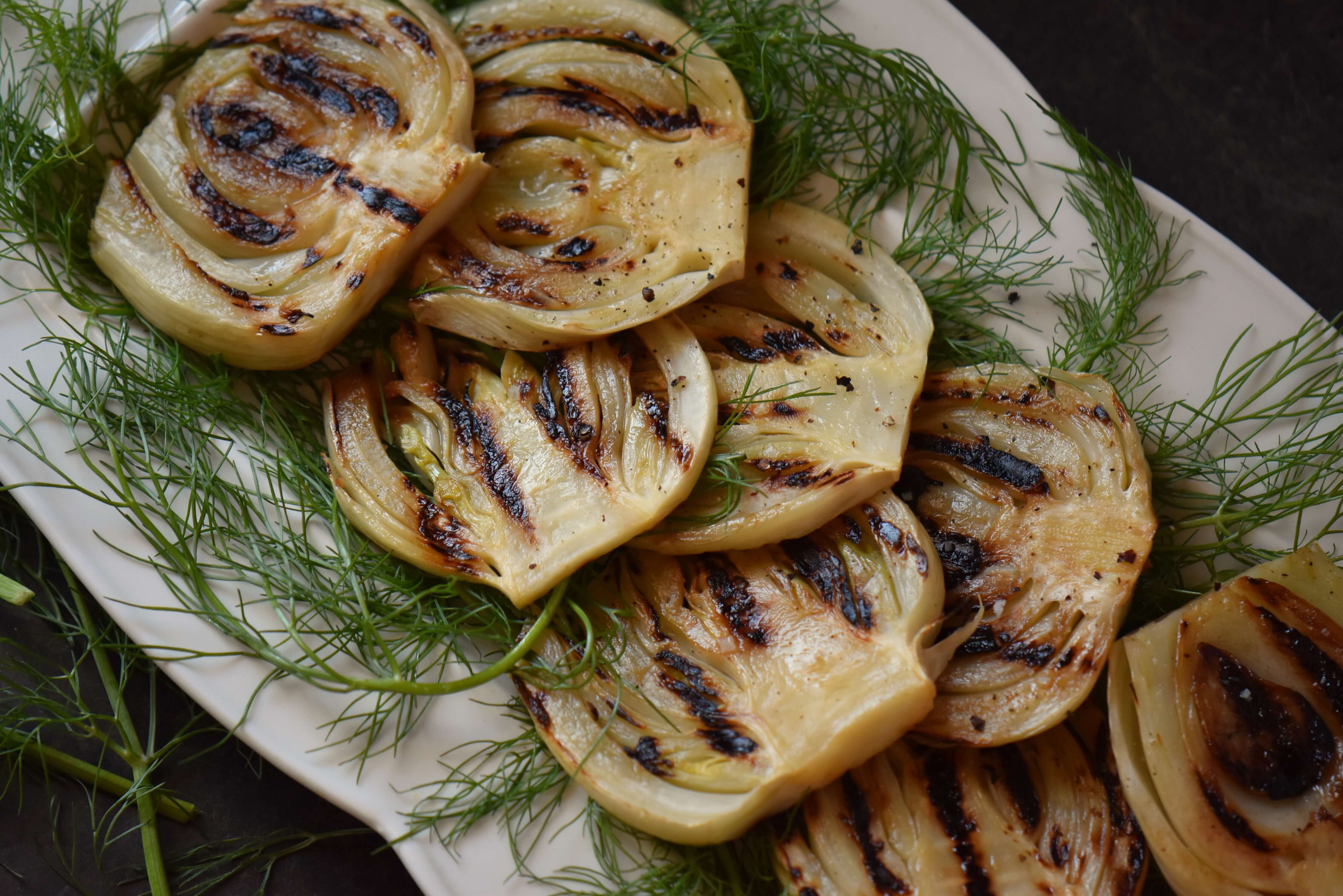 Recipe origins
During the summer, it is not uncommon for my husband and me to take weekly trips to the farmer's market, despite the fact that I usually go overboard. It is a great way to encourage local producers and I always find some inspiration to share with all of you. Not to mention the fact that local produce just tastes so much better.
As you probably know, I am especially fond of Quebec strawberries, green beans, and local tomatoes!
We also enjoy hanging out in the backyard with family and friends. In my opinion, there is nothing easier than entertaining in the summer, especially if you have an outdoor barbecue.
Over the years, and with a lot of trial and error, we have grown very fond of experimenting with different foods on the barbecue. One such food was fennel.
Growing up Italian meant we ate a lot of fennel. We would often have it raw, simply sliced, and always served after a meal. According to my grandmother, it would help with digestion. Fennel would often be paired with oranges, as in this Fennel Orange Salad.
My love for fennel would usually mean that if I found a recipe that had fennel as an ingredient, I would give it a try. I have already shared a few with all of you, including this amazing recipe for Grilled Chicken with Fennel.
It is great as a side dish for fish or chicken. But the sky is the limit as far as how you can use grilled fennel in salads or as part of the main dish.
Just in case you are looking for other vegetables to grill on the barbecue, Denise, over at URBNSPICE has you covered.
Have you ever grilled fennel before?
I would love to hear about your recipe!
THANKS SO MUCH for following and being part of the She Loves Biscotti community where you will find Simple & Tasty Family-Friendly Recipes with an Italian Twist.
Ciao for now,
Maria
★★★★★ If you have made this fennel recipe, I would love to hear about it in the comments below and be sure to rate the recipe!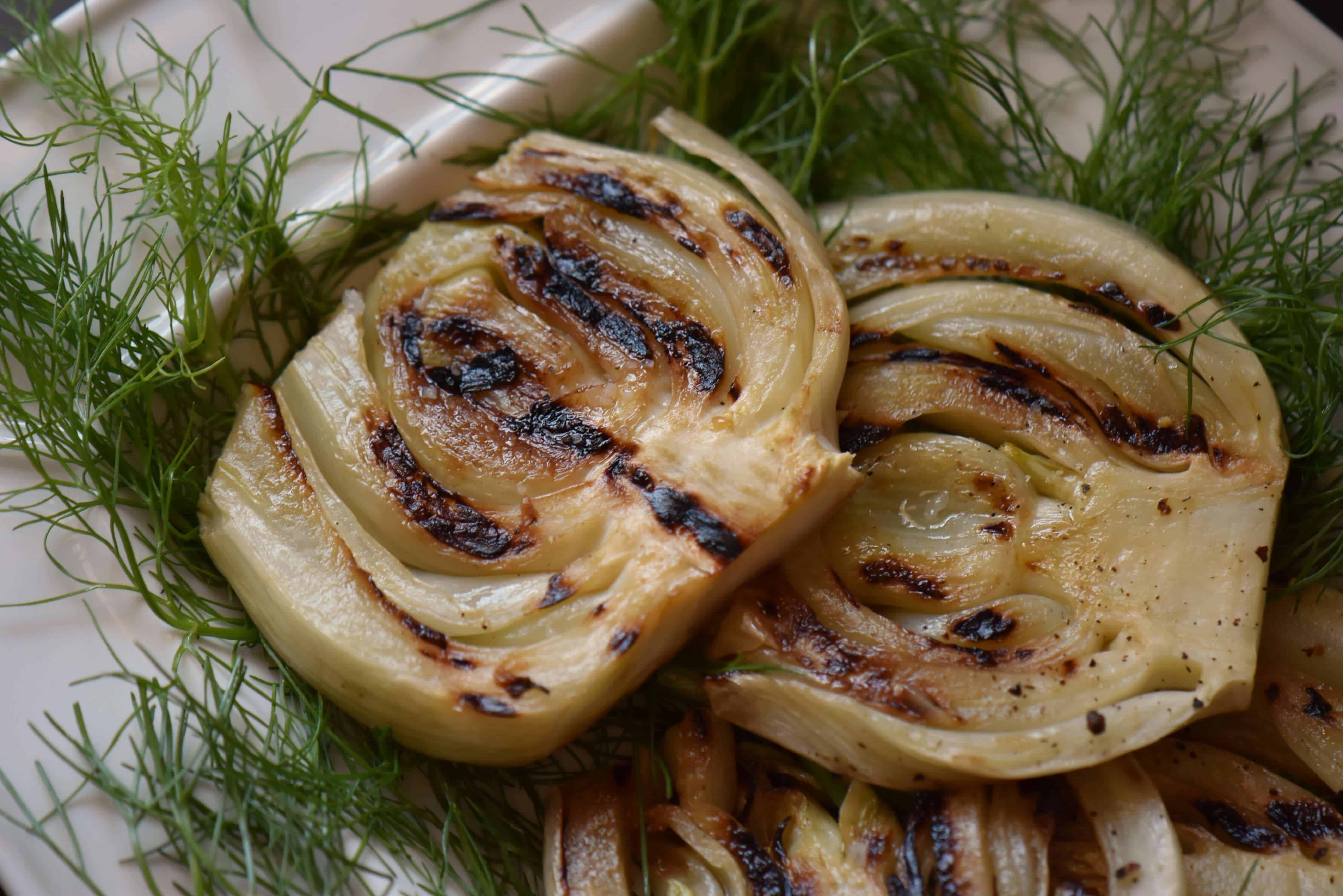 Recipe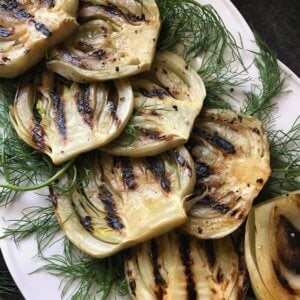 Grilled Fennel Recipe
Have you ever had grilled fennel? It is guaranteed to become one of your favorite recipes for side dishes especially for cooking on the grill.
Print
Save Recipe
Saved!
Pin
Rate
Ingredients
2

fennel

rinsed, sliced ½ inch lengthwise with core intact

2-3

tablespoons

olive oil

extra virgin

pinch

sea salt

pepper

½

lemon juice and zest

freshly squeezed, juice and zest

Italian parsley

(optional) fresh, chopped
Instructions
Heat grill to medium high heat.

Brush both sides lightly with the olive oil.

Place sliced fennel on the grill.

Grill until lightly charred. This should take about 3-5 minutes on each side.

Remove from grill and place on serving dish.

Drizzle with juice of ½ lemon. Sprinkle with salt and pepper and serve.

Optional: garnish with parsley and/or fennel fronds.
Scroll UP for the STEP by STEP Photos
Don't miss the process shots and videos included in most posts. Simply scroll up the post to find them. Those were created especially for you so that you can make the recipe perfectly every single time you try it.
Notes
Please keep in mind that the nutritional information provided below is just a rough estimate and variations can occur depending on the specific ingredients used. 
Nutrition
Serving:
1
serving
|
Calories:
102
kcal
|
Carbohydrates:
9
g
|
Protein:
1
g
|
Fat:
7
g
|
Sodium:
61
mg
|
Potassium:
503
mg
|
Fiber:
4
g
|
Vitamin A:
155
IU
|
Vitamin C:
21.2
mg
|
Calcium:
61
mg
|
Iron:
0.9
mg