These Homemade Italian Fennel Taralli da Tavola di Filomena can be described as being a crunchy and addictive snack food. If you are not familiar with taralli, you are definitely in for a treat!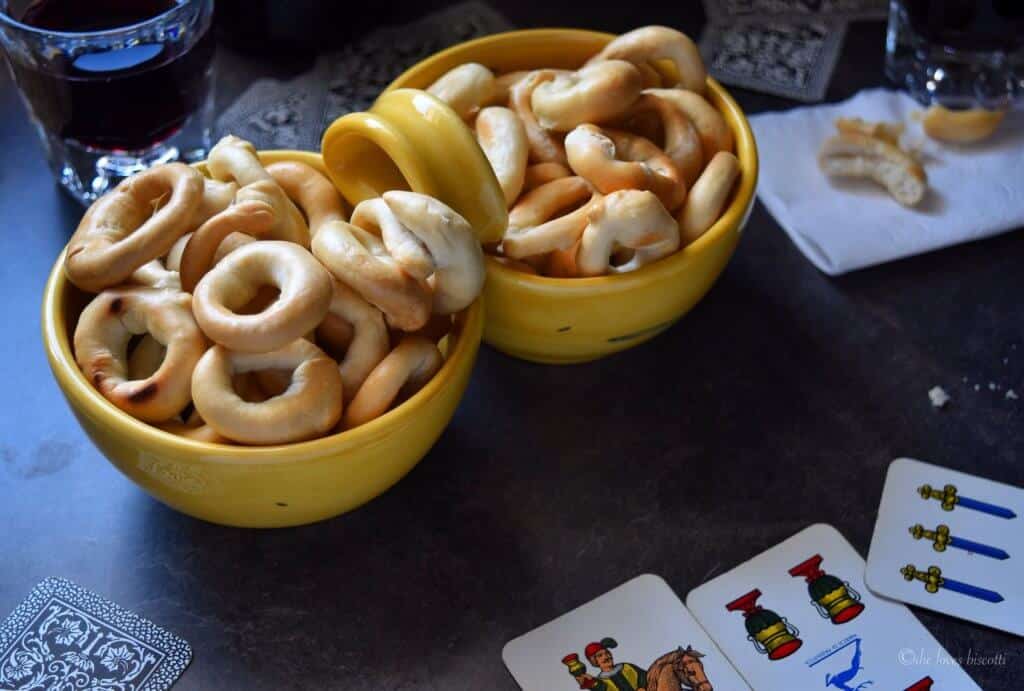 Let me begin with an attempt to describe taralli to you:
Texture: There are some versions of taralli that have a somewhat dry and crispy texture, comparable to that of a breadstick. That being said, there are some taralli which have a softer and chewier consistency.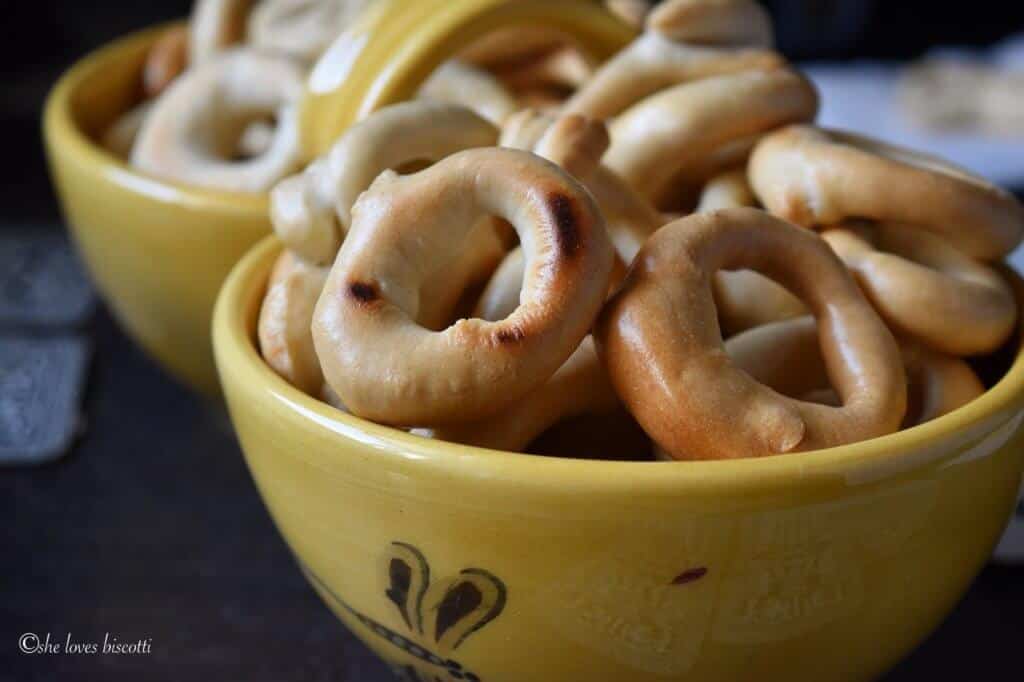 Physical appearance: Taralli are usually ring shaped, either round or elongated; twisted or plain. The diameter of the ring can vary, based mostly on personal preference and of course, the tradition of the recipe. Tarallucci, for example, literally refers to little taralli.
It is also interesting to note that different taralli are associated with different regions of Italy. Have you ever heard of taralli pugliesi? What about taralli napoletani? The latter will include whole almonds which are decoratively placed on the dough before they are baked.
Taste: There are endless variations when it comes to the taste; some of the more traditional spices used for the savory taralli include fennel, pepper, and chili, to name but a few. Some types of taralli include eggs, some not. There are some variations which will include alcohol (white wine, sambuca, grappa…) and of course the endless possibilities associated with sweet taralli such as the type of icing, the type of sugar to glaze the taralli etc. All of these variations will ultimately affect the taste of the taralli.
Should you have an opportunity to actually taste taralli, I would strongly encourage you to give them a try. In fact, you should give this Homemade Italian Fennel Taralli da Tavola di Filomena recipe a try!
Making Italian taralli is definitely a labor of love, but once you master the method, there really is nothing easier and more satisfying. Not to mention that making taralli is a great activity to keep kids entertained. Let me show you how easy it is to make these Homemade Italian Fennel Taralli da Tavola di Filomena.
With the help of a stand mixer, the dough to make these taralli comes together in no time. Once you have combined the flour, yeast and salt in the bowl, attach the paddle attachment; set on medium speed; and add the oil followed by the lukewarm water.
A colleague of mine suggested toasting the fennel seeds before adding them to the dough. I thought this was an interesting suggestion as toasting the fennel seeds brings out the earthiness of this spice -which is perfect for our savory taralli. Thanks Carlo!
After a minute or so, switch over to the hook attachment, add the rest of the flour and knead on medium speed for about 6-8 minutes.
Cover the dough and allow to rest for about 30 minutes.
In the meanwhile, prepare your cutting board, a clean dishcloth and a wide pot filled with water. We need to boil the taralli before they are baked. But first we need to shape them.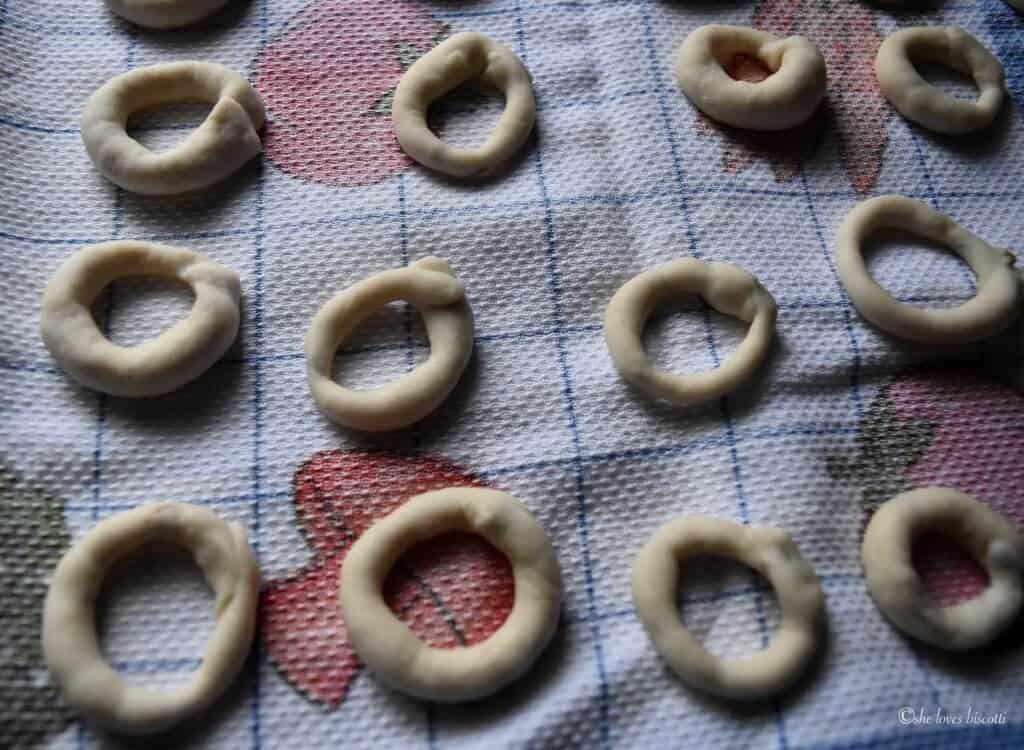 I prefer to make my taralli mini, so basically, pinch a small amount of dough and start rolling until you obtain the shape of a pencil; cut in half and join the ends to form a ring; place them on the clean dishcloth and continue to shape until all the dough has been used. You will notice I have not provided any measurements for this part of the recipe. Honestly, you can make them any shape you want. The only suggestion I have is to make these Homemade Italian Fennel Taralli da Tavola di Filomena the same size so that they bake evenly.
At this point we are ready to boil the taralli. Bring the water to a simmer, not boiling, simmer… add a few taralli at a time and as soon as they float to the top, remove them with a slotted spoon and place them back on the clean dishcloth. Repeat until all the taralli have been given a hot bath!
It's finally time to bake! Make sure your oven is pre-heated to 375° F (if you have a convection oven, set it to 350° F). If you have decided to form larger taralli, you can place them directly on the oven grates. Because I choose to make tarallucci, I need to place them on a baking sheet. It should take anywhere from 20-30 minutes to obtain a golden brown color. The longer they stay in the oven, the crispier they get. When they are done, they will have a nice gleam.
Recipe origins
I've made no secret about the fact that I love taralli; whether sweet or savory. If you recall, I've already shared a few of my mom's taralli recipes with all of you (Dad's Favorite Fennel Taralli, Mamma Nonna's Taralli and these Glazed Italian Egg Taralli).
Because of my obsession, whenever an opportunity presents itself, I will always bring up the conversation of taralli, with the hopes of adding yet another taralli recipe to my repertoire (If you are interested, here are two recipes- Crunchy Addictive Italian Anise Taralli and Italian Wine Biscuits).
I have the privilege of working with a colleague whose mom, Filomena is a fantastic baker. Filomena immigrated to Montreal in 1962. She was born in the town of Montefalcione, in the province of Avellino in the Campania region of Southern Italy.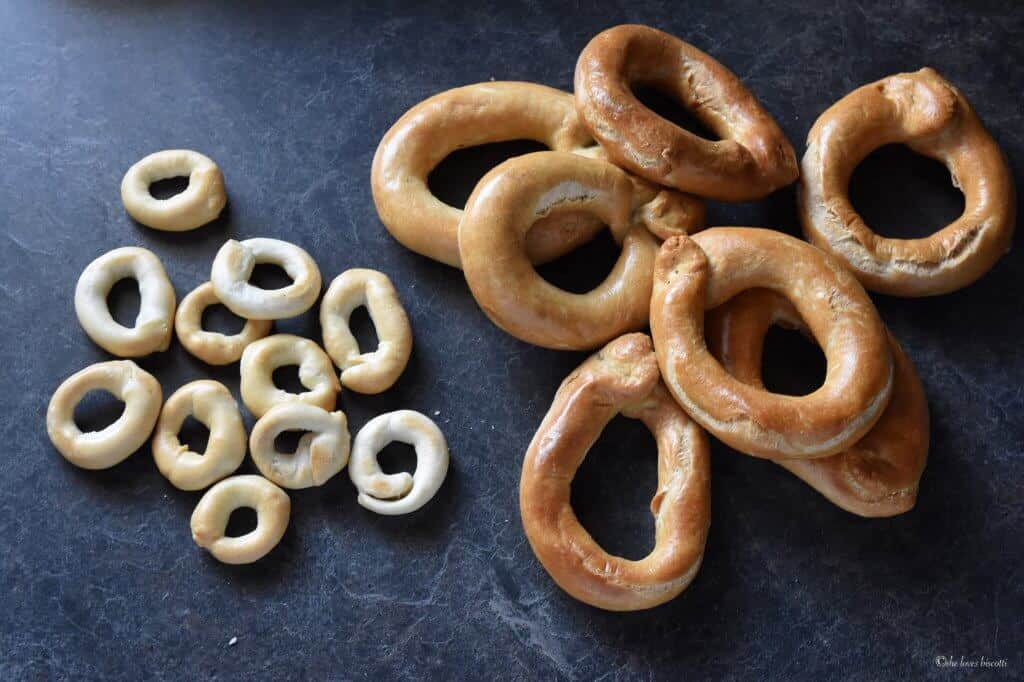 When Filomena found out about my taralli obsession, I was the happy recipient of two of her taralli recipe. The larger fennel taralli (situated on the right of the above photo )… are referred to as taralli da tavola… which can be translated into taralli for the table. In case you are wondering, the taralli on the left are mine 😉 Same recipe, different shapes.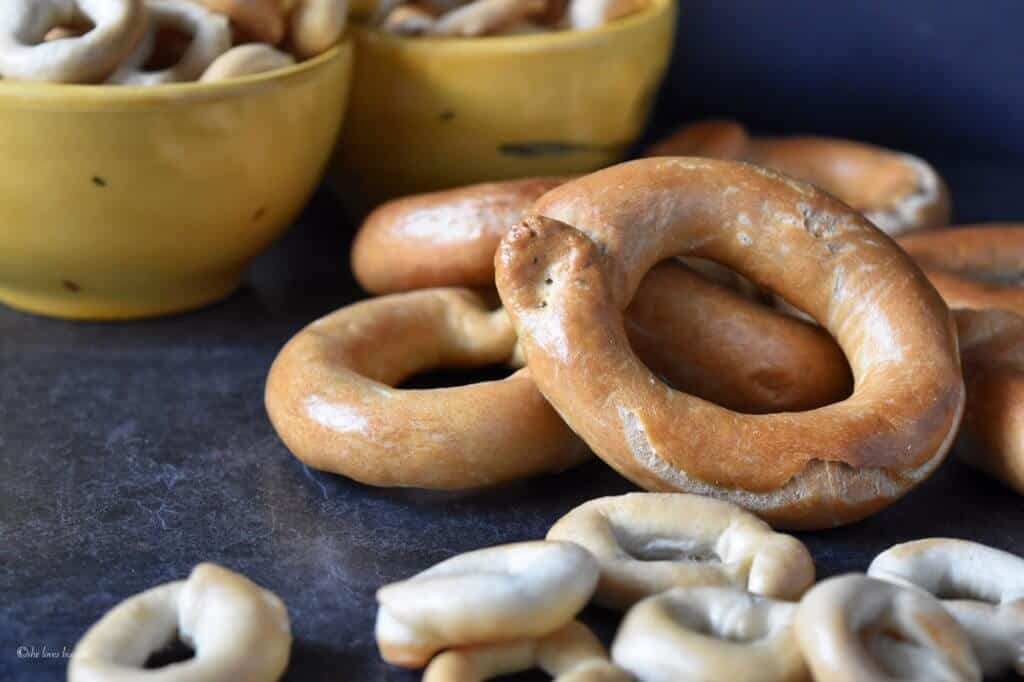 Signora Filomena re-iterated what I had already heard from my own mom; with practice, you will get a feel for the dough and you will realize how much flour is needed. Ahh, that "quando basta" school of thought… until it is enough… these words continue to haunt me… but persistence is the name of the game 🙂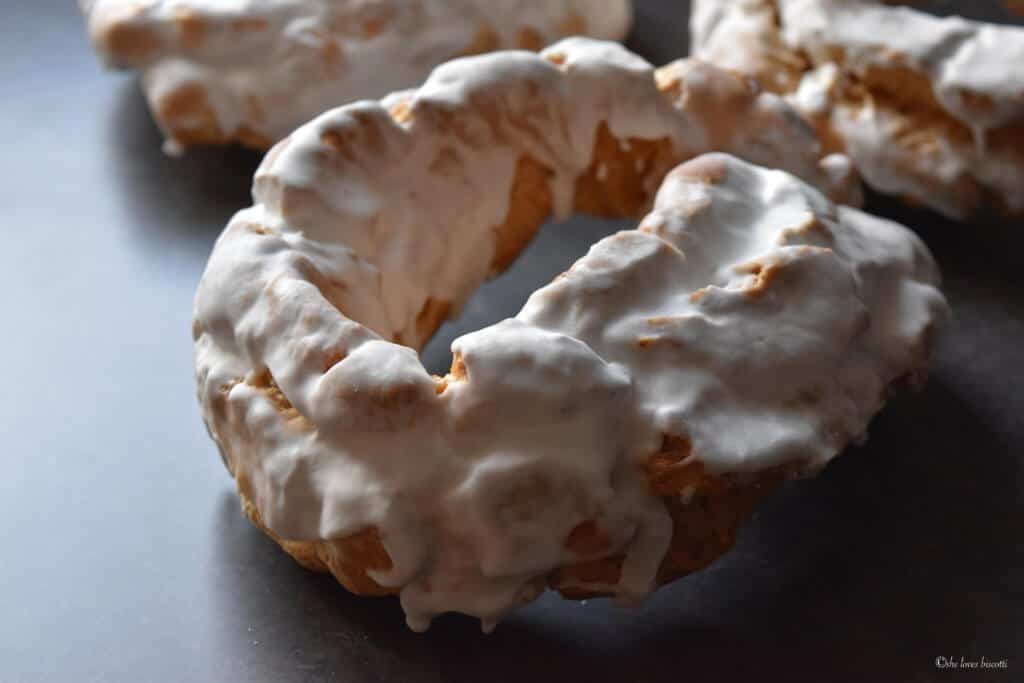 These are Filomena's Easter egg taralli… have you ever seen such a beautiful egg taralli? Filomena's advice to achieve this wonderful taralli is to start with a hot oven and slowly bring down the temperature. When you can achieve this final product, I would say that this is great advice. As soon as I have an opportunity, I must try her recipe… don't worry, I will keep you all posted.
Update: Here is the recipe for this Easter taralli.
Ahhh, the infinite possibilities of flour and water…
Grazie Signora Filomena per la vostra recetta di taralli da tavola, sonno veramente una meraviglia!
A glass of wine and these Homemade Italian Fennel Taralli da Tavola di Filomena… how is that for la dolce vita!
THANKS SO MUCH for following and being part of the She Loves Biscotti community where you will find Simple & Tasty Family-Friendly Recipes with an Italian Twist.
And if you are new here, welcome! You may want to sign up for my weekly e-mail newsletter. You can unsubscribe any time you want.
Ciao for now,
Maria
★★★★★ If you have made this Fennel Taralli recipe, I would love to hear about it in the comments below and be sure to rate the recipe!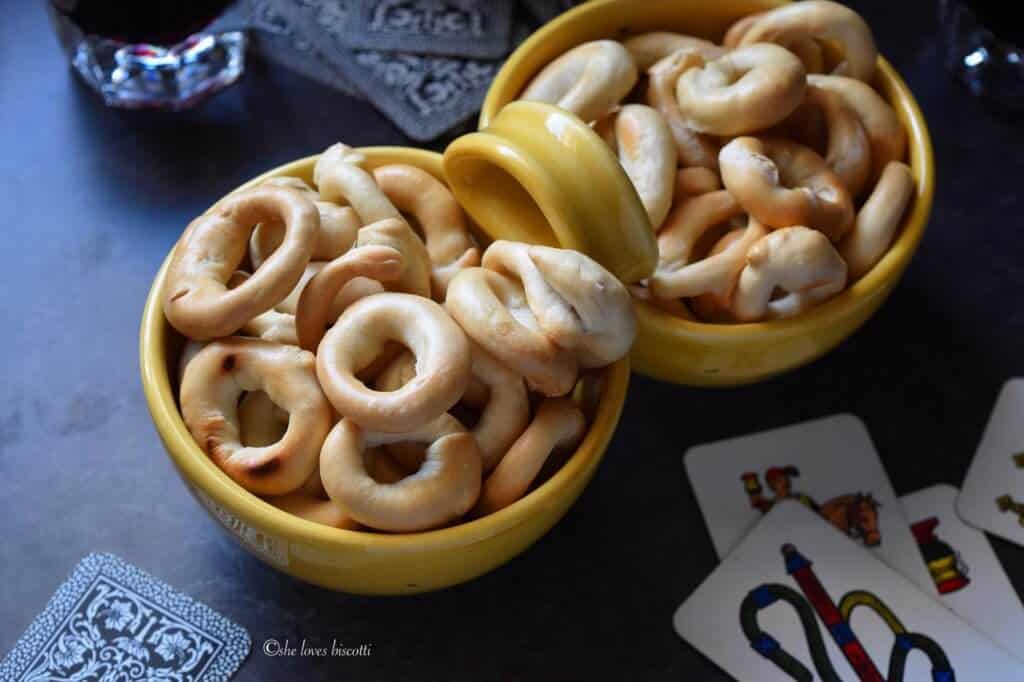 Recipe
Homemade Italian Fennel Taralli da Tavola di Filomena
These Homemade Italian Fennel Taralli da Tavola di Filomena can be described as being a crunchy and addictive snack food. You are definitely in for a treat!
Print
Save Recipe
Saved!
Pin
Rate
Ingredients
3

cups

flour

plus an extra ⅓ cup

½

teaspoon

active dry yeast

¾

teaspoon

salt

⅓

cup

vegetable oil

1½

cups

lukewarm water

1½

teaspoon

fennel seeds

toasted
Instructions
In a bowl of a stand mixer, with paddle attachement, combine 3 cups of flour, yeast and salt.

Add the oil, followed by the lukewarm water.

Add the toasted fennel seeds.

Scrape down the dough.

Switch to dough hook attachment.

Add the ⅓ cup of flour.

Knead for approximately 6-8 minutes until you have a soft, smooth elastic dough. Alternately, you can knead by hand.

Cover loosely with plastic wrap and tea towel and allow dough to rest for about 30 minutes.

Place the ball of dough on an un-floured wooden board.

Knead the dough for about 1 minute (if the dough sticks to the wooden board, add a little bit of flour).

Pinch about a tablespoon of dough and roll into a rope shape approximately 8 inches long and ¼ inch in diameter (about the size of a pencil). Feel free to adapt any sized ring-shape when you are making these taralli

Cut in half and join the two ends together to form an ring.

Place the taralli on a clean dishcloth.

Bring a large pot of water to boil, then reduce heat so that the water barely simmers.

Plunge the taralli in simmering water; 3-4 at a time. Once they surface to the top, remove with slotted spoon.

Place on clean dishcloth to drain.

Repeat process until all the taralli have been boiled.

Place boiled taralli directly on oven grates (if large enough) or on a cookie sheet.

Bake in a preheated oven at 375° F for 30 minutes or until golden brown (set oven rack in the center).
Scroll UP for the STEP by STEP Photos
Don't miss the process shots and videos included in most posts. Simply scroll up the post to find them. Those were created especially for you so that you can make the recipe perfectly every single time you try it.
Notes
Recipe can easily be doubled.
Taralli will last about 1 month when stored in a dry place. I will usually keep mine in a basket, uncovered.
Please keep in mind that the nutritional information provided below is just a rough estimate and variations can occur depending on the specific ingredients used. 
Nutrition
Serving:
1
serving
|
Calories:
42
kcal
|
Carbohydrates:
6
g
|
Fat:
1
g
|
Saturated Fat:
1
g
|
Sodium:
36
mg
|
Potassium:
10
mg
|
Calcium:
2
mg
|
Iron:
0.4
mg