Are you throwing pasta at your kitchen wall to check for doneness? If yes, take a look at my top ten tips on how to cook pasta like an Italian nonna.
Whether you are cooking homemade cavatelli or purchasing the best pasta brand available, it really is effortless to achieve the perfect bowl of pasta every time you cook it.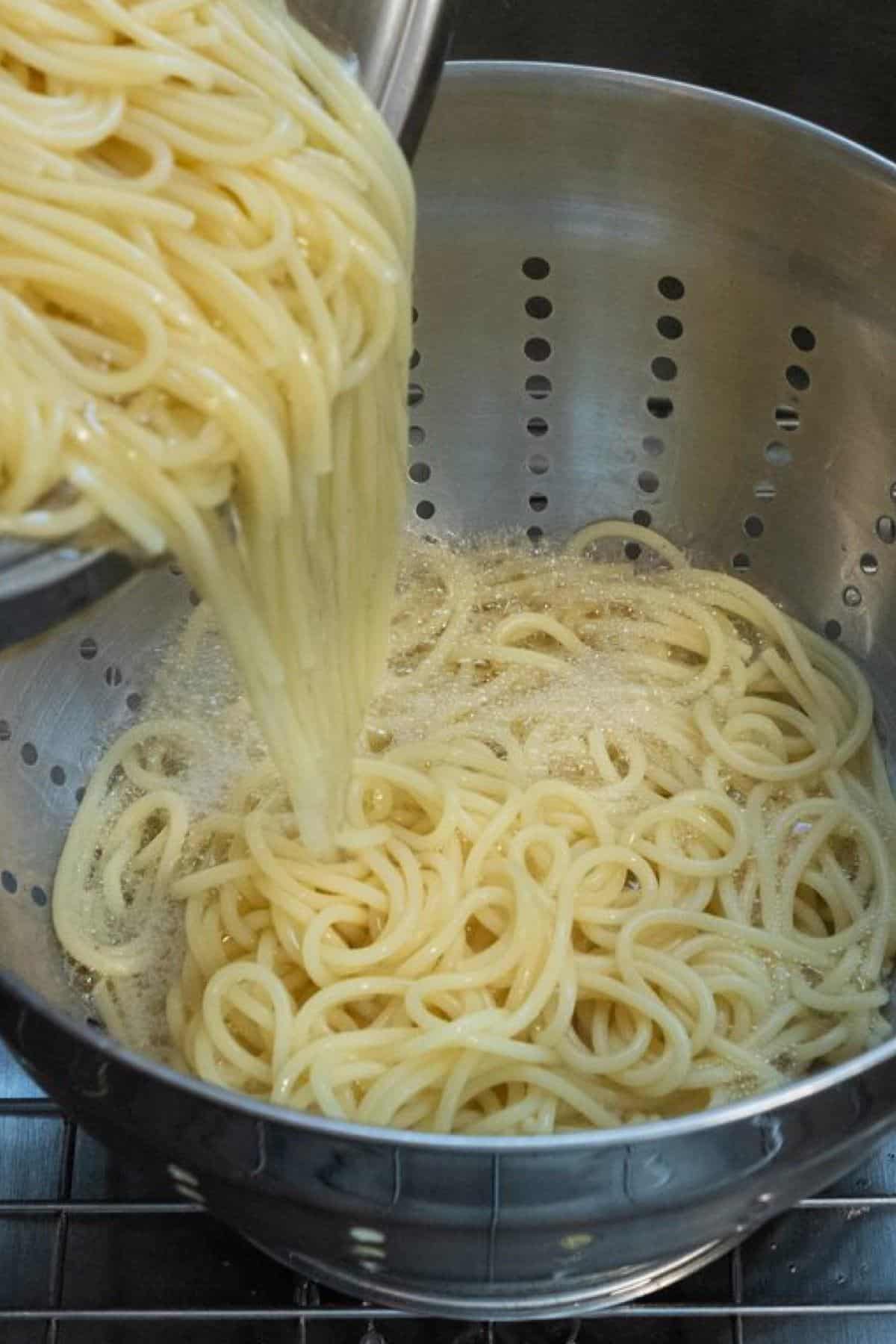 Jump to:
Introduction
Have you ever wondered how long to cook pasta?
Or perhaps why the water needs to "taste like the sea" before you add your pasta?
If you think the best way to test if pasta is done is to throw it at your kitchen wall, stop scrolling.
The cooking guidelines found on pasta packages are a great place to start. But if you want to step up your pasta game, this simple guide is for you.
Take a look at my top ten tips on how to achieve the ideal texture for perfect pasta, just like an Italian nonna would make.

1-Start with a
large pot
To properly cook pasta, you need a large deep pot that can hold a lot of water.
Why? A big pot of water provides plenty of space for the pasta to float about freely; this is especially true for the long variety.
2-Use lots of cold water
It's not enough to have just enough water to cook pasta. You need the right amount of cold water. To cook one pound of pasta (454 grams), bring at least 4 quarts (3.8 liters) of cold water to a rolling boil, not simmering, rolling.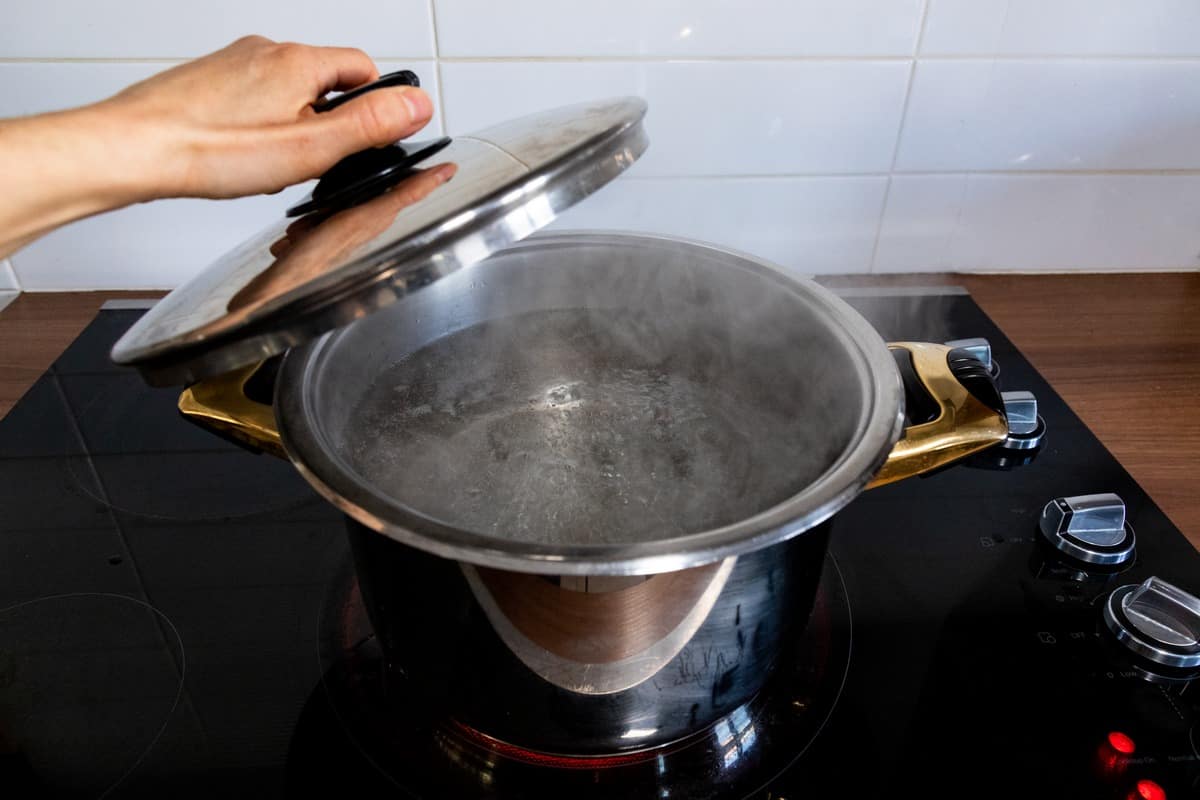 Why? Using the right amount of water ensures that it will quickly return to a rapid boil after the pasta's addition. Also, as the pasta is cooking, it absorbs some of the water and has enough room to expand. The large water volume also prevents the pasta from sticking together as the pasta floats freely about in the large pot.
3-
Add
k
osher salt
so it "tastes like the sea"
Once the 4 quarts of water (3.8 liters) come to a rolling boil, add 1 heaping tablespoon of kosher salt.
Why? As the pasta is cooking, it will absorb some of the kosher salt from the pasta water. This helps create a perfectly seasoned plate of pasta.
4
-Frequent stirring
As soon as you add your pasta to the boiling water, it is crucial to stir. A long handle wooden fork is ideal for this job. Although you can use any long utensil, like a wooden spoon, what is important is that you give the large pot of pasta a good stir every couple of minutes. Stir in any direction. Don't forget to scrape the bottom and the sides of the pot during this cooking process.
Why? Initial and frequent stirring will prevent the pasta from sticking together and attaching to the pot's sides or bottom.
5
–
Avoid
add
ing
oil
There is no advantage to adding oil. Contrary to popular belief, adding a little olive oil does not prevent the pasta from sticking together. Refer to previously mentioned tips to prevent pasta from sticking together.
Why? The addition of oil prevents the sauce from clinging to the pasta.
6-Cover the pot
Slowly add the pasta to the pot of boiling water, stir immediately to ensure the pasta does stick together, then cover the pot. For longer shapes like spaghetti and linguine, drop them into the water and, as they soften, gently submerge. Stir gently and cover. Remove the cover immediately when the water returns to a rolling boil.
Why? Quickly returning the water to a full boil ensures the pasta cooks evenly without being gummy or mushy. Don't walk away from the stove during this process.
7
-Taste for doneness
Use the estimated cooking times as indicated on the packaging as a guideline as to when the pasta is done.
For dry pasta, start tasting two to three minutes before the recommended cooking time. Cook dry pasta until it tastes al dente or firm to the bite. Cook fresh pasta like cavatelli and gnocchi until they float and have a slight resistance. This usually takes 1-2 minutes.
Why? Tasting the pasta is the only way to test the pasta for doneness. This confirms the pasta is properly cooked. Remember, the pasta continues to cook just a little bit after you drain and sauce it. So the goal is to prevent overcooked pasta. 
8
–
Reserve the pasta water,
aka the liquid gold
Before draining the pasta, remove 1-2 cups of the starchy pasta water and set it aside.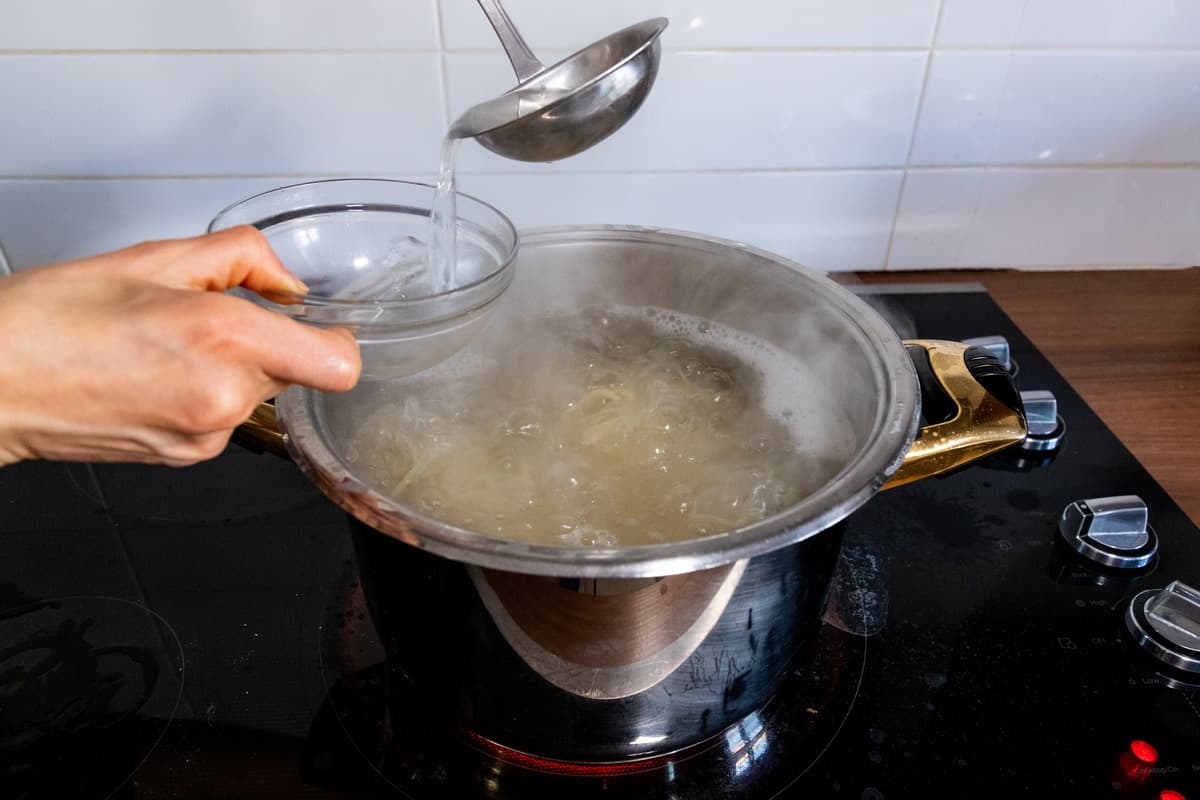 Why? Depending on the pasta sauce, adding a small amount of starchy pasta water can help loosen the sauce and help the pasta cling to the sauce.
9
-Avoid rinsing
drained pasta
It would be best if you rinsed pasta only when using it in a recipe like a cold pasta salad.
Why? Not only does rinsing cool off the pasta, but it also removes the starchy exterior, which is essential for the sauce to adhere to it.
10
– Toss the
drained
pasta
quickly
with the warm sauce
Transfer the drained hot pasta back into the empty cooking pot, add enough sauce and immediately toss together. Alternately, the drained pasta can be added to the simmering sauce and tossed together. For the best tasting pasta dish, serve immediately while still hot.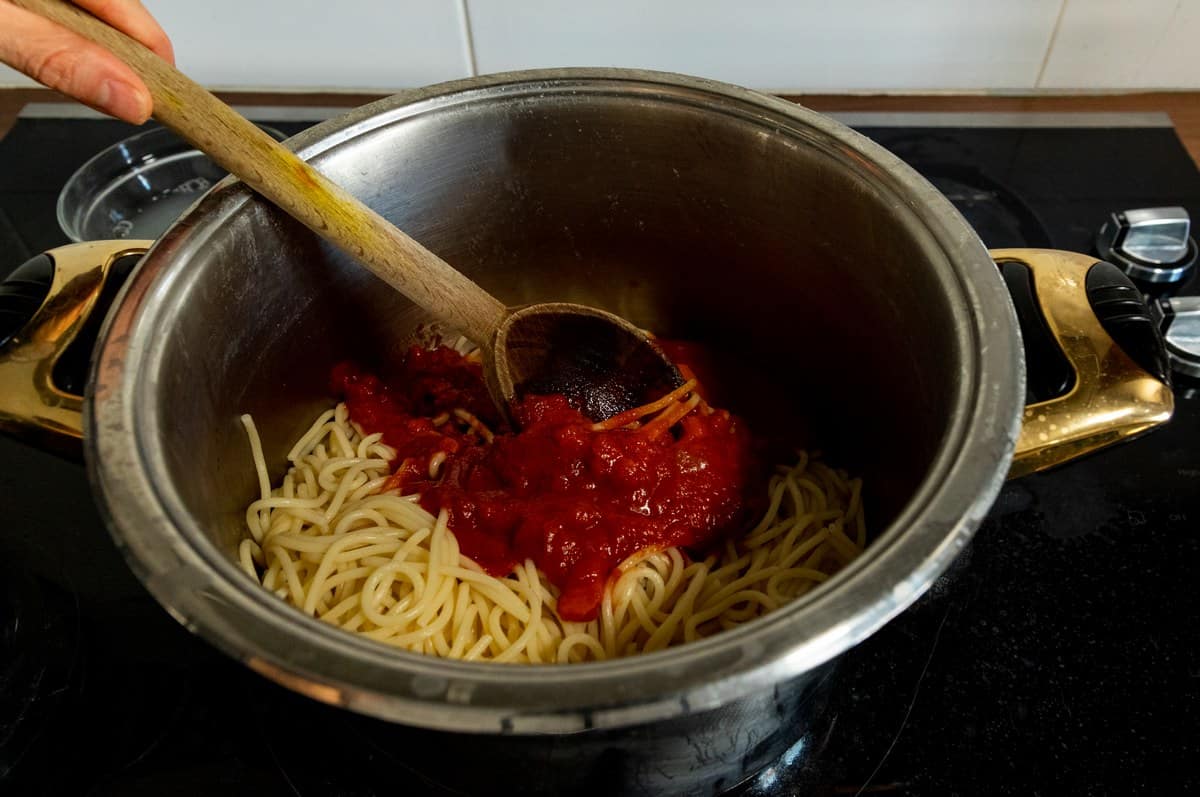 Why? It would be best to combine the cooked pasta immediately with the sauce for the best tasting bowl of pasta. Timing is crucial when cooking pasta. The sauce can wait for the pasta to be cooked, but the cooked pasta cannot wait for the sauce. If the drained pasta is left in the colander for even the smallest amount of time, the starchy exterior starts drying and before you know it, you have clumps of pasta.
Bonus tip: a kitchen hack
Did you know that Italian nonnas place a wooden fork or spoon across the top of a pot of boiling water to prevent the starchy water from escaping and making a mess on the stovetop? Here's a great article that explains the science behind this.

Are you ready to try?
Now that you know the best way to cook pasta, here are some quick and easy pasta recipes with just a few ingredients.
This homemade marinara sauce not only tastes better than any store-bought brand but is also one of the easiest to make! A pasta dinner can be yours in under 30 minutes!
Another family favorite is this quick tomato sauce, which is great with this cavatelli recipe with tomato ricotta sauce!
Be sure to check out all of my pasta recipes!
My inspiration
I can still hear my Nonna, "butta la pasta!" It wasn't a question… it was a statement.
Butta la pasta literally means throw the pasta. Naturally, in boiling water.
We would usually hear these words three times a week -Sundays, Tuesdays and Thursdays.
It is only as an adult, looking back at my younger years, that I began to truly appreciate the importance of certain rituals of my Italian upbringing.
My nonna did not need to ring a bell to announce that it was dinner time. The minute she said those words, we all knew we had less than 5 minutes to clean up and find our place at the dinner table.
I was delegated to inform my Nonno and dad that nonna had just "thrown the pasta" in the water.
As I got older, I got promoted to stirring the pasta while my nonna delegated my sister to round-up duties. I did, however, keep my "scolapasta" responsibilities.
The ten tips I am sharing with all of you today are the same ones my Italian nonna taught me.
There's comfort in knowing that there are still some things that remain the same in a constantly changing world.
Enjoy!
THANKS SO MUCH for following and being part of the She Loves Biscotti community where you will find Simple & Tasty Family-Friendly Recipes with an Italian Twist.
If you are new here, welcome! Sign up to receive my weekly e-mail newsletter as well as a free download that summarizes these great pasta tips.
Ciao for now,
Maria
★★★★★ Do you have other tips? I would love to hear about them in the comments below and be sure to rate my method of cooking pasta!
Recipe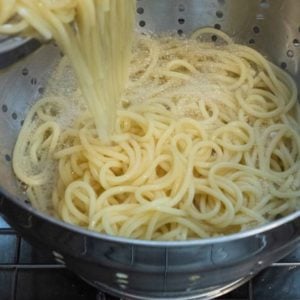 How to Cook Pasta
Are you throwing pasta at your kitchen wall to check for doneness? If yes, take a look at my top ten tips on how to cook pasta like an Italian nonna.  
Print
Save Recipe
Saved!
Pin
Rate
Ingredients
1

pound

dried pasta

1 package (454 grams)

1

tablespoon

salt

1-2

cups

reserved pasta water

separated
Instructions
Bring 4 quarts (3.8 liters) of cold water to a rolling boil in a large pot.

Add the pasta to the pot of boiling water and stir.

Cover the pot and quickly return to a boil.

Remove cover and cook according to package directions until almost al dente. Stir frequently.

When the pasta is almost al dente, taste for doneness.

Reserve about 1-2 cups of the cooking liquid, then drain the pasta.

Combine with your favorite sauce and serve immediately.
Scroll UP for the STEP by STEP Photos
Don't miss the process shots and videos included in most posts. Simply scroll up the post to find them. Those were created especially for you so that you can make the recipe perfectly every single time you try it.
Notes
Please keep in mind that the nutritional information provided below is just a rough estimate and variations can occur depending on the specific ingredients used. 
Nutrition
Serving:
1
serving
|
Calories:
421
kcal
|
Carbohydrates:
85
g
|
Protein:
15
g
|
Fat:
2
g
|
Saturated Fat:
1
g
|
Sodium:
7
mg
|
Potassium:
253
mg
|
Fiber:
4
g
|
Sugar:
3
g
|
Calcium:
24
mg
|
Iron:
1
mg