Are you looking for a Baked Cod Fish recipe that happens to be healthy, tasty and quick to make? May I suggest this simple oven baked garlic oregano crusted cod fish served with your favorite sides. This will quickly become your go to fish recipe. Supper is served in just 30 minutes!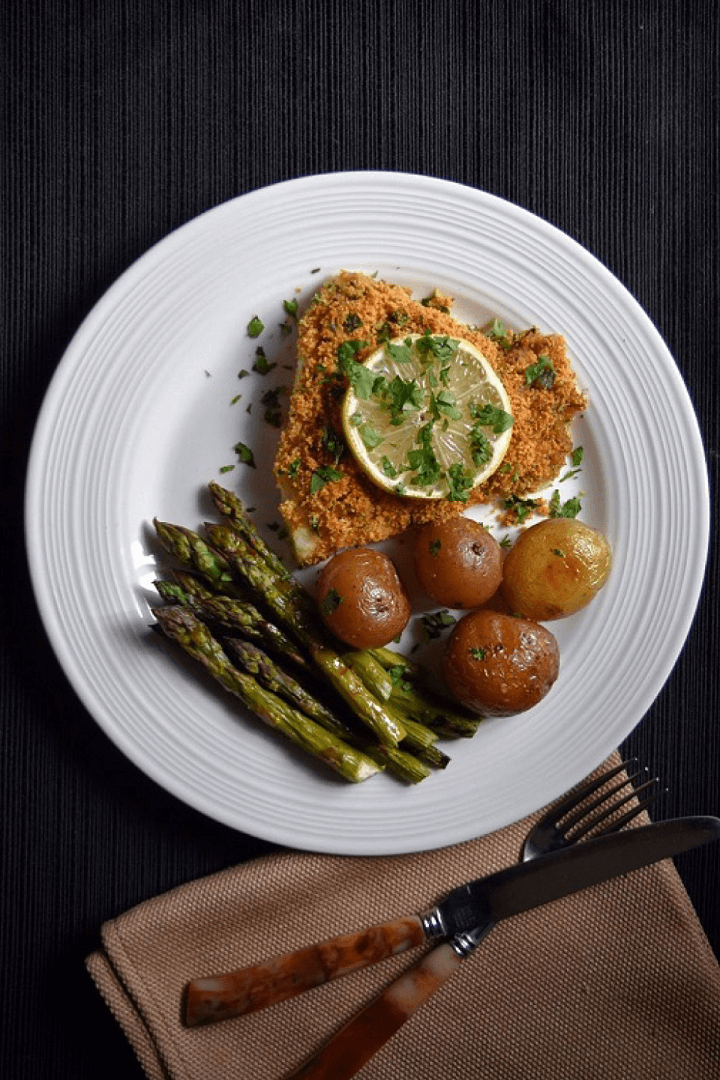 We've all been there… late afternoon meetings, endless traffic on the commute home, and of course that timeless question the minute the famished troops walk in through the front door… when is supper?
With a little bit of planning, a delicious and nutritious meal is not only possible, but easy to achieve.
Cod fish recipes are truly the ultimate fast food. In fact, this is true of most fish recipes. Another great example are these Healthy Tuna Patties made without any mayonnaise.
By using a sheet pan, you can cook your vegetables at the same time as this baked codfish and in just 30 minutes, your troops will be satisfied.
Let me show you how quickly this Italian fish recipe comes together.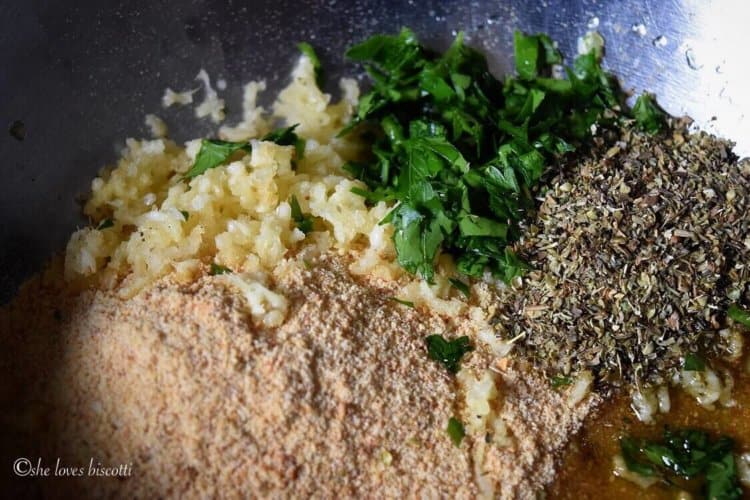 How to make oven baked cod fish:
The first thing we need to do is combine the ingredients for the topping. As you can see, this healthy cod fish recipe includes bread crumbs, garlic, Italian flat leaf parsley, dried oregano and of course some extra virgin olive oil. Feel free to use panko if this is more convenient for you.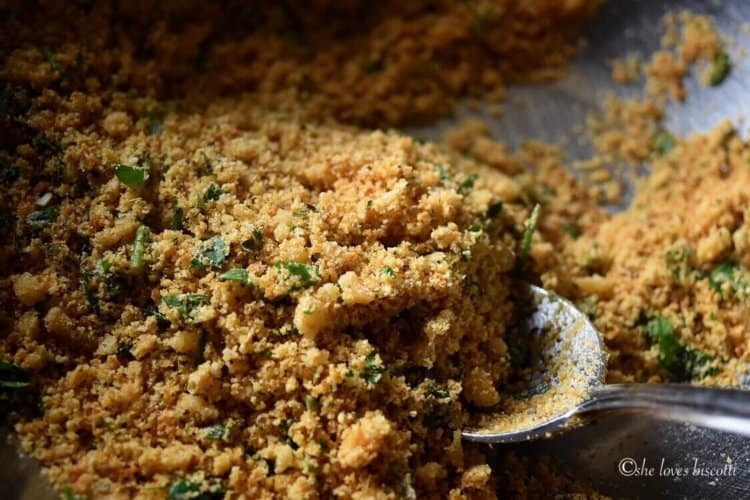 This seasoned bread crumb topping literally takes just a few minutes to come together.
Then, it's just a matter of placing your cod fish fillet on your sheet pan and sprinkling it with this wonderful topping. A final drizzle of olive oil and this easy cod fish recipe is done.
It is ready to be baked!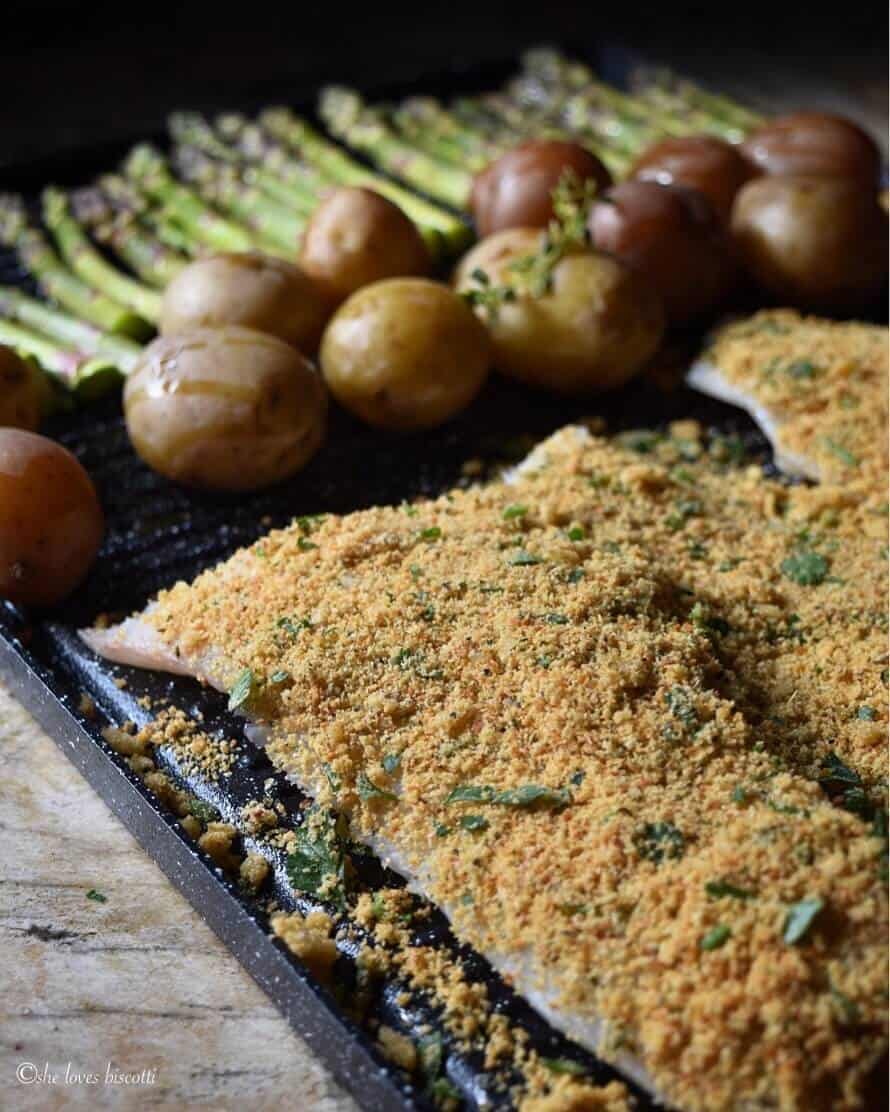 I will always cook my vegetables along side fish whenever I am making this recipe for baked cod. I love to take advantage of seasonal vegetables so today I will be roasting asparagus. In this recipe for baked cod, I also like to serve some red and yellow potato creamers from the Little Potato Company (not sponsored), which have been previously parboiled.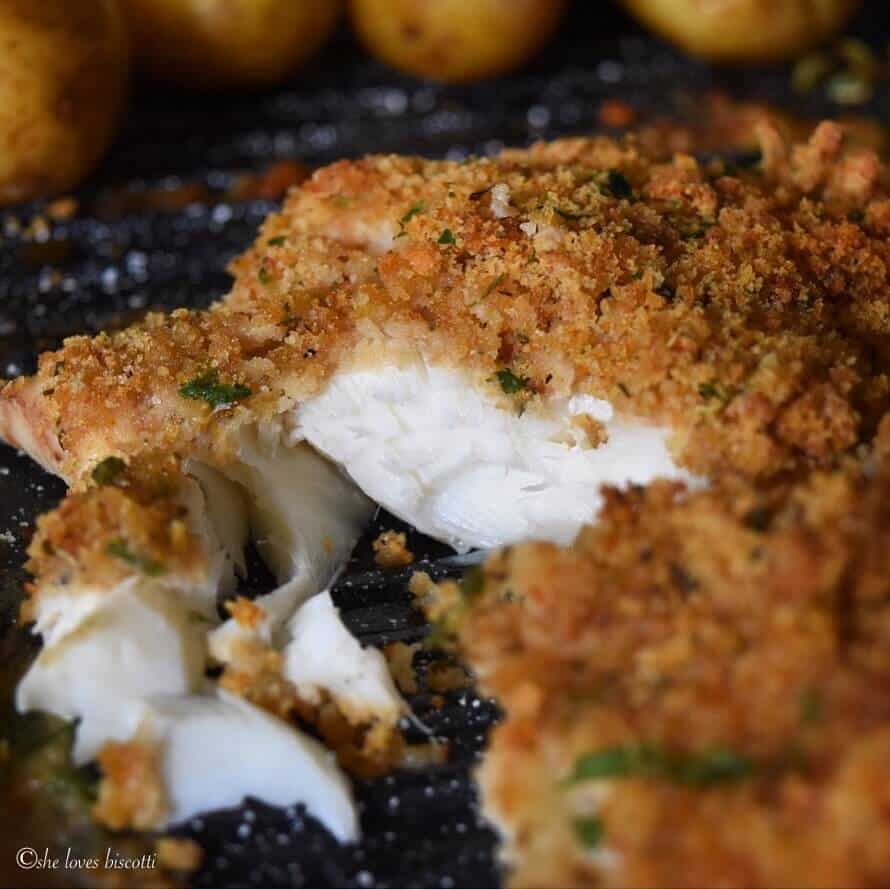 How to tell if your cod fish is properly cooked:
Take a peak at the thickest part of the cod fish. With a fork or knife, simply split the natural separations of the cod fish -this will expose the underlying flesh. If the flesh has an opaque color and flakes easily, it is done. If the thickest part of the cod flesh is still translucent and does not flake easily, place it back in the oven and continue to bake for a few minutes and test again.
How long to bake cod fish at 400°F?
This will usually take about 12-15 minutes depending on the thickness of the fillet.

What kind of fish is similar to cod?
Any skinless firm white fish fillet, such as haddock, pollock, grouper, bass or halibut works really well with this recipe. Try to purchase from companies that are committed to long term seafood sustainability. A great resource for fish sustainability is Seafood Watch.
Nutrition note: As you've probably heard, cod fish is a great source of high quality lean protein and has been linked to better heart health. So, incorporating fish in a weekly meal plan makes a lot of sense if you are trying to eat healthier… cue in this baked healthy cod recipe!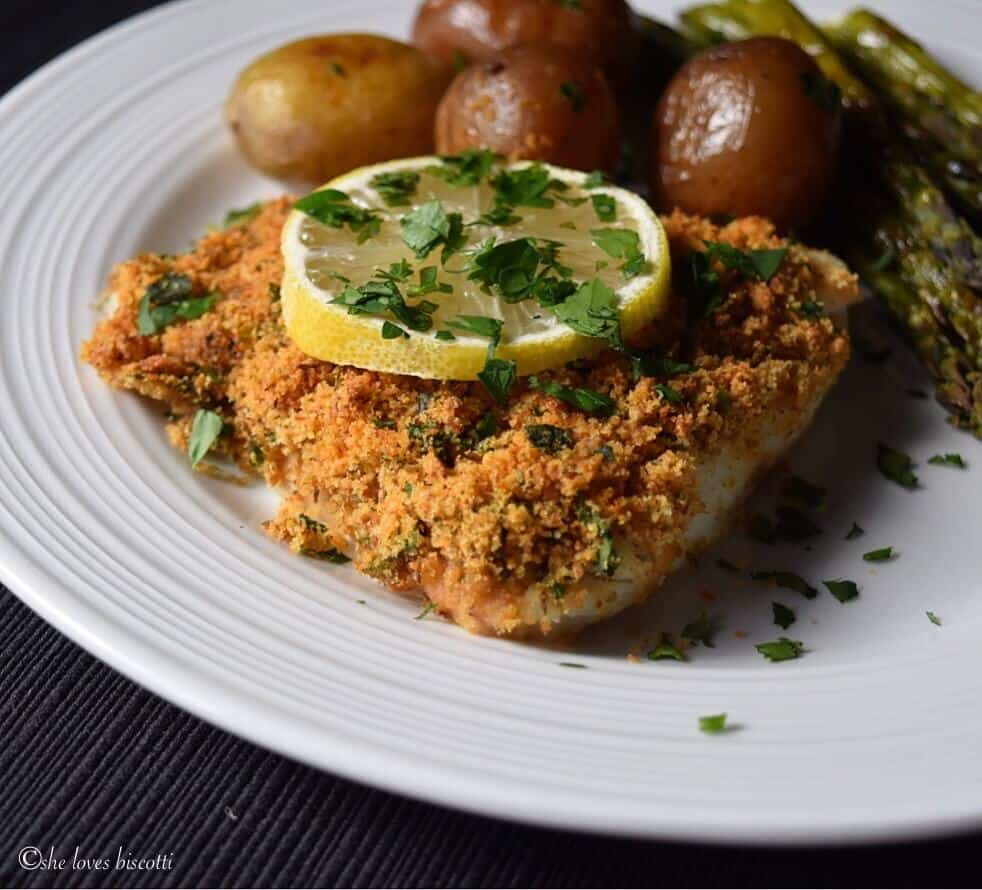 Origins of Baked Cod Fish Recipe:
As you can well imagine, growing up Italian meant there were a few customs and traditions to respect. I think this was particularly true in my upbringing as I was privileged to live with my paternal grandparents. As a result, fish would often make an appearance on the supper table, and always on Fridays… This particular cod fish recipe was one of my mom's signature dishes. Personally, I credit the garlic oregano topping.
So if you are looking for a healthy & tasty meatless Monday meal, I would encourage you to try this Baked Cod Fish Recipe. Ready in thirty minutes & with the sides!
THANKS SO MUCH for following and being part of the She loves biscotti community where you will find Simple & Tasty Family-Friendly Recipes with an Italian Twist.
Ciao for now,
Maria
★★★★★ If you have made this Cod Fish recipe, I would love to hear about it in the comments below and be sure to rate the recipe!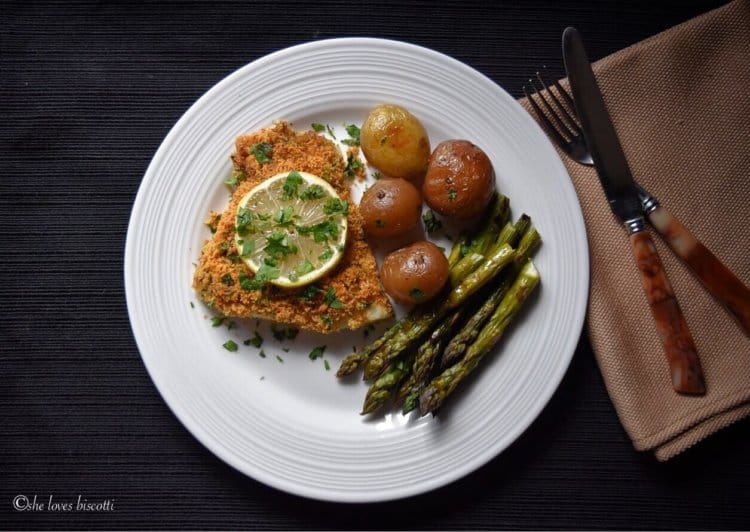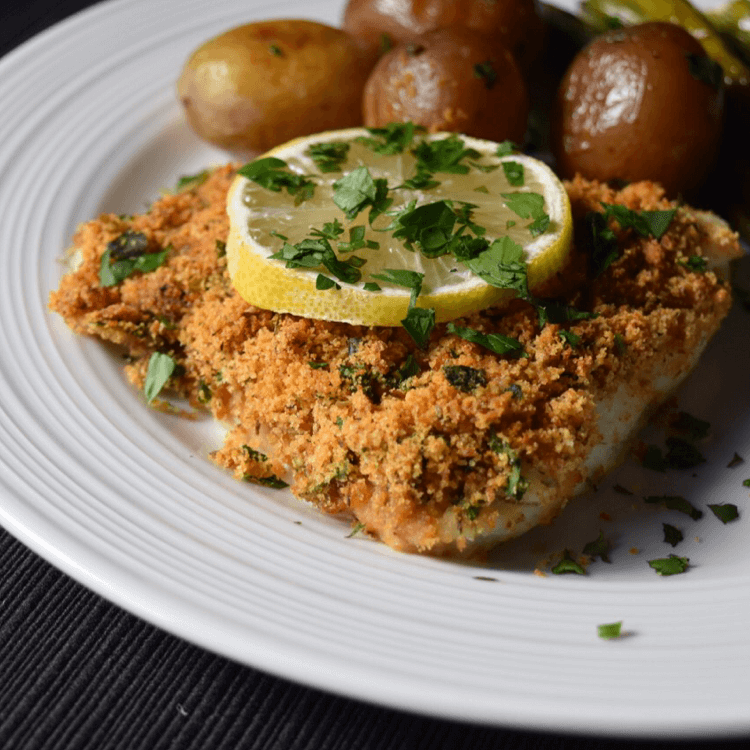 Baked Cod Fish
Are you looking for a cod fish recipe that happens to be healthy, tasty and quick to make? May I suggest this Simple Oven Baked Garlic Oregano Crusted Cod Fish served with your favorite sides -ready in just 30 min!
Print
Pin
Rate
Servings:
4
servings (6 ounce each)
Ingredients
1/2

cup

plain bread crumbs

can also use panko

2

tablespoons

Italian flat leaf parsley

fresh, finely chopped

4-5

garlic cloves

minced

1

tablespoon

oregano

dried

1 - 2

tablespoons

extra virgin olive oil

2

pounds

fish fillets of firm white fish

approximately 900 grams, skinless

salt and pepper according to taste

lemon wedges

optional

parsley for garnishing
Instructions
Preheat oven to 400 °F

In a small bowl, combine the bread crumbs, parsley, garlic, oregano and olive oil. Set aside.

Spray non-stick cooking spray on baking sheet pan.

Place fish fillet on sheet pan and season with salt and pepper according to personal preference.

Sprinkle breadcrumb mixture evenly over over fish fillets.

Bake the fish for 12-15 minutes or until fish flakes easily and turns opaque in color (total time depends on thickness of the fillet).

OPTIONAL: Serve with lemon wedges and a sprinkle of parsley
Scroll UP for the STEP by STEP Photos
Don't miss the process shots and videos included in most posts. Simply scroll up the post to find them. Those were created especially for you so that you can make the recipe perfectly every single time you try it.
Notes
I used wild Atlantic Cod Fillets for this cod fish recipe.
Please keep in mind that the nutritional information provided below is just a rough estimate and variations can occur depending on the specific ingredients used. 
Nutrition
Serving:
1
serving
|
Calories:
247
kcal
|
Carbohydrates:
11
g
|
Protein:
42
g
|
Fat:
2
g
|
Cholesterol:
97
mg
|
Sodium:
223
mg
|
Potassium:
1001
mg
|
Fiber:
1
g
|
Vitamin A:
280
IU
|
Vitamin C:
5.9
mg
|
Calcium:
89
mg
|
Iron:
2.1
mg