I thought it would be appropriate to share this recipe for my Dad's Favorite Fennel Taralli recipe on Father's Day.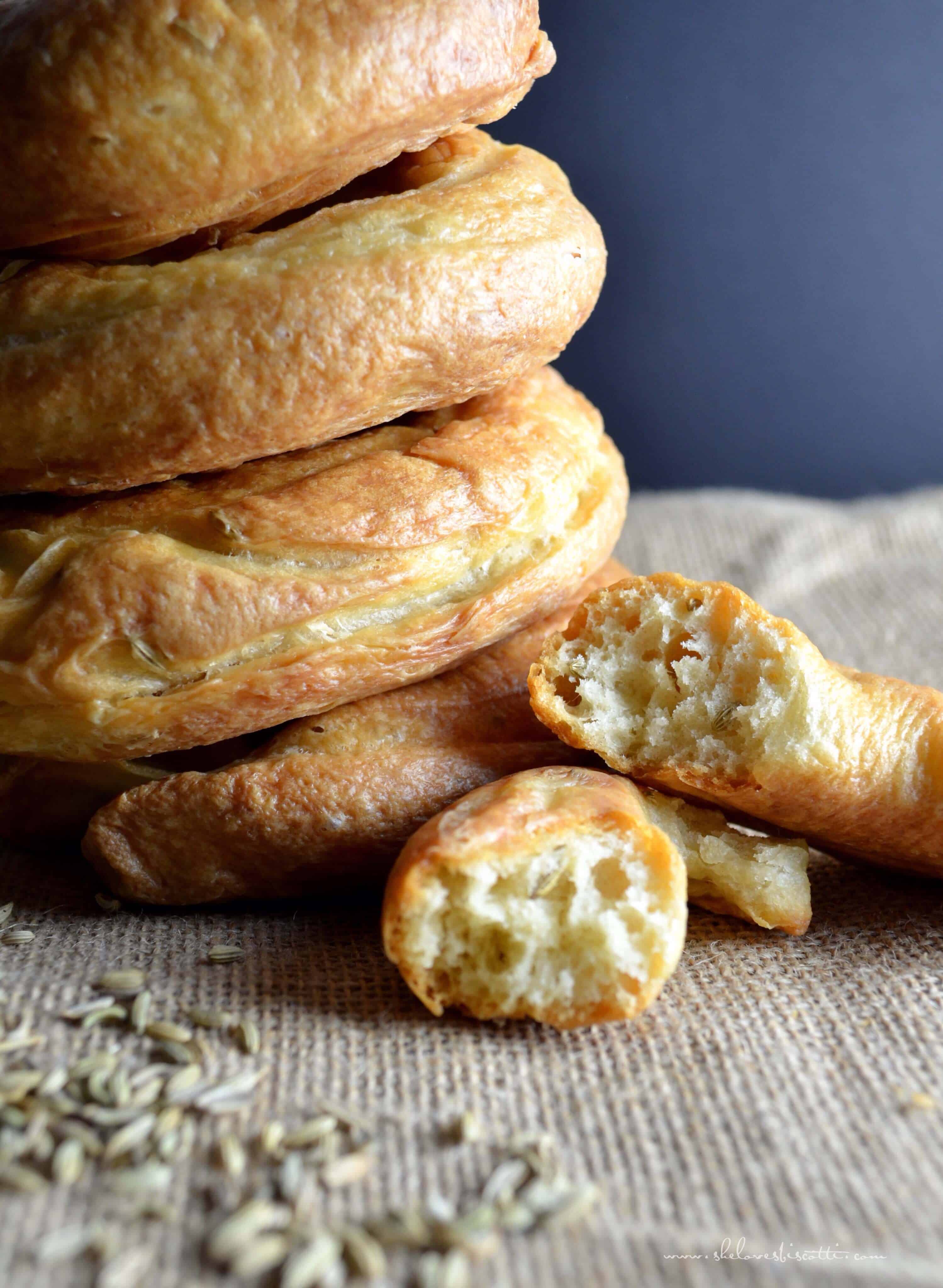 Fennel Taralli
Taralli (plural) are without a doubt extremely addictive and very unusual as far as texture is concerned. There are many variations of this very simple food to be found throughout the regions of Italy.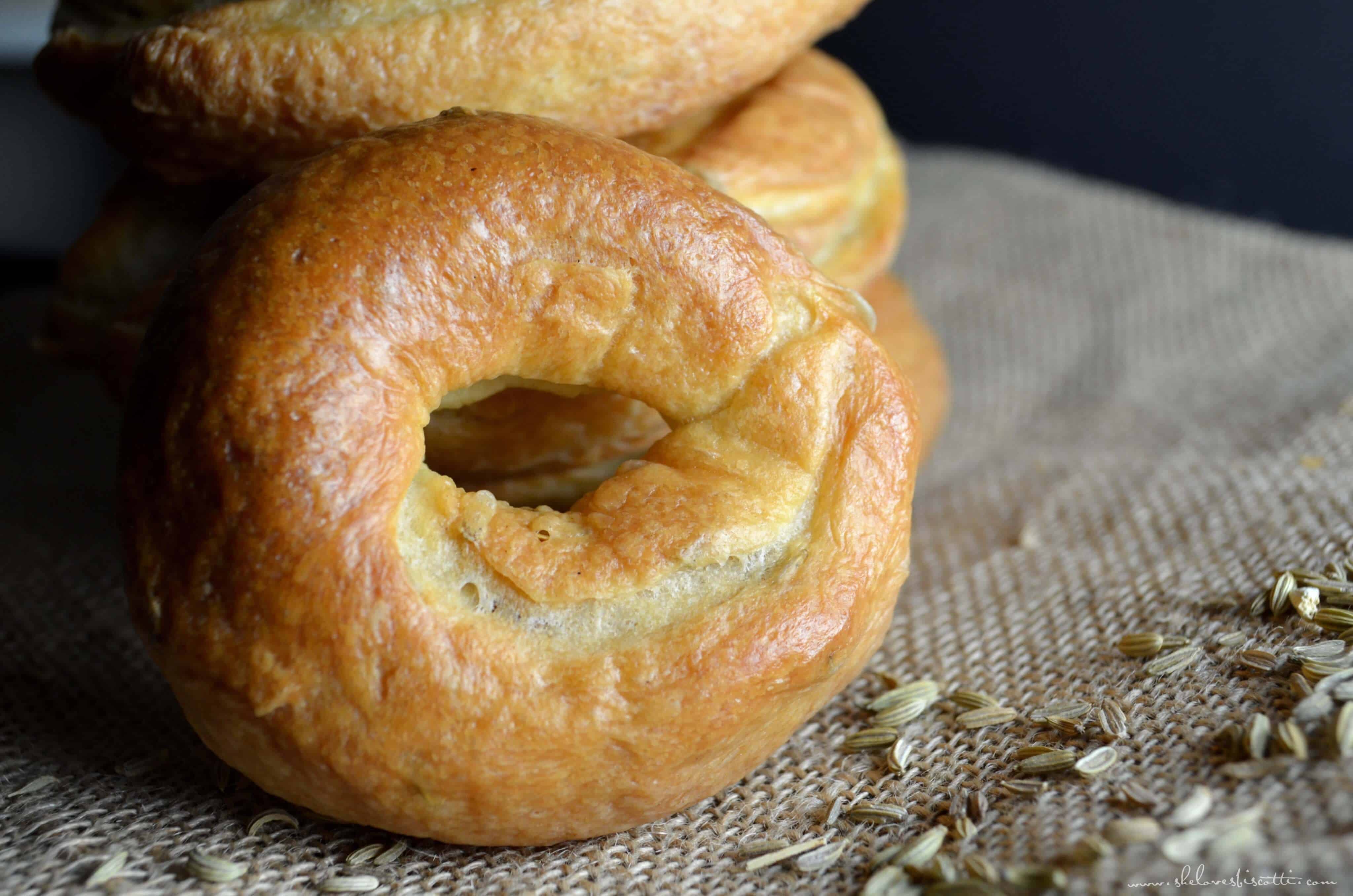 This particular variation is made with yeast and is unsweetened. As with most Italian recipes, these fennel taralli are simple but a little time-consuming. However, they are well worth the effort.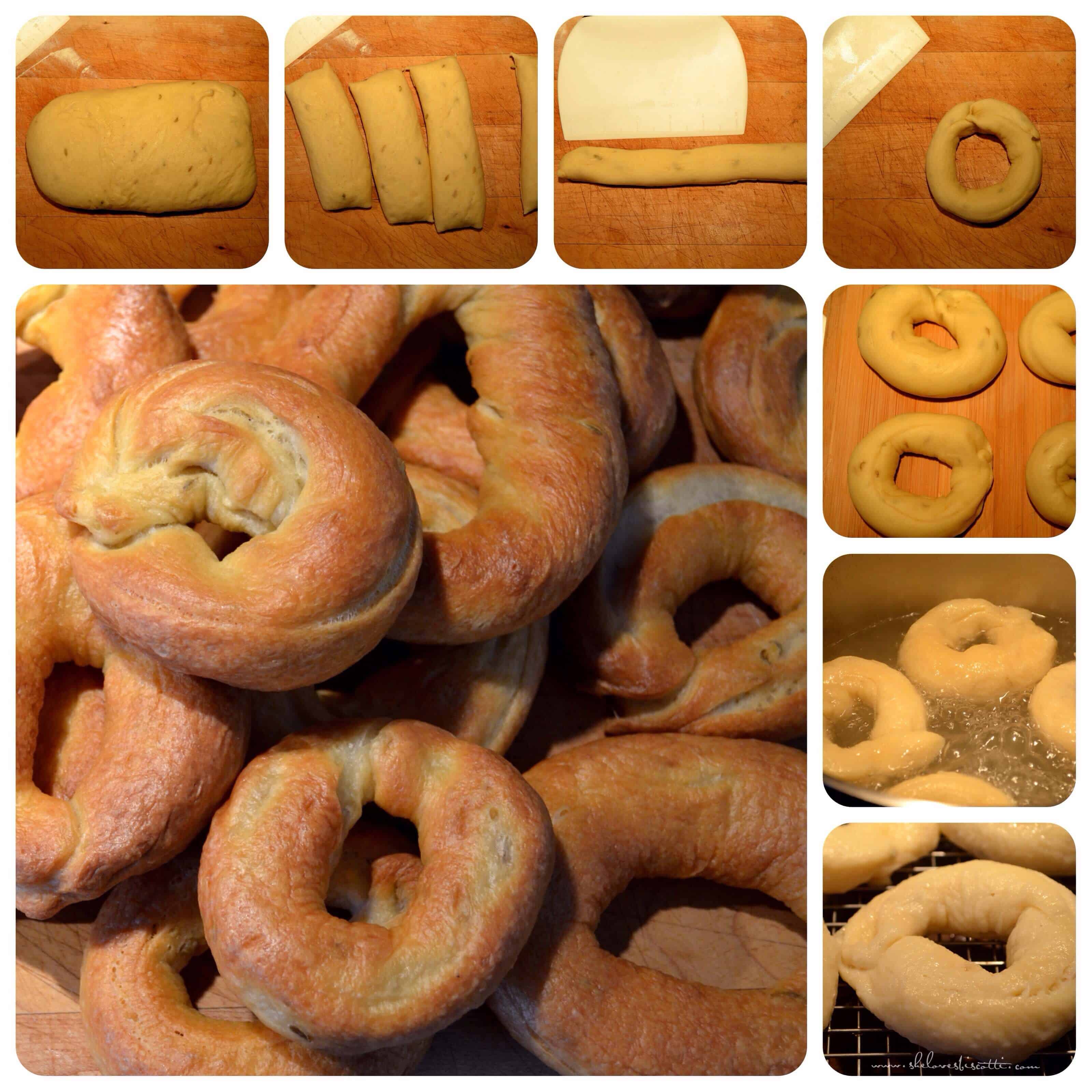 Once you have made the dough and it has been left to double in size (this can take up to 2 hours), you can slice the dough in strips and form them into rings. You can make the rings as small or as large as you like. I usually form them into 7 inch rings; about 1″ thick. Once again, you can make larger (or smaller) rings…it's really up to you. These taralli get dunked in boiling water, just like bagels, for a few minutes and then in the oven for about 1 hour.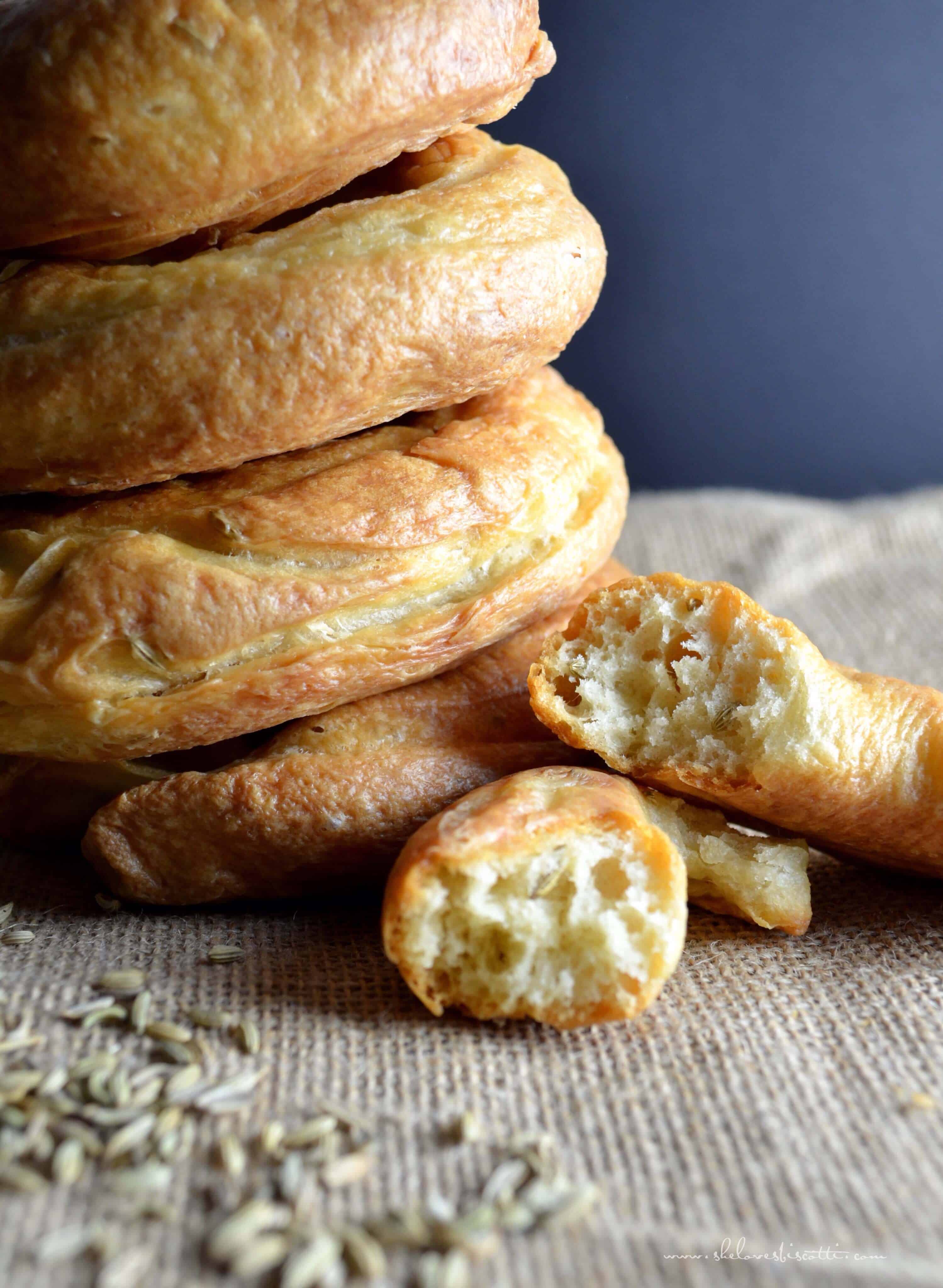 When they are done, they become very shiny, and when you taste them, they are crunchy on the outside, and soft and chewy on the inside. They are at their best the day they are made. If making a big batch of this recipe, the taralli can easily be frozen.
More taralli recipes
There are many variations, sweet and savory, of taralli recipes across Italy, with different regions and even individual families having unique twists on these classic Italian recipes.
For those searching for a sweet taralli treat, consider trying out either the recipe for glazed egg taralli or the one for taralli cookies. These delectable delights feature the signature crispy sugar glaze and would be perfect for enjoying an Italian Easter celebration.

Recipe origins
I honestly cannot tell you the exact origin of where my mom got this recipe. I always thought it was a recipe she "created" based on trial and error. I only know that these were, and still are, my Dad's favorite Fennel Taralli. My mom would make many kinds of taralli, but a double batch of these would be made religiously every two weeks. They would be kept in the fridge and my dad would have them as an evening snack while watching TV.
I can still remember the setup. The ginormous wooden board (which I previously wrote about here) would be on the kitchen counter, a large pot of water and one huge mound of flour. My mom would make these taralli manually, with no KitchenAid to help knead. That's what you call a true labor of love!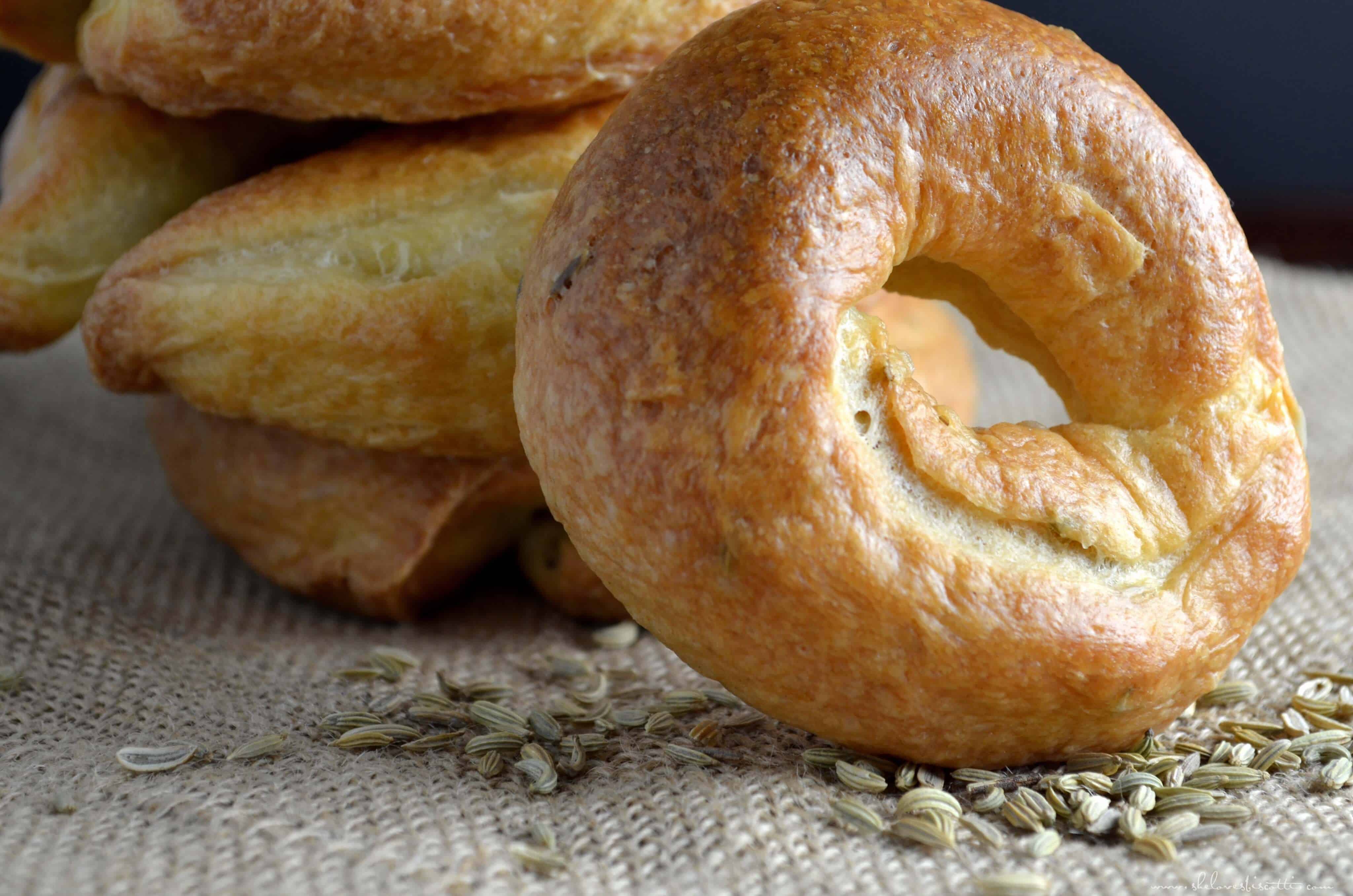 A few months after my mom passed away, I found my mom's collection of recipes. I was extremely surprised to find this recipe, with actual measurements for my Dad's Favorite Fennel Taralli in English, and what looked like my daughter's writing.
I knew that because of the frequency of these taralli being made and my mom babysat my kids after elementary school; my kids would often participate in the taralli-making process. They would be very proud of the taralli they made with their grandmother.
When I asked my daughter about the recipe, she informed me that she had asked her grandmother for the exact measurements so that she could make these taralli when she got older.
And so, thanks to my daughter, my Dad can still enjoy his favorite fennel taralli.
Best wishes to all the Dad's for a Happy Father's Day!
THANKS SO MUCH for following and being part of the She Loves Biscotti community where you will find Simple & Tasty Family-Friendly Recipes with an Italian Twist.
Ciao for now,
Maria
★★★★★ If you have made this fennel taralli recipe, I would love to hear about it in the comments below and be sure to rate the recipe!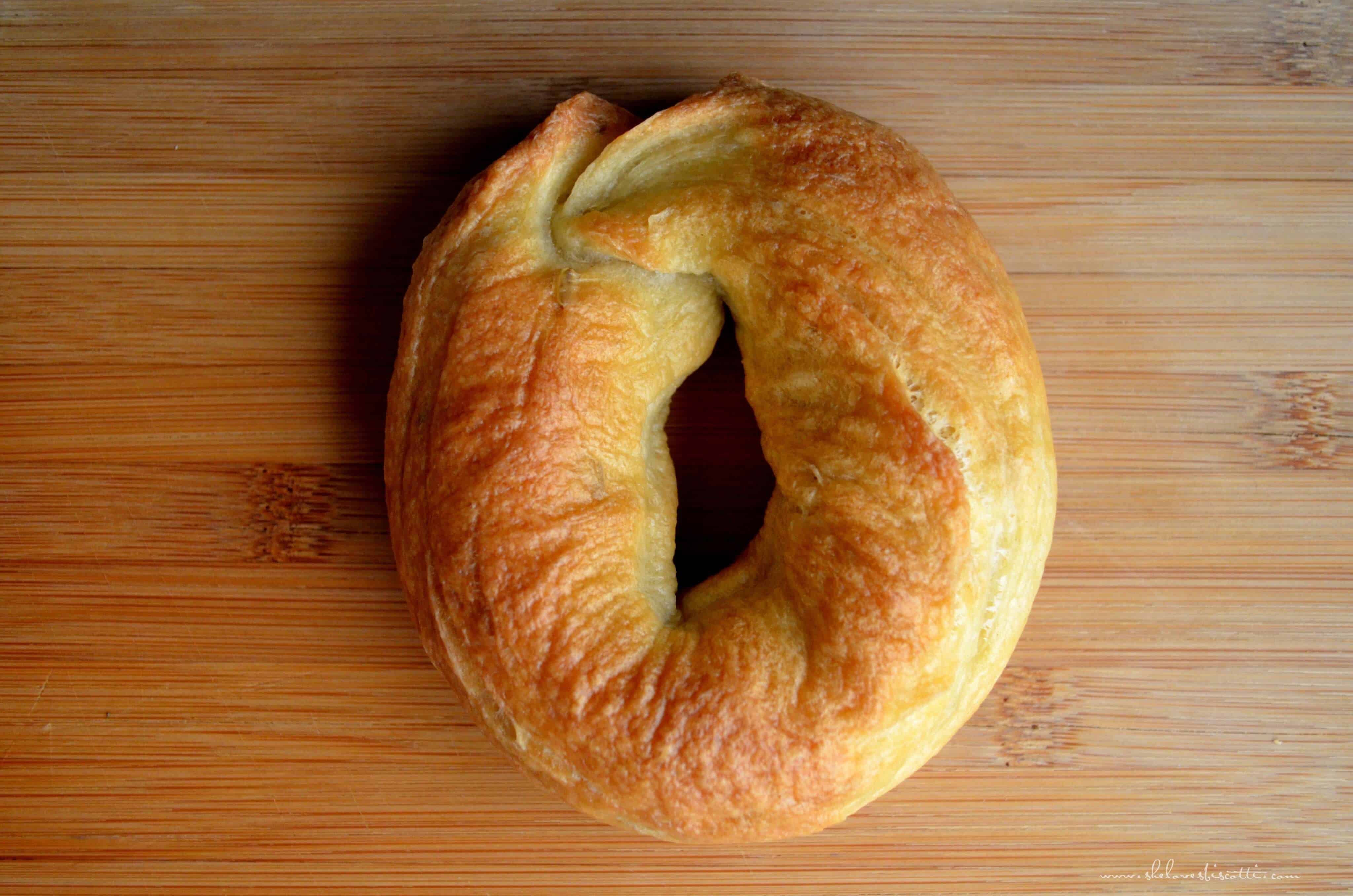 Recipe
Dad's Best Fennel Taralli
Dad's Favorite Fennel Taralli are extremely addictive and very unusual as far as the texture is concerned. Crunchy on the outside and chewy on the inside.
Print
Save Recipe
Saved!
Pin
Rate
Ingredients
2¼

teaspoons

active dry yeast

8 grams

1

teaspoon

sugar

2

cups

lukewarm water

6

cups

flour

3

teaspoons

salt

3

eggs

room temperature

¾

cup

vegetable oil

1

tablespoon

fennel seeds
Instructions
In a medium bowl, combine yeast, sugar and water.

Stir and let stand for 10 minutes (will get foamy).

In the bowl of a stand mixer, combine flour and salt.

Add eggs and oil to yeast mixture. Mix to combine.

Add this liquid mixture to the flour and salt.

Add the fennel seeds.

With dough hook attachment knead for approximately 10 minutes until you have a soft, smooth elastic dough. Alternately, you can knead by hand.

Gather dough and place on a well floured wooden board in the shape of a log.

Cover with wrap and dishcloth and allow dough to rest until double in size(up to 2 hours) in a warm place.

Bring a large pot of water to boil.

With a very sharp knife, slice dough into 18 equal parts. (you can make them smaller if you want)

Roll each piece into a 6-8 inch rope, then form into a ring. Make sure that you press the ends firmly together.

Plunge the taralli in boiling water; 3-4 at a time. Once they surface to the top, turn them over in the water and continue to boil for 1 minute. The whole boiling process should take less than 2 minutes.

Remove with slotted spoon and place on cooling rack to drain.

Repeat process until all the taralli have been boiled.

Place boiled taralli directly on oven grates.

Bake in a preheated oven at 350° F for 45-60 minutes or until golden brown. (Set oven rack one below the center).
Scroll UP for the STEP by STEP Photos
Don't miss the process shots and videos included in most posts. Simply scroll up the post to find them. Those were created especially for you so that you can make the recipe perfectly every single time you try it.
Notes
These taralli are excellent the day they are made. They can easily be frozen.
Up to half of the all purpose flour can be replaced with whole wheat flour.
Please keep in mind that the nutritional information provided below is just a rough estimate and variations can occur depending on the specific ingredients used. 
Nutrition
Serving:
1
serving
|
Calories:
247
kcal
|
Carbohydrates:
32
g
|
Protein:
5
g
|
Fat:
10
g
|
Saturated Fat:
7
g
|
Cholesterol:
27
mg
|
Sodium:
399
mg
|
Potassium:
74
mg
|
Fiber:
1
g
|
Vitamin A:
40
IU
|
Vitamin C:
0.1
mg
|
Calcium:
14
mg
|
Iron:
2.2
mg