I can already hear all of you…another pie? Yup, another pie. What can I say? I was brought up on this stuff. And so, without furthur ado, I present to you Italian Sweet Ricotta Easter Pie or Fiadoni Dolci con Ricotta.
Something wonderful happens to ricotta when you add a little bit of sweetness to it. It can take the shape of a Rice Ricotta Easter Pie, Ricotta Cheesecake, Ricotta Cookies, Ricotta Cheese Strudel, cannoli filling… I would like to introduce to you yet another spectacular sweetened ricotta treat called Italian Sweet Ricotta Easter Pie. (Come and see how ridiculously easy it is to make your own ricotta…and it's so much better too!)
This recipe has the same concept as the recipe for Savoury Easter Cheese Pie: a filling, enveloped by a dough, which is then baked.
I took a bit of a short-cut when making these today. I used my handy little dough press maker (not really sure what the correct culinary term is) to form them in the shape of mini pies.
Origins of the Recipe For Italian Sweet Ricotta Easter Pie:
As I have previously mentioned, my dad's mother was born in Ripabottoni, in the province of Campobasso, in the Italian region of Molise. Both my paternal grand-parents lived with my family when I was growing up, and so I witnessed first hand the mass production of these wonderful homemade pies… dozens and dozens of them.
Would you believe me if I told you that my dad made a wooden cutting board for my Mom and Grandmother? Measuring 3 x5 feet! I don't know about you, but my wooden board is 14 x 20 inches. There was some serious baking in that house, let me tell you. Pastas, tarallis, cakes, cookies, and so many other wonderful foods.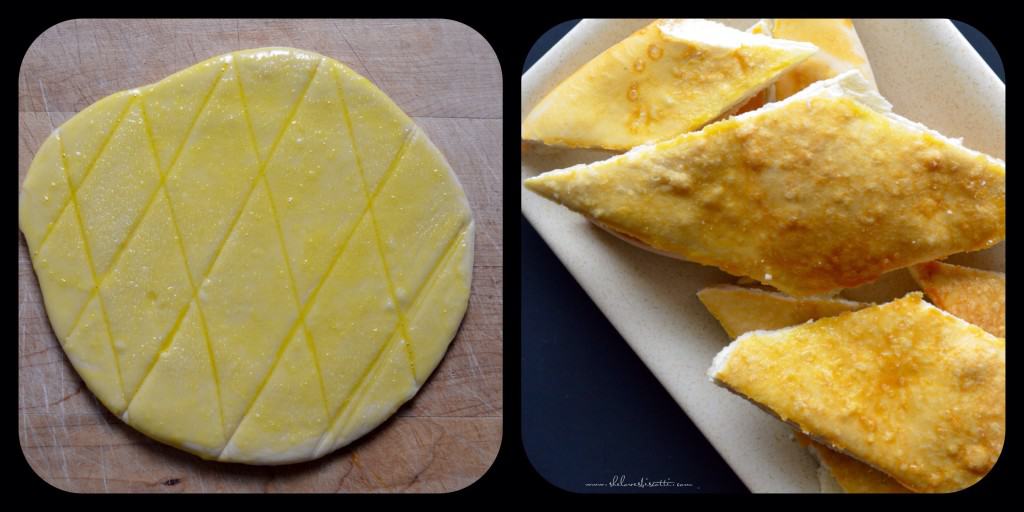 I would like to take a minute to explain to you these two pictures. My parents immigrated to Montreal with one suitcase in hand and the clothes on their back (like so many European immigrants), to find a better way of life for themselves, but mostly for their children. When I tell you that nothing went to waste… nothing went to waste. In this recipe, the leftover scraps of dough would be re-rolled, and with the help of a rolling pin (naturally, my Mom's measured 4 feet to match her wooden board) formed in a circle about 1/4 inch thick. The dough was slightly scored, brushed with egg wash and sprinkled with sugar. This was then put in the oven to bake. My siblings and I would camp out in front of the stove waiting for my Mom to pull this out of the oven, and then argue over who got to eat the most! So simple and yet so so good.
And so with this recipe for Italian Sweet Ricotta Easter Pie my baking marathon for Easter is complete.
If you are celebrating Easter, Happy Easter to you and your family. And to my friends celebrating Passover…blessings and good wishes to you and your family!
Buona Pasqua!
Italian Sweet Ricotta Easter Pie
Author:
My Grandmother Maria
Prep time:
Cook time:
Total time:
Serves:
36 (4-inch) mini pies
Something wonderful happens to ricotta when you add a little sweetness to it.. Don't believe me? Try this Italian Sweet Ricotta Easter Pie to be convinced!
Ingredients
The dough:
6 eggs
6 tablespoons sugar,granulated
6 tablespoons vegetable oil
4 cups all-purpose flour
The filling:
2 eggs
5-6 tablespoons sugar, granulated
Scant 2 pounds ( 900 grams) ricotta cheese, drained
The egg wash:
4 egg yolks,slightly beaten
Instructions
To make the dough:
In a large mixing bowl (of stand mixer), with whisk attachment, beat the eggs for 1 minute.
Add the sugar and whisk for another minute or so.
Add the oil and whisk another minute.
Add about a third of the flour and whisk for 1-2 minutes.
Switch to dough hook and add the rest of the flour.
"Knead" dough for about 8-10 minutes. Alternately, you can knead by hand.
Place dough in a greased bowl. Make sure to turn the dough over so entire surface is coated with oil.
Cover with plastic wrap and let the dough rest at room temperature for at least 6 hours.
To make the filling:
Whisk the eggs until frothy (about 1 minute). I use my stand mixer.
Whisk in the sugar (another minute or so).
Whisk in the ricotta for 30 seconds.
Set aside.
To assemble the pie:
Line large cookie sheet with parchment paper. Set aside.
Divide the dough into 12 sections.
Work one section of dough through pasta maker attachment. ( Alternately,you can use a rolling pin)
Begin at the widest number and then just move up one number (it's level 2 on my machine)
Place stretched out dough over little press maker.
Place the equivalence of 2 scant tablespoons of ricotta mixture in the middle section of your mini pie. (refer to picture in the blog)
Squeeze and seal. Make sure you have a tight seal.
Make a few incisions in the dough. ( I use a scissor to snip the dough in 3 places)
Place on baking sheet.
Brush with egg wash.
Repeat until you have no more dough or filling (hopefully this coincides).
Place in preheated oven at 350 ° F for about 20 minutes.
Lower heat to 325 ° F and continue baking for 30-40 minutes until golden and puffy looking. Depending on your oven, you might want to place a sheet of aluminum paper loosely over the loaves, to prevent them from over browning.
Place on racks to cool.
Refrigerate until ready to be served.
Notes
Feel free to adjust the level of sweetness of the ricotta filling by increasing or decreasing the amount of sugar.
I usually drain the ricotta overnight.
Thanks for dropping by.
Ciao for now!
Maria 🙂