There are endless possibilities for this Garlic Scape Pesto. Easily made in a food processor, this garlic scapes recipe is great with pasta, meats and so much more!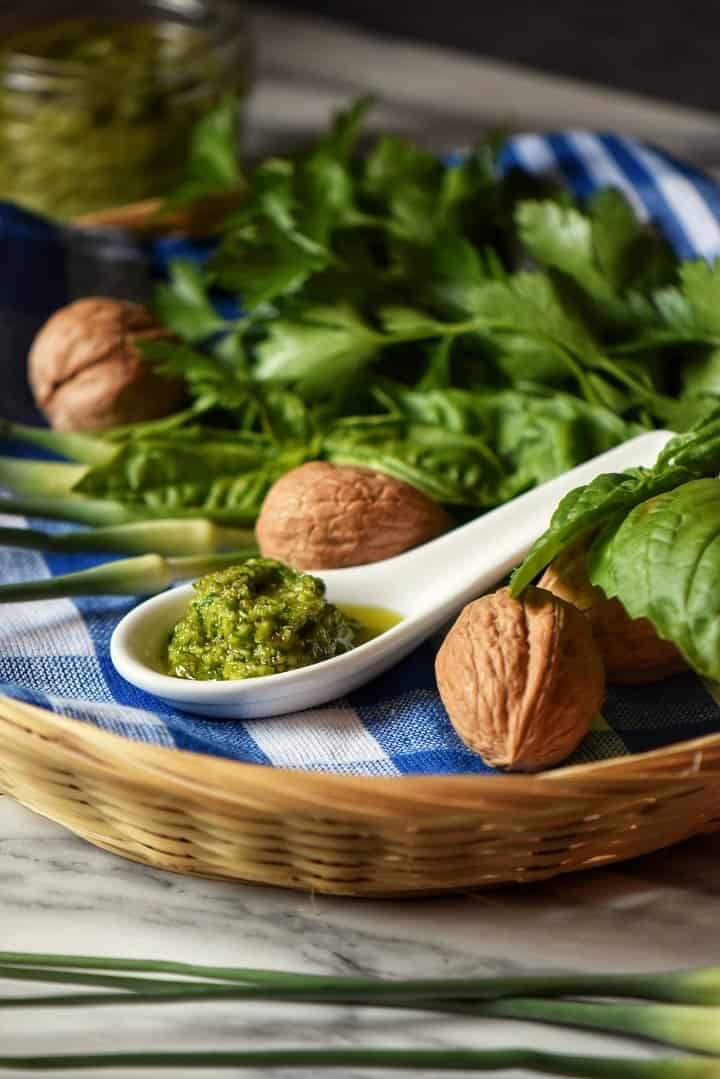 When you think of garlic, I bet that the first thing which comes to your mind is how wonderful it tastes when it is cooked or roasted.
That is actually one of the reasons I plant garlic in my backyard.
Garlic is one of the most useful ingredients you can have in your kitchen. It adds an amazing flavor to whatever dish or meal that it's being cooked with. You may have noticed that I love to use garlic cloves with vegetables.
Some of my favorite recipes include sautéed garlic Swiss Chard, garlicky sautéed broccolini, and garlicky steamed green beans, to name but a few.
The second reason is garlic scapes!
Last fall, I planted some certified organic Italian Porcelain Hardneck Garlic, ordered online from Boundary Garlic Farm (not sponsored). I could not have been happier to see that my garlic had survived a very wet spring.
As a result, I now have garlic scapes to enjoy!
Just in case you are not familiar with this vegetable, let's take a closer look.

What are garlic scapes?
They are brilliant green in color and emerge as twisty and curly flower stalks from the bulbs of hard neck garlic.
They are sometimes referred to as:
garlic shoots or curls;
garlic stems or spears or
serpent garlic.
Fresh garlic scapes are only available for a couple of weeks -usually very late spring to early summer.
You would probably not be surprised if I told you that garlic scapes have a mild garlic flavor without that signature pungent quality.
How to harvest
If you planted hard neck garlic, and have garlic scapes, it is advisable to remove them so that the plant directs all of its energy to grow the garlic bulbs.
You can simply snap them off at the base or use a scissor.
How to store
Simply rinse the scapes and place them in a mesh or a plastic bag (left open at one end). They will keep in the refrigerator for a couple of weeks. They can also be frozen.
What to make
A young garlic scape is very tender. It can be consumed much like chives or green onions -which is to say, raw and chopped up finely.
It makes a great garnish for soups and salads. This chickpea summer salad and this egg drop soup are just two of my favorites. You can also make the most delicious cheese and garlic biscuits.
As the garlic scape matures, it becomes a little bit more fibrous and tough. At this stage, the scape can be consumed much like sautéed garlic. They are absolutely great in stir-fries!
Another great way to use garlic scapes is to transform them into pesto. Are you ready?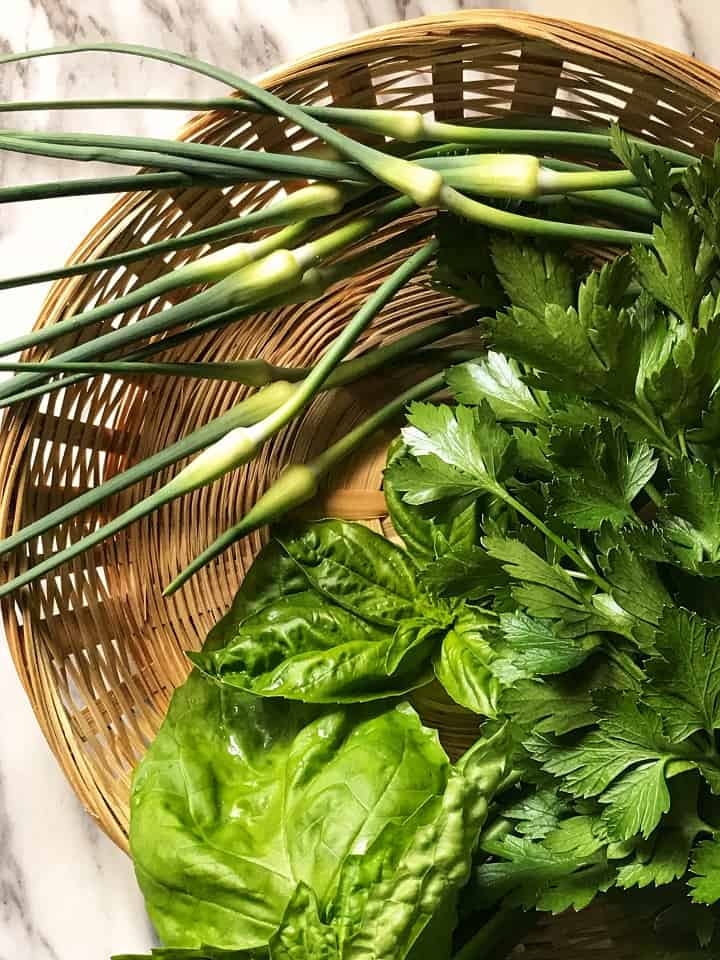 How to make garlic scape pesto
As this recipe uses so few ingredients, make sure you use the best, high-quality ingredients in order to get the best tasting pesto sauce.
You will need about 10 minutes to prep some of the ingredients, this includes washing and drying the herbs.
You also need to lightly toast the chopped walnuts (about ¼ cup). Transfer the nuts to a bowl and allow them to cool down prior to processing the pesto.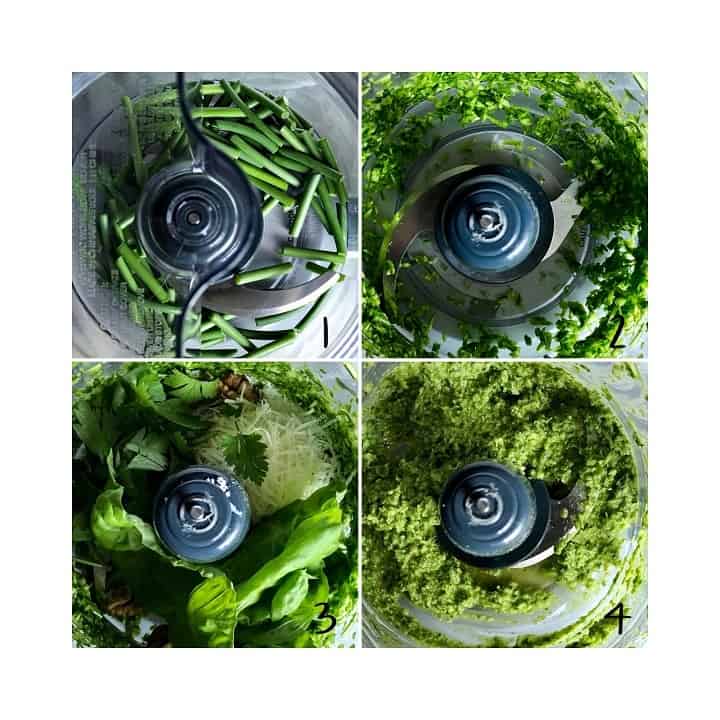 Place the chopped 6-8 garlic scapes in the bowl of a food processor, pulse for about 30 seconds.
Add the toasted walnuts, basil leaves, parsley, cheese and lemon juice. Pulse together for another 30 seconds or until coarsely chopped. Scrape downsides of the bowl.
With the food processor on low, slowly drizzle the olive oil in the mixture for about 30-60 seconds or until desired consistency.
The only thing left to do is to season to taste and enjoy!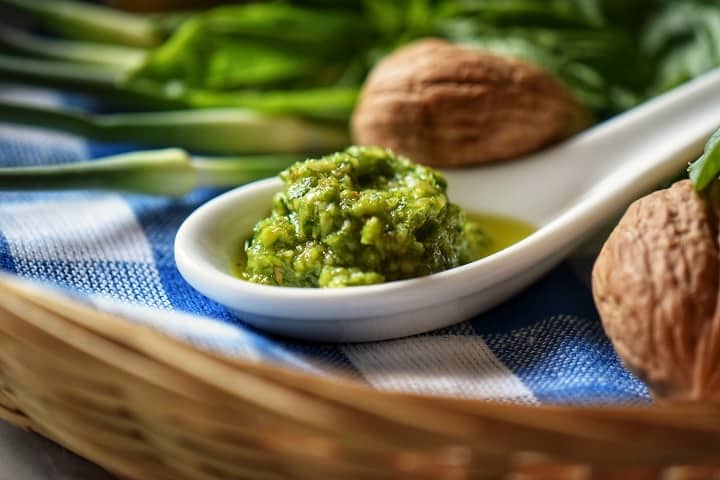 Pesto uses
Any variation of pesto, including this garlic pesto, can be served with:
Pasta: Tradition will dictate linguine, but this sauce also clings to twisty pasta like fusilli, gemelli, trofie or strozzapreti.
Sandwich spread: Spread thinly in your favorite sandwich to introduce a wonderful new flavor.
Marinating meats, chicken, or fish: Such a great flavor enhancer!
More pesto recipes
Basil Pesto: Dive into the simplicity of this classic basil pesto, perfect for enhancing your pasta dishes or serving as a flavorful base for an irresistible pesto pizza.
Parsley Pesto: Infuse your pasta with freshness using this easy parsley pesto recipe, bringing a vibrant twist to your dining experience.
Avocado Pesto: Elevate your meals with the creamy richness of avocado pesto. Whether tossed with pasta, spread on a sandwich, or used as a unique marinade for chicken, this pesto adds a delightful touch to your culinary creations.
Hungry for more inspiration? Explore this collection for the best Italian cavatelli pasta recipes.

Recipe origins
There used to be a time when all reference to pesto was the recipe for classic basil pesto.
Over the years, there have been so many creative pesto recipes developed with different combinations of herbs, fruits and vegetables.
After I discovered this delicious recipe for avocado pesto cavatelli, I become obsessed with experimenting and creating different pesto sauces.
I hope you get a chance to make this easy garlic scapes recipe… I think you are going to love it!
THANKS SO MUCH for following and being part of the She Loves Biscotti community where you will find Simple & Tasty Family-Friendly Recipes with an Italian Twist.
And if you are new here, welcome! You may want to sign up for my weekly e-mail newsletter. This way, you won't miss any of my new recipes.
Ciao for now,
Maria
★★★★★ If you have made this garlic pesto sauce recipe, I would love to hear about it in the comments below and be sure to rate the recipe!
Recipe
Garlic Scape Pesto
There are endless possibilities for this Garlic Scape Pesto. Easily made in a food processor, this garlic scapes recipe is great with pasta, meats and so much more!
Print
Save Recipe
Saved!
Pin
Rate
Ingredients
⅔

cup

garlic scapes

about 6-8 scapes, chopped

¼

cup

walnuts

coarsely chopped

⅔

cup

basil leaves

fresh

⅓

cup

parsley

fresh

¼

cup

Parmigiano Reggiano cheese

grated

2

tablespoons

lemon juice

freshly squeezed

½

cup

olive oil

extra virgin
Instructions
Over medium heat, toast walnuts in a pan on stove top for a few minutes. Set aside to cool down.

Pulse chopped garlic scapes in the food processor for about 30 seconds.

Add the walnuts, basil leaves, parsley, cheese and lemon juice and pulse together for about 30 seconds until coarsely chopped.

Drizzle the olive oil while the food processor is whirling until smooth and thick, approximately 30-60 seconds.
Scroll UP for the STEP by STEP Photos
Don't miss the process shots and videos included in most posts. Simply scroll up the post to find them. Those were created especially for you so that you can make the recipe perfectly every single time you try it.
Notes
Total yield is 1 cup. A serving size is equivalent to 1 tablespoon.
Please keep in mind that the nutritional information provided below is just a rough estimate and variations can occur depending on the specific ingredients used. 
Nutrition
Serving:
1
serving
|
Calories:
90
kcal
|
Carbohydrates:
3
g
|
Protein:
1
g
|
Fat:
8
g
|
Saturated Fat:
1
g
|
Cholesterol:
1
mg
|
Sodium:
27
mg
|
Potassium:
18
mg
|
Fiber:
1
g
|
Sugar:
1
g
|
Vitamin A:
170
IU
|
Vitamin C:
5
mg
|
Calcium:
38
mg
|
Iron:
0.3
mg