Baking healthy zucchini muffins are a great way to use up your bountiful garden harvest of courgette. Making any muffin recipe healthier couldn't be easier with my tips. Come and take a look!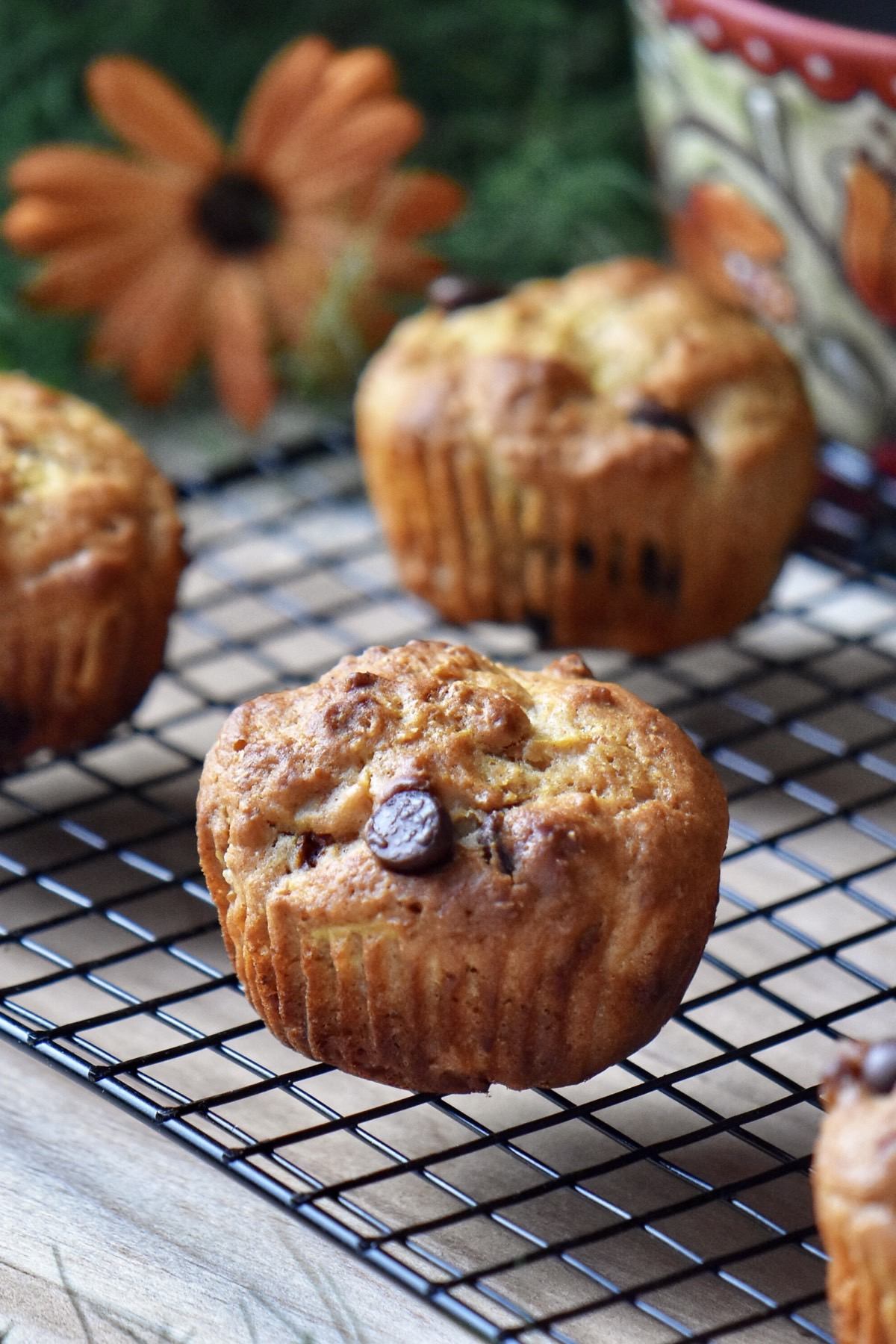 As a dietician, I am often asked if muffins are wholesome.
Not only can muffins be part of a healthy lifestyle, but you can make modifications to any muffin recipe and make it even healthier.
One of the methods is to gradually reduce both total sugar and fat. Increasing the total fiber content is always a bonus.
Once you get the hang of making changes to your muffin recipes, you will quickly appreciate the flavor of the muffin instead of an overpowering "sweetness."
And remember, whatever changes you make to your original muffin recipe will bring you that much closer to adopting a healthier lifestyle for you and your family.
I would encourage you to make one change at a time—this way each change can properly be evaluated.
With just a few tweaks to your favorite muffin recipe, you can enhance their nutritional value and make any muffin healthier.
Take a look at some suggestions.
How to make healthy muffins
Size matters
Before we start analyzing the list of ingredients, we need to look at the size of your muffin. Portion sizes of certain foods have gotten a little bit out of control.
Did you know that according to this resource, a Kirkland chocolate muffin (sold at Costco bakeries) has 689 calories and provides you with a generous 38 grams of fat?
Don't get me wrong… I love Costco… But think of all the spinning you need to do before you burn off those calories, and all from one muffin!
With that being said, if you are trying to reduce your portion sizes, why not invest in a mini muffin tin, or maybe stretch out your muffin recipe to make more than the usual 12 muffins.
Include dark chocolate
Studies have indicated that consuming dark chocolate in small amounts can actually be healthy. [source]
But what exactly is a small amount?
Most studies will state that one small square of a chocolate bar, 2-3 times per week, is all you need. For those of you that prefer to weigh, that's about 6 grams.
So, whenever I make muffins, I will usually throw in a small handful of dark chocolate chips as I did for these banana muffins, and these bakery-style chocolate chip muffins. They are also a great addition to zucchini bread.
As a friendly reminder, your little square of chocolate should contain at least 70% cocoa, with the least amount of processing; the same for chocolate chips. Ideally, it would be best if you tried to get organic. This will provide you with the most benefits when we are referring to the levels of flavanols. These are powerful antioxidants that may help neutralize free radicals.
Just a spoonful of sugar
It may help the medicine go down, but do we really need so much sugar?
You'll notice that if you reduce the total amount of sugar in a muffin recipe, no one will really detect the change.
So let's say that your recipe calls for 1 cup of white granulated sugar. Experiment by reducing the amount anywhere between ¼ – ½ of a cup, and adjust until you get a great-tasting product.
I will often replace the white sugar with either brown sugar or even honey. And remember, you can always add a handful of fresh or dried fruit – this will increase the natural sweetness of your muffin and the fiber content. You won't even notice you've cut down on the sugar.
Substitute the fat
You can easily replace butter and shortening in any muffin recipe with a healthier fat such as canola, olive oil, or even corn oil.
These poly and mono-unsaturated oils are definitely a healthier choice. The goal is to replace butter or shortening because they contribute to the consumption of saturated fats.
As an example, let's say that you have a muffin recipe that calls for 1 stick of butter (½ cup). I would replace that with ½ cup of vegetable oil minus 2 tablespoons since there is water in the butter.
I have also gotten great results by replacing some of the fat with applesauce or avocado. Once again, it would be best if you did a little bit of experimenting to get a great-tasting muffin.
Whole milk can also be a source of saturated fats. If you have a recipe that calls for whole milk, it can easily be replaced by low-fat buttermilk or Greek yogurt. If you are interested, these Greek yogurt muffins are a wonderful way to incorporate some Greek yogurt.
Increase the fiber
An easy way to increase the fiber content of your muffin is to replace some of the all-purpose flour with whole wheat flour.
You can usually get away with replacing up to half of the amount without any noticeable changes in texture or taste.
Remember, dried or fresh fruits make the perfect addition to muffins. These add-ins will provide you with fiber and allow you to reduce the total sugar found in your muffin recipe.
The addition of chia seeds is another easy way to increase the dietary fiber of muffins.
Addition of vegetables
Zucchini, carrots, beets, pumpkin, sweet potato (to name but a few) can all be incorporated in muffins. This is a great way to sneak in some vegetables for the little ones fussy about their veggies.
Summary
So there you have it!
A variety of tips on how to make any muffin recipe a little healthier, such as using less sugar, fat, and increasing the fiber.
There really are so many options to make any muffin recipe "healthier." Experiment and incorporate whatever changes might work for you and your family.
Are you ready to make some healthy zucchini muffins?
Instructions
The first thing we will do is preheat the oven to 375℉/190℃ and position the rack to the middle.
Grease or paper line 18 muffin cups. Set aside for now.
As with any muffin recipe, we must combine the liquid ingredients in one bowl and the dry ingredients in another.
Let's measure the dry ingredients in a large bowl and whisk them gently into a light, fluffy mixture.
More specifically, 1¼ cups (175 grams) of all-purpose flour, 1 cup (155 grams) of whole wheat flour, 2 teaspoons of baking powder, ½ teaspoon baking soda, 1½ teaspoon of ground cinnamon, ½ teaspoon of ground ginger, and a pinch of salt. Set aside for now.
In another bowl, whisk together 1 room temperature egg, 1 cup of room temperature buttermilk,
⅔
cup of honey,
¼ cup of vegetable
oil, 2 tablespoons of freshly squeezed lemon juice, and the zest of half an organic lemon. Whisk properly together for a couple of minutes.
Incorporate
1-1¼ cups of grated zucchini into the liquid ingredients and mix thoroughly with a wooden spoon or rubber spatula.
Add the dry ingredients to this zucchini mixture. Stir only until combined. Gently stir in
½
cup of chocolate chips. Do not overmix.
Fill muffin liners ¾ full.
Bake for 20-23 minutes or until the top bounces back when lightly touched.
Remove from heat. Gently lift out the freshly baked muffins and transfer them to a wire rack to cool off.

Tips
Always preheat your oven.
To ensure the proper distribution of leavening agents in dry ingredients, it is important to whisk them together. This prevents large air holes from forming in the muffins.
To avoid soggy muffins, cool them for only 1-2 minutes in the tin before removing and transferring to a wire rack to cool completely.
These muffins are best consumed the same day they are made.
Can I freeze these muffins?
Muffins freeze well for up to one month. To preserve the freshness and prevent freezer burn, wrap each muffin individually in plastic wrap before placing them in a tightly sealed freezer bag or container. When ready to eat, allow the muffins to thaw overnight at room temperature, then reheat them in an oven.
More muffin recipes
If you enjoy muffin recipes made with fruit, you must try these apple muffins with chunks of apple goodness. Two other family favorites are these soft and fluffy blueberry muffins as well as these cake-like orange muffins.
Recipe inspiration
I adapted this zucchini muffin recipe from the Dairy Farmers of Canada. These are some of the changes I made: I played around with the spices to suit my preferences; I modified whole wheat and white flour and replaced the milk with buttermilk.
When zucchini is in season, this will quickly become one of your favorite muffin recipes.
Enjoy!
THANKS SO MUCH for following and being part of the She Loves Biscotti community where you will find Simple & Tasty Family-Friendly Recipes with an Italian Twist.
If you haven't already joined, here is the link where you can sign up for my weekly e-mail newsletter. This way, you won't miss any of my new recipes and it's free!
Ciao for now,
Maria
★★★★★ If you have made this recipe for zucchini chocolate chip muffins, I would love to hear about it in the comments below and be sure to rate the recipe!
Recipe
How to Make Healthy Zucchini Muffins
An easy and tasty recipe for healthy dark chocolate chip zucchini muffins, plus tips on how to make any muffin recipe healthier.
Print
Save Recipe
Saved!
Pin
Rate
Ingredients
1¼

cup

all-purpose flour

175 grams

1

cup

whole wheat flour

155 grams

2

teaspoons

baking powder

½

teaspoon

baking soda

1½

teaspoon

cinnamon

ground

½

teaspoon

ginger

ground

pinch

salt

1

egg

room temperature

1

cup

buttermilk

room temperature

⅔

cup

honey

liquid

¼

cup

canola oil

2

tablespoons

lemon juice

freshly squeezed

zest of half a lemon

1-1¼

cup

zucchini

grated, about one small zucchini

½

cup

chocolate chips

dark, mini or regular
Instructions
Preheat the oven to 375℉/190℃. Position rack to middle.

Paper line 18 muffin cups.

In a large mixing bowl, whisk together both flours, baking powder, baking soda,and spices.

Set aside.

In a separate bowl, whisk together egg, buttermilk, honey, oil, lemon juice and zest.

Add the dry ingredients to this zucchini mixture. Stir only until combined.

Gently fold in the dark chocolate chips until just combined.

Fill muffin liners ¾ full.

Bake for 20-23 minutes or until the top bounces back when lightly touched.

The muffins are best consumed the same day they are made.
Scroll UP for the STEP by STEP Photos
Don't miss the process shots and videos included in most posts. Simply scroll up the post to find them. Those were created especially for you so that you can make the recipe perfectly every single time you try it.
Notes
Please keep in mind that the nutritional information provided below is just a rough estimate and variations can occur depending on the specific ingredients used. 
*adapted from Dairy Farmers of Canada
Nutrition
Serving:
1
serving
|
Calories:
166
kcal
|
Carbohydrates:
28
g
|
Protein:
3
g
|
Fat:
5
g
|
Saturated Fat:
1
g
|
Cholesterol:
11
mg
|
Sodium:
53
mg
|
Potassium:
152
mg
|
Fiber:
1
g
|
Sugar:
14
g
|
Vitamin A:
75
IU
|
Vitamin C:
3.5
mg
|
Calcium:
51
mg
|
Iron:
1
mg
This post was originally published on July 24, 2016 and republished on August 21, 2021 with updated content and photos. Thanks for sharing!