These Healthy Blueberry Oat Muffins will quickly become your favorite recipe when making muffins from scratch. They are simple, wholesome oat muffins, just bursting with juicy blueberries!
Everyone should have a go-to recipe for Blueberry Oat Muffins.
I know a few of you who would tell me that your go-to muffins are at Costco.
Well, I would encourage you to go to Costco to purchase their wonderful blueberries so that you can make your oatmeal blueberry muffins.
While you are there, I would also encourage you to pick up some dates and a bunch of bananas. Here's why…
Once you realize how wonderful these Blueberry Oat Muffins are, I guarantee you are going to be equally impressed with these super moist Banana Muffins and these amazing Date Bran Muffins. Scout's honor!
So, go to Costco, and get your fresh fruits… and then we will combine some plump, juicy blueberries, with oats! You won't believe how truly amazing these buttermilk blueberry muffins are!
As you probably know, muffins are a type of quick bread that usually comes together in no time at all. The only requirements are two bowls and a mixing spoon.
Let me show you how in just half an hour, you could be enjoying the best blueberry oatmeal muffins ever!

HOW TO MAKE BLUEBERRY OAT MUFFINS:
The first thing we are going to do is soak the oatmeal in buttermilk. It is important not to skip this step as this will contribute immensely to the soft, tender crumb of these blueberry muffins.
In the meanwhile, measure out the dry ingredients in another bowl and whisk them together. Set it aside.
Whisk an egg in the oat mixture along with the oil. Make sure to properly whisk these ingredients together.
Add this liquid mixture to the flour mixture and with a wooden spoon, mix only until combined. Then gently add in the blueberries. A few more gentle stirs and that's it.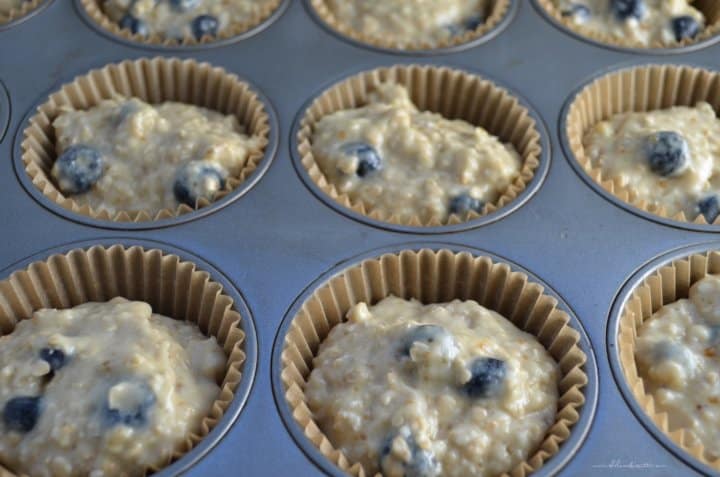 Portion the batter in a muffin container that has been lined with paper cups and bake in a preheated oven. In about twenty minutes, you will have the best blueberry muffins with oatmeal.
How to make buttermilk out of regular milk?
If you do not have buttermilk, you can still make these wonderful muffins. Here's how: measure one tablespoon of lemon juice or white vinegar and place it in a measurement cup. Pour in enough milk to reach the 1 cup mark. Stir and let stand for at least 5 minutes, so that the acidity can start curdling the milk. I love using buttermilk in pancakes and biscuits. The end product is always fluffy and I love the "tanginess" of flavor it provides.
Recipe update: Over the years, so many of you have tried this easy muffin recipe and have provided some wonderful comments.
Thanks to all of you for trying and sharing this blueberry muffin recipe (24K shares and counting!!!)
Here are some of your great suggestions:
Rebecca used whole wheat pastry flour and commented: "This is a great recipe".
Sandra used ½ whole wheat and ½ white flour and she "loves muffins that taste like muffins and not cake".
Kristen added cream of tartar with milk and according to her it "turned out great!"
Bill used "whole oats and whole oat flour" and his granddaughter "wouldn't let go of them".
Lisa used coconut oil and stated "keeper recipe".
Leah added cinnamon and stated "delicious muffins".
Morag replaced the plain flour with a 60/40 rye/rice flour combination which resulted in a "soft and light" texture.
You are all amazing!!! Thanks again for these great comments!
Best Muffin Recipes we love:

Recipe origins
It seems like I've been collecting recipes all my life. As a teenager, I used to check out cookbooks from the public library and write out the recipes that I liked. Can you imagine that? Did anyone else do that or was it only me? Although it has been over forty years, I still remember sitting in the kitchen and copying recipes…
Needless to say, this obsession with recipes has resulted in quite an assortment of cookbooks over the years. This library of mine also includes collections of recipes that I obtained by mailing in the UPC and/or money order in exchange for the booklets.
I've adapted this recipe for buttermilk muffins from the "Robin Hood Recipe Collection". I've been making them for decades and it has always been appreciated by family and friends.
Make sure you try out these Date Bran Muffins, which are a great high fiber muffin to have for breakfast and these super moist Banana Muffins which will intoxicate you with the wonderful aroma while they are baking. Both of these muffins are from the same recipe collection so you know they are good 🙂
From one muffin lover to another, I hope these muffins will become a tradition in your home, too!
THANKS SO MUCH for following and being part of the She loves biscotti community where you will find Simple & Tasty Family-Friendly Recipes with an Italian Twist.
And if you are new here, welcome! You may want to sign up for my weekly e-mail newsletter. You can unsubscribe any time you want.
Ciao for now,
Maria
★★★★★ If you have made this Blueberry Oat Muffins recipe, I would love to hear about it in the comments below and be sure to rate the recipe!
Recipe
Ingredients
1

cup

old-fashioned oats

1

cup

buttermilk

or sour milk

1

cup

all-purpose flour

1

teaspoon

baking powder

½

teaspoon

baking soda

½

teaspoon

salt

½

cup

brown sugar

lightly packed

1

egg

beaten

¼

cup

vegetable oil

zest of ½ lemon

1

cup

blueberries

heaping
Instructions
Preheat the oven to 400℉/200℃. Position rack to middle.

Paper line 12 muffin cups.

Combine oats and buttermilk in small bowl. Let stand while preparing other ingredients.

In a large mixing bowl, combine flour, baking powder, baking soda,salt and brown sugar. Whisk together. Set aside.

Add beaten egg, oil and lemon zest to oat mixture. Mix well.

Add oat mixture all at once to the dry ingredients. Stir just until moistened.

Gently fold in the blueberries.

Fill muffin liners ¾ full.

Bake for 15-22 minutes or until top bounces back when lightly touched.

Remove from heat. Gently lift out the muffins and transfer to a wire rack to cool off.
Scroll UP for the STEP by STEP Photos
Don't miss the process shots and videos included in most posts. Simply scroll up the post to find them. Those were created especially for you so that you can make the recipe perfectly every single time you try it.
Notes
These can keep for a couple of days in airtight container at room temperature. They can also be frozen in airtight container for up to a month.
The original recipe calls for melted butter, but as you can see, I substituted with vegetable oil.
The ¼ cup of vegetable oil can be replaced with applesauce.
The all purpose flour can be replaced with whole wheat flour. 
Please keep in mind that the nutritional information provided below is just a rough estimate and variations can occur depending on the specific ingredients used. 
*recipe lightly adapted from Robin Hood
Nutrition