You'll be pleasantly surprised to learn that making Homemade Calzones is a lot easier than you think. As a bonus, calzones freeze wonderfully and are a great solution to that timeless question, "What can I pack for lunch?"
As you can see, these homemade calzones look like half-moons and have often been described as stuffed pizzas.
Because of their shape, they can easily be eaten while walking, standing or even driving, for the times that you are in a rush.
No sticky mess to deal with — the perfect finger food, whether you're on the go, or watching the big game with friends.
I have to admit that calzones were not a food that I grew up with, nor were they food that appealed to me. Thank goodness it's a woman's prerogative to change her mind 🙂 It was only as an adult that I truly appreciated this Italian specialty, originating from Naples.
How to Make the Best Calzone Recipe:
As you can see, making calzones is just a simple 3-step process:
Step 1: Combine the ingredients for the dough and let it rest until double in size.
Step 2: While the dough is resting, combine and cook the ingredients for the filling.
Step 3: Make the calzone by rolling out and stuffing the dough. Bake for 20 minutes and voilà…
…you just made yourself some spinach and mushroom homemade calzones!
Italian Dinner Recipes we Love:

Recipe origins
A few years ago, I started experimenting with different recipes for calzones. I stopped searching when I found this calzone recipe on this website.
The calzone dough is extremely easy to work with and you can easily choose your fillings depending on your personal preferences (or if you are like me, depending on what you have in your fridge).
My favorite filling includes ricotta, mozzarella, and mushrooms… yum! Just remember to respect the total volume of the cooked filling, which is approximately 3 cups. Otherwise, you might end up with too much filling and not enough dough, or vice versa.
There are so many variations when it comes to these Homemade Calzones, I don't even know where to begin.
Almost anything goes!
I've decided to share with you one of my favorite recipes, a simple mushroom spinach homemade calzone. Once you feel comfortable making this recipe, I am sure you'll be making your signature versions.
Would love to hear about it!
THANKS SO MUCH for following and being part of the She Loves Biscotti community where you will find Simple & Tasty Family-Friendly Recipes with an Italian Twist.
Ciao for now,
Maria
★★★★★ If you have made this calzone recipe, I would love to hear about it in the comments below and be sure to rate the recipe!
Recipe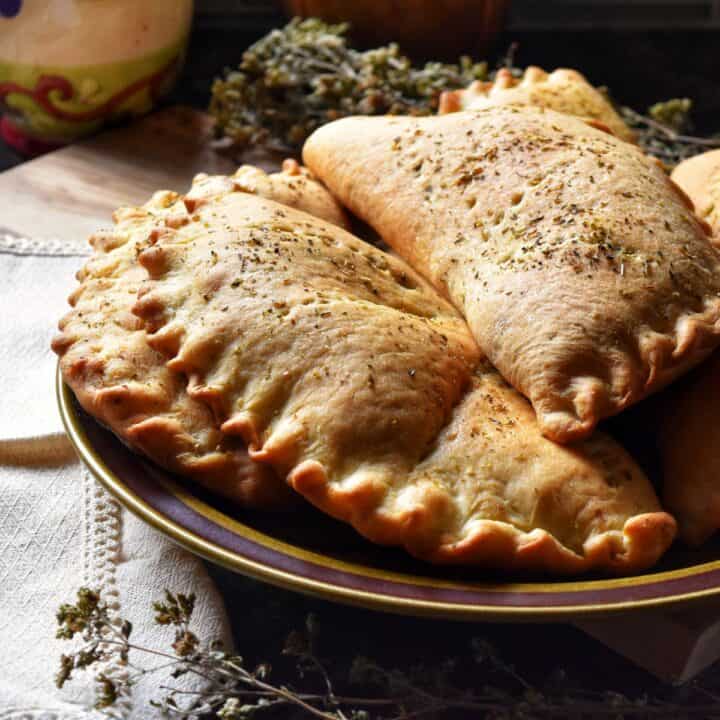 Homemade Calzones
You will be presently surprised to learn that making homemade calzones is a lot easier than you think. They freeze wonderfully and are a great solution to that timeless question, "What do I pack for lunch"?
Print
Save Recipe
Saved!
Pin
Rate
Ingredients
To prepare the dough:
1

cup

lukewarm water 

105 °F-110 °F

1

teaspoon

granulated sugar

2¼

teaspoon

active dry yeast

8 grams

2½

cups

all-purpose flour

sifted and divided

1

tablespoon

olive oil

extra virgin

1

teaspoon

salt

½

teaspoon

olive oil

for greasing bowl
To prepare the filling:
1

tablespoon

olive oil

2

cloves

garlic

minced

1

medium onion

minced

450

grams

mushrooms

fresh, sliced

454

grams

spinach or Swiss chard

½

cup

ricotta

can also use feta cheese

1 ½

cup

mozzarella

shredded

salt and pepper to taste

olive oil to brush tops of calzones

dried oregano to sprinkle on calzones
Instructions
How to make calzone dough:
Combine the yeast, sugar and lukewarm water in a small bowl.

Stir with fork and set aside for about 5 minutes (it will begin to proof).

In the bowl of a stand mixer, measure and sift 1 cup of flour.

Add yeast mixture. Combine with wooden spoon until smooth.

Add the rest of the sifted flour (1½ cups), oil, and salt. Mix on medium speed using dough hook attachment until smooth and elastic (approximately 5 minutes). Alternately, you can knead by hand.

Place in a lightly greased bowl. Turn dough over ensuring the entire dough has a thin layer of oil. (I use about ½ teaspoon of olive oil).

Cover bowl with plastic wrap and let rise for approximately 40 minutes (will double in size).
For the filling:
Meanwhile, prepare your filling by adding about 1 tablespoon olive oil in a large saucepan. Stir fry the garlic, onion, mushrooms and spinach. Set aside to cool off slightly.

Combine this vegetable mixture with the ricotta and mozzarella. Mix thoroughly together.

Preheat oven to 400° F.

Pre-heat pizza stone (if using) or line a baking sheet with parchment paper.

Punch down dough and divide into 8 pieces. Knead each piece into a ball and then using a rolling pin, roll out your dough, on a lightly floured wooden board, to approx 4-5" circle.

Place about ½ cup of filling in the bottom half per calzone, making sure to not come within ½ inch of the edges.

Fold the dough over the filling and press to seal tightly.

Brush tops with olive oil. and sprinkle with dried oregano.

Make diagonal slits or prick the tops with a fork before baking allowing for the steam to escape.

Place calzones on a pre-heated pizza stone or on a parchment lined baking sheet.

Bake at 400°F for 20-25 minutes or until golden brown. The bake time will depend on the size of your calzones.

Place on cooling rack.
Scroll UP for the STEP by STEP Photos
Don't miss the process shots and videos included in most posts. Simply scroll up the post to find them. Those were created especially for you so that you can make the recipe perfectly every single time you try it.
Notes
Baking the calzones in a very hot oven will prevent the crust from getting soggy.
Please keep in mind that the nutritional information provided below is just a rough estimate and variations can occur depending on the specific ingredients used. 
*recipe adapted from allrecipes.com
Nutrition
Serving:
1
servings
|
Calories:
310
kcal
|
Carbohydrates:
38
g
|
Protein:
15
g
|
Fat:
11
g
|
Saturated Fat:
4
g
|
Cholesterol:
24
mg
|
Sodium:
487
mg
|
Potassium:
621
mg
|
Fiber:
4
g
|
Sugar:
2
g
|
Vitamin A:
5530
IU
|
Vitamin C:
18.4
mg
|
Calcium:
206
mg
|
Iron:
3.9
mg