These are not your typical healthy Bran Muffins. Thanks to the recipe's use of natural bran and dates, these bran muffins are moist, and naturally sweet making them a tasty start to your day! As a bonus, they are a good source of fiber. You'll wonder how anything so healthy tastes so good!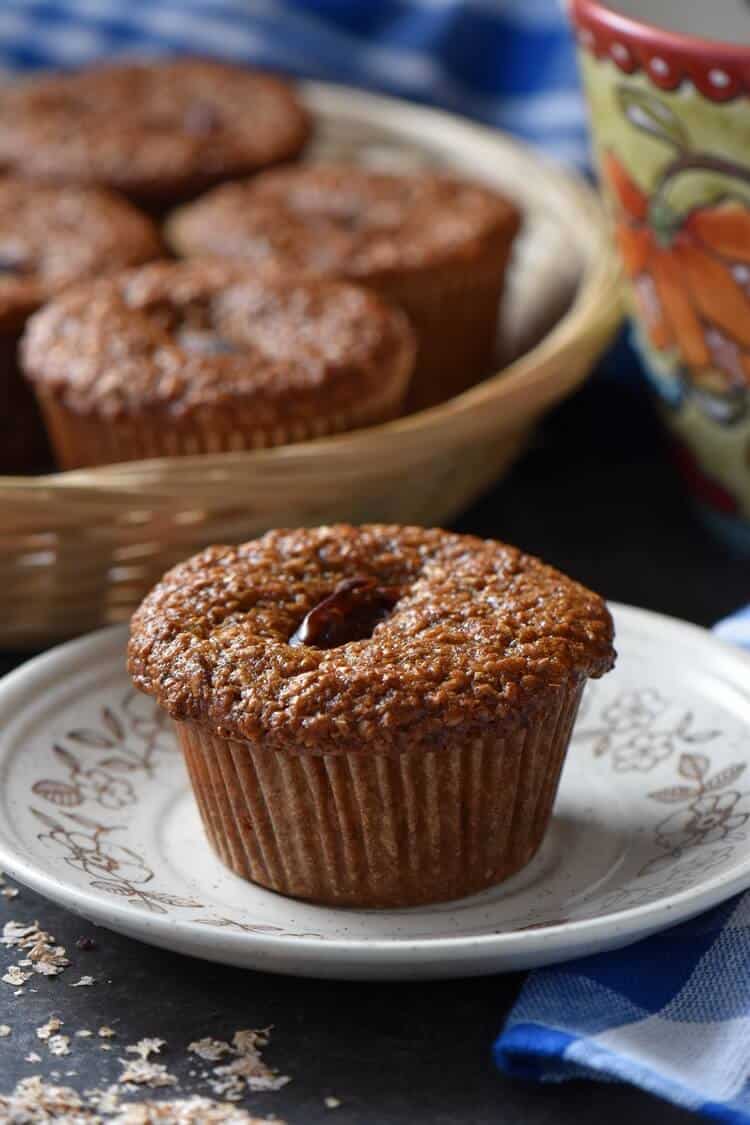 Today, I would like to share with you this quick and easy bran muffin recipe.
Without a doubt, my favorite meal of the day is breakfast, so I'm sure you can just imagine how many recipes for healthy breakfast muffins I've accumulated over the years!
Wait!!! I know I said the "B" word, but don't click away just yet.
Bran muffins can be so much more than you think!!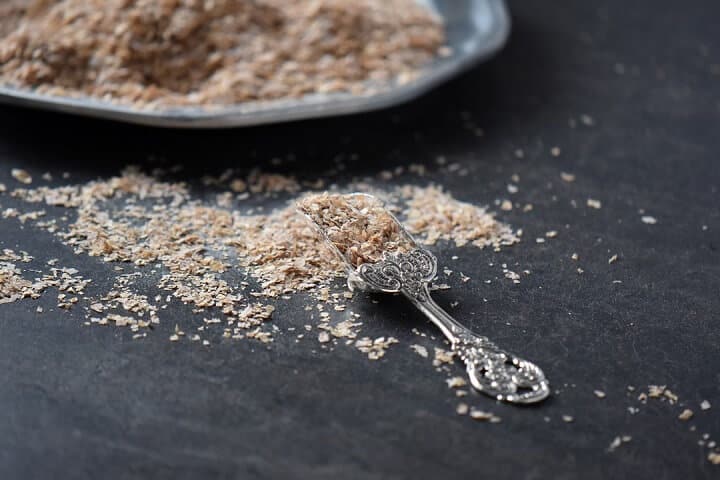 What exactly is bran?
Bran is the outermost hard layer of whole grains (like oats, wheat or rice) that is removed as part of the milling process. Bran has a reputation for being a healthy food that tastes less-than-awesome, but these date bran muffins will help you change that preconceived notion!
Why is bran good for you?
It can help lower the risk associated with heart disease and diabetes;
It can help in maintaining your weight;
It is a great source of fiber.
And since we're on the topic of fiber, I'm sure you've heard of another benefit of including bran in your diet… you know… regularity.
Do you know of an easy way to increase your fiber intake?
It can be tough! But here is some good news: dates are a good source of fiber as well as bran. So, yeah, you guessed it! These healthy muffins can help you get that daily intake of fiber up! Plus, as I've said, they taste amazing too!
Let me now finally prove it to you and show you how easily they come together.
Instructions

Before we can add the dates to the bran part of the muffin, the dates need to be simmered for about 10 minutes in water and lemon juice, until they become thickened and paste-like. We also need to add a few tablespoons of brown sugar and lemon zest to the pot. When the time is up, there should be no water "seeping" out of the thickened date mixture.
While waiting for the date mixture to cool down, we can prepare the rest of the ingredients.
In a large bowl, whisk all of the dry ingredients together -natural bran, flour, baking soda, salt, and brown sugar.
In another bowl, combine the wet ingredients -one egg, one tablespoon of canola oil and buttermilk.
By now, the date mixture should have had enough time to cool down. We are now ready to put this healthy bran muffin recipe together.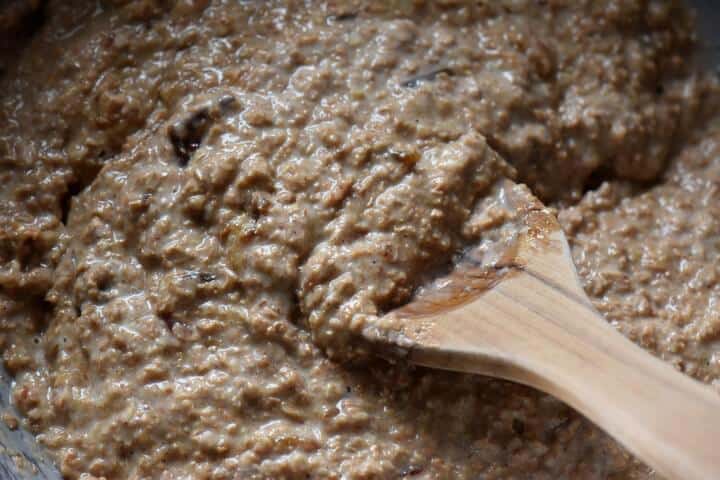 Simply add the wet ingredients to the flour mixture and stir together until just moistened; then add the cooled down date mixture.
Remember, when making muffins, there is no need to over stir! There is also no need for your stand mixture. A couple of bowls and a wooden spoon are all you need.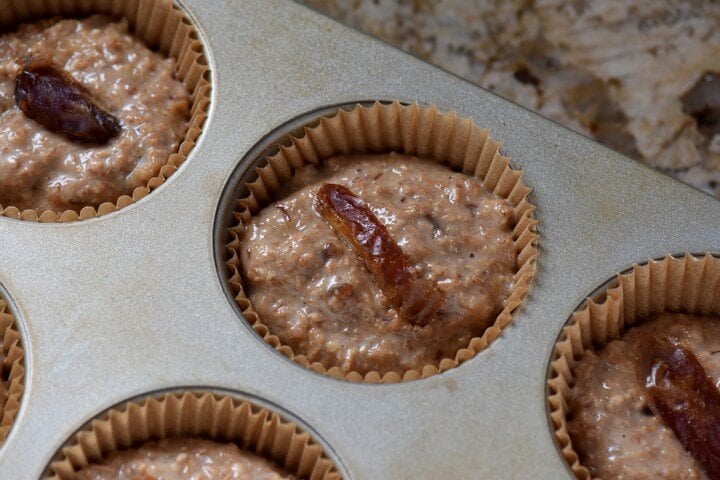 Once the mixture is combined, portion into the muffin pan and top with a slivered slice of date. Bake for about 20 – 25 minutes or until the top bounces back when lightly pressed.
Your bran and date muffins are now ready to be enjoyed!
Healthy muffins we love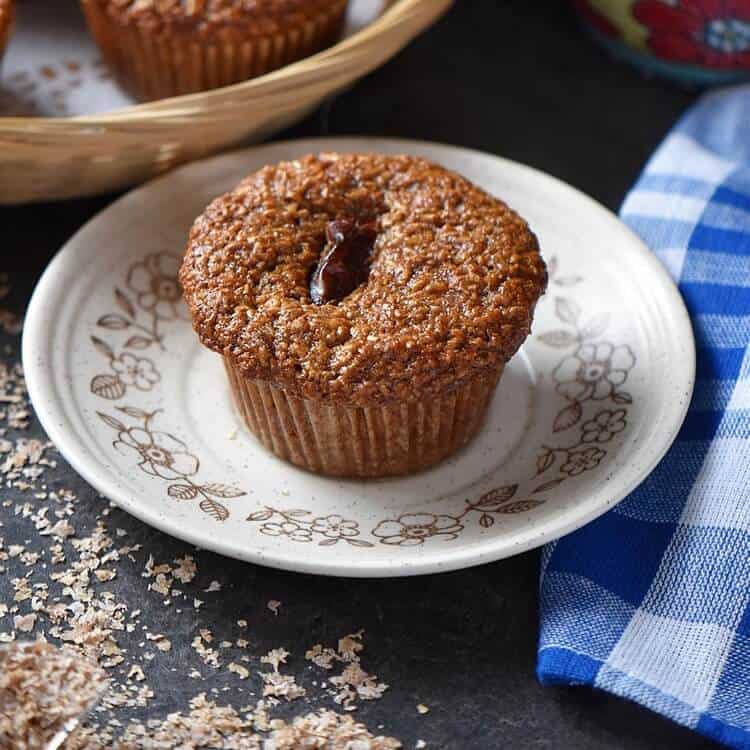 Recipe origins
Well, you probably know by now how much I love my Robin Hood collection of recipes. I've already shared this recipe for blueberry oat muffins and this recipe for banana muffins. Robin Hood is where this date bran muffin recipe comes from as well. I have been making it for years, and they've always been a great breakfast on the go, or a sweet little healthy "dessert" for my kids when they were growing up.
As far as modifications are concerned, I've decreased the amount of sugar from the original bran muffin recipe. I assure you it's barely noticeable as dates are naturally sweet.
By the way, I love dates and I love date muffins, so of course, I have more than one recipe for date muffins in my collection. 🙂 If you're interested, you must try this whole-grain orange date muffin recipe!
These date bran muffins are surprisingly moist and tender -no "sawdust" texture – only great tasting and good for you bran muffins!
Do you have a favorite bran muffin recipe?
I'd love to hear about it!
THANKS SO MUCH for following and being part of the She Loves Biscotti community where you will find Simple & Tasty Family-Friendly Recipes with an Italian Twist.
And if you are new here, welcome! You may want to sign up for my weekly e-mail newsletter. You can unsubscribe any time you want.
Ciao for now,
Maria
★★★★★ If you have made this Date Bran Muffins recipe, I would love to hear about it in the comments below and be sure to rate the recipe!
Recipe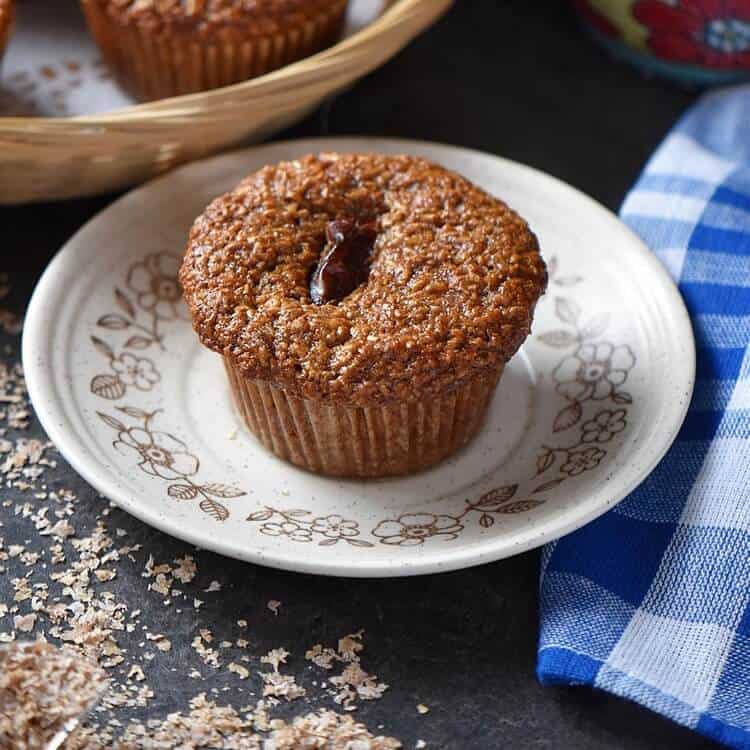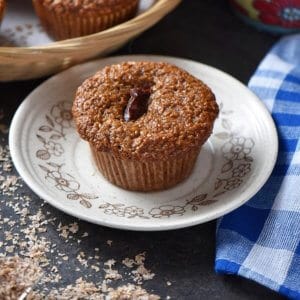 Surprisingly Amazing Date Bran Muffins
These are not your typical healthy bran muffins. Thanks to the recipe's use of natural bran and dates, these bran muffins are moist, naturally sweet, and a good source of fiber. Truly a healthy and tasty start to the day!
Print
Save Recipe
Saved!
Pin
Rate
Ingredients
Date Mixture:
1

cup

chopped dates

approx 8 dates

1

cup

water

¼

cup

brown sugar

lightly packed

1

teaspoon

lemon juice

freshly squeezed

½

teaspoon

lemon zest
Bran Mixture:
1 ½

cup

natural wheat bran

¾

cup

all-purpose flour

1

teaspoon

baking soda

1

teaspoon

salt

⅓

cup

brown sugar

lightly packed

1

egg

beaten

1

tablespoon

canola

or vegetable oil

1

cup

buttermilk or sour milk
Instructions
Preheat the oven to 375℉ (190C). Position rack to middle.

Paper line 12 muffin cups.

Combine the dates, water, brown sugar, and lemon juice in a saucepan.

Simmer for approximately 10 minutes or until thickened. Stir occasionally.

Set date mixture aside to cool.

In a large mixing bowl, combine bran, flour, baking soda,salt and brown sugar. Whisk together. Set aside.

In a small bowl, whisk together beaten egg, oil and buttermilk.

Add the liquid ingredients to the dry ingredients. Stir with wooden spoon until just moistened.

Gently fold in the date mixture.

Fill muffin liners ¾ full.

Bake for 20-25 minutes or until top bounces back when lightly touched.
Scroll UP for the STEP by STEP Photos
Don't miss the process shots and videos included in most posts. Simply scroll up the post to find them. Those were created especially for you so that you can make the recipe perfectly every single time you try it.
Notes
Medjool dates are used for this recipe.
Whenever making these muffins, I use non-stick spray to coat the insides of the liners.
Please keep in mind that the nutritional information provided below is just a rough estimate and variations can occur depending on the specific ingredients used. 
*recipe adapted lightly from Robin Hood
Nutrition
Serving:
1
serving
|
Calories:
147
kcal
|
Carbohydrates:
31
g
|
Protein:
3
g
|
Fat:
2
g
|
Cholesterol:
15
mg
|
Sodium:
315
mg
|
Potassium:
220
mg
|
Fiber:
4
g
|
Sugar:
19
g
|
Vitamin A:
55
IU
|
Vitamin C:
0.2
mg
|
Calcium:
45
mg
|
Iron:
1.4
mg
This recipe was originally published on March 14, 2015 and republished on February 10, 2018 with updated content and photos.