Salads are a great way to enjoy the fresh flavors of summer produce, and this Watermelon Feta Salad is one of our favorites. Sweet watermelon, salty feta cheese, and refreshing mint make a healthy summer salad recipe perfect for hot summer days.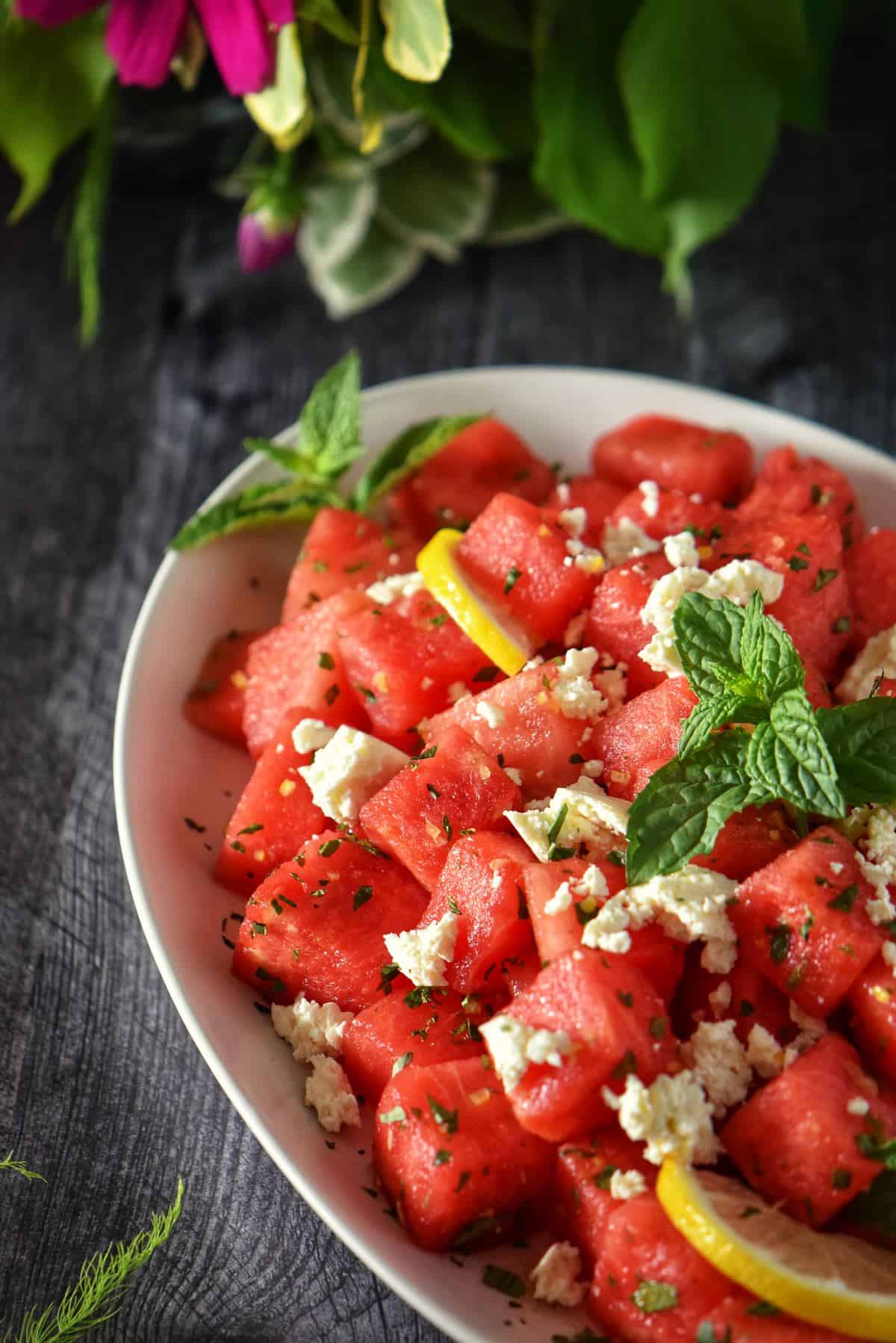 Jump to:
Introduction
This refreshing no-cook summer salad with fruit is the perfect way to cool down when experiencing hot and humid weather.
It's a simple and delicious salad for all your summer entertaining.
This salad is so easy to put together and the perfect side dish to bring to any summer BBQ or potluck. This feta watermelon salad is always a hit!
Combining the fresh flavor of watermelon with the saltiness of feta cheese takes your taste buds on an exciting journey that will leave them happy – just what we want during the sweltering summer months.
You probably already have a watermelon salad recipe that tastes fantastic. However, here are a few suggestions to make your salad taste spectacular.
First, make sure to use high-quality feta cheese since this will improve the flavor of your dish. Avoid buying pre-crumbled cheese, as this often tastes dry.
Also, buy local watermelon from a farmer's market or a roadside farm stand if you can. Let's take a look at some helpful hints on how to select the best-tasting watermelon.
How to Choose the Best Watermelon
Watermelon is one of the most popular seasonal fruits. They are available in various shapes and sizes, but some features make it easier to pick the best-tasting watermelon. Here are some pointers:
1- Look for the field spot. This is a creamy, yellow patch usually found on the underside of the watermelon. As you can probably guess, this is where the melon lay on the ground. A clear indicator of the melon not ripening properly is a white or non-existent field spot.
2-Take a good look at your watermelon. Once you know your melon has ripened properly, make sure it isn't lopsided or has irregular bumps. This would indicate that proper growth was not achieved due to sunlight or water variation. Examine the color. It should be a dull green. If your watermelon has a shiny appearance, it probably means it is under-ripe. Move on and find another watermelon.
3-Pick up your watermelon. Is it heavier than you were expecting? Great, you may have chosen a winner! As a general rule of thumb, a heavy melon is usually a ripe melon.
4-Press the navel. If it is hard, great! You have one more criterion to meet. Pick another one if it is soft.
5-Inspect the tail. A ripe watermelon will detach very easily from the vine it is connected to when it is picked. When a ripe and sweet watermelon is selected, it should detach very easily. The result is a smooth spot where the vine was attached. If the tail is still green or if you have a long curly tail, these are signs that the watermelon was picked too early. Best to look for another one.
6-Knock, knock. Who's there? When tapping your melon, the response should be a dull thud! This one still eludes me …but I will keep knocking away to perfect this method.
How to Cut a Watermelon into Cubes
Cut off one end of a large watermelon (about 12 pounds), so you have a flat surface to work with. Then, use a sharp knife to cut the watermelon in half width-wise.
Place the flat part of your melon half on your cutting board. Next, remove the watermelon rind by removing a thin layer of the green skin with your knife. Once the rind is removed, slice the watermelon into 1-inch thick strips. Stack 2 strips on top of each other and then slice them again into 1-inch wide strips. Rotate and cut the watermelon again into 1-inch strips to obtain small cubes. Transfer cubes into a large mixing bowl. Repeat with the remaining strips of watermelon. You should have about 4 pounds of watermelon cubes when you're done.
Instructions
Now that you know how to cut a watermelon into cubes, it's time to move on to make the salad.
Whisk together 6 tablespoons of extra virgin olive oil in a small bowl with 2 tablespoons of freshly squeezed lemon juice. Add 2 teaspoons of finely chopped lemon zest and whisk again.
Season to taste with salt and pepper, then pour lemon vinaigrette over the watermelon cubes. Gently toss to coat.
Add ½ cup of freshly minced mint leaves, give everything a gentle toss, taste, and adjust the seasoning as necessary.
Transfer the melon salad to a shallow serving bowl or platter and crumble 6 ounces of feta cheese over the top. Sprinkle the remainder 1 teaspoon of minced lemon zest.
If desired add a few grinds of black pepper, and garnish with lemon slices and fresh mint leaves; serve immediately and enjoy!
Recipe Variations
Here are some suggestions for how you can change up this recipe:
Add in some chopped cucumber or red onion for a little crunch.
Swap out the mint leaves for basil or cilantro.
Use balsamic vinegar or lime juice instead of lemon juice in the vinaigrette.
Add a pinch of chili flakes for a bit of heat.
Tips
A watermelon half weighing 6 pounds will yield about 4 pounds of cubed watermelon once the rind is removed.
This refreshing watermelon salad is a great dish to enjoy on the same day it's made. Its quality quickly deteriorates even after a few hours in the fridge.
Nutrition Trivia Time
Whether eating it fresh or grilled, there is no denying that watermelon is a thirst quencher. Did you know that approximately 92% of each melon is water?
No wonder it's called a watermelon! The high water content of watermelon also makes it the perfect food to use in soups and beverages.
Watermelon Recipes
Grilled Watermelon Steaks
Grilling watermelon brings out the natural sweetness in this refreshing summer fruit. So if you're looking for an exciting way to serve up your favorite melon, try grilling it!
With a refreshing and tangy taste, this Watermelon Italian Ice will be your new favorite way to cool down on hot summer days. It's simple enough to easily make at home with just a few simple ingredients.
Recipe origins
As was mentioned, this recipe was a direct result of some experimentation based on Jacques Pepin's recipe. I would encourage you to play with the list of ingredients according to your preferences and the availability of ingredients.
Watermelon and feta -a match made in heaven, especially if your favorite flavor combinations are sweet and salty!
So don't keep this perfect pair apart any longer – throw together this simple and quick summer salad the next time you get together with friends and family.
If you decide to tweak the recipe, post what you did in the comments section below!
I'd love to hear about it.
Let's continue to inspire one another and grow as chefs and bakers!
THANKS SO MUCH for following and being part of the She Loves Biscotti community, where you will find Simple & Tasty Family-Friendly Recipes with an Italian Twist.
Ciao for now,
Maria
★★★★★ If you have made this watermelon and feta salad, I would love to hear about it in the comments below and be sure to rate the recipe!
Recipe
Ingredients
6

tablespoons

olive oil

extra virgin

2

tablespoons

lemon juice

freshly squeezed

3

teaspoons

lemon zest

finely chopped, separated

kosher salt and pepper to taste

4

pounds

watermelon

rind removed, cut into 1-inch cubes

½

cup

of loosely packed mint leaves

minced

6

ounces

feta cheese

extra mint leaves and lemon slices for garnishing
Instructions
Whisk together the olive oil with the lemon juice in a small bowl. Add 2 teaspoons of the finely chopped lemon zest and whisk again.

Season to taste with salt and pepper.

Drizzle over cubed watermelon pieces, and gently toss them together.

Add the minced mint leaves and toss gently together.

Transfer to a wide shallow serving dish.

Just before serving, sprinkle the rest of the chopped lemon zest and crumble feta cheese over the top.

Garnish with mint leaves and lemon slices.

Serve immediately.
Scroll UP for the STEP by STEP Photos
Don't miss the process shots and videos included in most posts. Simply scroll up the post to find them. Those were created especially for you so that you can make the recipe perfectly every single time you try it.
Notes
A watermelon half weighing 6 pounds will yield about 4 pounds of cubed watermelon once the rind is removed.
This refreshing watermelon salad is a great dish to enjoy on the same day it's made. Its quality quickly deteriorates even after a few hours in the fridge.
Please keep in mind that the nutritional information provided below is just a rough estimate and variations can occur depending on the specific ingredients used. 
*inspired by a Jacques Pepin recipe
Nutrition
Serving:
1
servings
|
Calories:
176
kcal
|
Carbohydrates:
15
g
|
Protein:
4
g
|
Fat:
12
g
|
Saturated Fat:
3
g
|
Polyunsaturated Fat:
1
g
|
Monounsaturated Fat:
7
g
|
Cholesterol:
15
mg
|
Sodium:
197
mg
|
Potassium:
231
mg
|
Fiber:
1
g
|
Sugar:
11
g
|
Vitamin A:
1200
IU
|
Vitamin C:
17
mg
|
Calcium:
103
mg
|
Iron:
1
mg
This post was originally published on July 31, 2016 and republished on June 13, 2022, with updated content, photos and a video. Thanks for sharing.