This easy recipe for Homemade Strawberry Jam is a great way to preserve a little bit of summer throughout the year. It's great tasting on its own or when used in combination with other desserts and with it at hand, it's always time for pb and j sandwiches!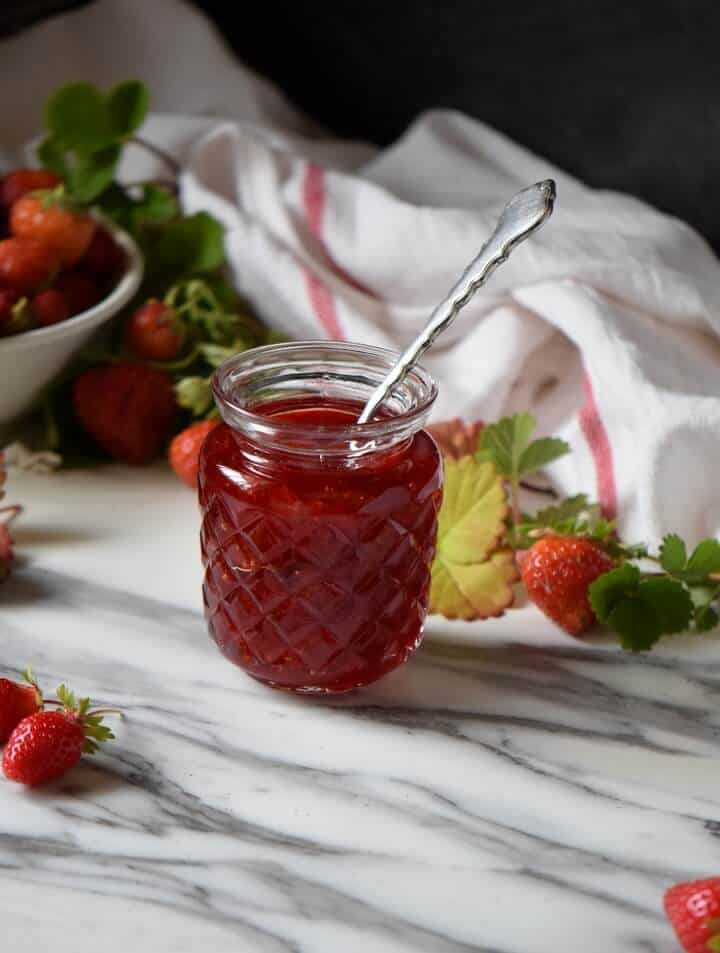 Fruits butter and fruit jams have presently taken over my life…
Can I tell you a secret? I love it!
Summer is in full swing here in Quebec and that usually means local fruit, like strawberries, has hit the markets. It also means that strawberry picking is in full swing and available at local pick-your-own fruit farms.
One of my favorite ways to have fresh strawberries is in this Strawberry Arugula Salad. I think you'll agree that the contrast of flavors makes this such a refreshing salad in the summer. Strawberries are a great addition to any salad.
As was mentioned, strawberries are equally delicious in desserts. They can be used fresh or frozen.
In this simple berry parfait with whipped ricotta, freshly made macerated strawberries are used to make a stunning red and white strawberry dessert that comes together in minutes.
Unfortunately, fresh strawberries do not stay very long fresh. Once refrigerated, they lose their firm texture due to the moisture. Because there are only so many fresh strawberries one person can eat in a day, it's preferable to prepare dishes that will enable you to keep them for longer.
One of my favorite methods to preserve strawberries is making this strawberry rhubarb compote, another is making jam.
Let me show you how easy it is to make your very own strawberry jam…
Instructions
This summary is based on my experience with making strawberry preserves and the instruction sheet included in the CERTO liquid package.

Step 1: The preparation
There are a few preparatory steps for you to make your very own Homemade Strawberry Jam:
Canning jars need to be washed, sterilized (place in 225° F oven for at least 10 minutes), and kept in the oven until ready to be filled;
Lids must also be sterilized; just a few minutes in boiling water is all it takes. Leave them in simmering water until you are ready to use them;
Strawberries must be quickly rinsed, placed on a tea towel and patted dry. Then, proceed to hull and crush them, one layer at a time, with a potato masher.

Step 2: The process
Once your strawberries have been crushed, measure out the desired amount, along with the sugar and lemon juice. To make strawberry jam, we will need 3¾ cups of mashed strawberries. This includes the liquid.
It's extremely important to properly measure the stated amounts of all the ingredients -otherwise, your jam may turn out too thick or too thin. But never fear! If that happens, you can still find innovative ways to use your "less than perfect" jam.
Always use a deep, heavy-based pot and slowly heat the mixture for the sugar to dissolve. Start on medium heat and keep stirring the mixture and slowly increase the heat until you get it to high. This process usually takes about 3 minutes.
At this point, you are ready to boil the mixture for exactly one minute. Just to be specific, this is a full rolling boil. The mixture rises as it boils, hence the importance of using a large pot. Please exercise extreme caution as you go through this step.
Once the one minute of vigorous boiling is complete, remove the pot from the stovetop, add the pectin and stir and skim continuously for 5 minutes. I find this to be a two-person job, though it can be done alone. My daughter usually stirs while I skim.

Step 3: The canning
The final part is just pouring your homemade strawberry jam into your sterilized jars. Place the sterilized lids and the screw cap in place and voilà, you're done!
Once you have your jars all lined up and cooling down on the kitchen counter, I'm sure a certain feeling of accomplishment will come over you. When you begin to hear the sounds of the seals popping, that feeling will only grow!
Whether using your homemade strawberry jam in your Italian Jam Crostata, to top your favorite strawberry cheesecake, to top off your homemade scones, rolls, Buttermilk Biscuits , Pancakes, or just on plain toasted bread, you know it's gonna be good! Enjoy!!!

My thoughts
Isn't it incredible how certain foods can trigger specific memories? Whenever I have my homemade strawberry jam, I get warm and fuzzy feelings as memories rush back to me.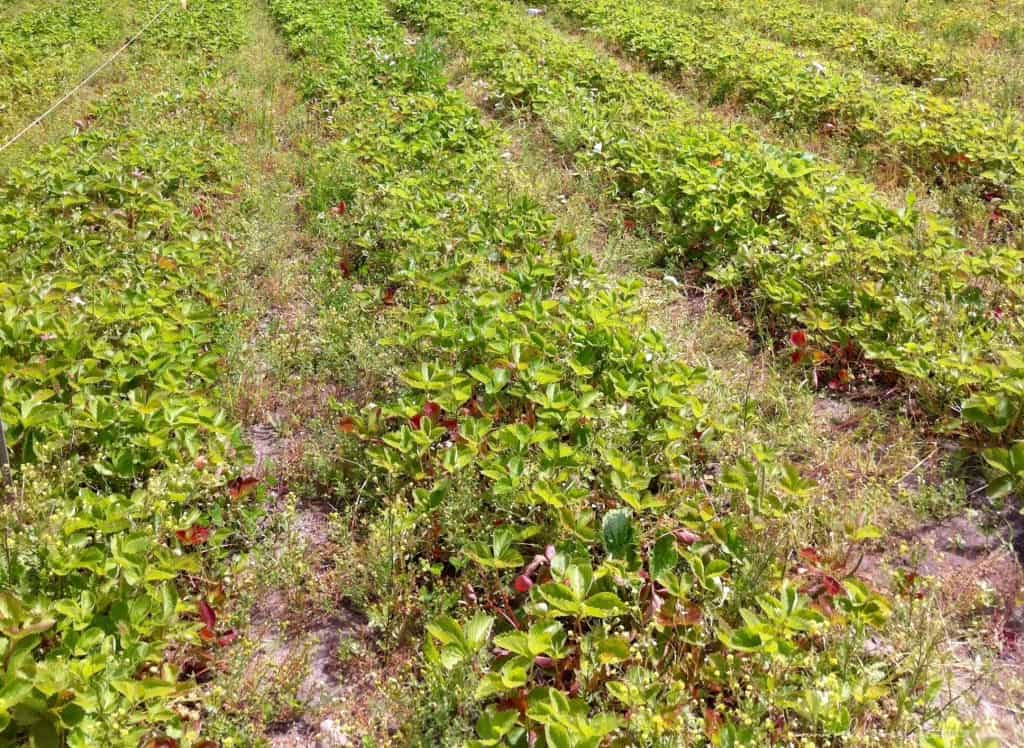 It was one beautiful Sunday afternoon in June, during the summer of 2009; that was the first time I went strawberry picking and I've been going ever since.
My Mom had recently been diagnosed with mesothelioma and was undergoing chemotherapy treatments. It was very hard to plan anything ahead of time as we never knew how she would feel. But on this particular day, she felt great!
So, once all traces of the traditional Sunday lunch had been put away, we armed ourselves with hats, caps and sunscreen and got ready for an afternoon of strawberry picking.
Why do I still go strawberry picking? Partly because I enjoy eating freshly picked Quebec strawberries; mostly because I get to relive the memory of that Sunday afternoon and how much pleasure my Mom had picking strawberries with all her adult kids and small grandchildren.
Why do I make homemade strawberry jam? Partly because it is so much better than store-bought; mostly because of that warm and fuzzy feeling I still get when I think of my Mom.
♥♥♥
Did you know that freezing strawberries is another way to preserve this wonderful fruit? It's easy, economical and so convenient when making that Christmas trifle in the middle of the winter. Be sure to read all about it.
Since I picked so many strawberries, I was able to make strawberry chips, a batch of these banana strawberry muffins and this Italian jam tart. Yup, it was a busy day!
Be sure to check your inbox for all these delicious recipes and more. If you haven't already, be sure to sign up for my newsletter, I wouldn't want you to miss any of the wonderful recipes I have planned for all of you!
THANKS SO MUCH for following and being part of the She Loves Biscotti community where you will find Simple & Tasty Family-Friendly Recipes with an Italian Twist.
Ciao for now,
Maria
★★★★★ If you have made this Certo strawberry jam recipe, I would love to hear about it in the comments below and be sure to rate the recipe!
Recipe
Homemade Strawberry Jam
This strawberry jam is great tasting on its own or when used in combination with other desserts & with it at hand, it's always time for pb and j sandwiches!
Print
Save Recipe
Saved!
Pin
Rate
Ingredients
3¾

cup

strawberries

rinsed, hulled and crushed

7

cups

sugar

granulated

4

tablespoons

lemon juice

freshly squeezed

1

pouch

liquid pectin

Certo
Instructions
Combine prepared strawberries, sugar and lemon juice in a large saucepan over medium heat.

Stir together for approximately 3 minutes or until the sugar has dissolved.

Increase heat to high and boil mixture for one full minute.

Remove from heat and stir in the liquid pectin.

Stir continuously for 5 minutes. Make sure to skim the foam.

With a ladle, fill sterilized jars ¼ inch from the rims.

Cover with sterilized lids and screw tops.

Allow to stand at room temperature for 24 hours before storing in a cool place.
Scroll UP for the STEP by STEP Photos
Don't miss the process shots and videos included in most posts. Simply scroll up the post to find them. Those were created especially for you so that you can make the recipe perfectly every single time you try it.
Notes
Prep time includes washing and sanitizing the jars and lids used for this recipe as well as rinsing and mashing the strawberries.
Total yield for this recipe is 7½ cups.
1 serving=1 tablespoon
Please keep in mind that the nutritional information provided below is just a rough estimate and variations can occur depending on the specific ingredients used. 
Nutrition
Serving:
1
serving
|
Calories:
46
kcal
|
Carbohydrates:
12
g
|
Potassium:
7
mg
|
Sugar:
11
g
|
Vitamin C:
2.8
mg
|
Calcium:
1
mg
This post was originally published on May 19, 2015 and republished on June 28, 2018 with updated content, photos and a video. Thanks for watching and sharing!