Do you bake for the holidays? Are you looking for the best Italian Christmas Cookies? If you said yes, this recipe collection will rival any cookie made in an Italian bakery.
You are just one click away!
Italian Christmas Cookies
The holiday season will soon be upon us.
Whether you are looking for recipes to give as hostess gifts, planning a cookie exchange, or simply baking for family and friends, these Italian Christmas Cookies are just perfect for sharing.
I've decided to share 13 of my favorite Italian cookies with all of you. Did you know that the number 13 is good luck in Italy? It is associated with prosperity and abundance.
Without further delay, here are 13 Italian Christmas Cookies for you to bake this wonderful festive season.
She Loves Biscotti
♦ A Southern Italian specialty that is extremely popular in Naples. My mom's recipe will leave you speechless. Over the period of her lifetime, she perfected the proportions of almonds, honey, spices, and dark chocolate to create a masterpiece.
♦ You will find a video in the recipe card of this post depicting how the Mostaccioli cookies are shaped.
She Loves Biscotti
♦ If you are a lemon lover, this easy cookie recipe is for you! Traditionally made at Christmas, these Italian Lemon Cookies, also known as tarallucci or anginetti have a cake light texture that are just perfect with an espresso.
♦ This post includes a video (in the recipe card) depicting how these Lemon Cookies are shaped so that they retain their light and airy texture.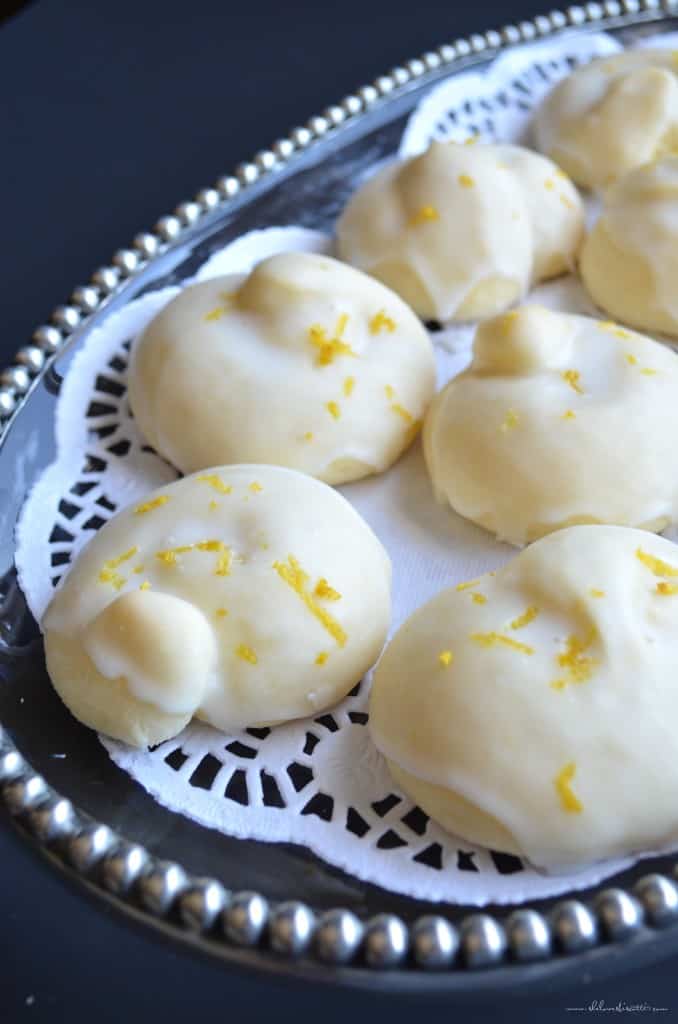 Inside the Rustic Kitchen
♦ It's no wonder these Lady's Kisses, aka Baci di Dama are seen throughout Italy. Made with hazelnuts, almond flour and chocolate hazelnut spread, they make the perfect addition to your platter of Italian Christmas cookies.
♦ This mouth-watering recipe is from Emily who can be found at Inside the Rustic Kitchen. If you are not following her, you should. Emily recreates the best drool-worthy and tasty Italian food.
She Loves Biscotti
♦ It's almost impossible not to think of Italian Christmas cookie recipes without mentioning pizzelle. I have so many fond memories of this family recipe for Pizzelle. As a kid, I would sit on a stool in the kitchen and eat these crispy, light wafers as my grandmother was making them with her stove top maker -one at a time! My nonna would just smile at me. Eventually, I had my fill and would run off to play.
♦ You will find a video in this post demonstrating how to make these cookies with a pizzelle iron as well as the secret to perfect crispy pizzelles.
She Loves Biscotti
♦ My love for these twice baked cookies started with this family recipe for Almond Biscotti. I have no doubt that once you try these biscotti cookies, you will be filling your cookie jar with them.
♦ This post also includes a video, found in the recipe card, demonstrating this easy recipe for the best biscotti.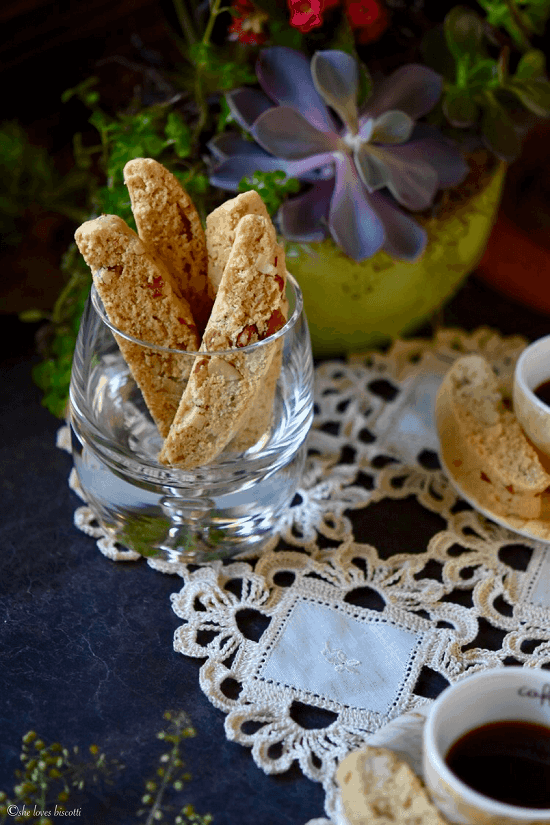 She Loves Biscotti
♦ This gluten free recipe for Brutti ma Buoni has the perfect ratio of hazelnuts/almonds. It also has the perfect texture you come to expect from a meringue cookie. Crunchy on the outside, chewy on the inside.
♦ Once again, you will find a wonderful video in the recipe card, demonstrating how you can easily make this traditional Italian cookie.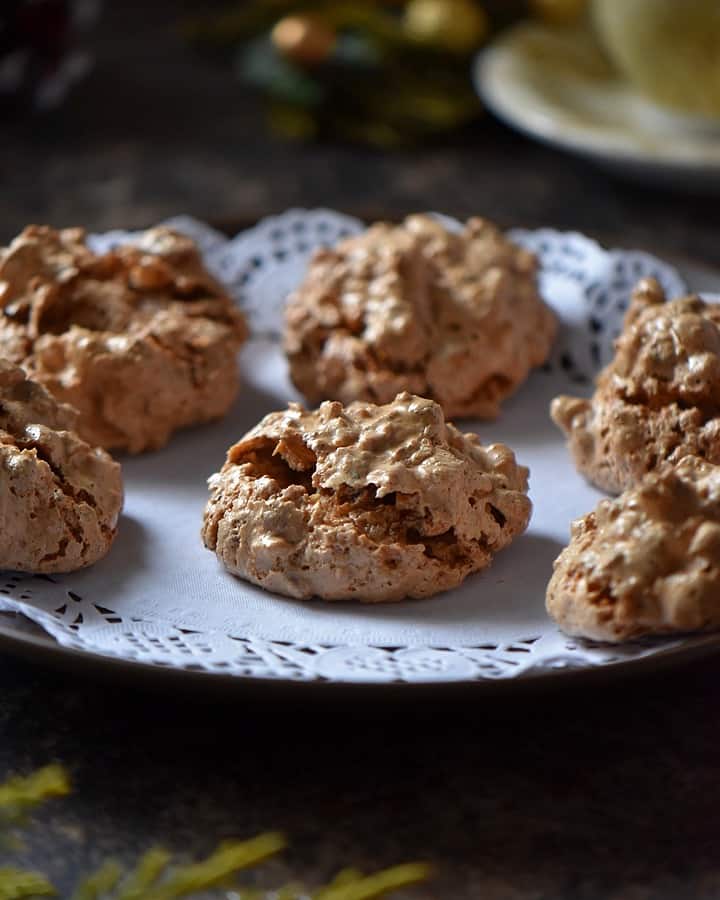 She Loves Biscotti
♦ These Italian wine taralli also known as Ciambelline al Vino will provide you with the most irresistible crumbly texture. Your platter of traditional Italian Christmas cookies must include this one! A must try!
♦ The step by step tutorial provided in this post is all you need to make the best wine biscuits.
She Loves Biscotti
♦ If you are preparing a tray of cookies for Santa, you need to include these S cookies… after all, it has his initials. This NO BUTTER, lightly sweetened cookie is sure to be a hit with both kids and adults. If you are looking for easy Italian Christmas cookies, this is the one for you!
♦ This post includes a video, found in the recipe card, demonstrating how easy this recipe comes together. Be sure to make a double batch as you will be grabbing these cookies throughout the day. Would you believe me if I told you they make the perfect breakfast cookie?
Mangia Bedda
♦ What a brilliant idea to combine pistachio and almonds to create this gluten free Pistachio Amaretti cookie!
♦ If you are a fan of Sicilian food, you probably already know that Nadia, who can be found at Mangia Bedda, shares authentic Sicilian recipes. Be sure to visit her!
She Loves Biscotti
♦ Here is another cookie recipe made with pistachio. This time it is combined with cranberries to create a unique Christmas cookie that not only tastes amazing but is addictive as well. The perfect addition to your Italian cookie trays for gift giving.
♦ This Thin Cranberry Pistachio Biscotti recipe was created as a result of my experimenting with this family recipe for Thin Almond Biscotti. I think you are going to love both of these recipes.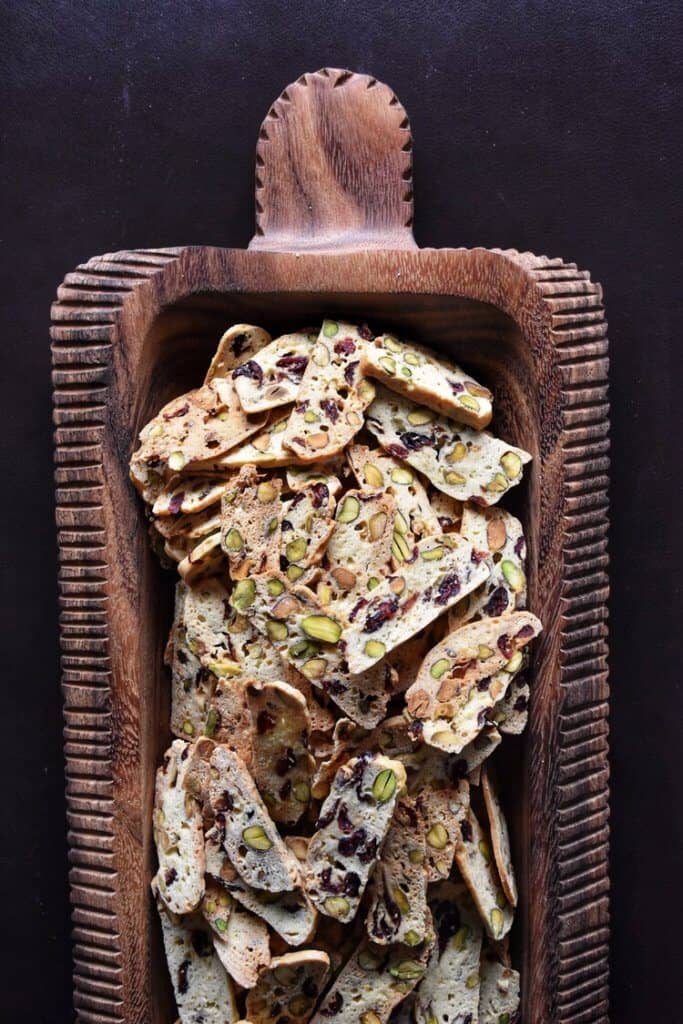 SugarLoveSpices
♦ Just by looking at this cookie, you already know that it is going to be the perfect cookie to have with that espresso. A chocolate and vanilla flavored cookie hugging each other in the shape of a circle. Abbracci, in Italian literally means hugs.
♦ Just like this cookie is the result of joining two different flavors, the creative force behind this cookie is Nicoletta and Loreto and together they create and share recipes at SugarLoveSpices. Be sure to follow their journey.
She Loves Biscotti
♦ The combination of dried figs, apricots, pineapple, cranberries and Brazil nuts combine forces to make a very colorful Holiday Biscotti.
♦ Another Italian biscotti recipe that is just meant to be shared with family and friends.
She Loves Biscotti
♦ This Amaretti recipe distinguishes itself from the others as the ingredients include almond flour and whole eggs. Once you taste these gluten free Christmas cookies, they will quickly become a family favorite.
♦ I finally got this recipe right… after 4 attempts! I did all the recipe testing for you so that you can get the best amaretti any time you make this big batch recipe.
That's it!
13 of the best Italian Christmas Cookies you need to make this season.
Be sure to check my category on Italian cookies, if you want to see more delicious cookie recipes.
Just in case you are not a cookie lover, I will share one more recipe that has been part of my family since the day I was born. Although not considered a cookie, these Italian Honey Balls are simply amazing.
She Loves Biscotti
The unique combination of ingredients used to make these Struffoli was the result of my mother experimenting with her family recipe… it is truly one of a kind recipe, created by my Mom, Angela. She would have loved to share it with all of you.
I would like to dedicate this post to my Mom, who would have been 74 years old on December 3 ♥
Enjoy the video and have fun baking!