Have you ever had roasted chestnuts? If not, you might be wondering what they taste like. This article will explore their flavor, unique texture, and how to best enjoy them.
Jump to:
Introduction
Many people associate chestnuts with Christmas and late fall or the winter season because they feature prominently in the popular holiday song by Nat King Cole, sung in 1946. After all these years, chestnuts roasted over an open fire are still a delicious snack for the holiday season.
Chestnuts do not taste very good when raw and freshly picked off the tree. You would find it quite sour and bitter if you tried to eat one after extracting it from its hard shell. No one is going to sing songs about the flavor of a raw chestnut.
One of the best ways to prepare and enjoy them is by roasting, which can be done over a fire or in your regular oven. You can also buy pre-roasted nuts directly from many grocery stores or farmers' markets during the holiday season.
These large tree nuts also bring a delicious taste to many savory and sweet dishes that can be enjoyed in any season.
Before looking up your new favorite recipe, let's take a closer look at the varieties of chestnuts and what they taste like.
Types of chestnuts
There are four edible chestnuts, but North America's two most popular varieties are the American chestnut tree (Castanea dentata) and the European chestnut (Castanea sativa). The other two are Chinese chestnuts (Castanea mollissima) and Japanese chestnuts (Castanea crenata).
The American chestnut used to be very common in the eastern United States until a fungal disease called chestnut blight nearly wiped out the entire population in the early 1900s.
There are now very few American chestnut trees left, but efforts are to breed a blight-resistant variety that can be replanted in forests.
The European chestnut is the main type you'll find in stores.
The two chestnut varieties have different shapes and sizes, with the American one slightly smaller with a rounded side. The European chestnut is larger and has a more oblong shape.
When it comes to flavor, there is not a big difference between the two types of chestnuts.
Chestnuts differ from other nuts
A nutty flavor is the best way to describe a nut's overall taste, such as walnuts, pecans and almonds. People who have tried these common snacks come to understand what the term means.
One of the closest relatives to the chestnut, the beech nut, also has a nuttier flavor overall.
The beech nut and the chestnut trees come from the same tree family. They have very similar appearances during growth. Both have spiky shell coverings, a smooth brown outer shell, and are edible nuts.
The description of nutty applies to a similar degree regarding chestnuts. However, roasted or boiled, they taste sweet, almost like a baked sweet potato.
If you are more familiar with potatoes, you can also imagine the difference between raw and roasted potatoes. Raw potatoes or raw chestnuts have a bitter taste and are unpalatable. You must cook them properly to bring out the desired slightly sweet flavor.
Some people compare them to almonds or hazelnuts, but each variety has a particular taste. They are not excessively sweet or sugary, which means they pair well with spicy or salty dishes and desserts. Instead, the mild sweetness simply creates a pleasant eating experience.
Also, they are very low in fat when compared to other nuts. This contributes mostly to their nutritional value, soft texture, and consistency. Nutritionally, they are closer to grains than other nuts but have relatively high potassium and Vitamin C levels.
The unique texture of cooked chestnuts
Mouth feel or texture on the tongue is just as important to many people as flavor when deciding what they want to eat.
Chestnuts prepared for consumption are generally not crunchy or brittle like other nuts. Instead, they have a spongy texture that requires a bit more chewing.
This is why they are frequently cut up into small pieces for recipes like stuffing. If the chestnuts are dried completely or dehydrated before use, they are much crunchier. This is frequently done before grinding them into flour or a sweet and creamy purée.
Different cooking methods equal different flavors
While the taste of chestnuts is not very strong, the flavor can change depending on the cooking process.
For example, chestnuts roasted over an open fire will have a smoky flavor that you would not get from nuts that are simply boiled or baked in the oven.
Baked or oven-roasted chestnuts are sweet and nutty, with an earthy taste. If you're a fan of roasting veggies, you know that the process intensifies their natural sugars and gives them a subtle sweet flavor. The same principle applies to chestnuts when they are roasted.
Oven Roasted Chestnuts
Follow these 5 easy steps to learn how to roast chestnuts perfectly every time!
Boiled chestnuts have a milder flavor and a softer texture, perfect to create a pureed filling for ravioli and Christmas star bread (pictured above) or as a creamed topping for cakes. Diced, they can be added to soups, stuffings and even risottos for extra flavor.
They can also be candied, which brings out their natural sweetness, or turned into flour that can be used in various sweet and savory recipes.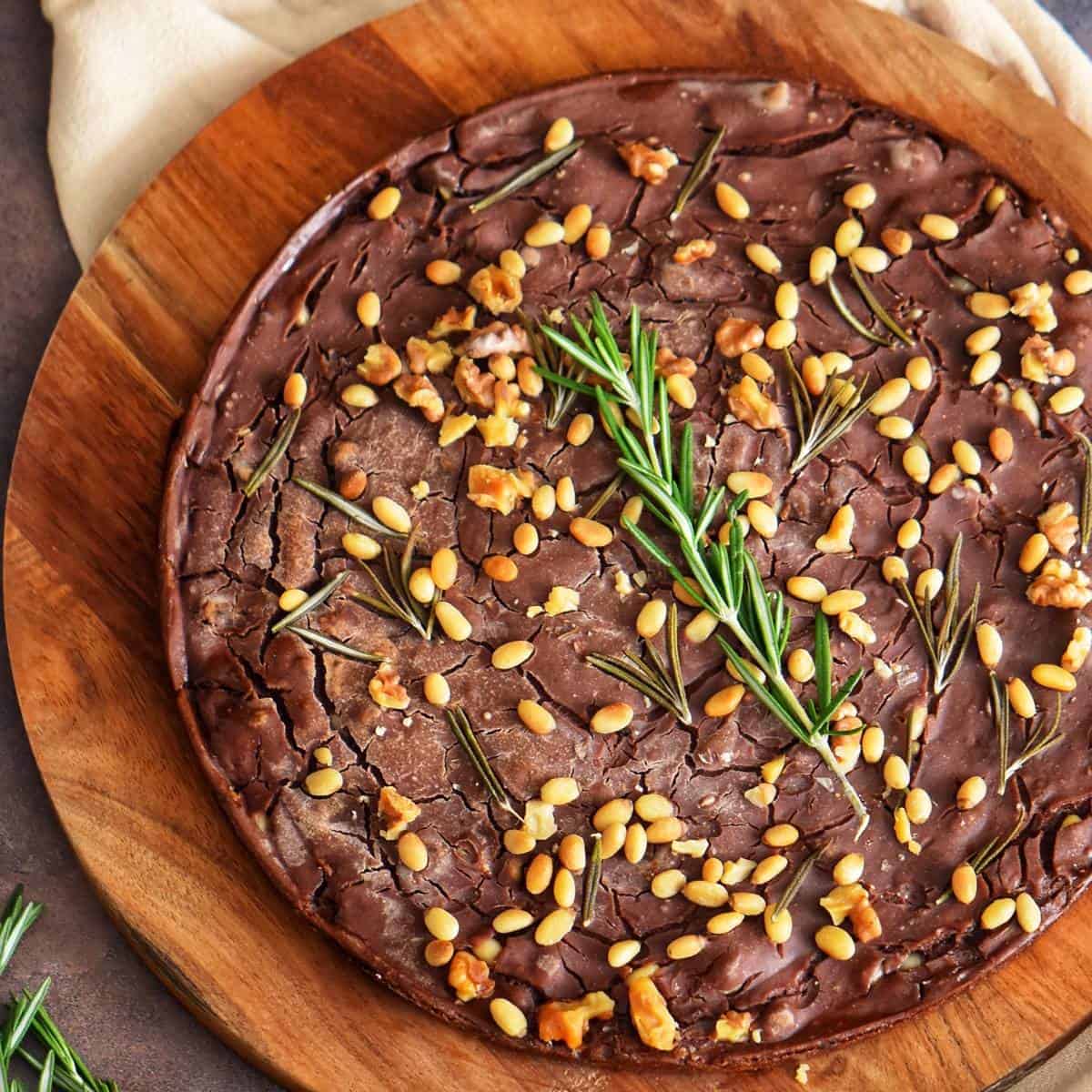 Chestnut flour from perfectly dried nuts tastes much sweeter than wheat or almond flour. Most frequently, people use these nuts as just one ingredient in an entire recipe. One example of a traditional Tuscan cake with chestnut flour is Castagnaccio (pictured above).
No matter how you enjoy them, chestnuts are a delicious and unique addition to your cooking repertoire.
A note on spoilage
Chestnuts have a shorter shelf life than other nuts, especially in their raw form and should be consumed soon after purchase.
Therefore, paying attention to any off-flavors or odors that can indicate spoilage is particularly important.
If you bite into one that tastes sour or rancid, it's best to discard it. Also, check for mold before using them in any recipes.
While flavors of rot or mold are obvious, spoiled chestnuts are most commonly identified by the change in their texture. The outside layers will become flaky and the inside will harden even more.
Your fresh chestnuts should not have a chance to go bad, as there are so many amazing things you can do with them. Besides numerous preservation and storage options, you can enjoy an amazing selection of recipes.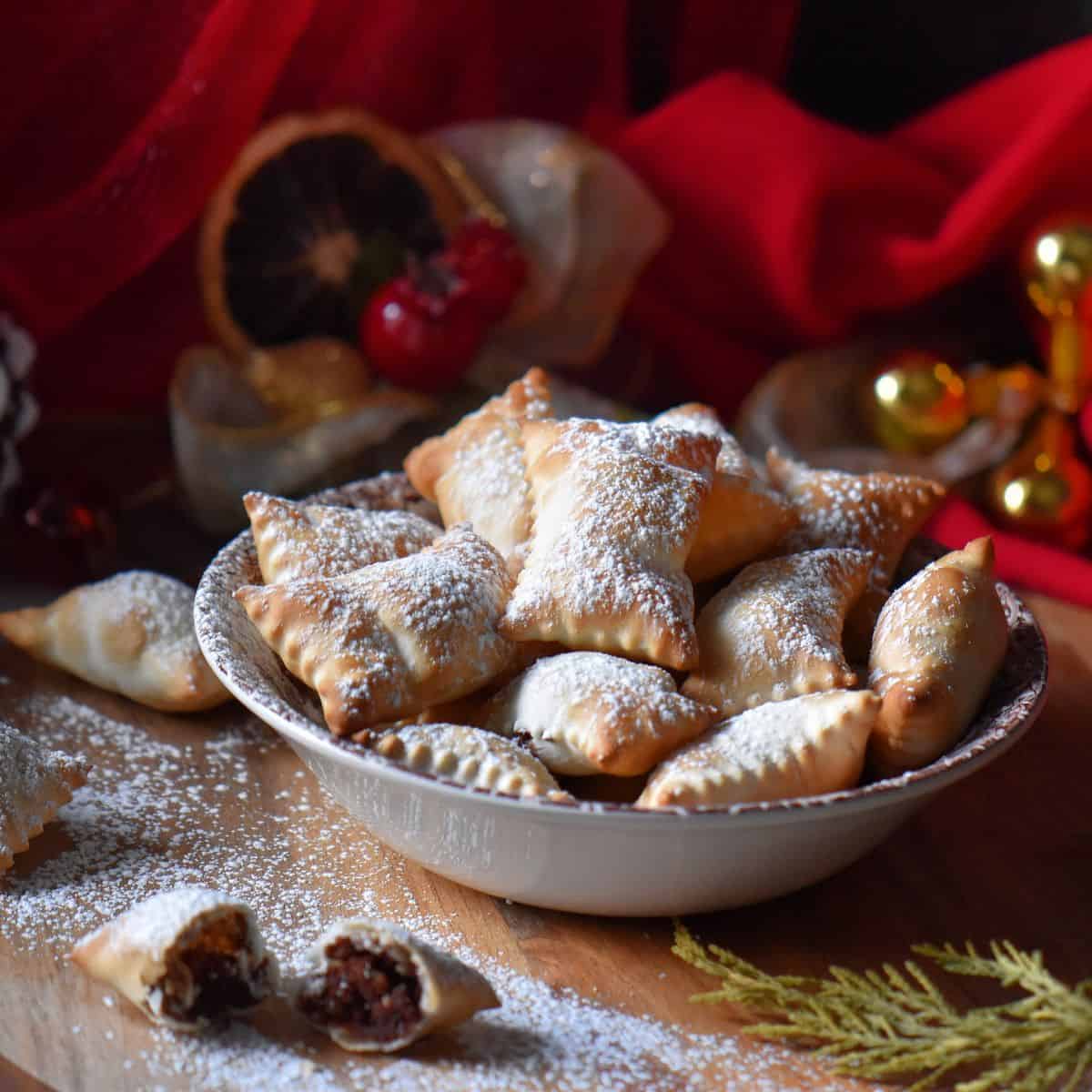 Can you use chestnuts in sweet or savory recipes?
Both!
The good news is that these flavorful nuts taste great in various dishes. These range from main courses and side dishes like chestnut stuffing with Italian sausage to an air fryer version of the regional Italian cookie called Calzoni Di Castagne (pictured above).
Chestnuts impart a unique scent and taste to many recipes your family can enjoy.
Many different countries traditionally enjoy the taste of roasted chestnuts. Most commercial farms are in Asia, although the tree is also found in Europe and North America.
French cooking offers popular chestnut soup with chicken stock and milk. Brisolee, chestnuts roasted with cheese, comes from Switzerland. Chestnut stuffing is a common addition to Thanksgiving and Christmas tables in the United States. Armenians enjoy dolma, a rice, chestnut, and lamb dish wrapped in cabbage leaves. They are even used as feed for specially raised gourmet pork.
The sought-after taste has been adapted to many cultures and cuisines worldwide.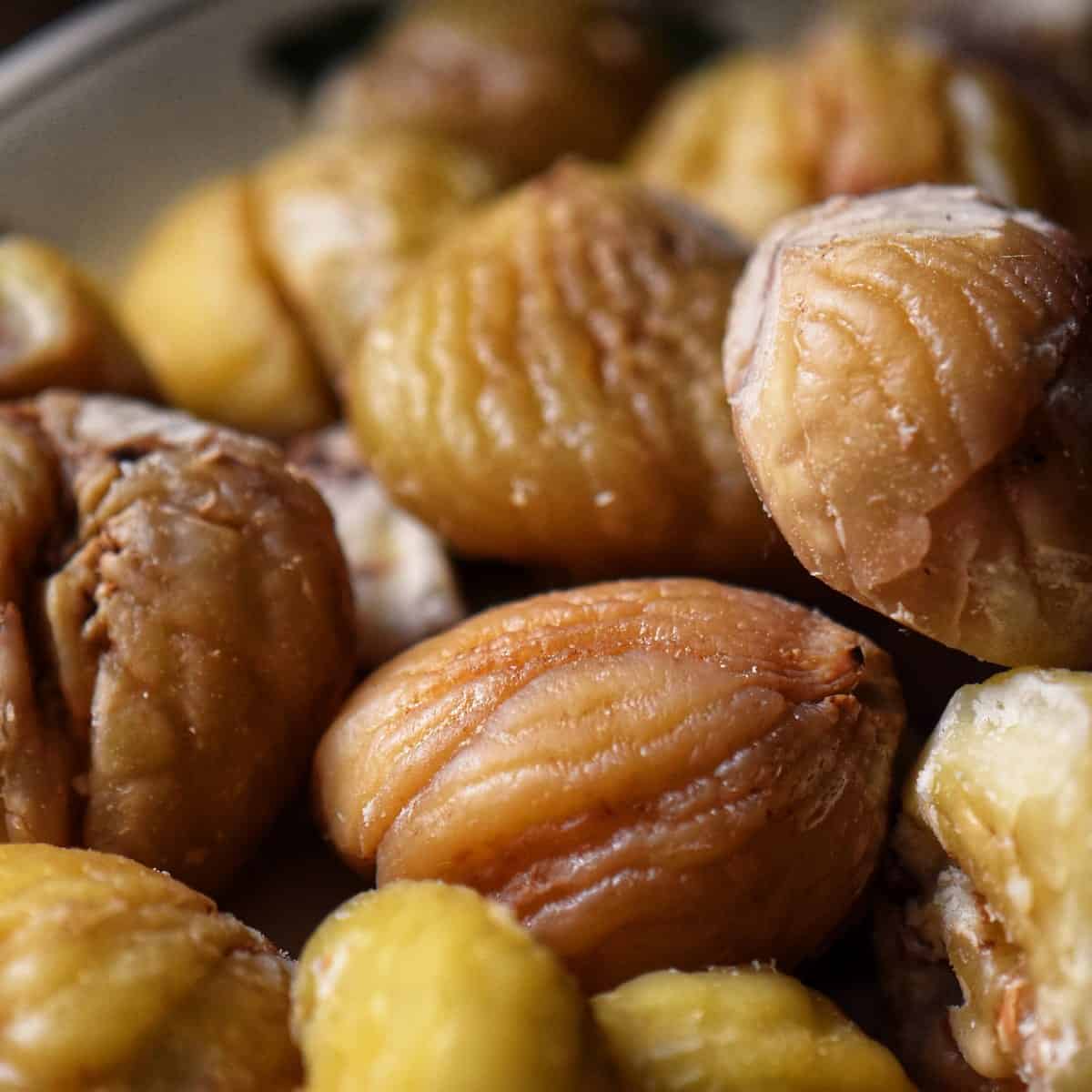 In summary
Prepared chestnuts offer a unique flavor to many meals and special occasion desserts. Whether you long to recreate the classic Christmas song by roasting them outside on a snowy evening or prefer adding them to a savory side dish for a family dinner, you cannot go wrong with this popular nut.
THANKS SO MUCH for following and being part of the She Loves Biscotti community, where you will find Simple & Tasty Family-Friendly Recipes with an Italian Twist.
Ciao for now,
Maria