Properly storing chestnuts is key to extending their shelf life and great taste; otherwise, they can spoil rapidly. Discover simple methods and tips to keep your chestnuts fresh for short and long-term storage, whether raw, cooked, shelled, or unshelled.
Jump to:
Introduction
If you love the unique flavor of chestnuts in sweet or savory recipes or as a delicious and healthy snack, you undoubtedly want to have some on hand for an extended period.
Who wouldn't want to enjoy roasted chestnuts for as long as possible? They're just so tasty!
Luckily, with a few simple tips, you can extend the shelf life of your chestnuts and enjoy them for weeks or even months.
The idea of storing chestnuts may not have crossed your mind in the past.
Are they like all other nuts?
Can you just put them on a shelf in an airtight container like hazelnuts or almonds?
Unfortunately, the answer to these questions is "No." You will need to take some additional steps to store chestnuts successfully so they retain their nutritional value and delicious taste.
Chestnuts are unique among nuts because they have a high moisture content, making them more perishable than other nuts. They must be stored properly to prevent spoilage and keep them fresh.
You can store chestnuts in various ways, depending on your preferences and how soon you intend to use them. Remember that some methods will preserve the chestnuts for longer periods than others, so if you have a holiday gathering or other special event, make sure to pick a storage method accordingly.
Before discussing how to store chestnuts, let's first go over how to purchase the best ones.
Choosing the best chestnuts
If you intend to store your chestnuts, even for a short period, try to select the best ones.
Chestnut season is typically from October through January, but you may be able to find them at your local grocer or farmer's market outside of this time frame.
You can buy raw chestnuts at the supermarket or health food store, from a farm or agricultural market, or if you're lucky, freshly pick them from chestnut trees. They are also available from online sources with expedited shipping to ensure they arrive at your door in good condition.
When purchasing fresh chestnuts from the grocery store, you can inspect each one beforehand, looking for any sign of mold, bruising, or other damage.
If you are buying bulk from another source, such as a farm stand, ensure that the seller has stored them in a cool, dry place to prevent spoilage.
Remember that purchasing them as close as possible to when you plan to use them is ideal.
You want to purchase chestnuts with shiny, glossy, firm shells with no cracks or holes. If the shell is dull or has any blemishes, the chestnut inside is likely past its prime.
Another thing to consider is whether the chestnut feels heavy for its size. This is an indication that the nut inside is plump and moist.
To ensure your chestnuts are high quality, check that they are firm and not shriveled. Shriveled chestnuts will be dry and not taste as good. Give your chestnut a shake, if it rattles, the nut inside might not be as fresh as you'd like.
Avoid purchasing those in sealed plastic bags, as mold can easily form when chestnuts lack airflow.
If purchasing prepackaged chestnuts, choose those in a mesh bag or those with perforations. This will help improve airflow and prevent mold from forming.
Store raw chestnuts in the fridge
First, make sure they are clean and dry.
Refrigerate uncooked chestnuts with their shells in a mesh or paper bag for best results. A perforated plastic bag is another option. A paper towel lining and ventilation holes can help remove any excess moisture.
The ideal refrigerated storage conditions for chestnuts are 33-35° F ( 0.5-1.7° C) with high humidity near 90% [source]. Keep in mind that the ideal temperature for your refrigerator is between 35 and 38° F (1.7 to 3.3° C). The recommended temperature is at or below 40° F (4° C) [source].
As the coldest part of your fridge is typically near the back, it's a good idea to store your chestnuts there. The crisper bin or vegetable drawer is another option.
Under normal refrigerated conditions, unshelled chestnuts will last up to two weeks. However, storing them in a fridge with ideal temperature and humidity levels can extend their refrigerated shelf life to three weeks.
Store cooked chestnuts in the fridge
While still warm from boiling or roasting, peel chestnuts, including the inner skin. Allow the nuts to cool completely. When they are at room temperature, transfer them to airtight containers or plastic bags and refrigerate them. They can keep for up to 4 days this way.
Long-term storage
Use your freezer to help preserve your chestnuts' freshness for up to 6 months. They can last up to one year, but the risk of freezer burn increases the longer they are frozen.
Store raw chestnuts in the freezer
If you plan on roasting your chestnuts (once they are thawed), freeze them raw with their shells still on. Simply place clean and dry chestnuts in a freezer-safe bag, and seal tightly, removing any excess air before sealing. The flat side of each nut should be facing down so they will stack nicely in the bag.
Label and store in the freezer for up to 6 months.
To thaw, remove the desired number of chestnuts from the freezer and allow them to come to room temperature on the countertop or defrost them in the refrigerator overnight. Once thawed, follow the correct method to roast chestnuts immediately, as they do not keep well once they have been thawed.
Store cooked chestnuts in the freezer
If you plan to use cooked chestnuts in a recipe, such as a chestnut puree or stuffing, cooking and peeling them before freezing is more convenient. Depending on the recipe, there might also be no need to thaw your frozen cooked chestnuts, simply add them to your recipe.
The process begins by cooking your chestnuts in any method you prefer. Let them cool off slightly after they finish cooking, then you can start peeling them.
Flash-freeze by spreading the cooked, peeled chestnuts on a baking sheet lined with wax or parchment paper in a single layer without touching each other and place them in the freezer for at least one hour or until semi-frozen. Then, transfer the chestnuts to an airtight plastic bag or container. Remove any excess air before sealing using a sealer or straw.
Label and store in the freezer for up to 6 months.
Keep chestnuts frozen until you're ready to use them in a recipe. When ready to use, remove the desired number of chestnuts from the freezer. Do not refreeze thawed chestnuts.
By cooking and freezing your chestnuts ahead of time, you can have small portions on hand that can be used for various recipes. This is a great way to save time and effort in the kitchen!
Tips
To extend their shelf life, store chestnuts in a fridge with ideal temperature and humidity levels.
If storing chestnuts in the refrigerator, take them out of the fridge a few days before cooking them for the best flavor. This allows them to dry slightly, become softer on the surface, and develop a higher natural sugar content.
You'll have an easier time peeling chestnuts when warm rather than cold.
Cooked chestnuts can be stored in pieces or as whole nuts. Keeping them whole minimizes the risk of spoilage in the freezer.
If you have shelled chestnuts in the freezer and want to use them for a recipe, there's no need to thaw them first. You can cook with frozen chestnuts without any issues in various recipes.
FAQ
What is the difference between shelled vs unshelled nuts?
Shelled chestnuts have removed their hard outer shell, while unshelled chestnuts still have the shell intact.
Can you freeze chestnuts?
You can freeze chestnuts, cooked or uncooked, with or without their shell. Frozen at a stable temperature of -4°F (-20°C) or colder, they will last for up to 6 months. However, the risk of freezer burn increases the longer they are frozen.
Chestnut Recipes
Now that you know how to store your chestnuts, it's time to put them to good use! Here are some easy recipe ideas to get you started:
One of the most popular ways to enjoy chestnuts is to roast them.
These make a healthy and delicious snack on their own, or you can add them to salads, soups, and main dishes for extra flavor and texture.
A holiday side dish can be made with either fresh or frozen chestnuts.
Stuffing ingredients include sweet Italian sausage, fennel and chestnuts.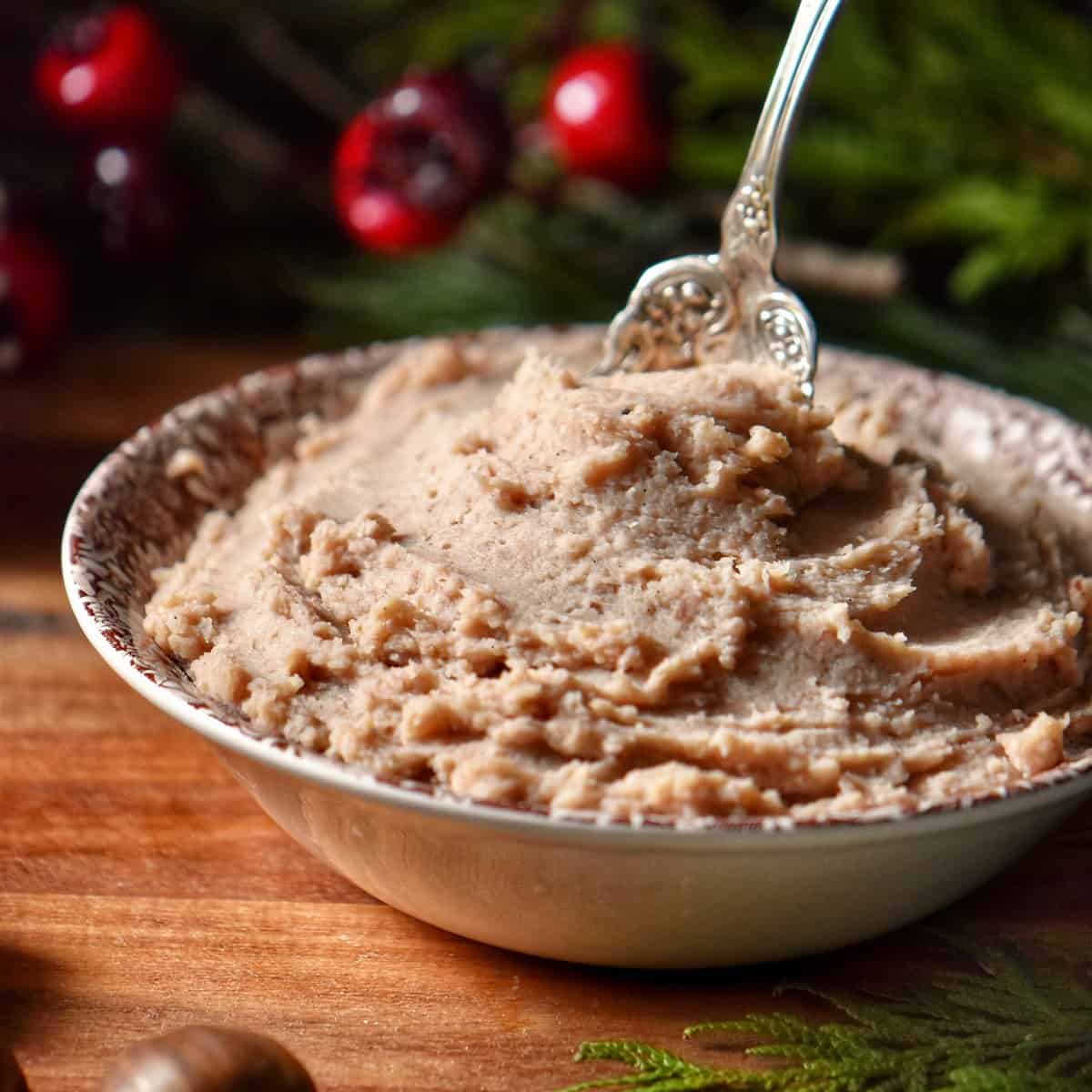 A lightly sweetened versatile ingredient that is great to use as a spread on toast or as a filling for yeast bread or Italian cookies.
Conclusion
There's no denying that chestnuts are delicious. They are versatile ingredients that can add flavor and texture to any dish. What's more, they're also healthy!
These fresh nuts can be stored in various ways, depending on how you plan to use them. Following our tips, you can extend their shelf life and ensure they're always ready to use when needed.
So, next time you're at the store, pick up a few extra bags to keep in your freezer! You'll be glad you did!
THANKS SO MUCH for following and being part of the She Loves Biscotti community, where you will find Simple & Tasty Family-Friendly Recipes with an Italian Twist.
Ciao for now,
Maria