Have you started planning for the holidays? Do you have recipes that require blanched almonds? You won't believe how easy it is to make your own! Today, we will be Blanching Almonds in 5 Easy Steps.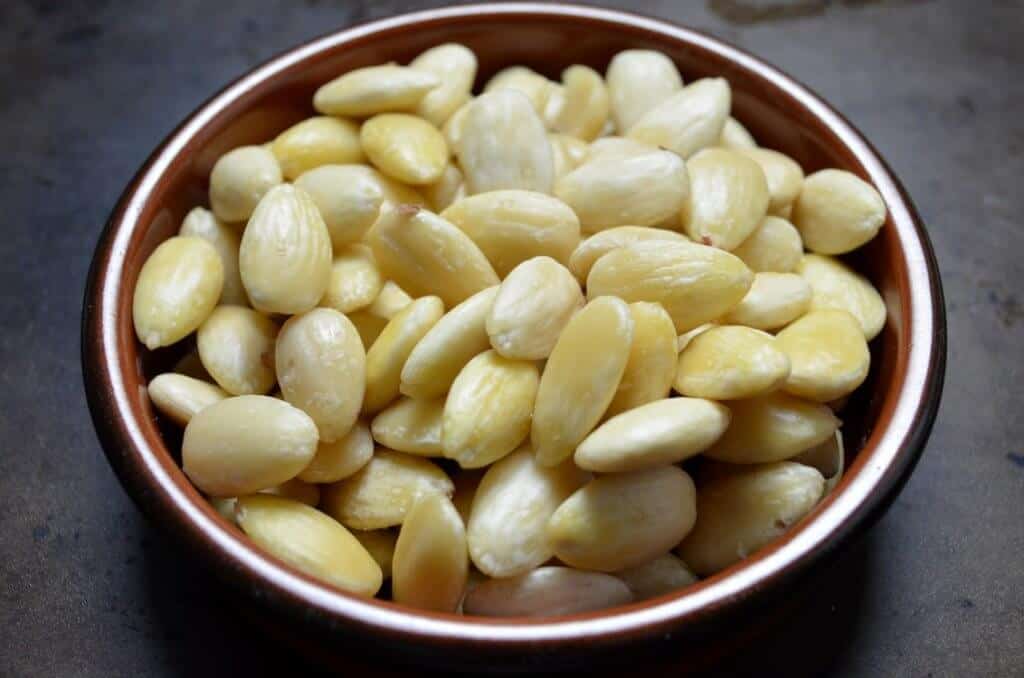 Blanching Almonds
This post was originally published on November 8, 2015 and republished on November 1, 2018 with updated content, photos and a video. Thanks for watching and sharing!
Do you like to plan ahead?
Do you have a hard time finding blanched almonds to make your almond flour recipes?
Do you have whole almonds in your pantry?
If you said yes, I would love to share a quick and efficient way to blanch almonds. It's one of the best ways to prepare for holiday baking. As you probably know, it's never too early to start planning. Once your ingredients are prepared, like these blanched almonds, it becomes a lot easier to get in the holiday spirit.
Just in case you are wondering, a blanched almond is an almond without its skin. Once you realize how easy and economical blanching almonds at home is, you will never purchase them again.
If you have been here before, you know I will usually shift gears in the fall months and start thinking about holiday baking. After all, processed blanched almonds (also referred to as almond flour) are perfect to use when making Amaretti. They are also perfect throughout the year to make Almond Butter.

What do I need to make blanched almonds?
Almonds! No surprise here. Make sure they are plain, raw almonds that are unsalted and not roasted.
Water. The almonds need to be boiled in water before attempting to remove the skin. They also need to be submerged and rinsed in cold water to stop the cooking process.
As far as accessories are concerned, we need a medium pot, a colander or strainer and some clean kitchen tea towels.
The whole process of how to blanch almonds begins with a pot of water. Are you ready? Let's begin!
Blanching Almonds in 5 Easy Steps:
Step 1: The first thing we need to do is to bring a large pot of water to a rolling boil.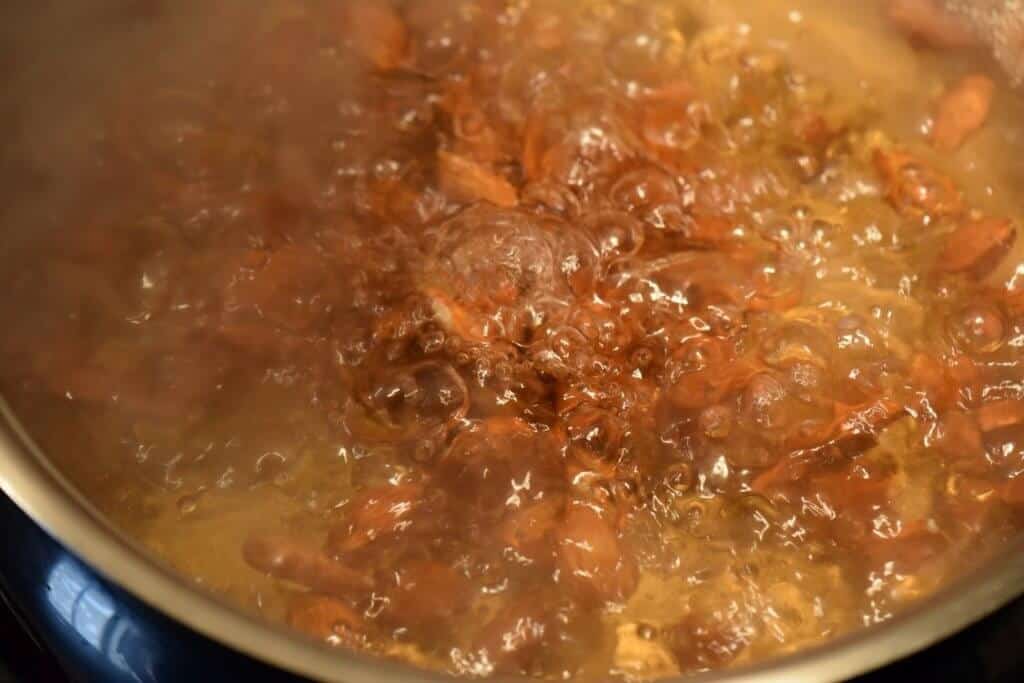 Step 2: Set your timer to 60 seconds. Add your raw almonds, all at once, to the boiling water. Start your timer the second the almonds hit the water. Let the almonds boil for EXACTLY 60 seconds. If you go passed the minute mark, your almonds will immediately begin to soften. This is not what we are aiming for. So, stay close to your almonds and no interruptions for 60 seconds.
Step 3: Remove your pot of boiled almonds from the stove and drain in a colander or strainer. Immediately rinse them under cold water in order to cool them down and stop the cooking process.
You will notice that the skin of the almond is now shriveled. The almond has now detached from its skin.
Here comes the fun part!
Step 4: Time to start popping. With your fingers, gently squeeze the almond from the base to the point. The almond skin will quickly slip off. You will be amazed at how far you can pop an almond out of its skin!
Step 5: Blot the almonds with a tea towel. Place your "skinless" almonds in a single layer on a sheet pan, which has been lined with a tea towel and leave to air dry.
The almond skins can be used as compost for garden beds.
Et voilà, fresh, perfectly blanched almonds, ready to be transformed into some wonderful baked treats or savory dishes!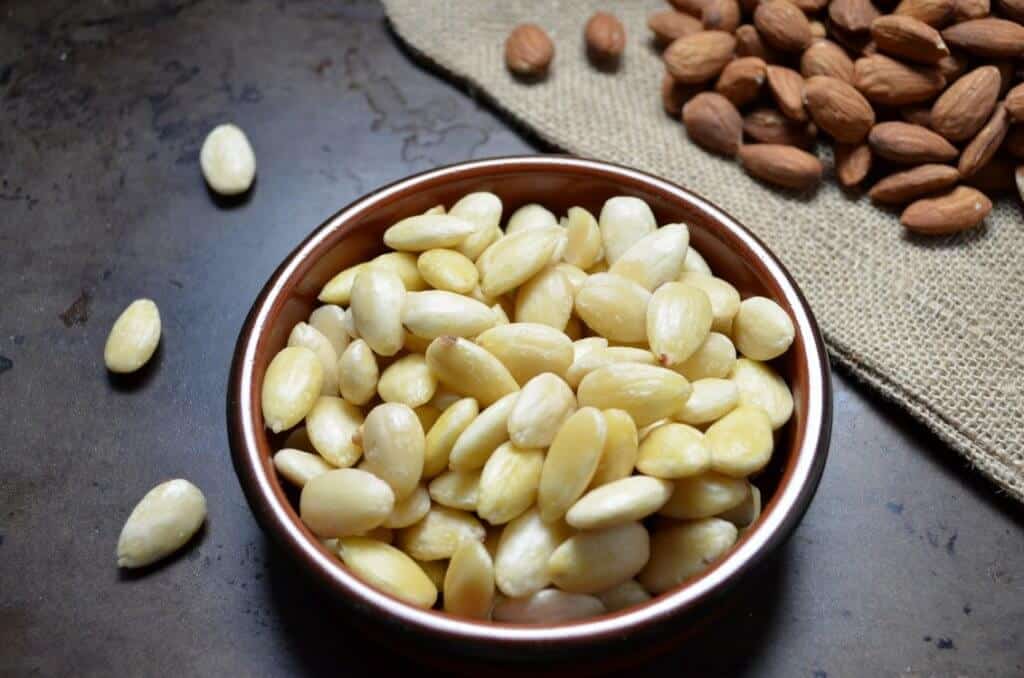 Tips, Tricks and Recipe Notes when Blanching Almonds:
Make sure to have raw almonds that have not been transformed (unsalted and not roasted).
When boiling the almonds, make sure they are completely submerged in the water, otherwise the skin will be harder to peel off.
Do not boil the almonds more than 60 seconds as they will begin to cook and soften,
What is the best way to store blanched almonds? If using within two months, they can be placed in a mason jar and refrigerated.
Can I freeze blanched almonds? Yes, once they are perfectly dry they can be kept frozen for up to one year.
Is there a difference between almond meal and almond flour? Yes, there are actually two. The first is that almond meal is obtained by processing almonds with the skin still on, whereas almond flour consists of processing blanched almonds. The other difference is the texture; almond meal is slightly coarser when compared to almond flour.
Almond Flour Recipes:
What will you make with your blanched almonds?
Would love to hear about it!
THANKS SO MUCH for following and being part of the She Loves Biscotti community where you will find Simple & Tasty Family-Friendly Recipes with an Italian Twist.
Ciao for now,
Maria
★★★★★ If you make this method for blanching almonds, I would love to hear about it in the comments below and be sure to rate the recipe!
Blanching Almonds
Blanching Almonds in 5 Easy Steps. You won't believe how simple,quick & economical it is to make your own. No fancy equipment required for this diy project.
Print
Pin
Rate
Instructions
Over high heat, bring a large pot of water to a rolling boil.

Add the almonds and boil for EXACTLY 60 seconds.

Drain the almonds in a colander or strainer.

Rinse them under cold water in order to cool them down.

To remove the skin, gently squeeze the almond with your fingers, from the base to the point.

Allow to air dry before storing. Can be refrigerated for up to 2 months or frozen for up to a year.
Scroll UP for the STEP by STEP Photos
Don't miss the process shots and videos included in most posts. Simply scroll up the post to find them. Those were created especially for you so that you can make the recipe perfectly every single time you try it.
Notes
Feel free to blanch any amount of almonds required.
Please keep in mind that the nutritional information provided below is just a rough estimate and variations can occur depending on the specific ingredients used. 
Nutrition
Serving:
1
serving
|
Calories:
411
kcal
|
Carbohydrates:
15
g
|
Protein:
15
g
|
Fat:
35
g
|
Saturated Fat:
2
g
|
Potassium:
504
mg
|
Fiber:
8
g
|
Sugar:
2
g
|
Calcium:
189
mg
|
Iron:
2.7
mg