Traditional Italian panettone is usually a rich and dense sweet bread made for Christmas. This simple and rustic family recipe for panettone has no rum-soaked raisins, nor are there any candied fruits. There are only three teaspoons of butter in this airy and light-textured panettone. Curious? Come and take a look!
You know Christmas is approaching when you begin to see chestnuts, pomegranates and these cylindrical shaped Italian panettone proudly displayed in supermarkets and freshly made in bakeries… at least in my neck of the woods 🙂
Panettone can be a little challenging to make at home, but somehow I managed to get great results on my first try!
And if I can do it, so can you!
It is possible to make panettone at home with the right equipment. One such item is the special paper baking mold with the special print. As the dough expands, it clings to the sides and creates a snug fit.
There are also special panettone pans that can be purchased. They are usually tall and tubular. That is what gives the panettone its distinguishable appearance. I read somewhere that you can also use a coffee tin as a replacement for the panettone pan.
It also helps if you have a great recipe. Naturally, everyone has their definition of what makes a recipe great. I especially love this recipe because it is so light and airy, unlike the store-bought versions which can sometimes be very dense.
When you make your panettone, you can easily control what add-ins, if any, you want to include. My family is not a fan of candied fruit nor raisins… so much so that I don't even put raisins in my rice pudding! So, there will no none of that today. On the occasion, I will sometimes add mini chocolate chips… dark, of course 😉
Did you know leftover homemade panettone makes the best bread pudding or even french toast? There's another reason to love this recipe!
Hopefully, by now, I have piqued your curiosity about this Italian Christmas bread. Are you ready to begin? Here we go!
How to make panettone
Just like most bread recipes, this recipe begins with proofing some yeast. While the yeast is doing its thing, the room temperature eggs can be whisked and the rest of the ingredients can slowly be integrated. Once the yeast is ready, it is just a matter of combining it with the ingredients in your stand mixture.
At this point, I switch to the dough hook, add the flour, and let my stand mixture do the work for about 8-10 minutes. You will quickly notice that this is a very soft and sticky dough. Please note that all of the ingredients should be at room temperature.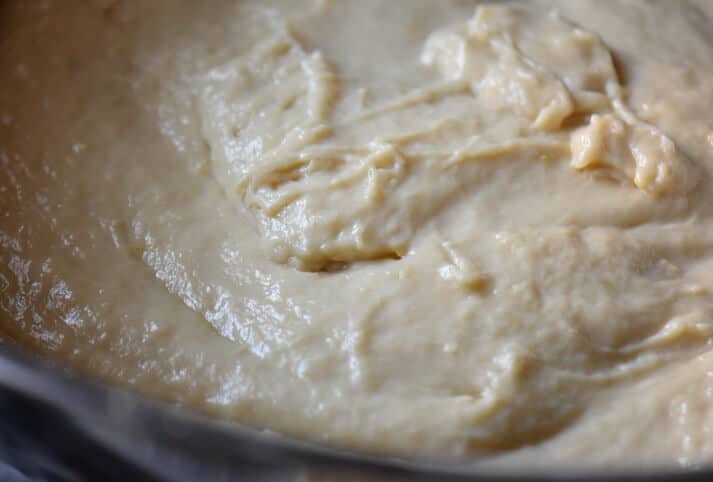 At this point, the dough needs to rest for a good couple of hours. So transfer the dough in a really big bowl; cover with plastic wrap; place a tea towel over the whole thing and wait until the dough has doubled or even tripled before proceeding.
When the dough is ready, punch it down. Carefully separate in thirds and place into the 6-inch molds. Each mold should have about 550 grams of dough. If you do not have a scale, don't worry. Try to distribute as evenly as possible.
At this point, the dough needs to rise again. Place in a draft-free place and allow the dough to rise to the top of the mold. There is no need to cover the dough. Please note that the dough can be placed in the refrigerator for an overnight stay. In the morning, take them out of the fridge and allow them to return to room temperature before proceeding.
Once the panettone is ready. you will notice that a crust has formed. With a very sharp knife, cut through the top thin layer and carefully peel back the top. Place about 1 teaspoon of butter in the center. They are now ready to be baked.
The panettone will take about 35 minutes to bake. You will notice that the top will get very dark. If getting too dark, you can always cover it with a piece of aluminum foil.

Once you have removed the panettone from the oven, pierce a wooden skewer through the bottom part and place it upside down in a large pot. This will help create a light and fluffy texture.
More yeast bread recipes
If you enjoy breakfast bread recipes made with yeast, you will love this recipe for hot cross buns. Another family favorite is this braided sweet bread spread with chocolate nut butter.
Recipe inspiration
Let's see if you can follow my family tree:
My husband's sister married a man named Agostino years before my husband and I ever met. Agostino's mother is Michelina. We would respectfully refer to her as Zia Michelina.
My niece, Agostino's daughter, Zia Michelina's granddaughter, kept and treasured her father's recipe book long after he and her grandmother passed away. She tells me she found Zia Michelina's Panettone recipe one day immediately after her passing – a recipe she thought had never been transcribed, and so a recipe she assumed was forever lost.
My niece has supported my blog ever since its conception, and I'm so grateful to her for that. But recently, she put the icing on the cake: she arranged to meet my daughter, unbeknownst to me, to pass off her old recipe book. I was so surprised when my daughter came home with Agostino's and Zia Michelina's recipes! The recipe for Zia Michelina's Panettone was the first I tried. It was clear how much she and my niece treasured the recipe, based on how neatly it was written, and how carefully it was kept.
Like most Italian nonnas, Zia Michelina was a fantastic cook and baker. I had the privilege every year as she would help my sister-in-law host New Year's Day Lunch. So, once again, a big thank you to my niece for having given me such a wonderful surprise. This recipe will forever have a special place on the She Loves Biscotti blog.
I hope that you try Zia Michelina's Panettone recipe and share it with your family so that her legacy can live on.
For my dear family, friends, and all of you that are celebrating Christmas, I would like to wish you and your loved ones a very Merry Christmas. And for those not celebrating Christmas, I hope that your day is full of love, happiness and wonderful moments with the ones that you love!
Buon Natale a tutti ♥
THANKS SO MUCH for following and being part of the She Loves Biscotti community where you will find Simple & Tasty Family-Friendly Recipes with an Italian Twist.
I have just created the perfect printable baking checklist to help you keep track of all your baking needs. If you love to bake, this is for you!
This way, you won't miss any of my new recipes and it's free!
Ciao for now,
Maria
Recipe
Zia Michelina's Panettone
Zia Michelina's panettone is a family recipe for a traditional, rustic, Italian Christmas bread. So light and airy and so much healthier than any store-bought version.
Print
Save Recipe
Saved!
Pin
Rate
Ingredients
24

grams

active dry yeast

approx. 3 packages or 2 tablespoons)

1

teaspoon

sugar

½

cup

lukewarm water

6

eggs

room temperature

12

tablespoons

sugar

180 grams

1

cup

vegetable oil

7

oz

milk

room temperature

2

teaspoons

vanilla

zest of 2 lemons

6

cups

flour

sifted, all purpose

3

teaspoons

butter
Instructions
In a small bowl, combine yeast, sugar and water.

Stir and let stand for 10 minutes (will get foamy).

Meanwhile, in the bowl of a stand mixer, beat the eggs until light and frothy.

Continue beating while adding sugar, oil, milk, vanilla, zest and finally the yeast mixture.

Switch to dough hook attachment.

Gradually add flour and knead for approximately 8-10 minutes until you have a soft, smooth elastic dough.

Gather dough in a ball and place dough in a very large bowl, cover with wrap and dishcloth and allow dough to rest for at least 2 hours (or until double or almost triple in size) in a draft free place.

Punch down dough.

Separate dough in thirds and place in panettone molds.

Allow to rest for another 2 hours or until the dough has reached the top of the mold.

With a very sharp knife, score slightly across the top (make an X). Peel back the sections.

Place 1 teaspoon butter in the center of the cut.

Bake in a preheated oven at 350° F for approximately 35 minutes or until golden brown (set oven rack one below the center).

Once you have removed the panettone from the oven, pierce a wooden skewer through the bottom part and place it upside down in a large pot until completely cooled down.
Scroll UP for the STEP by STEP Photos
Don't miss the process shots and videos included in most posts. Simply scroll up the post to find them. Those were created especially for you so that you can make the recipe perfectly every single time you try it.
Notes
Special equipment required: panettone pans or molds (6 x 4.5 inches).
If desired, you can add dried and/or candied fruit, chocolate chips, etc... after the first rising.
Please note that the dough can be placed in the refrigerator for an overnight stay for the second rising.  In the morning, take them out of the fridge and allow them to return to room temperature before proceeding. 
Please keep in mind that the nutritional information provided below is just a rough estimate and variations can occur depending on the specific ingredients used. 
Nutrition
Serving:
1
serving
|
Calories:
233
kcal
|
Carbohydrates:
41
g
|
Protein:
7
g
|
Fat:
4
g
|
Saturated Fat:
2
g
|
Cholesterol:
57
mg
|
Sodium:
33
mg
|
Potassium:
92
mg
|
Fiber:
1
g
|
Sugar:
8
g
|
Vitamin A:
120
IU
|
Calcium:
27
mg
|
Iron:
2.2
mg
This recipe was originally published on November 15, 2014 and republished on December 24, 2017 with updated content and pictures.