This easy and crispy Garlic Roasted Brussels Sprouts recipe will change your thoughts about this underrated vegetable! With just a few ingredients and a simple roasting method, these sprouts become a savory and delicious side dish you'll have on repeat.
Looking for more crispy and flavorful vegetables? Try this roasted cabbage recipe or these oven-baked veggies.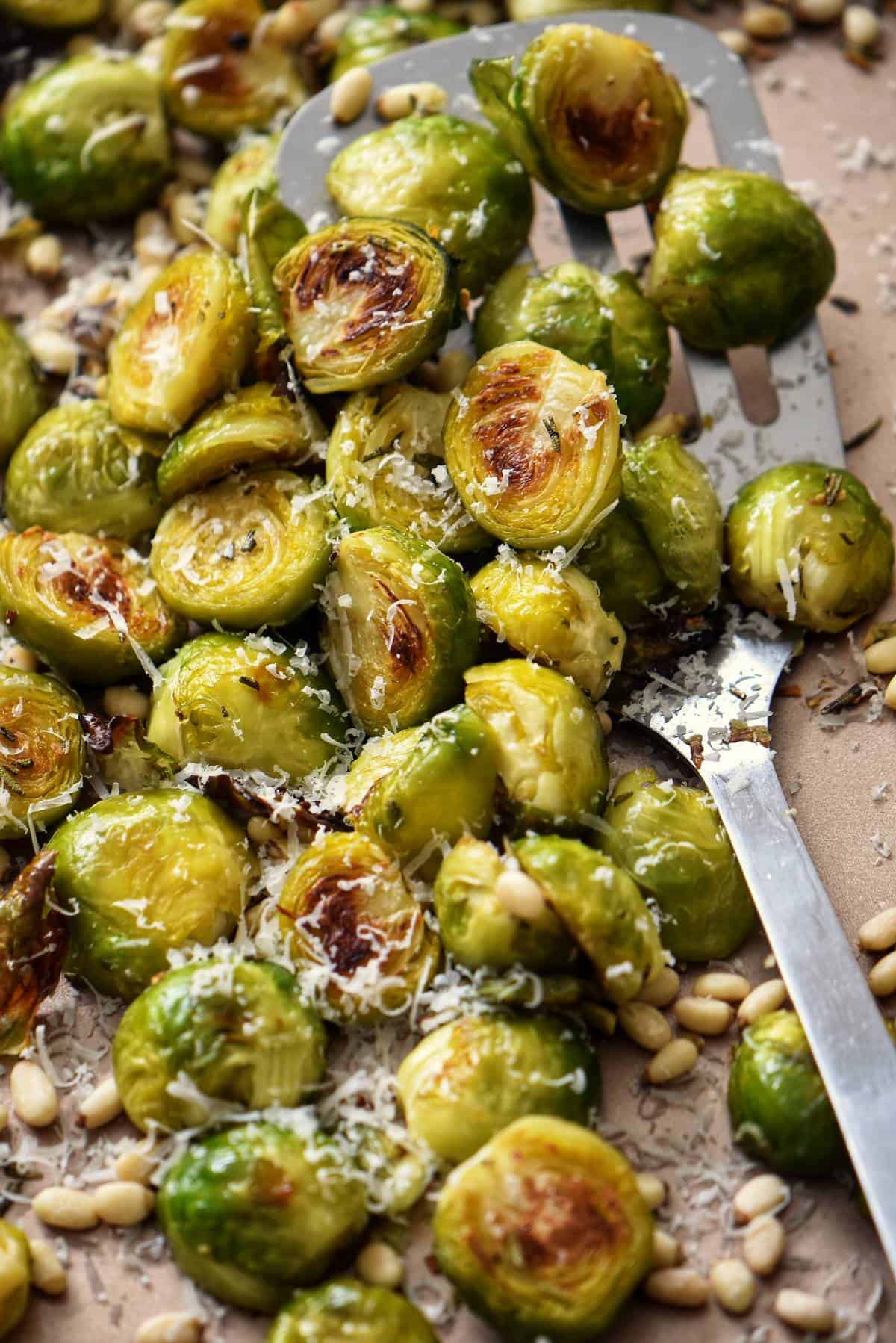 Jump to:
Introduction
Not all vegetables are created equally; some are often overlooked or dismissed despite their incredible flavor and nutritional benefits.
Take, for example, Brussels sprouts. No one seems to give them a chance, but I think they deserve their "15 minutes of fame"!
Hopefully, you'll agree once you taste this garlic-roasted version. When prepared properly, they can be downright delicious.
In this recipe, I'll show you how to transform Brussels sprouts into a savory and addictive side dish by roasting them with garlic and olive oil and garnishing them with a grating of fresh parmesan cheese.
Trust me, after your first bite; you'll never look at this vegetable the same way again!
Let's examine some of the facts…
Fact#1: They are part of the Brassica family of vegetables, including cabbage, broccoli, kale and collard greens. Don't they resemble tiny heads of cabbages?
Fact#2: As a dietitian, I can tell you that they are nutritional powerhouses! They provide you with high levels of Vitamins C and K, dietary fiber, and various flavonoids and anti-oxidants. [source]
Fact#3: There are only 10 calories per sprout! That's really low!
Fact#4: Overcooking them can sometimes produce that unpleasant sulfurous odor and flavor. We have to avoid this at all costs. The goal is to roast them in order to caramelize them. That's when the taste transformation takes place. At this point, they have a nutty flavor.
More reasons to love this recipe
They are easy to make: With only a few ingredients and a simple roasting process, this recipe is perfect for busy weeknights or last-minute dinner parties.
It's versatile: You can serve these roasted Brussels sprouts with garlic as a side dish, add them to a salad, or use them as a topping for pizza or pasta.
Budget-friendly: Brussels sprouts are an affordable vegetable found year-round, making this recipe a cost-effective way to add variety to your meal plan.
Customizable: While this recipe calls for garlic, olive oil, Parmesan cheese, and pine nuts, you can easily switch up the seasonings to suit your taste preferences. Add lemon zest, chili flakes, or balsamic glaze for a different flavor profile.
It's a crowd-pleaser: Even those who claim not to like Brussels sprouts will be won over by this recipe. The garlic and olive oil bring out the nuttiness of the sprouts and give them a crispy texture that's hard to resist.
I could go on, but I think the best test is to try them out.
Ingredients
Brussels Sprouts. Fresh is always best for this recipe.
Garlic. Feel free to vary the amount based on preferences. If possible, use fresh; avoid garlic powder.
Olive Oil. The fruity aftertaste pairs well with the nuttiness of the sprouts. If possible, use extra virgin.
Rosemary. Fresh or dried.
Pine nuts. Or any other nuts.
Parmesan Cheese. Optional but adds great flavor. Freshly grated if possible.
Salt and Pepper. To taste.
Let's prep our recipe
Preheat your oven to 400°F (200°C). We also need to preheat a large-rimmed baking sheet.
Prep the garlic: Remove the papery outer skin of six garlic cloves and cut off the tips. Finely mince the garlic. You can also use a garlic press. Feel free to use more (or less) according to your preference. Set aside. 
Prep the brussels sprouts: This recipe requires about 1½ pounds (680 grams) of Brussels sprouts. Take them out of your fridge in advance and let them come to room temperature. This will ensure that you get an optimal result when roasting them.
Start by trimming off the stem end of each Brussels sprout with a sharp paring knife. Remove any loose or damaged outer leaves as well.
Give them a rinse and pat them dry with a clean tea towel.
To cut them in half, hold the Brussels sprouts firmly with your fingers and use a sharp knife to cut them in half lengthwise.
Cut the larger ones in half. Place the cut vegetables in a large bowl.
Step-by-step instructions
Next, add the extra virgin olive oil (2 tablespoons), minced garlic (6 cloves), chopped rosemary (2 tablespoons fresh OR 2 teaspoons dry), and Kosher salt and black pepper to taste. Toss all the ingredients together to ensure the sprouts have a thin coating of oil.
Place on a large rimmed sheet pan and arrange cut side down. Place vegetables in the oven and roast for about 15 minutes, undisturbed. Then, turn them over and roast them for another 15 minutes.
Optional: Sprinkle pine nuts (¼ cup) during the last 5 minutes of roasting.
Notice that the caramelized Brussels sprouts are golden, ensuring a mild nutty flavor.
Taste for doneness and adjust seasonings if necessary. You want to roast your sprouts until they are crispy, caramelized on the outside, and fork-tender on the inside—place them on a serving platter.
Garnish with freshly grated Parmesan cheese (about ¼ cup) and serve.
Tips
Buy fresh. If you can, purchase this green vegetable on a stalk. This ensures a fresher product; look for tiny, dark green leaves. Avoid stem ends that look dry and discolored; this is never a good sign of buying fresh produce!
Dry properly. Use clean tea towels to get that extra moisture out to obtain the crispest brussels sprouts.
The uniform size ensures even roasting. Leave the smaller ones intact; cut the medium ones in half; cut the larger ones in quarters.
Preheat your oven and sheet pan. This is essential in achieving that crispy texture.
Properly coat with oil. Use a large bowl to toss all the ingredients properly; ensure a thin layer of oil on all sides of the Brussels sprouts to prevent them from drying out.
Use a large sheet pan. Choose a large-rimmed sheet pan that allows air to circulate around the vegetables. Avoid overcrowding, as this will lead to steaming instead of roasting.
Use different nuts. Replace pine nuts with roasted hazelnuts, almonds, walnuts, sesame seeds, or pecans. Endless possibilities.
What main dish to serve with Brussels sprouts
Many main dish options pair well with oven-roasted Brussels sprouts. From tuna patties and air fryer cod to grains and lemon pasta, you can choose the one that best suits your taste preferences and dietary needs.
Maple Glazed Salmon
The slight bitterness of Brussels sprouts complements the sweetness of maple-glazed salmon, making it an ideal pairing.
Best Vegetables To Roast
If you enjoy roasted vegetables, you'll love these delicious and easy recipes.
Parmesan Roasted Cauliflower is an easy side dish with flavor and texture. Toss the cauliflower in olive oil, garlic, and Parmesan cheese before roasting it perfectly.
Roasted Cherry Tomato Sauce is a great option that's perfect for pasta or as a dip. Roast the cherry tomatoes with garlic, olive oil, and herbs until soft and juicy, then blend them into a sauce.
Oven Roasted Broccoli is a classic dish that's both simple and delicious. Roasting the broccoli brings out its natural sweetness and adds a crispy texture.
Mediterranean Roasted Vegetables are a colorful side dish perfect for a healthy lunch or dinner. The vegetables are roasted with herbs and spices, and you can add some feta cheese, olives, or pine nuts for a Mediterranean twist.
Finally, Roasted Root Vegetables are a hearty side for fall or winter. You can use any root vegetable, such as carrots, parsnips, sweet potatoes, or beets. Toss them with olive oil and herbs, then roast them until they're caramelized.
Recipe inspiration
After my mother's passing, my brother and his wife took over hosting Thanksgiving dinner. It's been over a decade, and I remember the first time my sister-in-law served her crispy roasted Brussels sprouts alongside a chestnut stuffing.
I was pleasantly surprised by how delicious they were and couldn't believe I had been missing out on this nutty flavor. I'm grateful to her for introducing me to this mouthwatering way of preparing Brussels sprouts.
A quick search online led me to this recipe for inspiration. I took the liberty of adding pine nuts and some grated cheese and eliminating the boiling step.
You will also love this shaved Brussels sprouts recipe if you enjoy this round green vegetable as I do. Simple to make and so healthy!
So, that's my spiel for cooking Brussels sprouts in the oven!
Have I converted any of you?
I would love to hear from you!
THANKS SO MUCH for following and being part of the She Loves Biscotti community, where you will find Simple & Tasty Family-Friendly Recipes with an Italian Twist.
Ciao for now,
Maria
And if you are new here, welcome! You may want to sign up for my weekly e-mail newsletter. You can unsubscribe any time you want.
★★★★★ If you have made this recipe for garlic Brussel sprouts, I would love to hear about it in the comments below and be sure to rate the recipe!
Recipe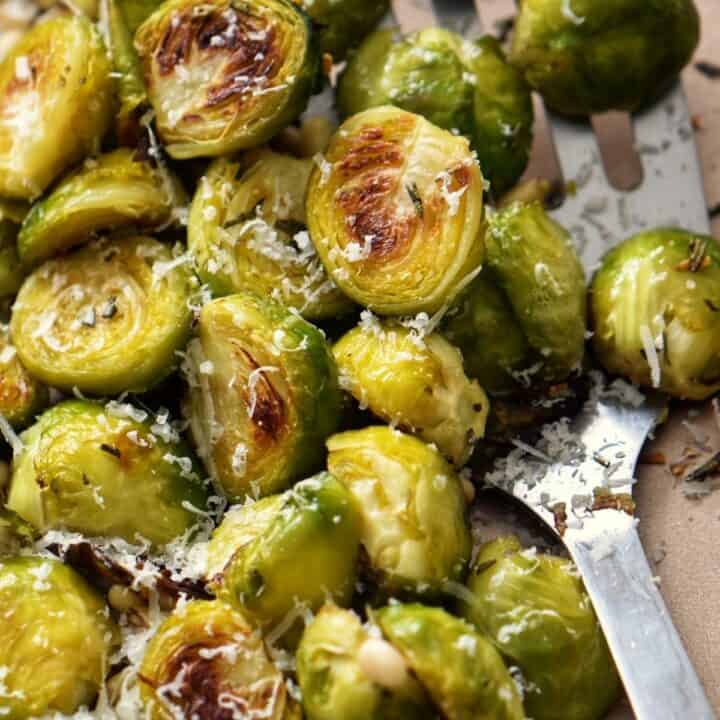 Garlic Roasted Brussels Sprouts: Easy Recipe
With just a few ingredients and a simple roasting method, these sprouts become a savory and delicious side dish you'll have on repeat.
Print
Save Recipe
Saved!
Pin
Rate
Ingredients
1½

pounds

fresh Brussels sprouts

680 grams

6

cloves

garlic

minced or pressed

2

tablespoons

olive oil

extra virgin

2

tablespoons

fresh rosemary

minced

salt and pepper

to taste

¼

cup

pine nuts

¼

cup

parmesan cheese

freshly grated
Instructions
Preheat oven to 400°F (205°C). We also need to preheat a large-rimmed baking sheet.

Trim the ends and remove any discolored outer leaves.

Cut sprouts in half and place in a large mixing bowl.

Toss with garlic, oil, rosemary, salt and pepper.

Arrange cut side down on a large sheet pan and roast for about 15 minutes.

Turn over and cook for another 15 minutes.

Add pine nuts during the last 5 minutes of cooking time.

Remove for oven, grate cheese over top and serve immediately.
Scroll UP for the STEP by STEP Photos
Don't miss the process shots and videos included in most posts. Simply scroll up the post to find them. Those were created especially for you so that you can make the recipe perfectly every single time you try it.
Notes
Dry properly. In order to obtain the crispiest Brussels sprouts, use clean tea towels to get that extra moisture out.
Uniform size ensures even roasting. Leave the smaller ones intact; cut the medium one in half; cut the larger ones in quarters.
Always preheat your oven. A hot oven is essential in achieving that crispy texture.
Properly coat with oil. Use a bowl to combine all the ingredients together; ensure a thin layer of oil on all Brussels sprouts.
Use different nuts. Replace pine nuts with almonds, walnuts, sesame seeds, or pecans. Endless possibilities.
Use different toppings. If desired, replace grated Parmesan cheese with ricotta salata, feta or even blue cheese. Feel free to drizzle with balsamic vinegar or even lemon juice to get that flavor boost.
Please keep in mind that the nutritional information provided below is just a rough estimate and variations can occur depending on the specific ingredients used. 
*inspired by a Martha Stewart recipe
Nutrition
Serving:
4
ounces
|
Calories:
151
kcal
|
Carbohydrates:
12
g
|
Protein:
6
g
|
Fat:
10
g
|
Saturated Fat:
1
g
|
Cholesterol:
3
mg
|
Sodium:
92
mg
|
Potassium:
486
mg
|
Fiber:
4
g
|
Sugar:
2
g
|
Vitamin A:
910
IU
|
Vitamin C:
97.4
mg
|
Calcium:
101
mg
|
Iron:
2
mg
This post was originally published on October 8, 2015 republished on April 10, 2019 and again on March 3, 2023 with updated content and photos. Thanks for watching and sharing!