Learn how to freeze fresh peas in the best way possible to maintain their color, taste, and nutritional value without wasting one tiny green sphere.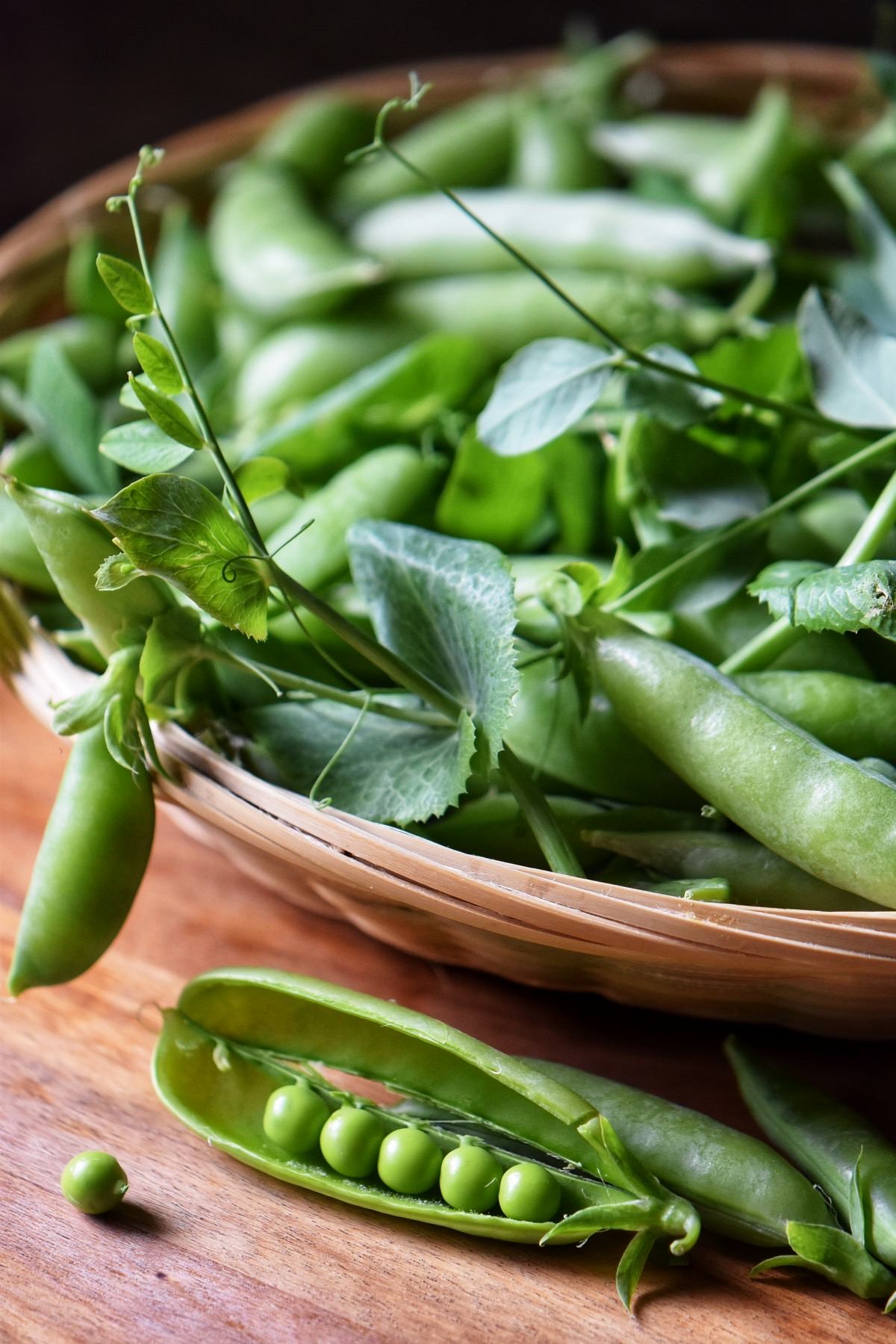 Introduction
Freezing is one of the best methods to preserve fresh peas, especially if you have a bumper crop and cannot keep up with them.
When harvest time comes, you may end up with an overabundance of these nutritious vegetables, and you and your family may get tired of eating them at every meal. Whether your backyard garden produced well or you purchased pints at the local farmers market, freezing peas offers an easy way to enjoy them year-round.
The delicious taste of fresh garden peas adds a splash of fresh summertime flavor to a wide variety of favorite recipes when using your frozen peas months after they were harvested.
You will love the convenience of combining frozen peas with pasta or adding a handful to soups and stews in the middle of winter.
Fresh peas are some of the most easily frozen vegetables from your garden or the local farmer's market. Although they may take some time to shell, the freezing process is quite simple.
Also, the thawed peas do not lose much of their fresh flavor, texture, or nutrient content. The methods shared here are the best for learning how to freeze fresh garden peas and use them for all your favorite recipes weeks or months later.
Harvesting tips
Every garden pea in your plot will not reach maturity simultaneously. However, you need to know the best stage for picking for maximum freshness and taste after freezing.
Three criteria matter most of all: size, color, and taste. To minimize the number of times you have to process them throughout the season, pick a range at the same time. If necessary, err on the side of smaller, newer pea pods rather than letting them overripen.
Size – Peas at the peak of freshness press against the pod walls but do not fill up the entire space. You want to maximize vegetable volume without compromising flavor.
Color – The brighter the green, the sweeter the pea. Pale or dull pods usually signify that they are overripe. Eat those as soon as possible and save the ones with vibrant colors for your freezer.
Taste – Smaller peas may have a more concentrated flavor, but you must balance maximizing volume with deliciousness. Open up a few pods of different sizes and colors and taste to test. We do not recommend freezing the overripe ones as they will become flavorless and excessively starchy.

Shelling
Never freeze garden peas in their pods. The only varieties you would do this for are snow and sugar snap peas.
One of the steps in freezing fresh peas involves removing the individual orbs of the pods themselves. This is referred to as shelling and is quite a simple process.
So grab a bowl, a bag, and some friends. Sit down, relax, and pop them out of the pod with your fingers.
Here's how. Hold a pod firmly in one hand and, with the other, pull down the tip of the stem. This removes a little bit of a string and makes opening the seam of the pod easier. Then slide your fingers down the inside of the pod and guide them into a large bowl.
This is best done as soon as possible after harvest to retain the best quality as their sugars quickly begin to convert to starch as soon as they are picked.
Processing
Follow these easy steps to prepare your bountiful harvest of fresh peas for freezing properly.
Wash them in a big bowl of cold water.
Prepare a large bowl of ice water with enough water to submerge them in.
Bring a large pot of water to a rolling boil.
Add just enough peas to the pot so they can still move around easily.
Return the pot of water to a hard boil for 60 to 90 seconds.
Drain in a colander and plunge immediately into the bowl of ice water
Let them cool down completely before draining.
Set the cooled peas on a clean tea towel to dry.

Freezing
Once they are dry, transfer the blanched peas to resealable ziplock bags. Use a straw or a vacuum sealer to remove as much air as possible from the freezer bags. This will help reduce the formation of ice crystals and freezer burn. Properly label your bags by indicating the date and place them in the freezer.
Alternatively, you can spread them evenly in a single layer on a baking sheet. Leave spaces between them as much as possible, so you do not end up with massive clumps. Once they freeze solid, pour them into a freezer-safe ziplock bag, a vacuum seal bag, or a storage container.
Choose the method that best suits how you plan on using your frozen peas.
FAQ
How do you blanch peas?
The blanching process consists of briefly plunging shelled peas in rapidly boiling water for 60 to 90 seconds., followed by an ice water bath to stop the cooking process.
Do you have to blanch peas before freezing?
As a general rule, yes. Blanching stops the enzymatic process of ripening and the rapid deterioration that can affect their color, flavor, texture and nutritional value. It is a quick and simple process -there is no reason to skip it.
Do you need to thaw peas before cooking?
No, it is not necessary. They are so small that they easily defrost in a recipe or even after being added to a fresh salad. Grab the correct measurement for your meal and stir them in.
What types of recipes work well with frozen peas?
You can easily add them to any recipe, cooked or raw, with no problems. Combine this versatile vegetable with other ingredients found in stir-fries, casseroles, soups, stews, risottos, and salads. Or, saute them, in their frozen state, for an exceptional side dish for almost any meal. They even make an excellent addition to protein-rich smoothies.
How long will it last in the freezer?
For the best flavor, texture and nutrition, consume your frozen peas within six months. They are still safe to eat after this time, but the longer they stay in the freezer, the greater the chances of developing freezer burn and ice crystals.
Do frozen peas retain their nutrition?
Freezing is one of the best preservation methods for protecting the nutritional profile of vegetables. [source] Growing your own or buying farm-fresh peas is the best way to maximize their vitamins and minerals. Green peas have considerable fiber, vitamin A, vitamin K, and protein, making them a highly valued part of any healthy meal. They offer more protein per measure than most other vegetables or grains. [source]
Food preservation
Be sure to check out these other step-by-step guides on how to freeze tomatoes, rhubarb as well as freezing green beans, Swiss chard, and parsley.

Summary
Fresh sweet peas from your backyard garden or the local farmers' market add a touch of fresh flavor and rich nutrition to various recipes.
Learning how to freeze fresh peas is a great solution when your plants produce far too many to use all at once, or you can't pass up a great deal in your community.
With just a few quick and simple preparations, you can stock your freezer with the perfect ingredient for this farro salad recipe and delicious side dishes throughout the winter.
THANKS SO MUCH for following and being part of the She Loves Biscotti community where you will find Simple & Tasty Family-Friendly Recipes with an Italian Twist.
If this is your first time visiting, welcome! I would love to offer you my FREE weekly e-mail newsletter delivered straight to your inbox. You will also receive a FREE DOWNLOAD that summarizes my top 10 tips on How to Cook Pasta when you subscribe. You can unsubscribe any time you want.
Ciao for now,
Maria
★★★★★ Are you planning on preserving garden-fresh peas? I would love to hear about it in the comments below and be sure to rate this method!
Recipe
How to Freeze Fresh Peas
Learn how to freeze fresh peas in the best way possible to maintain their color, taste, and nutritional value without wasting one tiny green sphere.
Print
Save Recipe
Saved!
Pin
Rate
Ingredients
1

pound

garden peas

or as much as you want

water
Instructions
Wash peas in a bowl of water.

Prepare a bowl of ice water large enough for the peas to submerge in.

Bring a large pot of water to a rolling boil. 

Add the peas and blanch for 60-90 seconds.

Drain and transfer the peas to the bowl of ice water. This immediately stops the cooking process. 

Drain the peas in a colander.

Set cooled peas on a clean tea towel to dry.

Place in resealable ziplock bags.

Use a straw or a sealer to remove as much air as possible. This, in turn, will reduce the formation of ice crystals.

Properly label your bags by indicating the date and place your bag in the freezer.
Scroll UP for the STEP by STEP Photos
Don't miss the process shots and videos included in most posts. Simply scroll up the post to find them. Those were created especially for you so that you can make the recipe perfectly every single time you try it.
Notes
One pound of garden peas (unshelled) will yield approximately 1-1

¼ cups of fresh shelled peas.
For more details on harvesting, shelling, processing, and freezing please refer to the details in the article.
Please keep in mind that the nutritional information provided below is just a rough estimate and variations can occur depending on the specific ingredients used. 
Nutrition
Calories:
117
kcal
|
Carbohydrates:
21
g
|
Protein:
8
g
|
Fat:
1
g
|
Saturated Fat:
1
g
|
Polyunsaturated Fat:
1
g
|
Monounsaturated Fat:
1
g
|
Sodium:
7
mg
|
Potassium:
354
mg
|
Fiber:
7
g
|
Sugar:
8
g
|
Vitamin A:
1109
IU
|
Vitamin C:
58
mg
|
Calcium:
36
mg
|
Iron:
2
mg