Depending on how you plan to use it when it comes to freezing parsley, there are a few methods to preserve it. Take a look at how to freeze parsley so that you can easily and readily use this delicate herb year-round.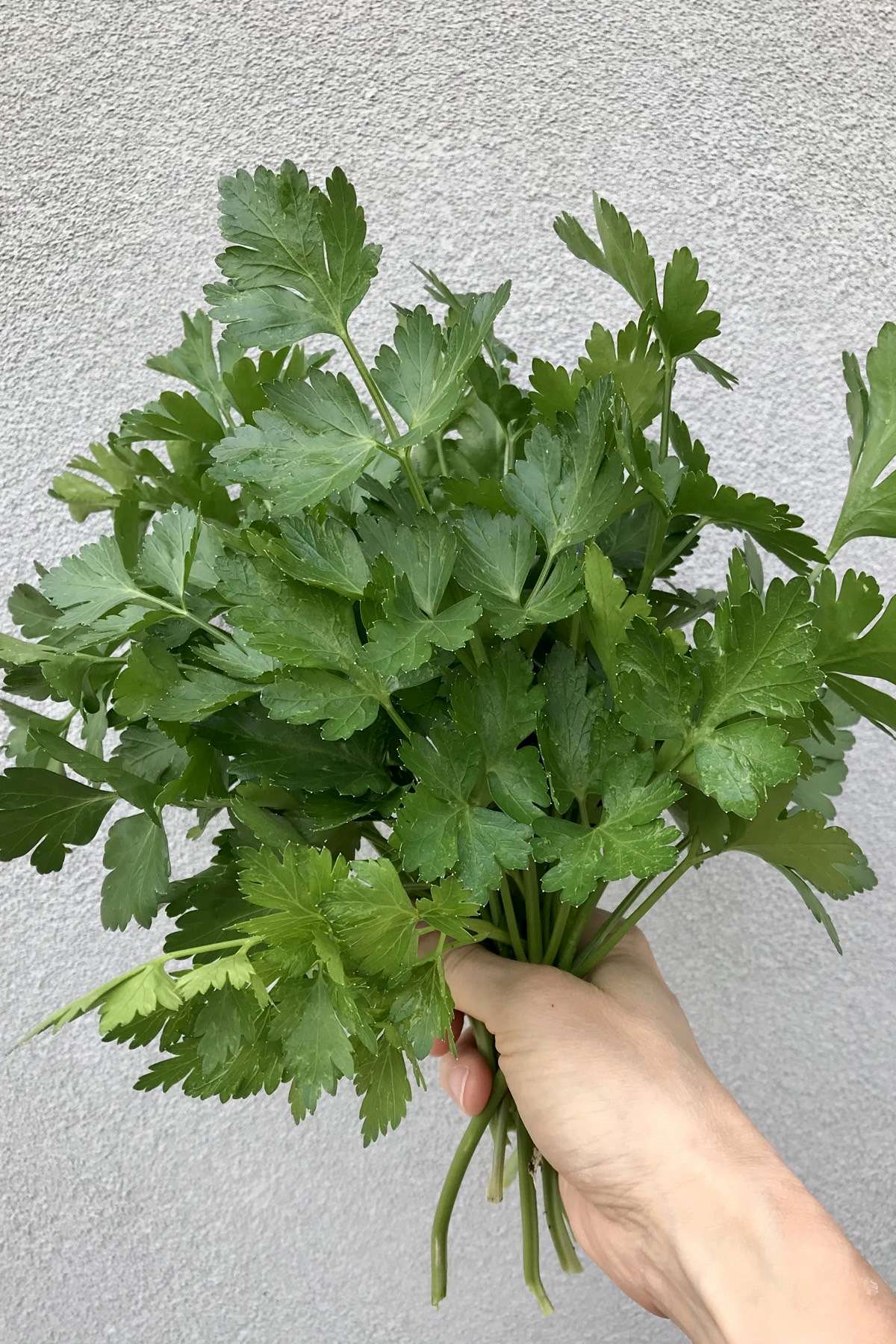 Fresh parsley is one of the best-known and most commonly used herbs throughout the world.
Commonly used as a garnish, this biennial plant also holds the title of the most versatile herb. Its clean, fresh flavor makes it a popular addition to season so many recipes -soups, salads, sauces, vegetables, meat and fish dishes, and so much more!
Due to its popularity, fresh parsley is readily available and sold in bunches at farmer's markets and grocery stores. It is also one of the easiest herbs to grow in your backyard.
Unfortunately, most recipes only require small amounts of chopped or minced parsley. It is not uncommon for this wonderful herb to go bad if not stored properly before you get to use all of it.
Naturally, there are exceptions. If you are making a recipe that requires a large amount of it, like parsley pesto, for example, or it's growing in your backyard, offering the possibility to harvest the amount that you need whenever you need it.
The good news is that this herb can easily be frozen, creating less food waste and fewer trips to the grocery store.
Whether you grow it in your backyard garden or buy it fresh from a farmer's market or grocery store, take a look at how to freeze parsley so that you always have this delicious ingredient on hand. The best storage methods for refrigerating parsley are also provided.

Shopping and harvesting tips
If purchasing fresh parsley at the grocery store or a produce market, look for bunches of parsley with vibrant green leaves and avoid any bunches with yellow or limp stalks.
Growing parsley in your backyard garden is extremely easy to do in most climates. You can even grow it in a pot on your patio or deck. The plants are prolific and will provide you with enough scrumptious herbs to last all season long.
To get the best flavor, it is important to harvest the right size of leaves at the right time. It takes approximately sixty to ninety days for the plant to mature enough for your first harvest. [source]
When the parsley is ready to be picked, cut each stem about one inch from the ground, starting from the outside edge of the plant. This allows the plant to grow new stalks from the center. Only harvest the whole plant at the end of the season.
How to Preserve Fresh Parsley in the Refrigerator
When properly refrigerated, this delicate herb can last 2-7 days. This window of time provides you with the opportunity to plan when to freeze your parsley conveniently. Here's how:
Make a fresh cut on the bottom of the parsley stalks.
Gently wrap the parsley in a damp paper towel.
Slide the bundle into an open bag or container to prevent excessive moisture buildup.
Store it in your refrigerator for up to one week.
Another less convenient option is to place the stems in a glass of water, covering the leaves with a plastic bag and refrigerating them.
How to Freeze Parsley in Multiple Ways
Unless you use a lot of parsley in every single recipe on a daily basis, you need a way to preserve parsley for a longer period of time than simply bagging it and refrigerating it.
You will be happy to know that there are different ways for effectively freezing parsley. There is no best method to freeze parsley as it really depends on how you plan to use it once it is thawed. You can easily use this thawed-out herb in a variety of recipes.
Please note that frozen parsley, once thawed, is not suited to be used as a garnish.

Let's prep our parsley for freezing
To maximize flavor retention, it is important to prepare this fresh herb for the freezer properly.
The steps are quite simple.
Place the parsley in a large bowl of water and swish it around. This dislodges dirt, debris and sometimes even insects if picked from your backyard. Please note that if the stems are delicate, there is no need to separate them from the parsley leaves. If the parsley stalks are tough, remove the leaves from the long stems.
Remove excess moisture by spinning them in a salad spinner. If you do not have one, spread the leaves out over a tea towel and gently pat dry with another tea towel. Paper towels can also be used. The goal is to get this green herb as dry as possible to prevent freezer burn.

Chopping and mincing fresh parsley
Once the parsley leaves are as dry as possible, you can either freeze them whole, chop or mince them down to your desired size.
To chop: Place the parsley leaves on a cutting board. Gather them in a small compact pile, and hold them down properly with one hand while using a sharp knife to slice thinly with the other hand. Turn leaves 90 degrees and cut again.
To mince: Once the parsley has been chopped, run your knife over again by holding the knife with one hand and applying pressure to the tip of the knife with the other hand. This will serve to pivot the knife, allowing you to further cut and mince the parsley as finely as you like.
Another option is to use a mezzaluna (as shown in the video) to chop and mince your parsley down to size.

Freezing parsley leaves on their own
Once the parsley leaves are cut the way you want them, place them loosely into a freezer-safe bag or airtight container and slide them into your freezer.
Another option is to create a solid block by rolling whole leaves into a long log that can then be sliced with a sharp knife when you need some.
To do so, firmly pack down parsley leaves in a gallon size Ziploc freezer bag. Without sealing the bag, lay it flat on your counter and start rolling from the bottom up, all the while pushing out the air. When you reach the top, seal your bag. Be sure to label your bag with the date.
Remember, for both of these methods, there is no need to thaw out all the parsley. Remove the amount that you need and quickly replace the container or log back in the freezer.

Use ice cube trays to freeze parsley
Another freezing method that creates convenient portions is to use a standard ice cube tray. These create ice cubes or blocks of parsley in already measured quantities perfect for adding in soups, stews, sauces and other recipes. You can create frozen cubes with or without the addition of water or oil.
Follow these steps for this convenient freezing option.
Chop or mince the fresh parsley leaves with a sharp knife.
Measure 1- 1

½

tablespoons into each section of an ice cube tray.
As an option, cover the chopped parsley with 1 tablespoon of cold water.
Place the tray in your freezer until the blocks are frozen solid.
Pop out the parsley cubes, transfer them to a Ziploc plastic freezer bag and seal.
Store in the freezer until you need them.

Parsley "herb bombs" oil variation
Instead of using water in the above instructions, pour 1 tablespoon of olive oil over the minced parsley in the ice cube trays. When frozen, these create something many refer to as "herb bombs", which you can easily add to various recipes. They are great when making omelets, frittatas, or stir-fries.
Fresh parsley can also be frozen with other herbs. You can learn more about this in my article on freezing herbs.

FAQ
How long does it last?
When properly stored and with no fluctuation of temperatures, frozen parsley will keep in the freezer for up to 1 year. However, it is more likely to experience freezer burn the longer it stays in the freezer.
Flat-leaf vs. curly
Flat-leaf parsley also referred to as Italian parsley, is slightly more aromatic and has a sweeter, brighter flavor when compared to the curly variety. As a result, curly parsley is often only used as a garnish.
What to do with parsley stems?
The parsley stalks of Italian flat-leaf parsley add an incredible about of flavor to soups like this stracciatella and vegetarian split pea soup. They are also great chopped up in stir-fries and stews. Go ahead and freeze them in small bundles, you'll be happy to use them up in these hearty dishes.
Drying parsley
Although dried parsley is available in bottles for purchase, and drying your own can easily be done in a microwave, it really does not add any flavor or nutrient to any dish you are making.
How to use frozen parsley in cooking
It takes mere moments to thaw frozen parsley in a bowl while you prepare the rest of your meal. If you use the ice cube tray method, you are probably adding it to a diverse range of recipes like soups, sauces, or stews, in which case no thawing is necessary.
Consider adding thawed parsley, previously frozen to the panko breading of this air fryer codfish. If you are planning to serve it with tartar sauce, go ahead and use some of the parsley there as well.
The versatility of parsley makes it a go-to herb for home chefs and bakers everywhere. It is easy to grow, always available at the grocery store or farmer's markets, and super easy to freeze and preserve in various ways.
More food preservation
Be sure to check out these other step-by-step guides on freezing rhubarb, strawberries, green beans as well as how to freeze tomatoes and Swiss chard.
THANKS SO MUCH for following and being part of the She Loves Biscotti community where you will find Simple & Tasty Family-Friendly Recipes with an Italian Twist.
If you haven't already joined, here is the link where you can sign up for my weekly e-mail newsletter. This way, you won't miss any of my new recipes and it's absolutely free!
Ciao for now,
Maria
We are a participant in the Amazon Services LLC Associates Program, an affiliate advertising program designed to provide a means for us to earn fees by linking to Amazon.com and affiliated sites.
You can find the mezzaluna I am using in my amazon store. If it is of interest to you, head on over to my amazon store for all the details.
★★★★★ Are you planning on freezing parsley? I would love to hear about it in the comments below and be sure to rate this method!
Recipe
How to Freeze Parsley
Depending on how you plan to use it when it comes to freezing parsley, there are a few methods to preserve it. Take a look at how to freeze parsley so that you can easily and readily use this delicate herb year-round.
Print
Save Recipe
Saved!
Pin
Rate
Ingredients
1

bunch

parsley

washed and prepped

water
Instructions
Properly wash parsley and use a salad spinner to remove all moisture. Tea towels can also be used.

Depending on how you want to use the parsley either leave whole, chop or mince.

Place in a freezer bag or an ice cube tray. Please refer to the video and all of the options discussed in the article for specific details.

Transfer to freezer until ready to use.
Scroll UP for the STEP by STEP Photos
Don't miss the process shots and videos included in most posts. Simply scroll up the post to find them. Those were created especially for you so that you can make the recipe perfectly every single time you try it.
Notes
Please keep in mind that the nutritional information provided below is just a rough estimate and variations can occur depending on the specific ingredients used. 
Nutrition
Serving:
1
g
|
Calories:
5
kcal
|
Carbohydrates:
1
g
|
Protein:
1
g
|
Fat:
1
g
|
Saturated Fat:
1
g
|
Polyunsaturated Fat:
1
g
|
Monounsaturated Fat:
1
g
|
Sodium:
8
mg
|
Potassium:
79
mg
|
Fiber:
1
g
|
Sugar:
1
g
|
Vitamin A:
1200
IU
|
Vitamin C:
19
mg
|
Calcium:
20
mg
|
Iron:
1
mg