Fresh, crisp green beans are easily available and bountiful in the summer. This simple guide on How to Freeze Green Beans will demonstrate how easy it is to preserve green (or yellow) beans to enjoy them throughout the winter months.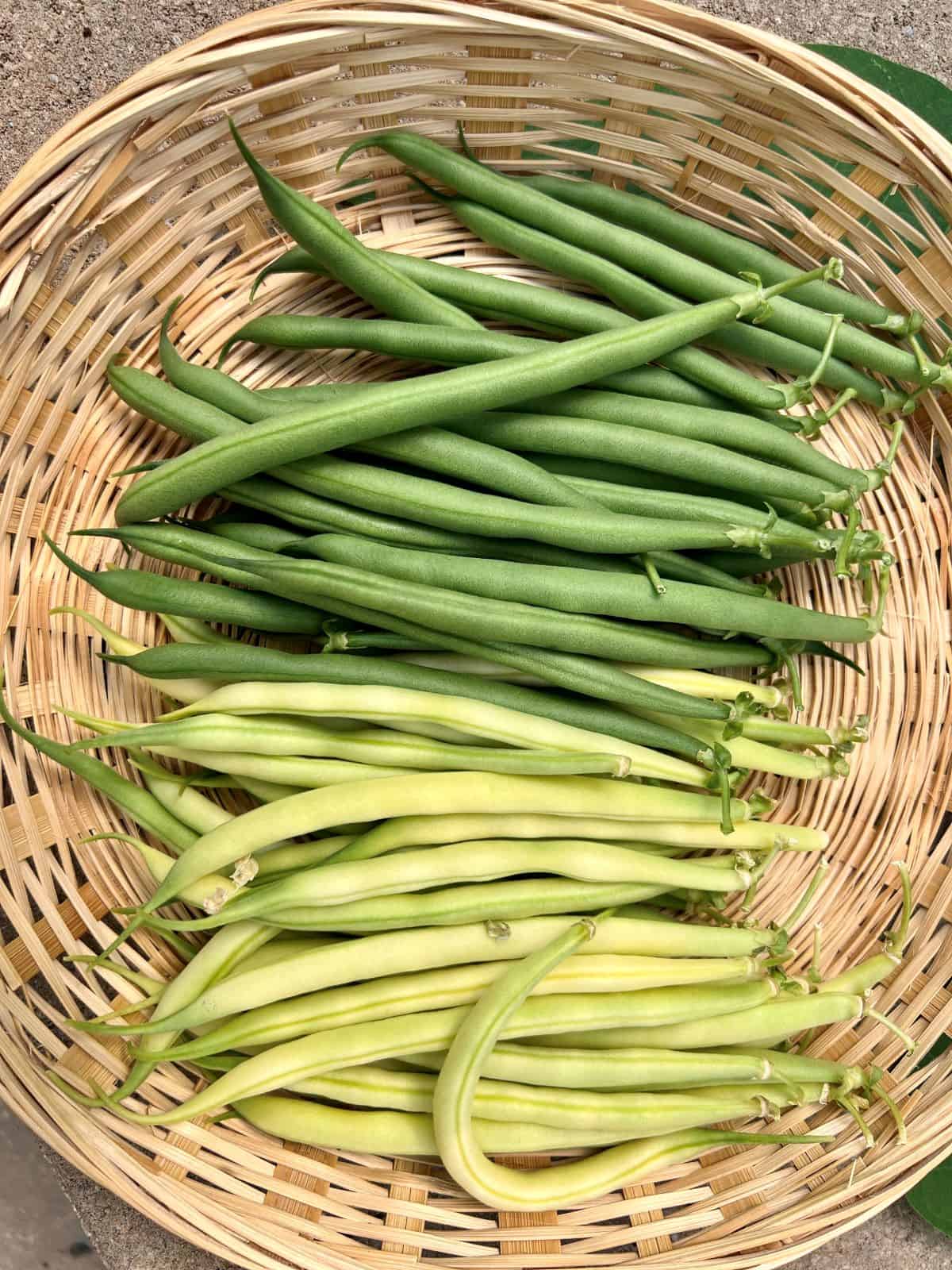 Jump to:
Introduction
During the summer harvest season, many gardeners find themselves with an abundance of fresh produce they'd like to preserve for the winter months.
Many delicious options exist, from preserving tomatoes to Italian parsley, fresh peas, and Swiss chard.
Today we'll focus on green beans: one of the most versatile and nutritious vegetables.
Preserving green beans by freezing them is a cost-effective and simple process, especially if you have them growing in your backyard, as I do.
Before diving into freezing green beans, it is essential to understand the proper steps and techniques involved to ensure the preservation of nutrients and flavor.
This article will provide a detailed step-by-step guide on how to freeze green beans efficiently, effectively, and safely so they remain fresh and vibrant for various dishes throughout the year.
Name variations of green beans
Green beans, also known as string beans, wax beans, snap beans, or yellow beans, may vary in name depending on the region. Despite all these different names, they are all part of the same family of beans and can be used interchangeably in recipes.
Step-by-step guide on freezing fresh green beans
Harvesting or purchasing: When selecting yellow or green beans from your local grocery store or farmer's market, it is essential to opt for fresh ones that are clean and unblemished. Fresh green beans should be bright, feel firm when touched, and snap easily when bent.
If harvesting from your backyard garden, snip them with scissors or pruning shears or carefully tug them off the stem. I prefer to pick the beans when they're young and tender before they start to form pods.
Prepare the water: Fill a large pot with water and bring to a full rolling boil over high heat.
Prepare the ice ‌bath: Put ice cubes in a big bowl of cold water. This will be used to cool down the beans after blanching.
Wash the green beans: While the pot of water is heating up, rinse the freshly harvested green beans under cold water to remove any dirt or debris. You can also fill a large bowl with water and quickly swish the green beans. Avoid soaking your green beans in water for an extended period. Rinse and repeat if necessary.
Clean the green beans: Snap off the top and bottom ends of the beans. For more mature green beans, you may need to remove the thin string that runs along the seam of the bean. Use a paring knife or your fingers to gently pull the string away from the bean. Alternatively, line up the beans and trim the ends with a knife.
Blanch the green beans: Add the trimmed beans to the pot of boiling water and wait for it to come back to a boil. If your green beans are young and tender, like mine, blanch for 1-2 minutes. You may want to blanch for 3 minutes if your green beans are more mature. Remember to start your timer when the water returns to boiling. Once done, drain the beans into a colander.
Ice ‌bath: Transfer the blanched beans immediately to the ice water bath once the beans are drained. Immerse them in an ice-water bath for three minutes. This will stop the cooking process and help preserve the color and texture of the beans. You will immediately notice the transformation to a bright green (or yellow) color!
Remove moisture: After being in the ice water bath for a few minutes, transfer to a colander and drain properly. Then place them on a clean tea towel. Gently press down with another tea towel to remove as much moisture as possible.
Bag the green beans: Label the bags with the date. Transfer the green beans to the freezer bags in the anticipated required amounts. Use a vacuum sealer (if you have one) to efficiently remove air from the bag or use a straw with freezer bags that zip.
Store the green beans: Place the bags of green beans in the freezer. When ready to use them, thawing is unnecessary. Remove the bag from the freezer and cook them as you normally would.
Tips
If harvesting your beans, gather them when they are still young and delicate before they grow pods.
Dry the beans thoroughly after blanching to prevent ice crystals from forming.
It is best to freeze the green beans as soon as possible after preparation to maintain their optimal texture and flavor.
To make it easy to use the frozen green beans in recipes, freeze them in Ziploc bags in the amount you need for each recipe.
How to use frozen green beans
Frozen green beans are a great addition to vegetable barley soup, veal stew or tossed with lemon pasta. They are great in any recipe that calls for them to be cooked until tender. Give some of these easy recipes a go and enjoy the taste of garden-fresh string beans throughout the winter.
FAQ
What is blanching?
Blanching is a process where fruits and vegetables are briefly cooked by immersing them in boiling water or steam. This quick, high-temperature exposure destroys enzymes that can cause the product's quality to deteriorate, such as color, flavor, and texture. Blanching also helps to remove dirt and bacteria, and it can help preserve the product's nutritional value.
Why blanch green beans before freezing?
Blanching green beans before freezing is recommended to preserve quality and safety. While some claim that skipping blanching does not affect texture, color, nutritional value or safety, it's best to err on the side of caution. Invest a few minutes to blanch the beans for a higher quality and safer product. Check out this article on the importance of blanching for more information.
Should I can or freeze my green beans?
Both canning and freezing are great ways to preserve green beans for later use. Canning involves processing the beans in jars at high temperatures, which can give them a longer shelf life. However, canning requires specialized equipment and can be time-consuming. Freezing, on the other hand, is a quick and easy way to preserve green beans. While they may not last as long as canned beans, they retain more flavor, texture, and nutritional value. Additionally, freezing requires less equipment and can be done with basic kitchen tools. Ultimately, the choice between canning and freezing comes down to personal preference.
How long can frozen green beans last in the freezer?
Frozen green beans can last up to 9-12 months in the freezer when properly stored. It's a good idea to use them within this time frame to ensure the best quality and flavor.
Green bean recipes
Conclusion
Freezing green beans is a simple yet effective way to preserve their flavor, texture, and nutritional benefits.
It is also economical, practical and so easy to achieve.
Whether you're a seasoned gardener, a bargain hunter at the farmers market, or simply looking to stock up on this nutritious vegetable, freezing green beans allows you to enjoy their goodness year-round.
So go ahead and freeze those green beans, and relish the taste of summer even in the coldest of seasons.
THANKS SO MUCH for following and being part of the She Loves Biscotti community, where you will find Simple & Tasty Family-Friendly Recipes with an Italian Twist.
Ciao for now,
Maria
★★★★★ If you have used this procedure to preserve green beans this way, I would love to hear about it in the comments below and be sure to rate the recipe!
Recipe
How to Freeze Fresh Green Beans
Learn how to freeze fresh green beans in the best way possible to maintain their color, taste, and nutritional value.
Print
Save Recipe
Saved!
Pin
Rate
Ingredients
1

pound

fresh green beans

or as much as you want

water

ice cubes
Instructions
Bring a large pot of water to a rolling boil. 

Prepare a bowl of ice water large enough for the beans to submerge in.

Rinse or wash the fresh green beans in a bowl of water.

Add the beans and blanch for one, two or three minutes depending on their size.

Drain and transfer the green beans to the bowl of ice water. This immediately stops the cooking process. 

Set the cooled green beans on a clean tea towel. Gently pat dry.

Place in resealable ziplock bags.

Use a straw or a sealer to remove as much air as possible. This, in turn, will reduce the formation of ice crystals.

Properly label your bags by indicating the date and place your bag in the freezer.

Enjoy your frozen green beans in soups, stews, casseroles, and so much more!
Scroll UP for the STEP by STEP Photos
Don't miss the process shots and videos included in most posts. Simply scroll up the post to find them. Those were created especially for you so that you can make the recipe perfectly every single time you try it.
Notes
If harvesting your beans, gather them when they are still young and delicate before they grow pods.

Dry the beans thoroughly after blanching to prevent ice crystals from forming.

It is best to freeze the green beans as soon as possible after preparation to maintain their optimal texture and flavor.

To make it easy to use the frozen green beans in recipes, freeze them in Ziploc bags in the amount you need for each recipe. 
For more details on harvesting, trimming, blanching, and freezing, please refer to the details in the article.
Please keep in mind that the nutritional information provided below is just a rough estimate and variations can occur depending on the specific ingredients used. 
Nutrition
Calories:
141
kcal
|
Carbohydrates:
32
g
|
Protein:
8
g
|
Fat:
1
g
|
Saturated Fat:
0.2
g
|
Polyunsaturated Fat:
1
g
|
Monounsaturated Fat:
0.1
g
|
Sodium:
27
mg
|
Potassium:
957
mg
|
Fiber:
12
g
|
Sugar:
15
g
|
Vitamin A:
3130
IU
|
Vitamin C:
55
mg
|
Calcium:
168
mg
|
Iron:
5
mg
This post was originally published on September 3, 2017 and republished on July 11, 2023 with updated content, photos and a video.