This recipe for Eggplant Caponata is a delicious, non-traditional Italian appetizer made with roasted eggplant, olive oil, honey, balsamic vinegar, pine nuts and capers. This baked Eggplant appetizer provides a different take on the Sicilian classic -simultaneously sweet and sour, with just one bite, you're hooked!
Consider for a moment the versatility of the eggplant.
Grilled, roasted, broiled, baked, stir-fried, stewed, stuffed, fried, or even pureed; there's a reason why the eggplant is so widely used in Asian, Middle Eastern and Mediterranean cuisines. I am positive that as far as Italian cuisine is concerned, one of the most popular eggplant dishes is melanzane alla parmigiana or eggplant Parmesan. I'll be sure to post my mom's recipe soon.
But for now, I'd like to sing the praises of this Baked Eggplant Caponata which is simultaneously sweet and savory and makes one of the best eggplant appetizers I know! Not to mention that it is also delicious snuggled into sandwiches!
Truth be told, if I had to choose between having one main dish or just grazing my way through a few appetizers, I would definitely choose appetizers.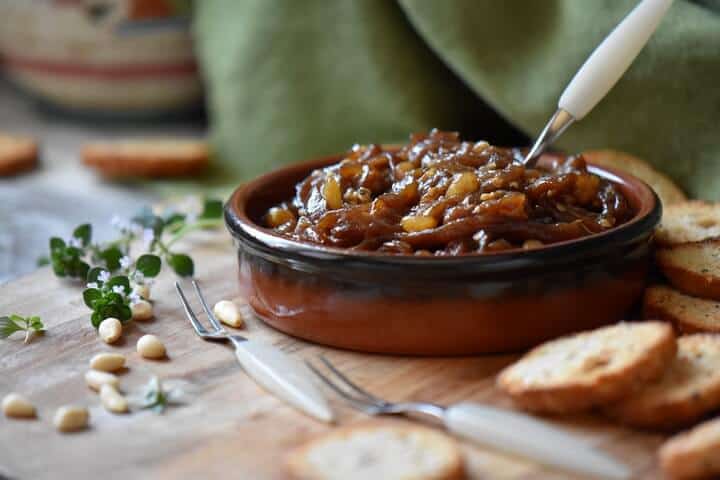 Simple and tasty appetizers like these Italian Marinated Mushrooms, Orange Marinated Olives, Roasted Bell Pepper Goat Cheese Bites and the ever popular Tomato Basil Bruschetta (which includes my tips and tricks) are truly crowd pleasers whether serving them as appetizers or part of your cheeseboard.
Oh, I almost forgot to include my Lupini!
In fact, I have gathered all of my favorite Italian Appetizers in one article. Be sure to check it out.
This easy caponata recipe is definitely one that I will be adding to my repertoire of vegetarian appetizers.
Why love this Eggplant Caponata recipe?
It makes the perfect appetizer when served with toasted bread and/or crackers;
It can be made ahead of time -it actually tastes better after 24 hours;
It is cheaper and healthier than any commercial brand;
It can be frozen for up to a year;
It is versatile enough to be used in burgers, sandwiches, as a pasta topping, as a vegetable side with grilled meats or chicken.
There are very few Italian eggplant recipes that can easily elicit an OMG feeling from the very first bite. One such recipe is this roasted eggplant caponata and you won't believe how easy it is to make!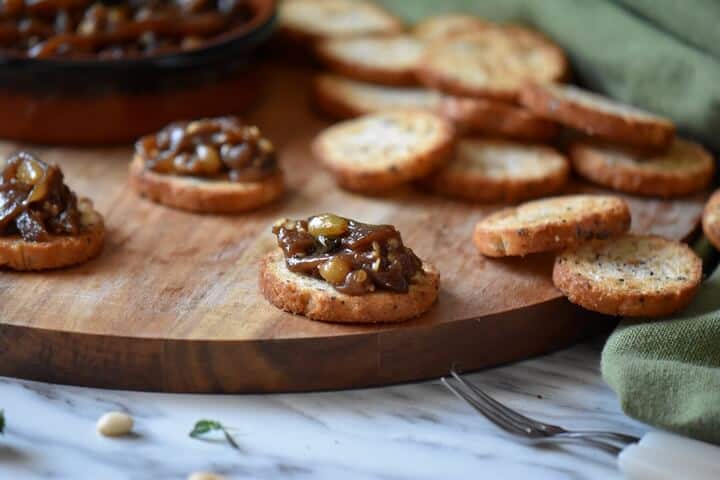 HOW TO MAKE EGGPLANT CAPONATA :
The first thing we need to do is to thoroughly rinse and dry the eggplant. Then, with a very sharp knife, remove both ends.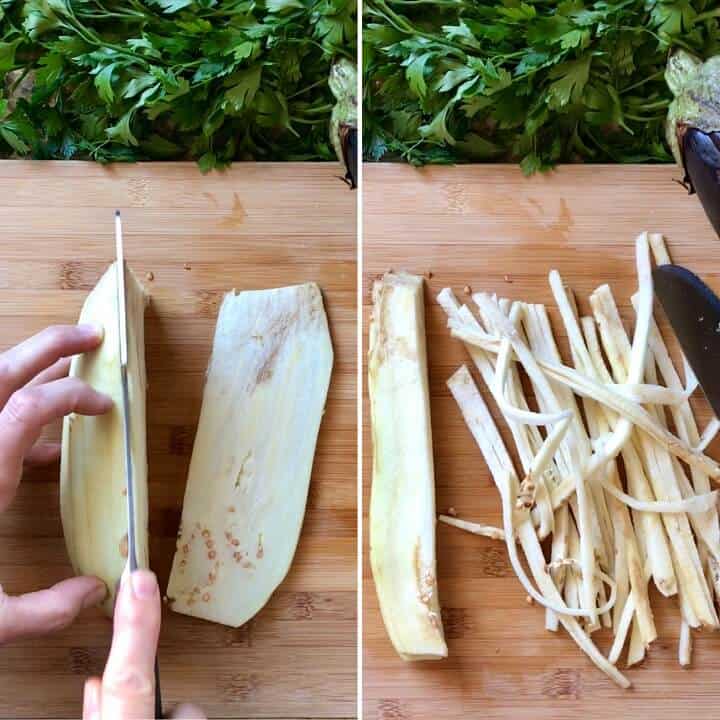 With the help of a vegetable peeler, begin to peel the eggplant lengthwise. Once the outer peel has been removed, cut lengthwise and then into 1/4 " thick strips.
Place the eggplant strips in a bowl and toss with about one teaspoon of salt. Transfer to a colander set over the bowl and allow to sit for about one hour.
Meanwhile, whisk together the olive oil, honey and balsamic vinegar. Mix in the capers and pine nuts and set aside.
When the eggplant is ready, gently squeeze the eggplant to remove the excess liquid. Combine the eggplant with the mixture and place in a baking dish. Cover and bake for about 45-60 minutes in a 350° F oven. This mixture should be stirred every 10 minutes or so. Once the eggplant have softened, remove the cover and continue to bake for about 15 minutes, this will allow a little browning. You will notice that this eggplant caponata cooks down almost to a compote consistency.
Once the roasting is complete, remove from the oven and allow to cool down completely. Although it can be used immediately, the flavors intensify if allowed an overnight stay in the fridge.
In fact, the longer this caponata sits the better the taste.
See, I told you that this was easy. As I mentioned, it's just perfect on a toasted baguette, on pasta, in a sandwich or snuggled in a Homemade Piadina… I've also eaten it alongside grilled fish. Versatility and simplicity at its best!
Healthy Appetizers we love:

Origins of the recipe for Eggplant Caponata:
You might be wondering, who is Lina? Well, Lina is my beautiful little sister. I cannot even begin to sing her praises. Suffice to say that I have nothing but respect and total admiration for this wonderful person who happens to be my sister…how lucky am I?
We recently had a little family get-together at my sister's house. And as usual, everything my sister made was out of this world. Did I mention that she is a professional chef and has her own restaurant? My mom's passion for cooking and baking had such a positive effect on her kids! (Yes, that includes my brother who is a great "home" chef. Blink twice if you're being held captive, you say. 😉 )
Okay, enough family business and back to the real business of food. As I was saying, I tasted this Eggplant Caponata at our recent get-together and I thought this was such an amazing recipe that I just had to share it with all of you. By the way, if you are looking for the classic Sicilian caponata with tomatoes and celery, head on over to The Petite Cook.
The funny thing about my sister's recipe is that even if you don't like eggplants, you will absolutely love this sweet and sour caponata recipe. You absolutely need to try this guaranteed crowd-pleaser! Enjoy 🙂
THANKS SO MUCH for following and being part of the She Loves Biscotti community where you will find Simple & Tasty Family-Friendly Recipes with an Italian Twist.
Ciao for now,
Maria
★★★★★ If you have made this Eggplant Caponata recipe, I would love to hear about it in the comments below and be sure to rate the recipe!
Eggplant Caponata
This recipe for Eggplant Caponata is a delicious, non-traditional Italian appetizer made with roasted eggplant, olive oil, honey, balsamic vinegar, pine nuts and capers. Lina's Baked Eggplant Caponata provides a different take on the Sicilian classic -simultaneously sweet and sour; with just one bite, you're hooked!
Print
Pin
Rate
Ingredients
1

medium-large eggplant

1

teaspoon

salt

1/4

cup

olive oil

1/4

cup

honey

1/4

cup

balsamic vinegar

1

tablespoon

capers

well rinsed

2

tablespoons

pine nuts

salt and pepper to taste
Instructions
Remove outer peel from eggplant.

Cut lengthwise and then cut into strips. (about 1/4" strips)

Sprinkle eggplant strips with salt. Toss together.

Transfer to colander set over a large bowl and let drain for about 1 hour.

In the meanwhile, whisk together equal parts of olive oil, honey and balsamic vinegar.

Add capers and pine nuts and set aside.

Try to squeeze as much as the liquid as possible from the eggplant.

In a baking dish combine the eggplant and the mixture.

Cover dish and bake at 350 ° F for about 45-60 minutes or until the eggplant is soft (stir mixture every 10 minutes or so).

Remove cover and continue to bake for approximately 15-20 minutes.

Salt and pepper to taste.
Scroll UP for the STEP by STEP Photos
Don't miss the process shots and videos included in most posts. Simply scroll up the post to find them. Those were created especially for you so that you can make the recipe perfectly every single time you try it.
Notes
The recipe will make about 2 cups of caponata.
Can be eaten as an appetizer on a toasted slice of baguette. It's great on pasta, in a sandwich or wrap... or even alongside a steak.
Feel free to add garlic, olives, even cherry tomatoes...make it your own and enjoy, like my sister did!
Please keep in mind that the nutritional information provided below is just a rough estimate and variations can occur depending on the specific ingredients used. 
Nutrition
Serving:
2
tablespoons
|
Calories:
32
kcal
|
Carbohydrates:
3
g
|
Fat:
2
g
|
Sodium:
80
mg
|
Potassium:
40
mg
|
Sugar:
3
g
|
Vitamin A:
5
IU
|
Vitamin C:
0.3
mg
|
Calcium:
2
mg
|
Iron:
0.1
mg
This post was originally published on June 28, 2015 and republished on June 9, 2018 with updated content and photos.