Delicate. Thin. Crispy. Wafer like. This is how I would describe this classic, authentic Italian cookie: Pizzelle della Nonna. This easy, simple, no butter recipe can be flavored with vanilla, anise, or even chocolate. Your search for the perfect pizzelle recipe is over! Includes vegan option.
Pizzelle are a tasty way to celebrate any holiday, although they are traditionally made at Christmas. They are also the perfect addition to a Christmas cookie box. It's time to dust off the old pizzelle maker and make some Italian cookies!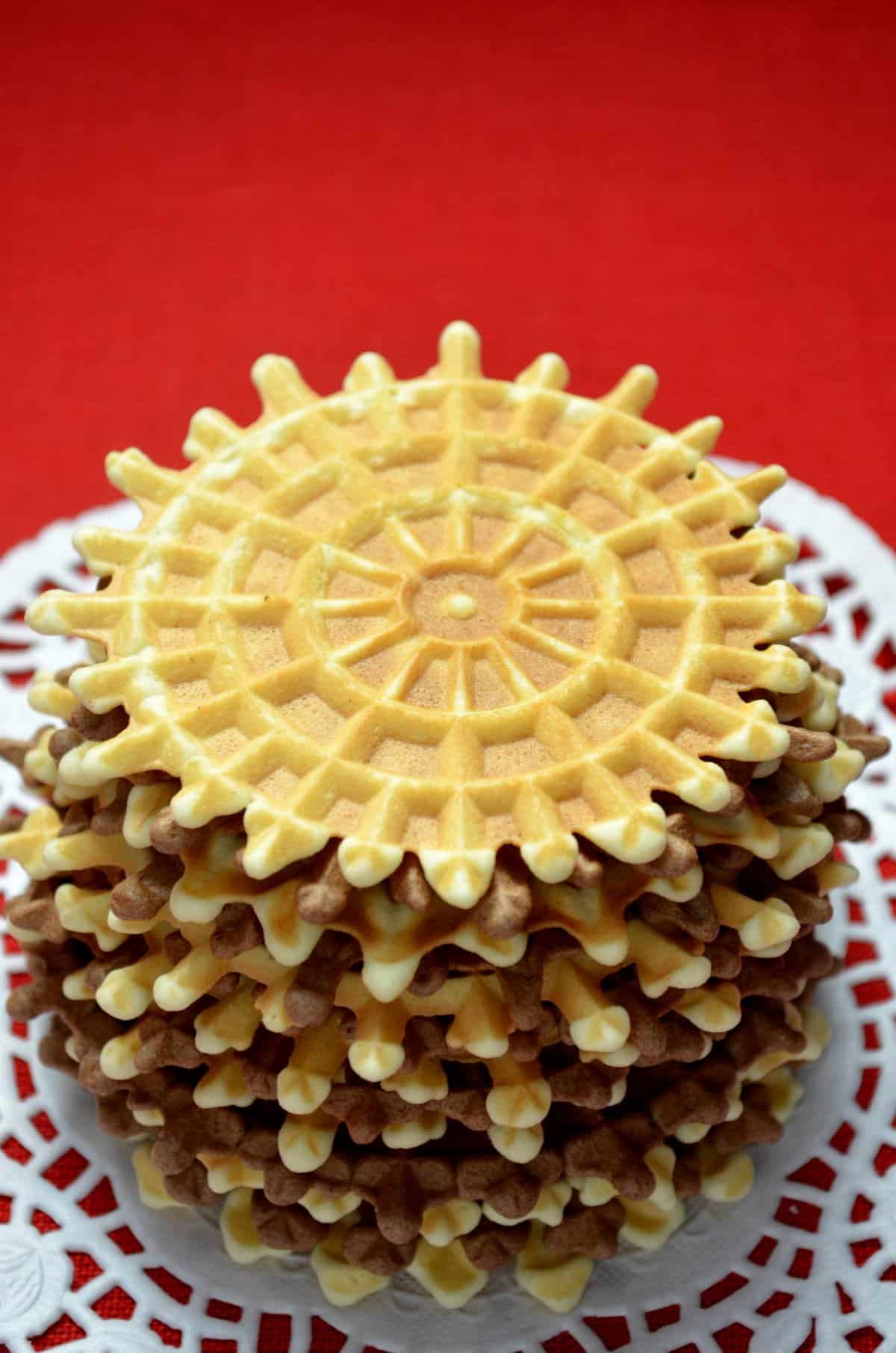 According to history, the first pizzelle cookies were made in the region of Abruzzo (geographically located in Central Italy) back in the 8th century.
These highly recognizable Italian cookies get their shape by flattening the batter between two hot iron plates (just like waffles). These plates (rectangular or round) often had the pattern of the family crest engraved on them.
Nowadays, the pizzelle maker's imprint is a geometric/waffle design, a flower, or snowflake pattern.
This recipe for homemade pizzelle is considered an Italian classic just like these amaretti cookies or these almond biscotti. As such, it requires basic ingredients.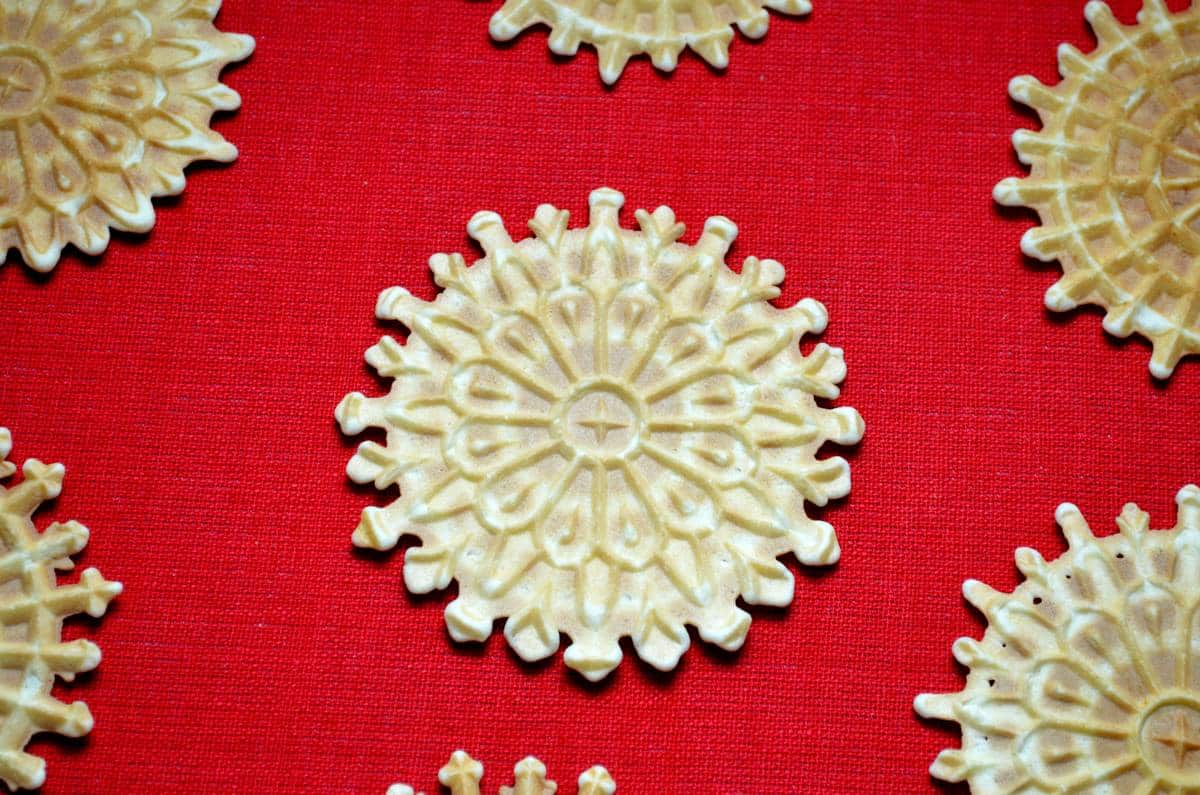 Pizzelle ingredients
Eggs. An essential ingredient.
Sugar. Just the right amount.
Flour. Regular AP flour.
Oil. That's right! A pizzelle recipe with oil.
Essence. A traditional recipe includes anise, but there really are so many options!
The quantities and the type of fat used will determine the texture and thickness of these cookies. As for the flavoring, it really is a question of taste. My personal preference is the flavor of my childhood, vanilla and anise.
Let me show you how you can easily make the best pizzelle recipe with a pizzelle maker.
Instructions
Begin by whisking the three eggs until they begin to thicken. Next, add the sugar (½ cup) and whisk for a few minutes. As you can see, I like to use my whisk. If it is easier for you to use your stand mixer, use the whisk attachment.
Next, add in the oil (¼ cup ), vanilla extract (1 teaspoon) and anise extract (1 teaspoon).
Moving right along, whisk in the dry ingredients, which consist of flour (1¼ cups), baking powder (¾ teaspoon) and salt (just a pinch).
That's it! You now have the perfect pizzelle batter.
Now for the fun part!
Preheat the pizzelle iron. Depending on your model, this usually takes just a few minutes.
Your model will also dictate whether or not you need to use cooking spray. As you can see, my pizzelle iron has a non-stick coating, so I usually do not use it.
Once your pizzelle iron is hot, drop about one tablespoon of dough in the middle of each plate. Lower the upper heated element and press. You may notice some steam escaping from the sides of your pizzelle maker, this is normal. It's also normal to hear a sizzling sound. When both subside, your cookies are done.
As individual makers have different heating elements, consult your owners' manual for guidelines on specific times. It usually takes approximately 45 seconds to obtain light golden brown cookies.
In order to avoid scratching the non-stick plates, use a non-metal utensil to remove the pizzelle. Transfer to a cooling rack and allow to cool down. Repeat this procedure with the rest of the dough.
What to make with pizzelle cookies
When they are removed from the iron plate, and still warm, they are extremely malleable. You literally have a few seconds to obtain any desired shape that you can then use to create wonderful pizzelle desserts. Transform the shape from flat to curvy.
Here are a few dessert ideas:
Edible bowls
Make a bowl or cup by simply pressing the freshly made, still warm pizzelle inside a bowl. In just a few seconds, you have a crisp bowl shape that can be filled with ice cream or whipped ricotta (recipe found in this strawberry parfait post) and topped with macerated strawberries. Add some blueberries and it becomes the perfect dessert for the 4th of July!
Pizzelle cannoli
To make a cannoli shell, wrap the "hot off the press" still warm pizzelle around a wooden dowel or cannoli tube. Once they harden, you can fill them with sweet ricotta cheese and sprinkle them with icing sugar.
Pizzelle waffle cones
Use a cone-shaped mold to shape the hot pizzelles. Notice how within seconds, the pizzelle harden. Fill with ice cream or any other filling to make the perfect summer treat.

Tips
This recipe comes together easily in a bowl. Although there is no need to use a stand or hand-held mixer, please use one if it is easier for you.
As an option, dust pizzelle with powdered sugar just before serving.
Can I make chocolate pizzelle recipe?
Yes. Use 1 cup of flour sifted with ¼ cup unsweetened cocoa powder (eliminate the anise flavor-only use vanilla).
Can I make this pizzelle recipe with anise oil?
Yes. Replace the 1 teaspoon of anise extract with ¼ teaspoon of anise oil.
Can I make them vegan?
Yes. These are the changes you need to make. Replace all the eggs with 3 tablespoons of ground flaxseed and 9 tablespoons of room temperature water. You need ¼ cup plus 1 tablespoon of oil. Also, verify to make sure you are using sugar that is not processed with bone char.
For both the extracts, I increased the amounts by ½ teaspoon. As always, adjust for personnel preferences.
What is the secret to obtaining the perfect pizzelle that stay crispy?
as soon as they are removed from the pizzelle maker, lay them flat and allow them to cool completely (you can use a cooling rack);
do not stack them as the steam will cause them to lose their crispiness;
once you are done, allow them to air dry for a few hours.
How do I store pizzelles so that they stay nice and crisp?
wrap in aluminum foil;
place in cookie or coffee tins;
place in paper bags.
Pizzelle stored in this manner will keep well for a few weeks. Whatever you do, do not place them in a plastic or airtight container (like Tupperware) as they will get soft.
How to freeze
You can easily freeze pizzelle for up to 3 months. When they are at room temperature, wrap them in groups of 4-5 first in plastic wrap and then in aluminum foil to prevent freezer burn. Then, place them in a freezer container to avoid being crushed in the freezer. Label and freeze.
Have you ever noticed that with time, the anise flavor intensifies in pizzelle? That's why they are such a great cookie to start your holiday baking with.
You can't beat the taste of traditional Italian cookies, and we have all your favorite recipes right here. Whether it's S cookies, thin biscotti or ricotta cookies, there is a delicious cookie recipe waiting for you to bake and serve any time of the year. Or perhaps you're looking to make something with chocolate instead? Try these cakelike Italian chocolate cookies.
Recipe inspiration
In my nonna's Italian dialect, she would refer to these simple cookies as "ferratelle."
My dad's mother was born in Ripabottoni, in Campobasso, in the Italian region of Molise. I have so many fond memories of my mom and grandmother making these special treats, especially at Christmas.
I can remember eating pizzelle faster than they could make them. Back then, my mom and grandmother would make the "ferratelle" one at a time, with a stovetop press with long handles. In fact, I still have it and it is pictured above.
Imagine the afternoons spent making this authentic Italian pizzelle recipe when the basic recipe called for one dozen eggs…a dozen!!!
Would you like to know my nonna's secret to perfect pizzelles?
She stored the pizzelle in a bread box that she placed in the pantry. There was no bread in that box – only pizzelle. Always crispy and delicious. I thought they were the best after-school snack!
When my grandmother passed away, we found a small notebook that had some recipes written in it. It is remarkable that a woman, born in 1908, in a small village, learned to read and write. This little booklet symbolizes so much more than recipes.
This is truly priceless.
I have scaled down the original recipe, but if required, it can easily be doubled…or quadrupled and stored in your bread box 🙂
Enjoy!
THANKS SO MUCH for following and being part of the She Loves Biscotti community where you will find Simple & Tasty Family-Friendly Recipes with an Italian Twist.
And if you are new here, welcome! You may want to sign up for my weekly e-mail newsletter. You can unsubscribe any time you want.
Ciao for now,
Maria
★★★★★ If you have made these Italian wafer cookies, I would love to hear about it in the comments below and be sure to rate the recipe!
Recipe
Pizzelle della Nonna
Have you ever wondered how to make pizzelle? Come and take a look. This crisp Italian cookie recipe requires no butter and is so much fun to make!
Print
Save Recipe
Saved!
Pin
Rate
Ingredients
1¼

cups

all-purpose flour

177 grams

¾

teaspoon

baking powder

pinch

salt

3

eggs

room temperature

½

cup

sugar

100 grams

¼

cup

vegetable oil

1

teaspoon

vanilla extract

1

teaspoon

anise extract

optional
Instructions
In a medium bowl, sift together flour, baking powder and salt. Set aside.

In a large mixing bowl or the bowl of an electric mixer fitted with the whisk attachment, beat the eggs until frothy and beginning to thicken (about 2-3 minutes).

Add sugar. Continue to whisk until well thickened, about 3-4 minutes.

Add the oil and extracts. Mix well together.

Slowly add the flour mixture at low speed until well combined -the dough will be soft and sticky.

Drop 1 tablespoon of batter on hot pizzelle press. You can also use a small cookie scooper.

Close lid and cook 30 - 45 seconds or until slightly golden.

Remove from the press with the help of a fork.

Transfer to flat surface or mold into the desired shape.
Scroll UP for the STEP by STEP Photos
Don't miss the process shots and videos included in most posts. Simply scroll up the post to find them. Those were created especially for you so that you can make the recipe perfectly every single time you try it.
Notes
Special Equipment needed to make this recipe is a pizzelle iron.
To make chocolate pizzelle use 1 cup all-purpose flour (142 grams) sifted with

¼

cup unsweetened cocoa powder (21 grams).  Omit the anise extract.
Can I make them vegan? Yes. These are the changes you need to make. Replace all the eggs with 3 tablespoons of ground flaxseed and 9 tablespoons of room temperature water. You need ¼ cup plus 1 tablespoon of oil. Also, verify to make sure you are using sugar that is not processed with bone char. 
Please keep in mind that the nutritional information provided below is just a rough estimate and variations can occur depending on the specific ingredients used. 
Nutrition
Serving:
1
serving
|
Calories:
54
kcal
|
Carbohydrates:
7
g
|
Protein:
1
g
|
Fat:
2
g
|
Saturated Fat:
2
g
|
Cholesterol:
16
mg
|
Sodium:
6
mg
|
Potassium:
22
mg
|
Fiber:
1
g
|
Sugar:
3
g
|
Vitamin A:
24
IU
|
Calcium:
8
mg
|
Iron:
1
mg
This post was originally published on November 24, 2014, republished on July 2, 2019 and again on March 6, 2021 with updated content and photos.