This naturally vegan celery root slaw recipe is a delicious way to enjoy a lesser-known root vegetable. The addition of apples, fennel and an apple cider vinaigrette creates a crunchy, flavorful salad that will have everyone asking for more!
Jump to:
Introduction
People are often taken aback by the appearance of this not so pretty root vegetable; however, once they taste it and realize that celery root is delicious and versatile in cooking, accepting it as any other vegetable becomes second nature.
I remember the first time my daughter saw celery root in the fridge. She stared at it with curiosity on her face, then stated, "There's something weird in the fridge."
Ah, the perfect entry into that timeless discussion about how looks can be deceiving. So let's strip away the exterior layer of this uniquely shaped vegetable to discover "what lies within."
What is celery root?
As its name implies, this knobbly root belongs to the celery family, classifying it as a vegetable.
Its earthy and nutty-sweet taste is a cross between celery and parsley with aniseed undertones.
This root vegetable, also known as celeriac, knob celery, or turnip-rooted celery, has a light texture making it incredibly versatile. Whether you are using it raw or cooked, it is an excellent ingredient in recipes!
Buying and storing
Celery root is available from late September to April. When shopping for this root vegetable, make sure you buy one with a firm and heavy feel. Be on the lookout for any soft spots which may indicate poor quality. Store in the refrigerator by wrapping loosely in a paper or plastic bag for 5 days.
What to do with celery root?
The fantastic thing about this low-calorie vegetable is its exciting flavor profile that is versatile in recipes. It can quickly become part of your healthy eating habits.
Steam it and then mash it into a puree; dice it and then roast it along with other members of the root family (parsnips, carrots, potatoes, etc.); or use it in soups or stews.
Today, we create a delicious celery root, fennel and apple slaw.
Mise en Place
Although the actual recipe takes mere minutes to come together, there is a small investment of time to transform the raw ingredients.
How to peel celery root: To get to the creamy white interior of this vegetable, you need to scrub one medium celery root and wash it in cold running water. Once that's done, start the trimming process. Then, trim off the bottom and top part with a very sharp knife. Place the flat part on your cutting board and slice off the outer layer from top to bottom, angling your knife in the process. You can also use a vegetable peeler.
Grate the celery root: Use a mandolin to grate about one pound of celery root into matchsticks. Using the large holes of a box grater is a great alternative. Combine the grated root vegetable with ¼ cup of sugar and ½ teaspoon of salt. Toss together and let stand for 15 minutes.
Prep the fennel: Cut off the stalks from one medium fennel bulb; trim off a thin slice from the bulb's base and remove any tough outer layers if they appear blemished. You can use a vegetable peeler to remove any spots. Use a mandolin to slice thinly.
Prep the celery ribs: Wash and dry 4-5 celery stalks. Place flat down on your work surface and slice at an angle. You also need about 2 tablespoons of chopped celery leaves.
Mincing the fresh herbs: Rinse about half a bunch of fresh Italian flat-leaf parsley leaves. Next, remove the excess moisture by spinning them in a salad spinner. If you do not have one, spread the leaves out over a tea towel and gently pat dry with another tea towel. You need ½ cup of finely chopped fresh parsley. You also need about 2 tablespoons of chopped fresh tarragon.
Prep the green apples: Cut 2 green apples into matchsticks. Place in a bowl and toss with 1 tablespoon of freshly squeezed lemon juice to prevent browning.
Instructions
Now that our ingredients are prepped, it is time to combine them and make the vinaigrette.
But first, gently squeeze the julienned celery root to remove most of the excess liquid. Discard this excess liquid.
In the large mixing bowl, properly toss the drained celery root, fennel, apples, celery, Italian flat-leaf parsley and tarragon (if using).
To make the tangy apple cider vinaigrette: Whisk together ½ cup of extra-virgin olive oil with 3 tablespoons of apple cider vinegar and 1 tablespoon of Dijon mustard. Add the apple cider vinaigrette and toss everything together.
Taste and adjust the salt and black pepper according to your preferences.
Serve immediately.
Tips
Celery root only looks tough; it's effortless to cut. Please make sure you're quick when prepping this vegetable because it quickly turns brown when exposed to air.
Break up the clumps of drained celery root and toss them together properly with the rest of the ingredients to obtain a uniform salad.
Fresh parsley adds color and flavor to this salad. Avoid using dry parsley. In a pinch, frozen parsley can be used.
Variations
Here are some ways to enjoy this delicious and refreshing slaw recipe. Try our suggested flavor variations, or leave a comment below with your own!
Adding a handful of toasted hazelnuts or pumpkin seeds adds another flavor dimension to this salad.
Feel free to add a handful of dried cranberries with any other dried fruit or berry.
Add chickpeas or edamame beans to increase the overall protein content.
Serving suggestions
You can serve this crunchy salad as a side dish with grilled chicken or lamb chops. It's also deliciously served on its own.
Slaw Salads we love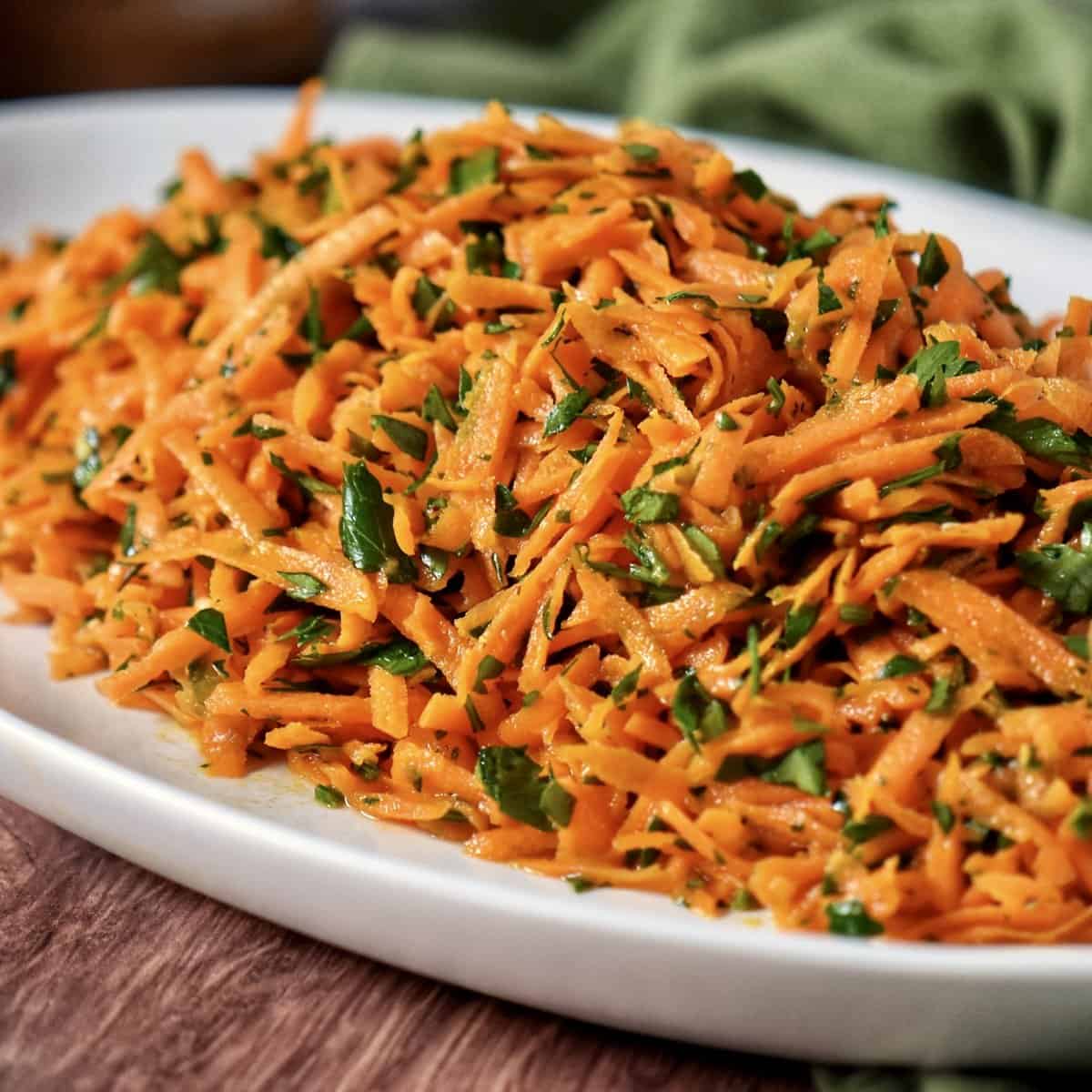 Carrot Salad
If you are looking for an easy carrot salad recipe that is great any time of the year, this is for you!
Try this purple slaw recipe if you are looking for more tasty salads. All of these bright and colorful side salads will quickly become family favorites! 
Recipe inspiration
Fennel is one of my absolute favorite vegetables. It has such a fantastic flavor whether I am eating it raw, roasted, grilled, or in a refreshing salad!
From the moment I discovered this salad recipe on the Food and Wine website, I knew I would love it. The flavor combination of celery root, apples and fennel are simply perfect!
As usual, here are some of the changes I made. First, I reduced the amount of sugar and salt. Second, I increased the apple cider vinegar and eliminated the horseradish and capers. I also use lemon juice to prevent the apples from browning. I also like to incorporate a couple of tablespoons of chopped fresh tarragon.
There truly are endless slaw variations you can make with celery root. I hope you get a chance to experiment with this wonderful vegetable.
If you haven't already joined, here is the link where you can sign up for my weekly e-mail newsletter. This way, you won't miss any of my new recipes and it's free! 
THANKS SO MUCH for following and being part of the She Loves Biscotti community, where you will find Simple & Tasty Family-Friendly Recipes with an Italian Twist.
Ciao for now,
Maria
★★★★★ If you have made this celeriac slaw recipe with fennel and apples, I would love to hear about it in the comments below and be sure to rate the recipe!
Recipe
Celery Root Slaw with Fennel
This celery root slaw is a delicious way to enjoy a lesser-known root vegetable. The addition of apples, fennel and an apple cider vinaigrette creates a crunchy, flavorful side dish that will have everyone asking for more!
Print
Save Recipe
Saved!
Pin
Rate
Ingredients
1

pound

celery root

1 medium, peeled, grated or in julienne form

¼

cup

sugar

½

teaspoon

salt

1

medium

fennel

thinly sliced or in julienne form

4-5

ribs

celery

thinly sliced at an angle

2

tablespoons

celery leaves

chopped

½

cup

parsley

Italian flat-leaf, finely chopped

2

tablespoons

tarragon

fresh, chopped

2

tart green apples

cut into thin matchsticks; toss with 1 tablespoon of lemon juice
Vinaigrette:
½

cup

olive oil

extra virgin

3

tablespoons

apple cider vinegar

1

tablespoon

Dijon mustard

salt and pepper to taste
Instructions
Combine the julienned celery root in a large mixing bowl, with the sugar and salt. Toss together properly and allow to stand for 15 minutes. Then, strain and gently squeeze to remove most of the excess liquid. Discard this excess liquid.

Combine the celery root, fennel, celery and celery leaves, parsley, tarragon and apple. Combine gently.

Whisk together the ingredients for the vinaigrette and add to the slaw ingredients. Toss together properly.

Taste and adjust salt and pepper to taste.
Scroll UP for the STEP by STEP Photos
Don't miss the process shots and videos included in most posts. Simply scroll up the post to find them. Those were created especially for you so that you can make the recipe perfectly every single time you try it.
Notes
Please keep in mind that the nutritional information provided below is just a rough estimate and variations can occur depending on the specific ingredients used. 
*recipe adapted from Food and Wine
Nutrition
Serving:
1
serving
|
Calories:
213
kcal
|
Carbohydrates:
22
g
|
Protein:
2
g
|
Fat:
14
g
|
Saturated Fat:
2
g
|
Polyunsaturated Fat:
2
g
|
Monounsaturated Fat:
10
g
|
Sodium:
262
mg
|
Potassium:
482
mg
|
Fiber:
4
g
|
Sugar:
12
g
|
Vitamin A:
561
IU
|
Vitamin C:
17
mg
|
Calcium:
78
mg
|
Iron:
2
mg
This post was originally published on January 17, 2015, and republished on January 30, 2022, with updated content and photos. Thanks for sharing!