Freezing herbs is a great way to preserve them. Come and take a look at how to freeze fresh herbs so that you have them readily available to use in your favorite recipes any time you want.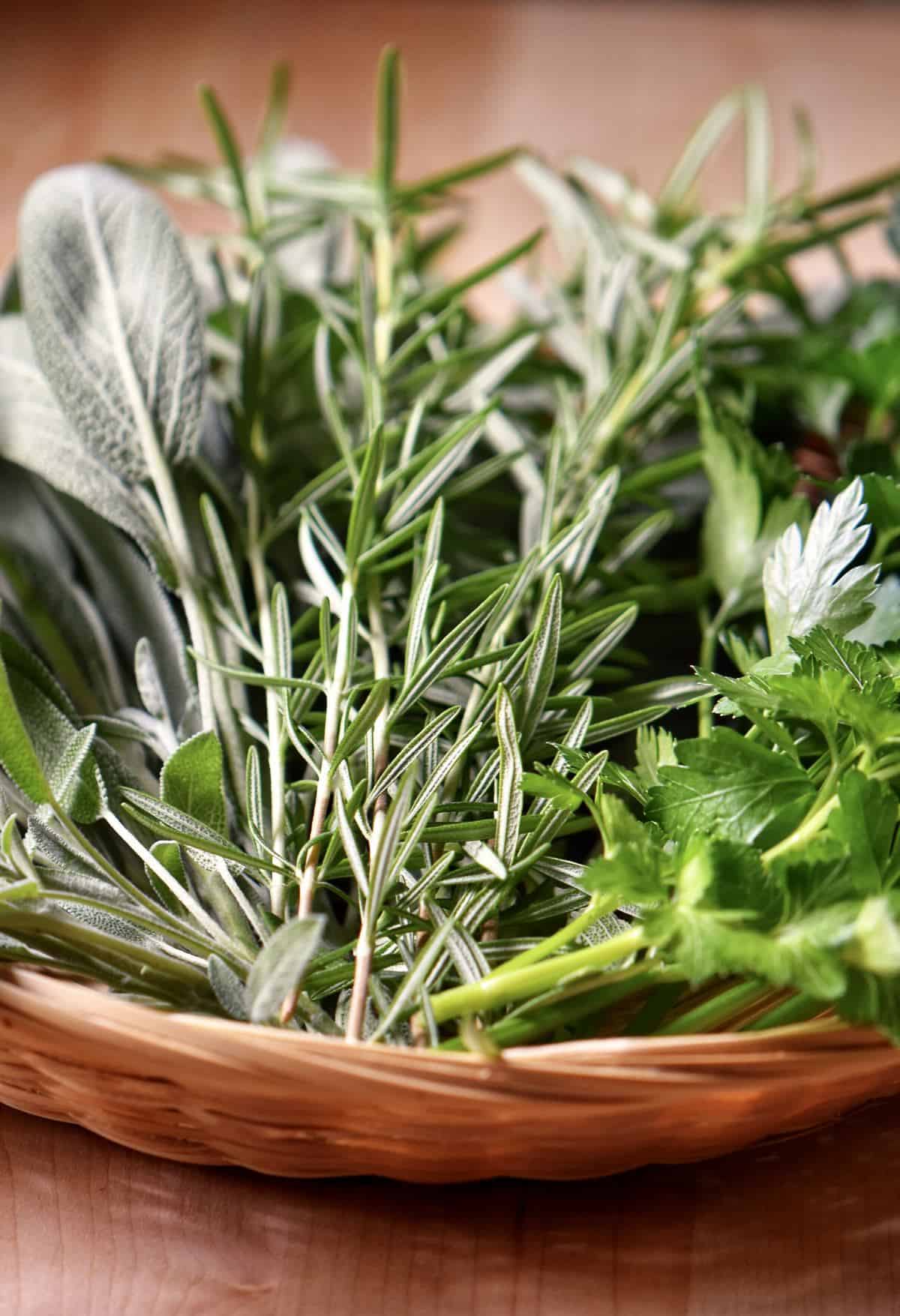 Fresh herbs are a great way to add flavor, aroma and vibrant color to so many dishes without adding extra calories or salt.
Unfortunately, they can quickly lose their sought-out qualities even if properly refrigerated.
The solution is simple – freeze the herbs! Freezing is one of the most effortless ways to preserve fresh herbs.
It doesn't take up much space; it's easy to do, helps you save money in the long run, creates less food waste and fewer trips to the grocery store.
Not only can you freeze fresh herbs individually, like freezing parsley, but you can also freeze herb mixtures.
The focus today will be on freezing rosemary, sage and parsley.
You can freeze freshly chopped herbs in ice cube trays, airtight containers, or a Ziploc bag. Use frozen cubes of rosemary, sage, and parsley in soups, stews or oven-roasted potatoes year-round – replace the fresh herbs in your recipe as needed!
Whether you grow herbs in your backyard garden or buy it fresh from a farmer's market or grocery store, take a look at how to freeze herbs so that you always have this delicious ingredient on hand. This article also provides easy methods for refrigerating herbs.
Harvesting and Shopping tips
Growing your own herbs and/or planting a herb garden is easier than you think! Whether growing in a backyard garden or pots on your patio, most plants grow prolifically so they can provide enough delicious flavors all season long.
To get the most from your herbs, harvest them anytime during the season when they are at their peak flavor and aroma but before they start to flower. It is important to pick your herbs early in the day, after plants have dried off but before hot weather sets in. [source]
When purchasing at the grocery store or produce market, look for herbs with vibrant green leaves with healthy-looking stalks- avoid any bunches that have yellowing or limp stems as they're most likely going bad.

How to Preserve Fresh Herbs in the Refrigerator
If you store your herbs properly, they will last for 2-7 days in the fridge. This window of time allows you to use them or to freeze them.
Make a fresh cut on the bottom of the stems or stalks.
Gently wrap the herbs in a damp paper towel.
Slide the bundle into an open bag or container to prevent excessive moisture buildup.
Store them in your refrigerator.
Another option for storing fresh herbs is to place the stems in water with leaves covered by a plastic bag and refrigerate them.
Which herbs freeze best
Herbs are the perfect way to add flavor and aroma to your cooking. Frozen, they can be used just like fresh ones!
Many different kinds of herbs can be frozen, including cilantro, chives, dill, lemon balm, mint, parsley, rosemary, sage, and tarragon.
Experiment with various herbs and combinations until you find one that suits yourself best – experiment by changing amounts; if it doesn't work out, try another type of herb.
My favorite herb combinations to freeze are parsley, rosemary, and sage.
How to freeze herbs in multiple ways
If you love cooking but hate throwing away your overflow of fresh herbs, freezing is the perfect solution to preserve them for long-term storage. Luckily there are several ways to freeze and preserve your favorite kitchen ingredients effectively!

Let's prep our herbs for freezing
To retain the most flavor out of your fresh herbs, let's prepare them correctly.
Here are the simple steps:
Soak the herbs in a large bowl of water, and swish them around. This will dislodge dirt, debris, or even insects -especially if picked from your backyard. You can soak with or without stems attached.
To prevent freezer burn and the formation of ice crystals, it is important to get them as dry as possible. To do this, you can either spin or pat dry your leaves with paper towels or a tea towel for those without a salad spinner available.
How to prep sage leaves: When it comes to preparing sage leaves, they're large and bulky, making pinching them from the stem much easier than with smaller plants or herbs. It's also worth including some of these stalks when making your homemade broth for extra flavor!
How to remove rosemary leaves from the stem: Hold the top part of the rosemary stem with one hand. With the other hand, pull down on the individual leaves until it is bare. The rosemary stalk is great for adding flavor to dishes such as homemade broth and white bean soup!
How to prep parsley leaves: Pinching the leaves from their stems is a delicate process that takes a little time but avoids bruising it which in turn produces great results.
You can learn more about How to Freeze Parsley in this article.

Chopping and mincing
To prepare your herbs for freezing, you can leave them whole or chop them down to the desired size.
To chop: Place the dry fresh herbs on a cutting board. Gather them in an even smaller pile and hold them down nicely with one hand while using your other hand to slice thin with as little effort possible! Turn leaves 90 degrees, then cut again if needed until you have perfectly uniform pieces of whatever herb it is that you are preparing to freeze.
To mince: Keep chopping your herbs, this time holding the handle with one hand and applying pressure to its tip. This will serve to pivot the knife, allowing you to further cut and mince the parsley as finely as you like. You can also use a food processor for mincing if you like – just a few pulses until it's as fine or chunky as desired!
Another easy option is to use a mezzaluna to chop and mince your herbs down to size.
Freezing chopped herbs on their own
Now that you have the herbs chopped down to your preferred size, it's time to freeze them, so they'll be ready when you need them.
Place loosely into a freezer-safe bag or airtight container. Label, date and freeze your bag. Use as needed. If you are making different herb mixtures, it's a good idea to label each bag with the herb variety it contains.
Another option is to create a solid block by rolling whole leaves into a long log that can then be sliced with a sharp knife when you need some. This is a great method for fresh sage leaves.
To do so, firmly pack down the herbs in a gallon size Ziploc freezer bag. Without sealing the bag, lay it flat on your counter and start rolling from the bottom up, all the while pushing out the air. When you reach the top, seal your bag. Be sure to label and date your bag before freezing.
When you are ready to use your frozen herbs, there is no need to thaw them. Remove the amount that you need and quickly replace the container or log back in the freezer.

Freezing herbs in ice cube trays
The most convenient and best way to freeze herbs is by using a standard ice cube tray. This preservation method creates frozen cubes that are perfect for cooking with and adding soups, stews, sauces, and more! The most common way to create these frozen herb cubes is with the addition of water or oil. However, you can also make them without any liquid at all!
Follow these steps for this convenient freezing option.
Mince the bunch of fresh herbs.
Measure a total of 1½ tablespoons of minced herbs into each section of an ice cube tray.
As an option, cover the herbs with 1½ tablespoon of cold water or olive oil. Neutral vegetable oil can also be used.
Place the tray in your freezer until the cubes are frozen solid.
Pop-out the cubes, transfer them to a Ziploc plastic freezer bag and seal.
Store in the freezer until you need them.
These are so convenient when roasting potatoes, making soups and so much more!

How long does it last?
Frozen herbs can last for up to 6 months when properly stored and with no fluctuation of temperatures. However, the longer it stays in the freezer, the greater the possibility of experiencing freezer burn.

Recipes to substitute for fresh
This frozen herb mixture of rosemary, sage, and parsley can easily be used as a direct substitute for fresh in this roasted potatoes and carrots recipe. It also works really well in this Italian sausage and potatoes recipe.

More food preservation
Be sure to check out these other step-by-step guides on freezing parsley, rhubarb, strawberries, green beans, as well as how to freeze tomatoes and Swiss chard.
THANKS SO MUCH for following and being part of the She Loves Biscotti community where you will find Simple & Tasty Family-Friendly Recipes with an Italian Twist.
If you haven't already joined, here is the link where you can sign up for my weekly e-mail newsletter. This way, you won't miss any of my new recipes and it's absolutely free!
Ciao for now,
Maria
We are a participant in the Amazon Services LLC Associates Program, an affiliate advertising program designed to provide a means for us to earn fees by linking to Amazon.com and affiliated sites.
You can find the mezzaluna I am using in my amazon store. If it is of interest to you, head on over to my amazon store for all the details.
★★★★★ Are you planning on freezing herbs? I would love to hear about it in the comments below and be sure to rate this method!
How to Freeze Fresh Herbs
Freezing herbs is a great way to preserve them. Come and take a look at how to freeze fresh herbs so that you have them readily available to use in your favorite recipes any time you want. 
Print
Save Recipe
Saved!
Pin
Rate
Ingredients
1

bunch

sage

fresh, washed and prepped

4

sprigs

rosemary

fresh, washed and prepped

6

stems

parsley

fresh, washed and prepped

18

tablespoons

olive oil or water (optional)
Instructions
Properly wash herbs and use a salad spinner to remove all moisture. Tea towels can also be used.
Option 1:
Place minced herbs in a freezer-safe bag or airtight container. Transfer to freezer until ready to use.
Option 2:
Measure a total of 1½ tablespoons of minced herbs into each section of an ice cube tray.

Cover the herbs with 1½ tablespoon of cold water or olive oil.

Place the tray in your freezer until the cubes are frozen solid. 

Pop-out the cubes, transfer them to a Ziploc plastic freezer bag and seal. Store in the freezer until you need them.

For both options, there is no need to thaw before using.
Scroll UP for the STEP by STEP Photos
Don't miss the process shots and videos included in most posts. Simply scroll up the post to find them. Those were created especially for you so that you can make the recipe perfectly every single time you try it.
Notes
Nutritional information includes oil.
One serving is 1 herb cube.
Please keep in mind that the nutritional information provided below is just a rough estimate and variations can occur depending on the specific ingredients used. 
Nutrition
Serving:
1
g
|
Calories:
192
kcal
|
Carbohydrates:
1
g
|
Protein:
1
g
|
Fat:
21
g
|
Saturated Fat:
3
g
|
Polyunsaturated Fat:
2
g
|
Monounsaturated Fat:
15
g
|
Sodium:
1
mg
|
Potassium:
26
mg
|
Fiber:
1
g
|
Sugar:
1
g
|
Vitamin A:
166
IU
|
Vitamin C:
1
mg
|
Calcium:
36
mg
|
Iron:
1
mg