Nothing says fall like making homemade concord grape jelly. Intoxicating aroma, jewel-like color & the sweet-tart taste appeals to all your senses.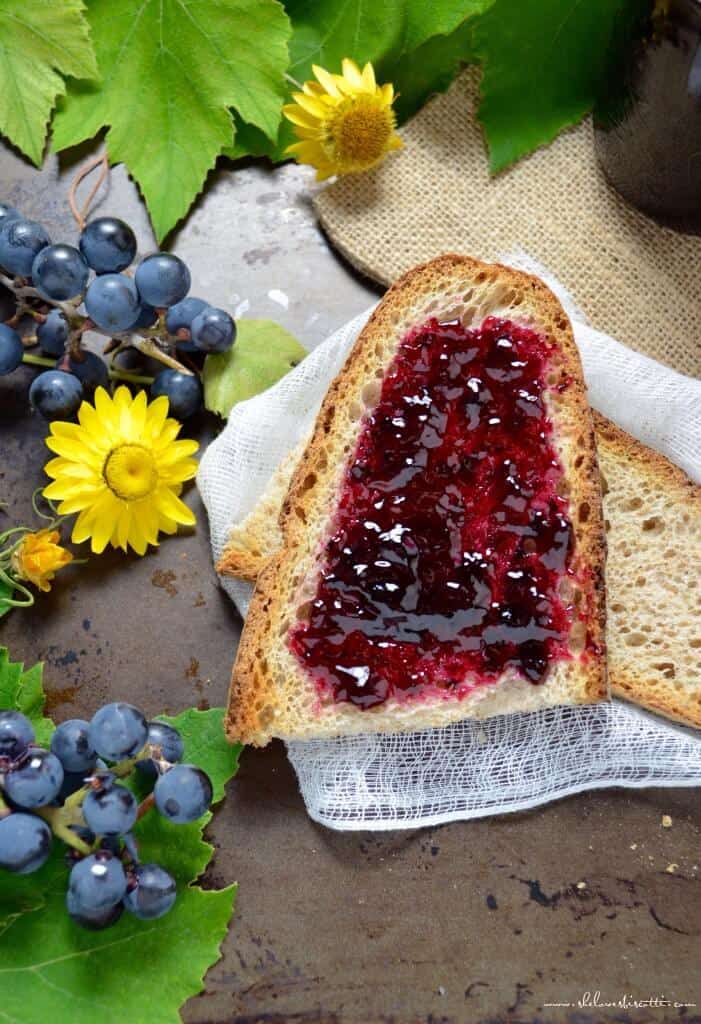 Mother Nature dictated my priorities this past week-end.
I willingly obliged.
Now I have about twenty jars of Homemade Concord Grape Jelly.
It snowed hailed in Montreal this week-end, and we also got our first frost warning of the year. Since I had no intention of making ice wine, I psyched myself up to harvest the remainder of the grapes in my backyard while I still could… and I used those grapes to make this wonderful jelly.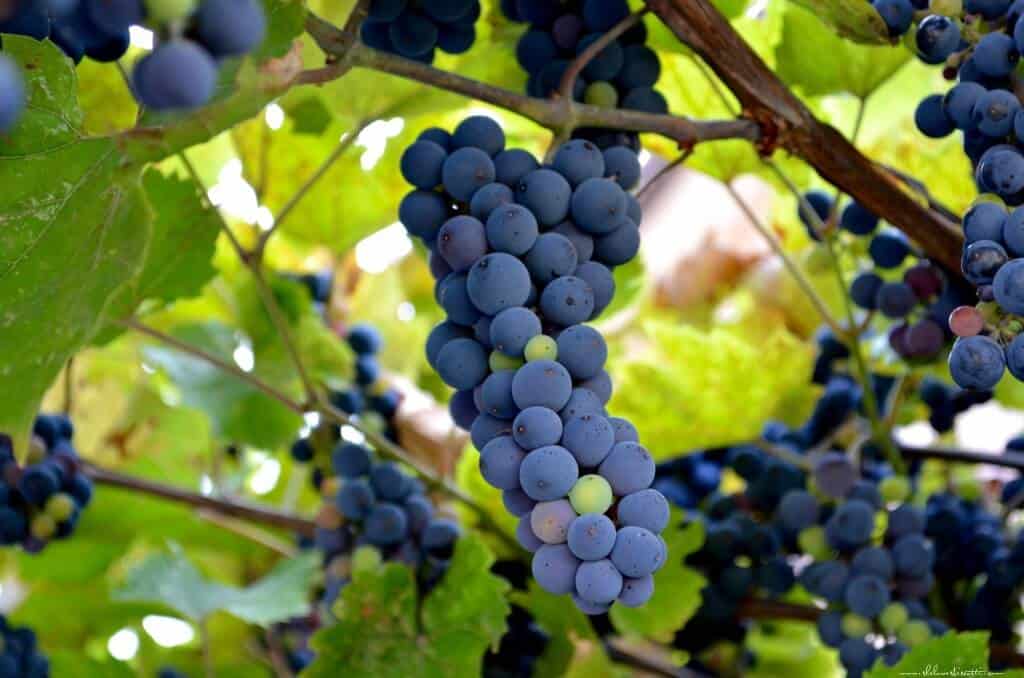 A couple of years ago, my husband built a pergola for the three different varieties of grapes he planted. Needless to say, we had a lot of grapes this year. I've been sharing with friends, family and neighbors over the past couple of months, and I still had so many left over.
As the warmer weather continued well into October, the grapes on the vine just became sweeter and sweeter. But alas, the inevitable is well on its way (i.e. "Winter is coming!") and so I picked those leftover grapes at last and made my favorite jelly this week-end!
This grape jelly recipe with pectin is really not a difficult process -you'll just need to set aside a couple of hours, especially if you are lucky enough to be harvesting your own concord grapes.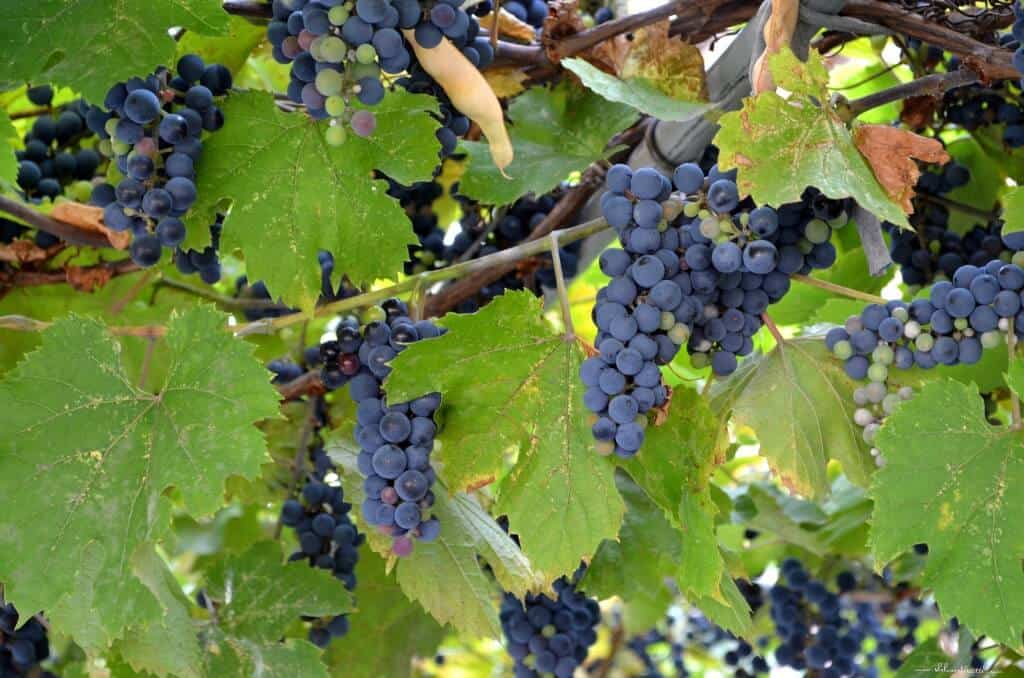 As a side note, you might be wondering what I'm going to do with these twenty jars of concord grape jelly I made!
Well, I find that they are appreciated as hostess and holiday gifts. Autumn is the best time to prepare these food gifts… homemade strawberry jam, apple butter, vanilla pear butter, applesauce, sun-dried tomatoes, traditional basil pesto …the list just continues to grow.
Nutrition Tip: This Homemade Concord Grape Jelly is made with the extracted grape juice of Concord grapes, sugar and pectin. It provides you with an excellent alternative to a fat-free spread. Studies have shown that Concord grapes, when eaten in its fruit form, provides us with powerful antioxidants called polyphenols.

How to make Grape Jelly:
You won't believe how easy this is!

STEP 1: THE PREPARATION
Making your own Homemade Concord Grape Jelly requires a few preparatory steps:
Canning jars need to be washed and sterilized (place in 225 ° F oven for at least 10 minutes). I leave them in the oven until I am ready to fill them up.
Lids also need to be sterilized; just 10 minutes in simmering water is all it takes. Leave them in the water until you need them.
Grapes need to be properly rinsed, stemmed and crushed. I have often found spiders, spider webs and all sorts of creepy crawlers in the middle of mine… that's what happens when no pesticides are used! I think it's a fair trade off. As I stem each grape, I also give it a gentle squeeze in order to separate the "meat" from the skin. I do this over the bowl in order to collect any juices that may be given off. Then, with the help of a potato masher, I crush the grapes. In total we need about 3 pounds of grapes which have been removed from their stems.
STEP 2: THE EXTRACTING of the GRAPE JUICE
Once your grapes have been crushed, place them in a large saucepan along with 1/2 cup of water. Bring to a boil and then reduce the heat to allow the grapes to simmer for approximately 10 minutes, covered. Stir occasionally.
In the meanwhile, set your cheesecloth in a strainer (or use your jelly cloth if you have one) over a heatproof bowl. Pour prepared fruit and liquid in the strainer and allow to drip for a couple of hours. You need four cups of this strained liquid. The aroma of this concentrate is absolutely intoxicating!
STEP 3: THE MAKING of GRAPE JELLY:
It's extremely important to measure the right amounts of grape juice and sugar– otherwise, your jelly may turn out too thick or too thin.
At this point, you need to bring your mixture to a boil, add in the CERTO pectin (liquid) and stir for exactly one minute. Do not get burned here! Once that is done, remove the pot from the heat and skim the foam for approximately 5 minutes. I find this to be a two-person job, though it can be done alone. I usually enlist the help of my daughter… she stirs while I skim.
STEP 4: THE CANNING
The final part is just pouring your Homemade Concord Grape Jelly in your sterilized jars. Remember to leave about 1/4 inch of head space. Place a sterilized lid and screw on the top, and voilà!
You're done!
When you hear the seals of the jar lids popping, you'll know you've done a good job!
This Homemade Concord Grape Jelly is great on toasted bread, bagels, homemade scones, buttermilk biscuits, rolls or pancakes. Not to mention savory-sweet dishes like this recipe for these Super Easy Baked Chicken Thighs.

Origins of the recipe for Homemade Concord Grape Jelly:
This summary is based on the recipe which I found years ago on the CERTO website. The original recipe did not require any butter, and so I do not use any (interesting enough, Martha Stewart also uses Certo to make her grape jelly… I guess that means I'm doing it right!)
Have fun making your grape jelly.
THANKS SO MUCH for following and being part of the She Loves Biscotti community where you will find Simple & Tasty Family-Friendly Recipes with an Italian Twist.
Ciao for now,
Maria
★★★★★ If you have made this Grape Jelly recipe, I would love to hear about it in the comments below and be sure to rate the recipe!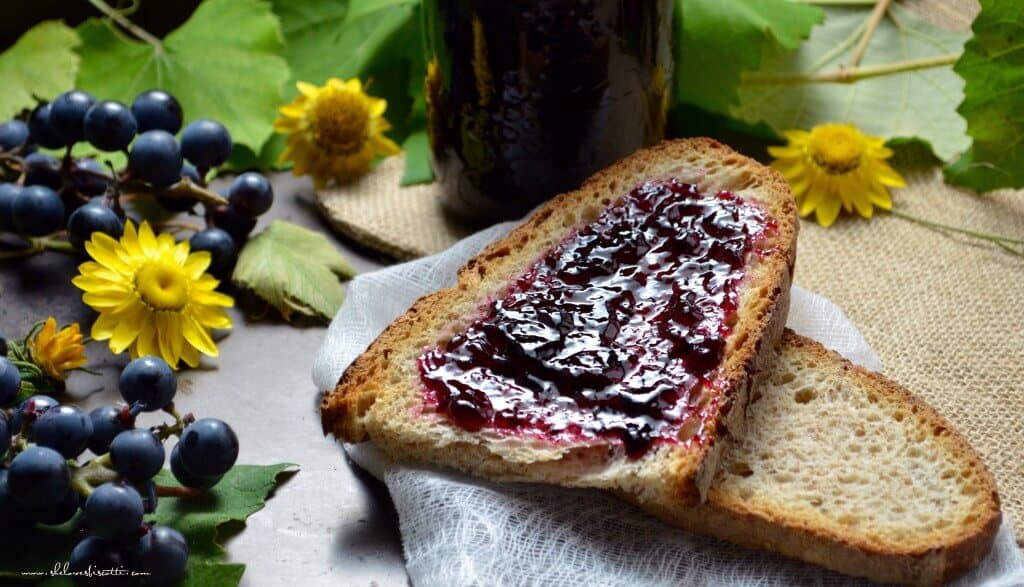 Homemade Concord Grape Jelly
Nothing says fall like making homemade concord grape jelly. Intoxicating aroma, jewel-like color & the sweet-tart taste appeals to all your senses.
Print
Pin
Rate
Servings:
7
half pint jars
Ingredients
Extracting the juice:
3

pounds

grapes

removed from their stems and washed

1/2

cup

water
Making the jelly:
4

cups

extracted grape juice

7

cups

sugar

granulated

1

pouch

Certo fruit pectin
Instructions
Extracting the juice:
Place grapes in a heavy bottomed pot.

Add water.

Crush the grapes with a potato masher. This will help speed up the extraction process.

Bring the grapes to a boil and then reduce heat to a simmer.

Cover the pot and simmer for 10 minutes.

Stir occasionally.

In the meanwhile, sterilize jars and caps (for details refer to post section on THE PREPARATION).

Pour the cooked grapes, in a jelly bag or cheesecloth lined strainer. Allow to drip for a couple of hours.
Making the jelly:
Combine the extracted grape juice and sugar in a large heavy bottomed pot.

Over high heat, stir together until mixture comes to a boil.

Add the pouch of Certo and continue to stir the boiling mixture for 1 minute.

Remove the pot from the heat.

Stir and skim the foam for approximately 5 minutes.

Pour mixture in sterilized jars. Make sure to leave about 1/4 inch of head space.

Screw cap on.
Scroll UP for the STEP by STEP Photos
Don't miss the process shots and videos included in most posts. Simply scroll up the post to find them. Those were created especially for you so that you can make the recipe perfectly every single time you try it.
Notes
Please keep in mind that the nutritional information provided below is just a rough estimate and variations can occur depending on the specific ingredients used. 
*recipe adapted from Certo
Nutrition
Serving:
1
pint
|
Calories:
994
kcal
|
Carbohydrates:
256
g
|
Protein:
1
g
|
Sodium:
14
mg
|
Potassium:
521
mg
|
Fiber:
2
g
|
Sugar:
250
g
|
Vitamin A:
140
IU
|
Vitamin C:
6.4
mg
|
Calcium:
37
mg
|
Iron:
1.2
mg