Indulge in the perfect Italian comfort food with this Creamy Polenta Recipe. Learn how to create this easy polenta dish with a silky-smooth texture that pairs beautifully with a variety of flavors.
I enjoy serving this family recipe with a side of sautéed greens, such as sauteed spinach, Italian-style broccoli rabe, and sauteed escarole.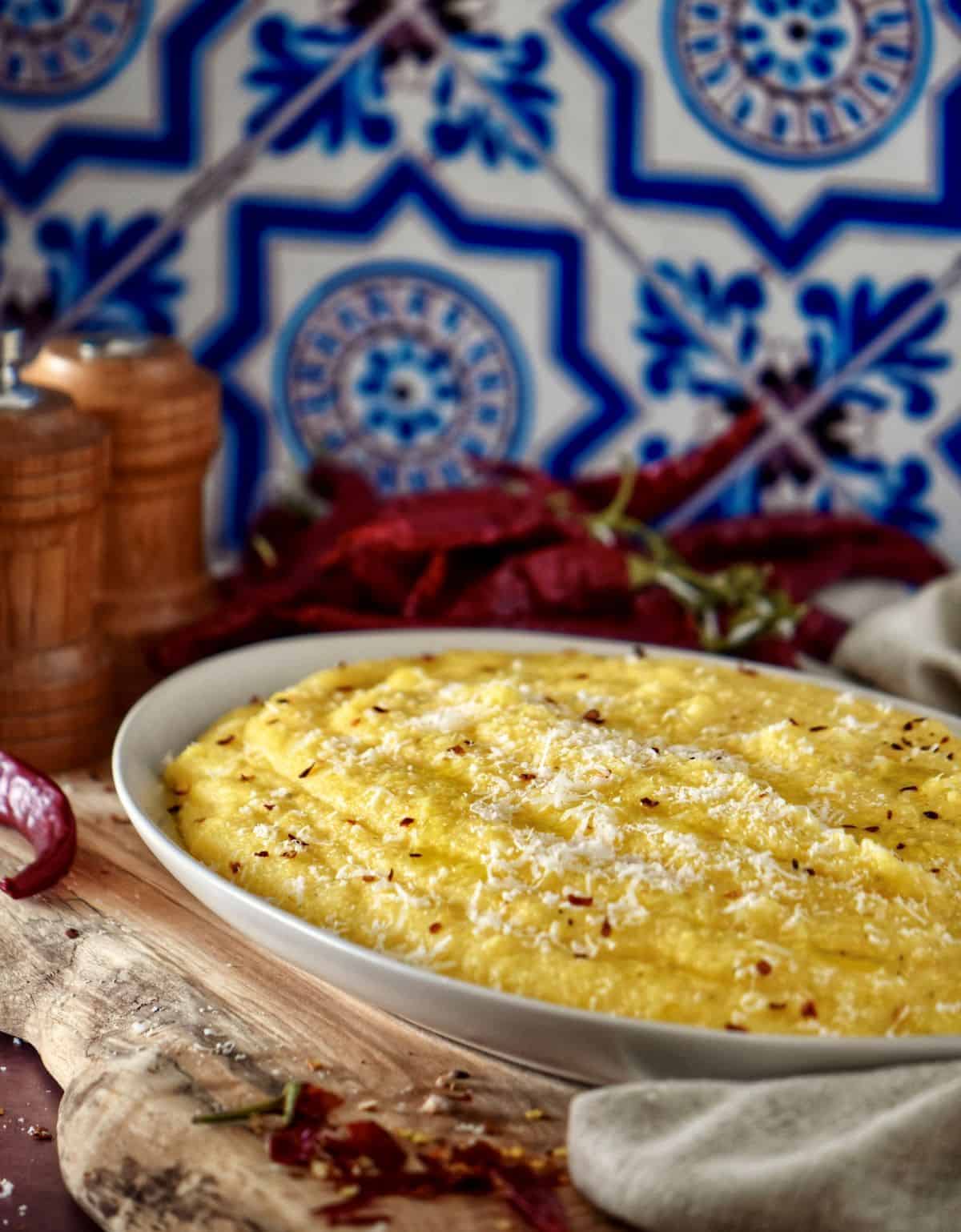 Jump to:
Introduction
This soft, Creamy Polenta Recipe is the perfect representation of a comfort food recipe.
With my five simple steps, this basic polenta recipe is easy to make and incredibly versatile.
As a traditional Italian dish, it's a classic example of Cucina povera, or peasant food.
In fact, many creative recipes were born out of necessity due to the poor economic conditions in different regions of Italy.
St. Joseph's Spaghetti, Cacio e Uova, and Pasta and Lentils are just a few examples of peasant dish recipes that have stood the test of time.
Traditionally, this "wet" cornmeal mush was poured onto the entire length of a large wooden polenta board placed in the center of the table, and everyone sitting at the table, would dig in – casual dining at its finest.
Fast forward to today, where polenta is used as a base to create appealing dishes in upscale restaurants. One such pairing is with Pan Seared Rack of Lamb.
Despite its humble origins, polenta has become a staple in modern Italian cuisine.
Let's take a closer look at this gluten-free whole grain and learn how to make an easy polenta recipe that pays homage to the traditional Cucina povera style.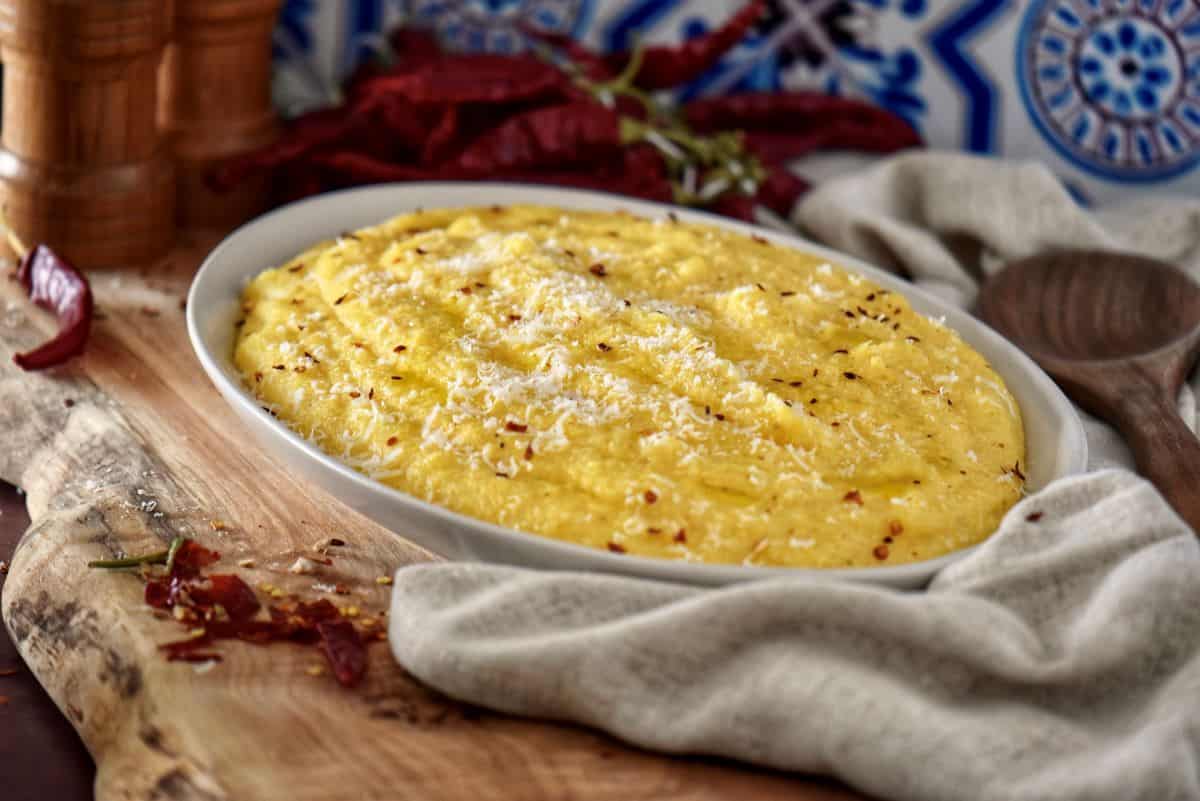 What is polenta?
Polenta is a traditional Italian dish, not an ingredient, originating from northern Italy.
However, it's important to note that the term "polenta" has an interesting history. It originally referred to any grain or pulse cooked to the consistency of porridge. Today, when we mention "polenta," we're referring to a dish made from coarse or fine-ground corn kernels. [source]
It naturally becomes creamy and smooth as it absorbs liquid and thickens during cooking.
The key to achieving creamy polenta is using the proper ratio of liquid to cornmeal and cooking it slowly while stirring continuously.
Over time, this simple and nourishing meal has become a celebrated part of Italian cuisine, known for its creamy texture and versatility in pairing with various ingredients and flavors.
Is polenta hard to make?
Cooking polenta is quite simple despite its reputation as a complicated dish.
The key to mastering a soft polenta is giving it enough time to soften and transform from gritty to silky smooth when combined with water.
Achieving the perfect consistency of polenta requires patience and stirring to hydrate the cornmeal properly.
A handy tip from one of our readers is to save time by soaking the polenta in cold water before cooking it, which can shorten the overall cooking process.
And here's an interesting tidbit: According to America's Test Kitchen, adding a pinch of baking soda and salt to the boiling water can expedite the cooking process by breaking down the cellular structure of the cornmeal molecule, reducing both cooking and stirring time.
As you can see, there are different solutions to decreasing the cooking and stirring time when making polenta, making it more accessible and convenient for busy cooks.
Today, I am sharing my family recipe for polenta.
Hopefully, with my five easy steps, you'll find that creating delicious creamy polenta is a rewarding and straightforward culinary adventure that anyone can undertake.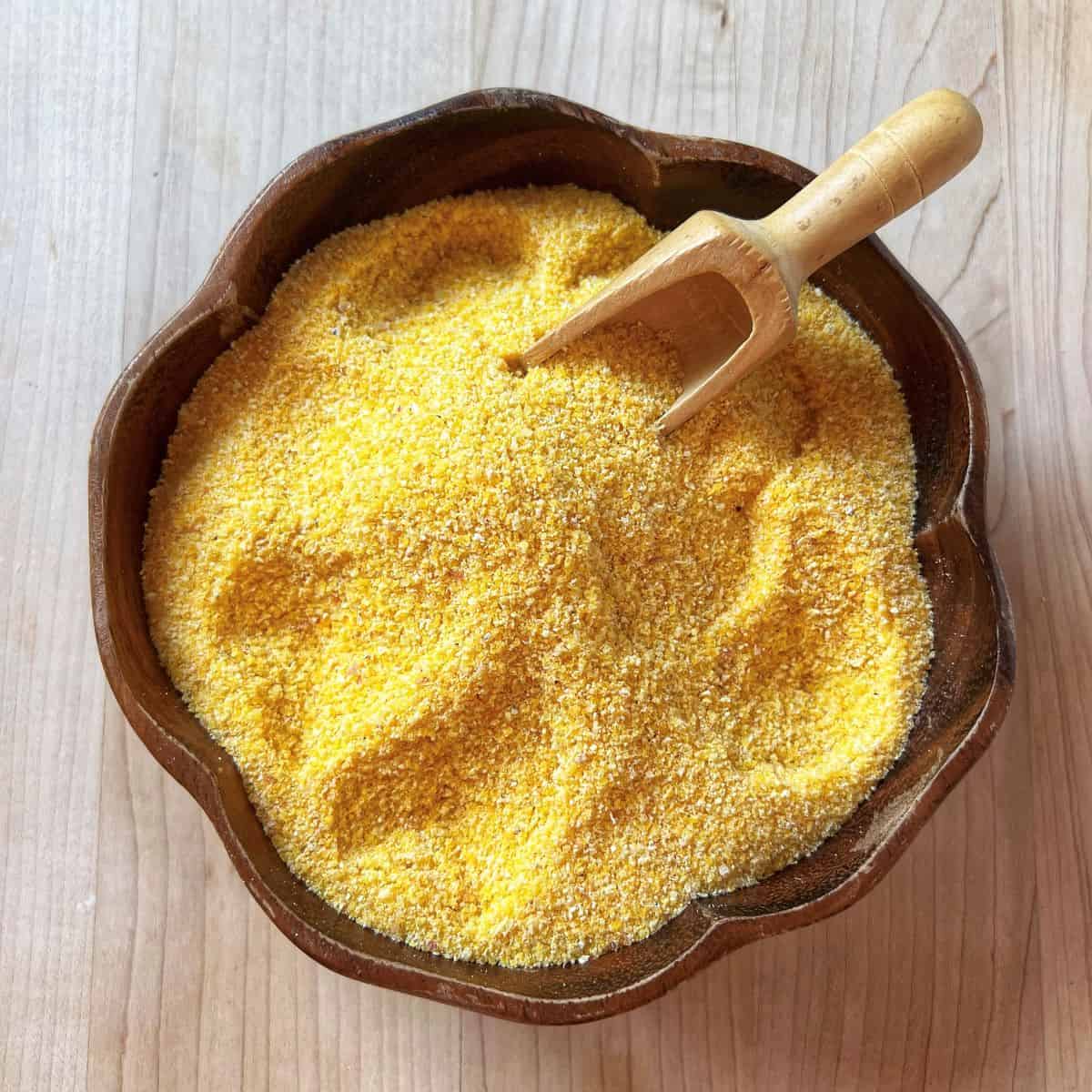 Ingredients
Cold Water (or chicken or vegetable broth and/or Milk): The base of your homemade polenta, the choice between water, broth (stock), or milk (or a combination) can significantly influence the flavor and richness of the dish. Water is the simplest option, while stock can add depth and complexity, and milk can contribute creaminess. I prefer to make it with water.
Salt: Salt is a fundamental seasoning in polenta, enhancing its flavor. The amount of salt you use can be adjusted to your personal taste, but it's essential to add some for balanced seasoning.
Cornmeal (coarse and finely ground): Cornmeal is the heart of polenta. I prefer the combination of coarse and finely ground cornmeal.
Parmesan Cheese: While optional, parmigiano-reggiano cheese is a beloved addition to polenta.
Olive Oil: Optional but highly recommended, olive oil can enhance the nutty and earthy flavors of cornmeal. Its fruity undertones complement the dish beautifully, adding depth and richness.
Chili Flakes: Also optional, chili flakes provide a touch of heat and a layer of flavor complexity to your polenta. They can add a subtle spicy kick that balances the dish's overall taste.
You will need a heavy-bottomed, medium saucepan, a whisk, and a wooden risotto spoon to create this magical food. That's it!
How to cook polenta in 5 steps
Follow my five easy steps to achieve a delicious and comforting dish
Step 1: Boil the water
Over medium-high heat, bring 7½ cups of water (or chicken stock) to a boil. Use a large, heavy-bottomed stainless steel or copper saucepan.
Step 2: Season and prepare cornmeal
While waiting for the water to boil, whisk together ¾ cup each of coarse and finely ground cornmeal in a bowl. Add one teaspoon of Kosher salt to the pot.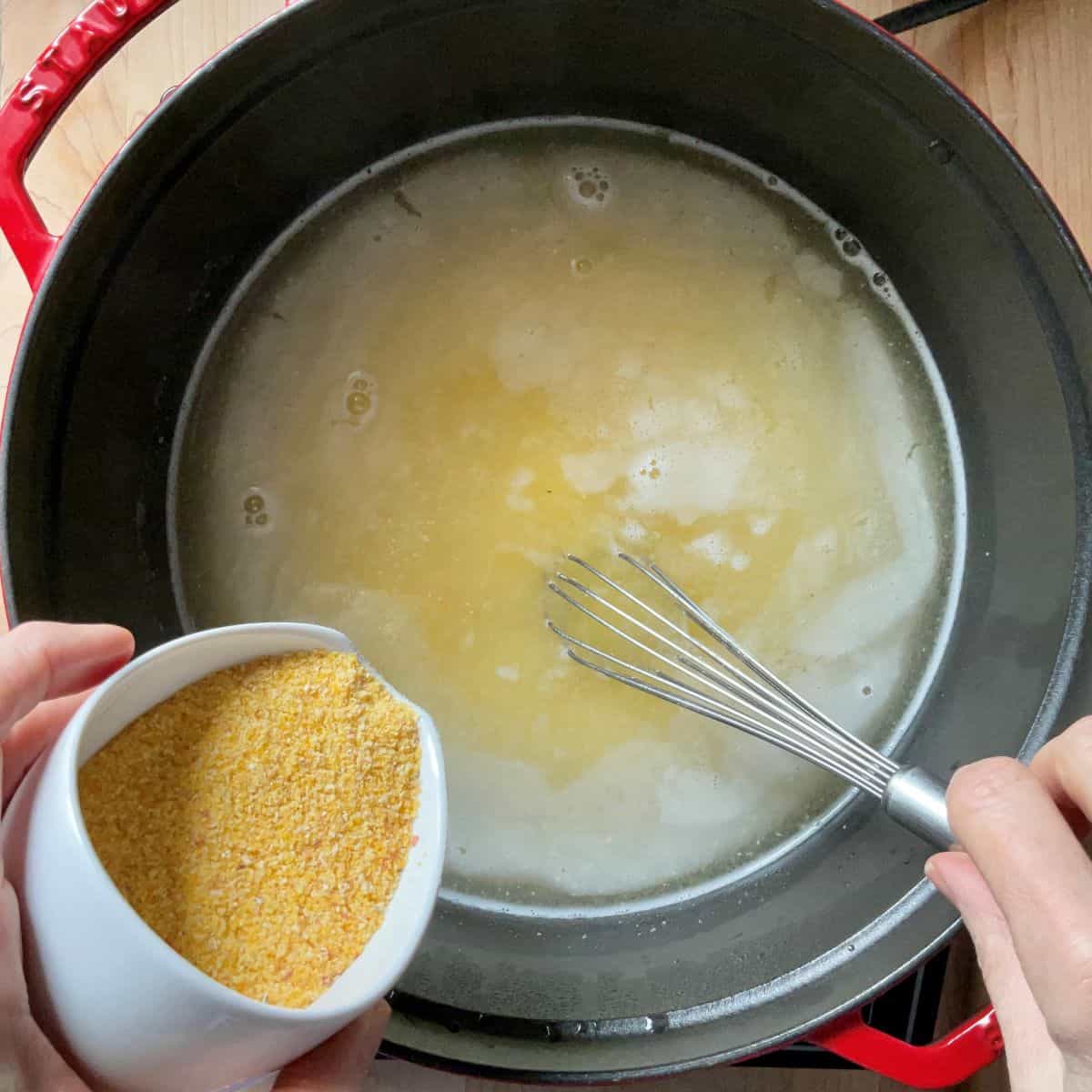 Step 3: Gradually add cornmeal
Reduce heat to low and slowly add the cornmeal, in a thin stream, to the boiling water in a steady stream, whisking constantly. Adjust heat to maintain a gentle bubble.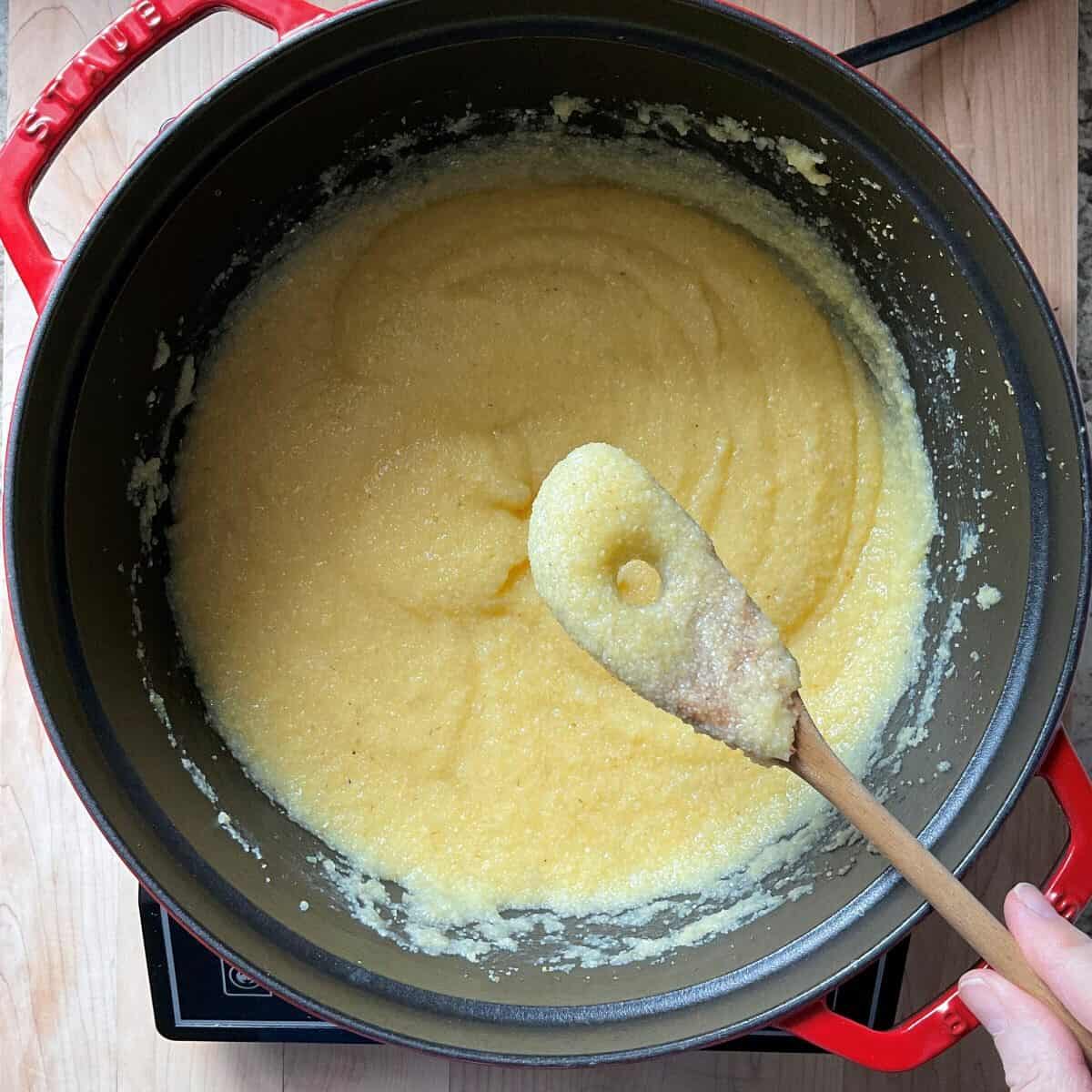 Step 4: Cook and stir
Whisk initially, then switch to stirring with a wooden spoon. Cook for 45-55 minutes, stirring occasionally until the polenta is smooth and thick. Address any lumpy polenta that forms.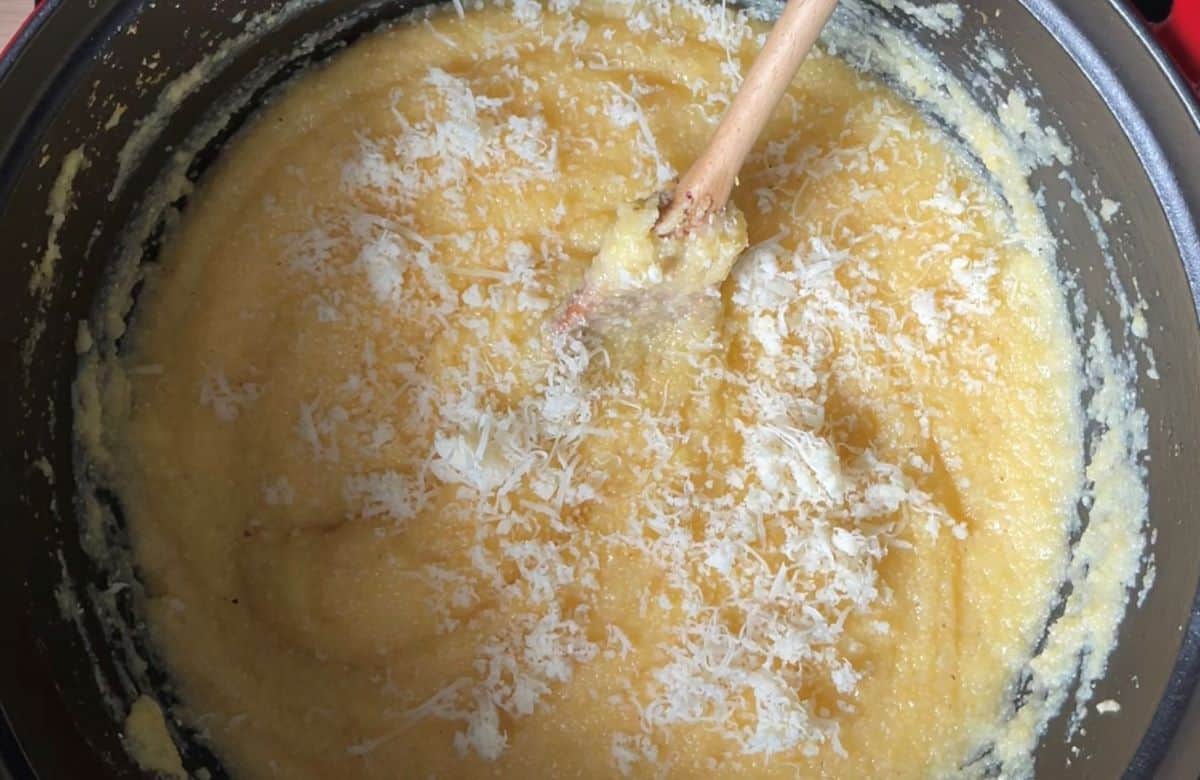 Step 5: Add parmesan cheese
Add ⅓ cup of freshly grated Parmesan cheese and stir to combine.
How to serve
Serve immediately. If desired, garnish with additional grated cheese and a drizzle of olive oil.
You can also refrigerate the polenta, slice it, and then pan-fry, grill, or sear it for different culinary creations.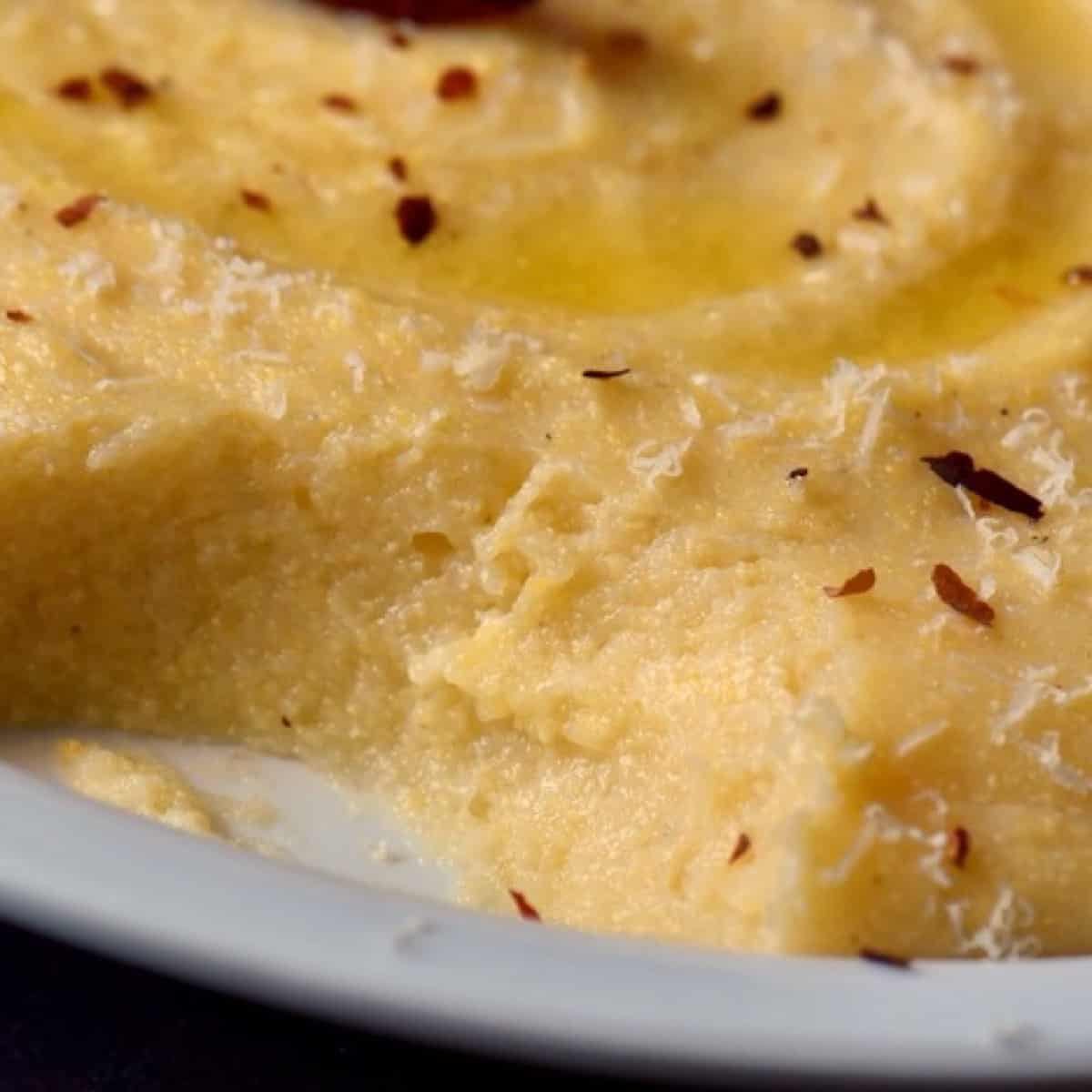 Tips
Combining both coarse and fine cornmeal yields the silkiest texture for your polenta.
Avoid instant polenta for this recipe, as it won't provide the desired creamy consistency.
Invest in a heavy-bottomed saucepan to achieve a rich and creamy textured polenta.
When it comes to cookware, stainless steel or copper are ideal choices for even cooking.
To prevent lumps, add the cornmeal slowly to the boiling water while whisking continuously.
Frequent stirring is essential to prevent sticking and lumps from forming in your polenta.
Cook your polenta on low heat for the best results, ensuring it simmers gently.
For a thicker consistency, extend the cooking time as needed.
Remember that polenta firms up as it cools down and will retain its shape.
You can refrigerate polenta for up to 5 days, making it a convenient option for meal prep and leftovers.
FAQ
Can I use a different type of cheese?
Definitely! While Parmesan is a popular choice, feel free to use other cheeses like pecorino romano, sharp cheddar, Gouda, or fontina to add a different flavor profile to your polenta.

Can I double the recipe?
Yes, you can adjust the recipe size by maintaining the 5:1 ratio of liquid to cornmeal. Be careful with the salt levels when making adjustments. 
What should I do if lumps form in my polenta?
If lumps form while making your polenta, don't worry; it can happen. You can press them against the side of the pot, smash them with the back of a spoon, and blend them into the rest of the polenta.
How do I reheat leftover polenta?
One option to reheat polenta is to cut it into smaller pieces and crisp them in a skillet with a drizzle of olive oil.
Another option is to reheat the polenta in the oven, either by baking it in a dish or on a baking sheet.
How to store cornmeal
Properly storing cornmeal is essential to maintain its freshness and prevent it from spoiling. Here are some common storage methods and their respective shelf lives:
Room temperature (pantry): Store cornmeal in an airtight container at room temperature for up to 12 months.
Refrigerator: For longer shelf life, refrigerate cornmeal in an airtight container for approximately 18 months
Freezer: For the longest preservation, freeze cornmeal in an airtight container or vacuum-sealed bag for up to 2 years.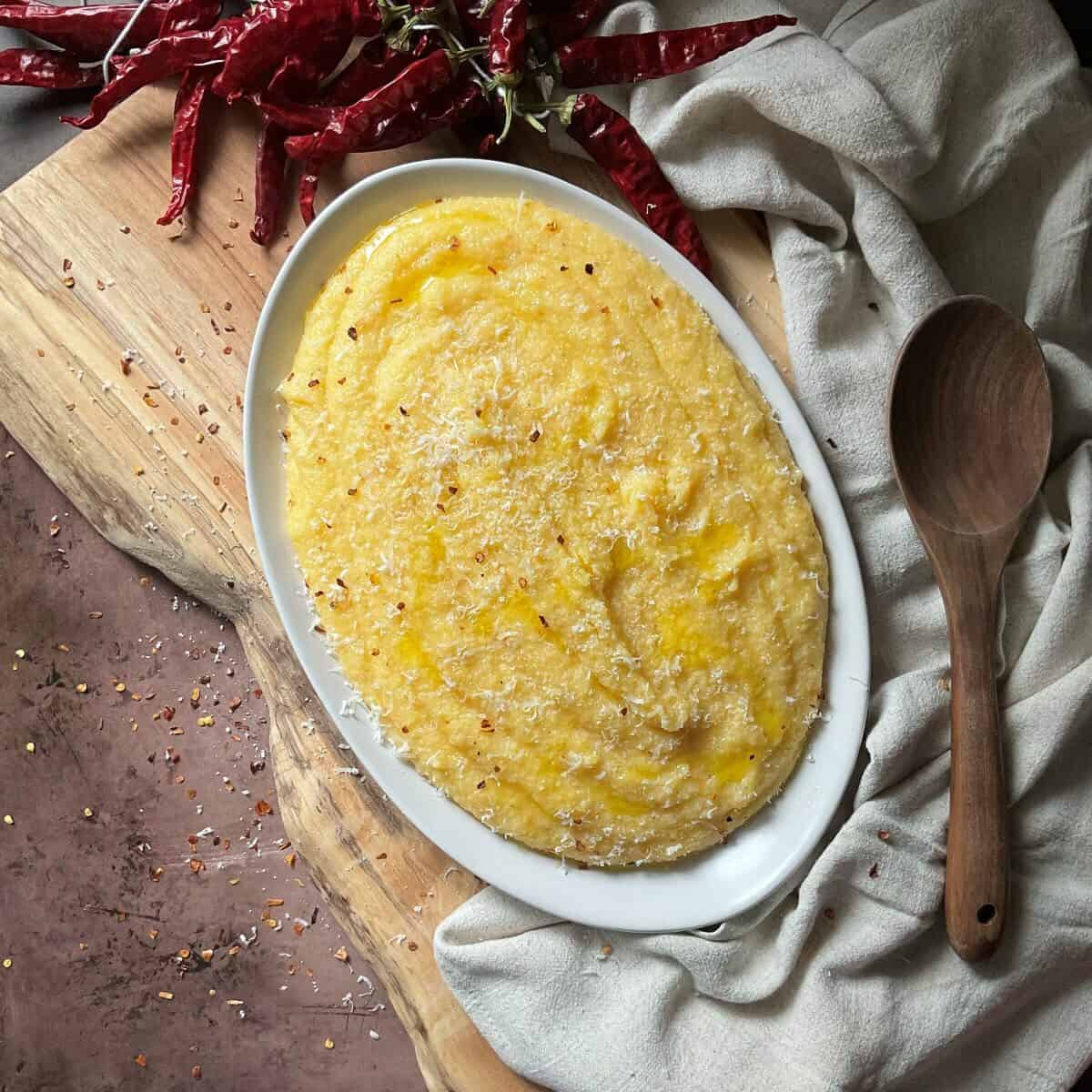 What to serve with polenta
Here are some of my favorite ways to serve this polenta with parmesan cheese:
Grilled Chicken: Pair this creamy polenta with succulent grilled chicken for a classic and satisfying combination.
Veal Stew: The hearty richness of veal stew matches the comforting creaminess of polenta.
Pan-Seared Lamb: Elevate your lamb dish by serving it alongside this luscious polenta, creating a harmonious blend of flavors and textures.
Stuffed Squash Blossoms: Create the perfect appetizer by garnishing this creamy parmesan polenta recipe with stuffed squash blossoms filled with homemade ricotta
Sauteed Swiss Chard: The earthy notes of sauteed Swiss chard provide a delightful contrast to the creamy polenta, making it a balanced and nutritious meal.
Italian-Style Broccoli Rabe: The slight bitterness of broccoli rabe is an excellent complement to this delicious side dish.
Sauteed Broccolini: For a milder alternative, consider sauteed broccolini, which adds a vibrant and slightly sweet element to your meal.
Italian Roasted Vegetables: Create a colorful and healthy side dish by garnishing polenta with sweet, caramelized Italian vegetables.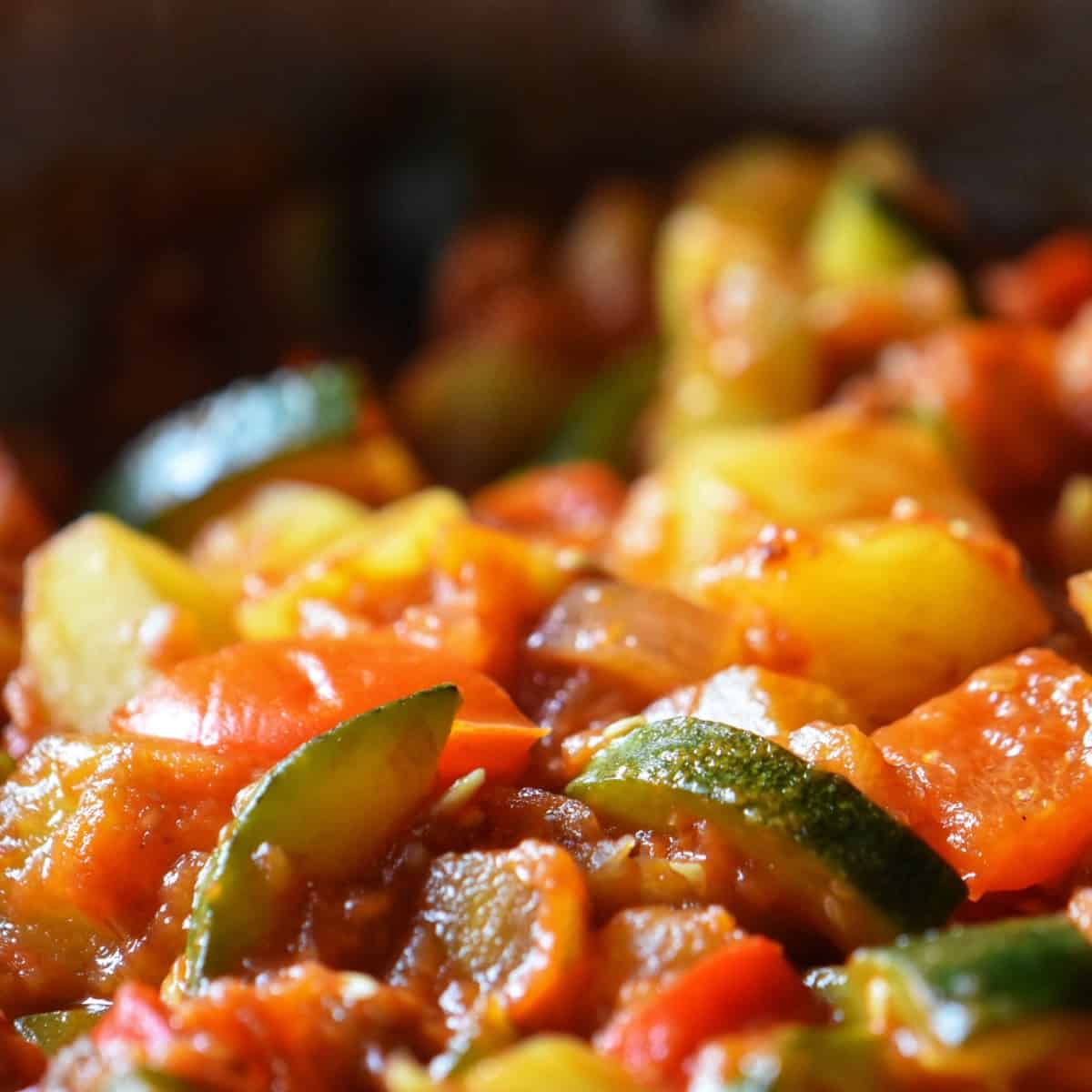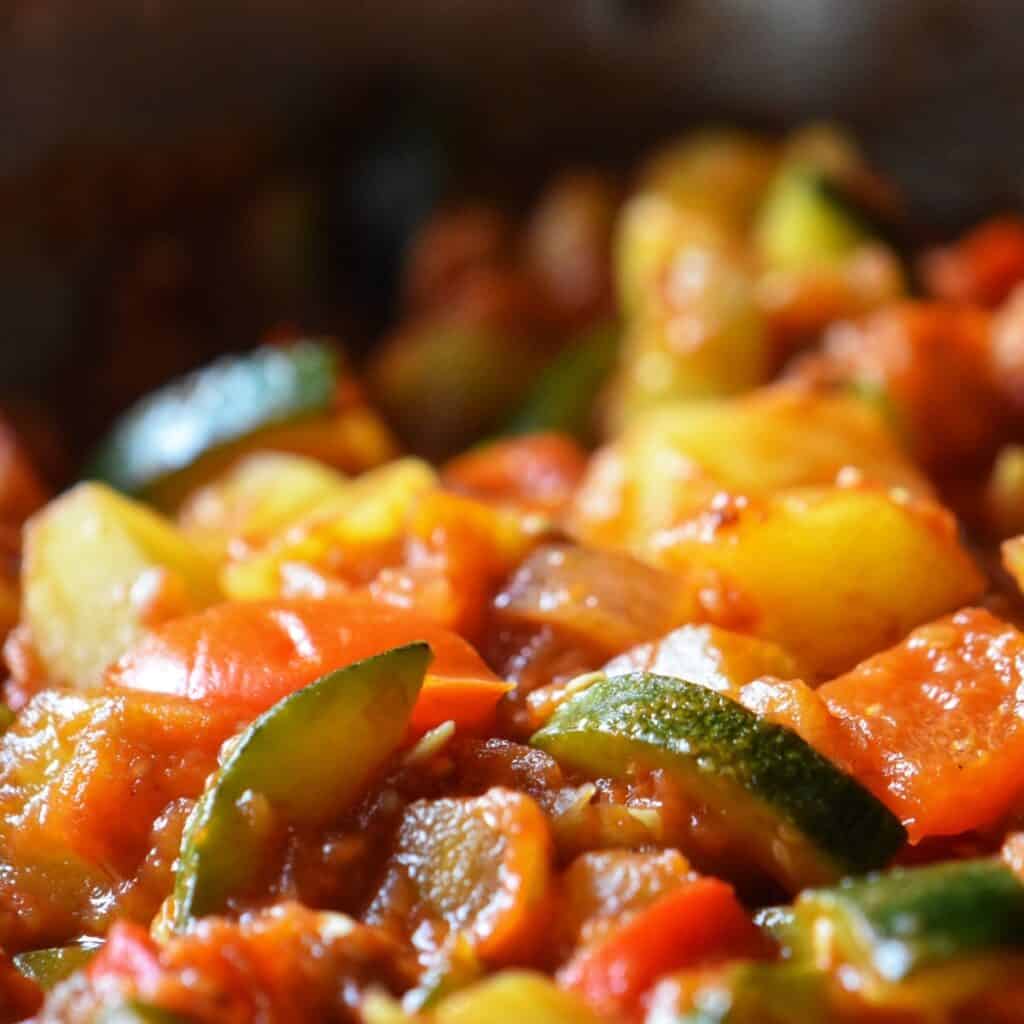 Recipe origins
My mom frequently made this creamy side dish, and no single complaint was heard each time she served this dish.
One of her signature dishes was to pair it with braised or roasted meats, mostly rabbit. It also served as an impeccable canvas for the rich flavors of ragù.
Reflecting on those times, it's clear that my mother was a culinary innovator, creating polenta-based dishes long before they became trendy. In fact, she was crafting polenta pizza well before it gained widespread popularity.
Venturing into the world of polenta is a simple yet rewarding journey. For instance, consider the elegant Asparagus Ricotta Tart with a polenta crust, a delightful addition to any brunch gathering.
I'm hoping that by sharing my tips and techniques, you have the confidence to make this staple in Italian cuisine.
THANKS SO MUCH for following and being part of the She Loves Biscotti community, where you will find Simple & Tasty Family-Friendly Recipes with an Italian Twist.
Ciao for now,
Maria
★★★★★ If you have made this Polenta with Parmesan Cheese, I would love to hear about it in the comments below and be sure to rate the recipe!
Polenta dishes
Recipe
Creamy Polenta Recipe
Here is an easy creamy polenta recipe you can garnish with Parmesan cheese, sautéed vegetables, drizzle with olive oil, or enjoy as is.
Print
Save Recipe
Saved!
Pin
Rate
Ingredients
7.5

cups

cold water

1

teaspoon

salt

or to taste

¾

cup

coarse cornmeal

¾

cup

fine cornmeal

⅓

cup

Parmesan cheese

grated

Olive oil to drizzle

chili flakes

optional, to garnish
Instructions
Over medium-high heat, bring water and salt to a boil.

While waiting for the water to boil, whisk together the coarse and finely ground cornmeal in a small bowl.

Reduce the heat to low. The cornmeal will splatter when added to the boiling water.

While constantly whisking, add the cornmeal slowly, in a thin steady stream.

Adjust the heat so that there are just a few bubbles breaking the surface. With a wooden spoon, stir every few minutes for about 45-55 minutes until the polenta is smooth and thick.

Remove polenta from heat. Add ⅓ cup of Parmesan cheese, and stir to combine.

If desired, garnish with more grated cheese, chili flakes and a drizzle of olive oil.
Scroll UP for the STEP by STEP Photos
Don't miss the process shots and videos included in most posts. Simply scroll up the post to find them. Those were created especially for you so that you can make the recipe perfectly every single time you try it.
Notes
Although polenta can be made with either coarse or fine cornmeal, a combination of both provides the silkiest texture.
DO NOT use instant polenta for this recipe.
A heavy bottomed saucepan is key to obtaining a rich and creamy textured polenta.
Add the polenta slowly, while whisking, to the boiling water in order to avoid getting lumpy polenta.
Polenta requires frequent stirring to prevent it from sticking to the bottom of the pot and lumps from forming.
Cook polenta on a low heat.
For a thicker consistency, increase the cooking time.
As the polenta cools down, it becomes firmer and retains its shape.
Refrigerate polenta for up to 5 days.
Can I double the recipe? Yes, in fact as long as you keep the ratio of 5 cups of liquid to one cup of cornmeal, you can increase (or decrease) the ingredients accordingly. Use caution with salt. 
Please keep in mind that the nutritional information provided below is just a rough estimate and variations can occur depending on the specific ingredients used. 
Nutrition
Serving:
1
serving
|
Calories:
261
kcal
|
Carbohydrates:
43
g
|
Protein:
8
g
|
Fat:
5
g
|
Saturated Fat:
1
g
|
Cholesterol:
5
mg
|
Sodium:
740
mg
|
Potassium:
191
mg
|
Fiber:
5
g
|
Vitamin A:
65
IU
|
Calcium:
113
mg
|
Iron:
1.9
mg
This post was originally published on April 2, 2019 and republished on September 23, 2019 and more recently on September 27. 2023 with updated content, pictures and a video.